Backing up Android device with Linux system command line tools has skyrocketed in popularity due its simple and rapid approach that allows one to garner desired results every time. There are still some individuals who believe that a "backup" is a stressful process to undertake, but this is not accurate when one follows instructions that have proven to be effective when placed into practice accordingly. There are just a few steps that need to be followed to take advantage of this method that has become the go-to option around the globe for countless individuals.
People Also Read:
Transfer Text Messages from Phone to Computer
Copy Contacts from Samsung Galaxy to Computer
Step-by-Step Instructions to Back up Android Utilizing Linux System Command Line Tools
Step 1: Installation
To start off, to benefit from this backup method, Android ADB for Linux should be installed. ADB is a tool utilized to first connect and then send certain commands to Android devices from either a laptop or desktop. ADB is considered to be a vital tool that can be utilized for a handful of purposes. For this reason, a lot of people keep on referring to it as the "command center".

Once the installation has taken place, UBUNTU: # apt-get install android-tools-adb command should be run, as well as FEDORA: # yum install android-tools. It is important to double-check that every one of these commands has been entered adequately. Failing to not ensuring this, might cause a hassle to arise, which will delay backup process.
Step 2: USB Debugging
This second step consists of visiting "settings" on device. In this section, you will notice the "USB debugging" option, which is the first choice on the list. Go ahead and select it. It is important to highlight that below this choice there are other options, but they should remain unchecked for the time being.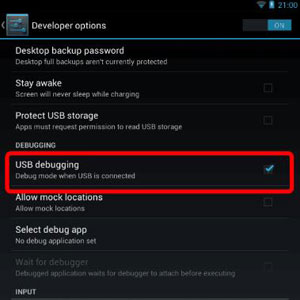 Step 3: Starting Backup
In order for the backup to take place, you now need to run the $ adb backup -f SH25TW500611-phone-backup.adb -apk –all command. After undertaking this step, it is time to unlock device and then confirm the operation that has taken place.
Step 4: Back up Data
You will notice a message on your screen that will state that a full backup of data to a connected PC has been requested. It will then ask if you want to allow this to occur. If you have a lock code, then you will be prompted to enter device encryption password. It will also be utilized in order to encrypt backup archive. After entering code or not, go ahead and click on "back up my data". It is important to note that this is the final button that should be clicked on.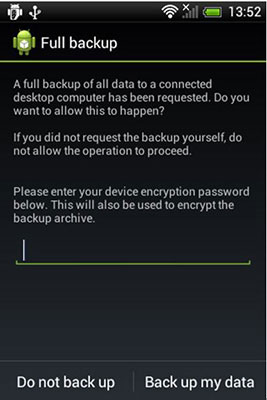 Step 5: Finished Process
Once the full backup has been initiated, it is time to simply wait for the process to finish completely. The backup will be performed in a timely fashion manner; therefore, this method will not cause desperation to take place while waiting. Allow your device to finish process and thus do not mess with it in any way, as this could delay the backup from being performed. This is all there is to it! You will now have a device that is in the desired state.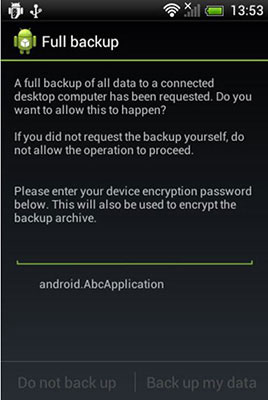 Experience Benefits Firsthand
As you can conclude, it is a very easy process to back up Android device by just utilizing Linux system command line tools. As long as you follow the previously mentioned steps to a "T", you will be well on your way in backing device with an approach that has already been declared to be one of the most rapid and effective on the market. Go ahead and check it out today. Put it into practice and thus experience firsthand the grand benefits that it provides.
Actually we have another easier and faster way to backup Android phone. Just keep on reading:
Additional Tips: How to Back up Android with Reliable Third-party Tools
Tip 1: How to Back Up Android with Coolmuster Android Assistant
By far the best way to back up Android phone data is to use Coolmuster Android Assistant. The tool makes it extremely easy to back up everything from your Android phone to your computer in the shortest time possible.
Key Features of Coolmuster Android Assistant:
> Back up Android contacts, SMS, photos, videos, music, app, etc. on PC or Mac;
> Selectively restore backup data to any Android device;
> You can manage, edit and delete Android data on computer;
> Supports 8000+ Android devices: including Samsung, ZTE, Sony, LG, Google Pixel, HTC, Huawei, etc.
How to Back up Android on computer with Android Assistant:
Step 1: Download Android Assistant and install it on your computer. Launch it and connect your Android phone to the computer via a USB cable. Make sure you have enabled USB debugging on your phone first.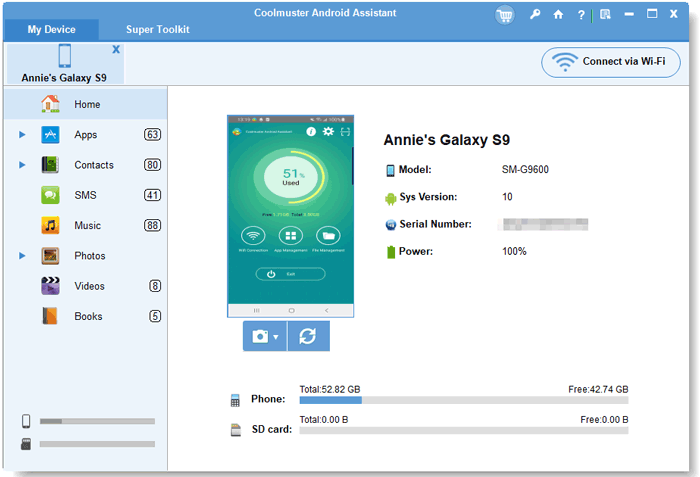 Step 2: Go to top menu on the screen to click "Super Toolkit". Then choose "Backup" option from the new window and all the phone content are displayed in list. You can check the data categories that you want to backup.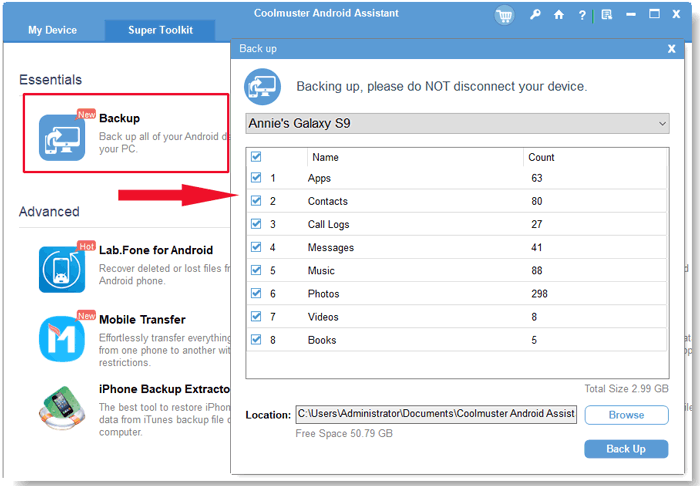 Step 3: After you have selected the data tabs, you can directly give a click on the "Backup" button and all the selected files will be transferred to your computer completely.
Tip 2: How to Back Up Android with Coolmuster Android Backup Manager
Coolmuster Android Backup Manager is the second-best Android data backup software that you can't miss. It allows you to back up data like contacts, messages, call logs, photos, music, videos, documents and apps from Android to PC with one click.
Main Features of Coolmuster Android Backup Manager:
> Back up and restore Android files to/from computer with 1 click.
> Selectively back up and restore the file types you want.
> It is very easy-to-use and secure.
> It provides two connection modes: USB & Wi-Fi.
It supports most of the Android brands, such as Samsung, LG, Huawei, Motorola, Sony, HTC, OPPO, ZTE, and so on. Download this tool and give it a try:
How to back up Android to computer with Android Backup Manager:
Step 1: Download and run the Coolmuster Android Backup Manager on your computer, then connect your Android phone to your computer via a USB cord. Follow the on-screen steps to make your Android phone recognized by this software.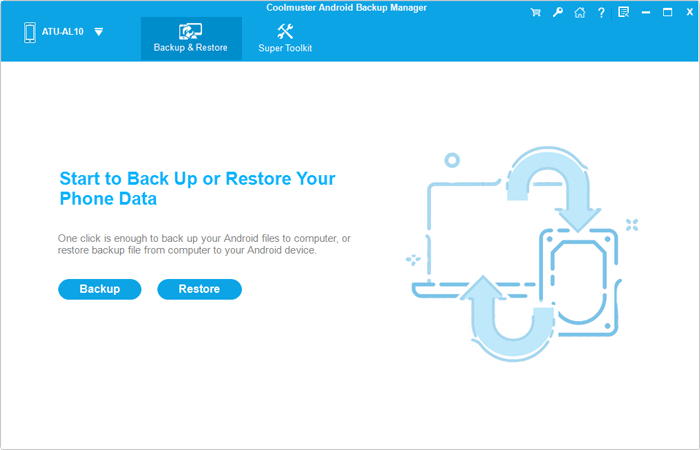 Step 2: Click the "Backup" button and select the items you want to back up, then customize the location on your PC to store the backup files. After selection, click the "Back Up" button to back up your Android phone.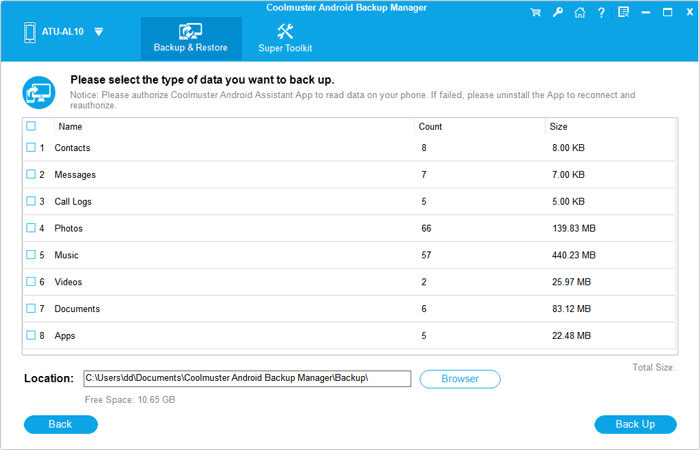 Related Articles:
How to Transfer Files from Android to Computer
Transfer Photos Videos between Huawei and Computer
How to Back up Photos on Samsung