Smart devices allow users to accomplish different tasks but their performance is usually compromised. Over time, the performance of the devices will start to diminish and there are several reasons that will to this act. For example, when you have loaded your apps with a lot of data, it will definitely slow down your device. Every device is fitted with memory which helps to act as a bridge between the OS, the processor, the storage and other components. Memory helps to transmit processes for processing finally providing you with results on the display. Low memory in your device will compromise the device performance. When you use apps, they will generate data and information that will be stored in the device disk. The more apps you have, the more data will be generated and storage size will not reduce.
Then, how to improve startup speed for Android device with special Android Startup Manager? Here, we will introduce best 3 applications first for your choice. You can pick up your favorite one.
Part 1 - Below are 3 Best Android Startup Managers Worth A Shot
Top 1. Startup Manager
This is a free Android startup manager developed for Android. As a free version, it allows users to manage their startup apps. The app allows you to view apps that are running in the device especially when the phone boots. It also allows the user to uninstall them therefore improving the speed of the smart device. It has a simple to use interface and it's also easy to use.
You can download Startup Manager from Google Play Store >>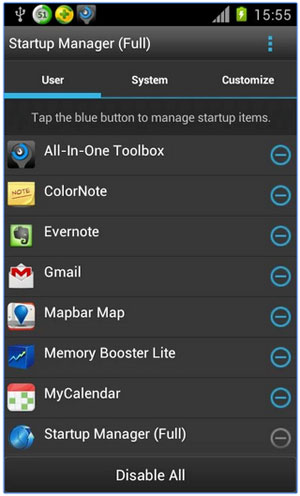 Top 2. Autorun Manager
This is a free startup manager that will help you manage your apps and also kill unnecessary tasks that are running the background. It also allows the user to disable and kill apps on restart. It's interface is user friendly and also easy to use. When you use the app, you will be able to speed up your phone and also prolong its battery power.
You can download Autorun Manager from Google Play Store >>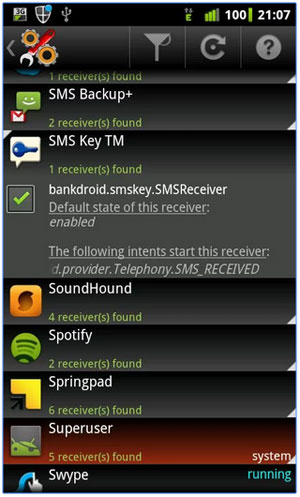 Top 3. All-in-One Toolbox
This is a free app that is developed to be a one stop solution therefore helping to optimize the Android device. It has 29 plus easy to use tools that will allow the user to clean their devices fast and smart. The app can help you clean junk files, reclaim storage, kill running tasks, boost speed, save battery, manage files, lock apps and delete ads among others.
You can download All-in-One Toolbox from Google Play Store >>
Part 2 - How to Delete Unwanted Apps with Android Assistant to Speed up Android Phone
Installed wrong Android Startup Manager on your Android phone and want to delete them off? Or you just want to uninstall some apps that are unnecessary so as to speed up your Android phone? If you are tired of delete them one by one, you can try out the Coolmuster Android Assistant. It comes with Windows and Mac version, which is able to manage your device with ease especially the data and information contained in the Android device. What's most, it allows you to delete multiple installed application from your Android phone/tablet with one click only.
Follow the steps below to make Android startup faster by deleting apps:
- Install and run Coolmuster Android Assistant on your computer.
- Use USB cable or WiFi network to connect your Android phone with the computer.
- Go to click Apps option, select the apps you don't need and click "Uninstall".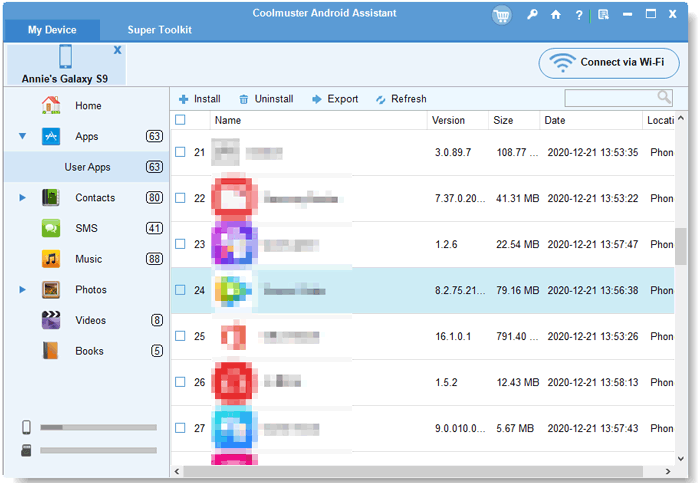 Conclusion
When it comes to improving the startup speed of your Android device, using an Android Startup Manager can be a great solution. To further speed up your Android phone, you can also use Coolmuster Android Assistant. This software allows you to delete unwanted apps and manage data on your Android device effortlessly. By connecting your phone to the computer, you can select and uninstall multiple installed applications with just one click.
Related Articles:
Top 5 Android eBook Readers You Should Know
Transfer Contacts from Android Phone to Computer
5 Effective Ways to Fix Android Black Screen of Death Issue