HTC is a quite known Taiwan firm that takes part in manufacturing tablets and smartphones. HTC is known for its sleek design and cutting-edge technology. Recently, it has gotten on the Android market. And to compete with big companies and emphasize its advantages, HTC came up with a free application for syncing data from mobile phone to computer easily.
Known as the HTC Sync Manager, this software seeks to bridge the gap between HTC phones and PCs. Even though the software is good, it's still filled with some loopholes, making people look for alternative tools. This guide brings you the top 8 HTC sync manager alternatives.
1. Coolmuster Android Assistant
2. Moborobo
3. DoubleTwist
4. MyPhoneExplorer
5. ApowerManager
6. Google Drive
7. OneDrive
8. AirMore
1. Coolmuster Android Assistant
To sync HTC files with the computer in one click sounds promising. The Coolmuster Android Assistant can fully simplify the data transfer between your Android phone and computer. Its wide compatibility makes it a good option for anyone who wants an HTC sync manager alternative. And you can use it with its extra features.
Key features:
* Instantly back up and restore everything on your Android device.
* Selectively import or export files between your HTC Android device and computer.
* Add, delete, edit, copy, and move HTC data on a computer for data management.
* Directly capture the screenshots of your HTC phone on the computer.
Pros:
* The data migration process is easy and simple.
* You can view and edit the HTC contacts on your computer.
* Allows you to preview data before syncing.
* Support Android OS 4.0 and upper.
* No data loss.
Cons:
* Syncing won't resume when interrupted.
Download Coolmuster Android Assistant for free.
How to use this alternative to the HTC Sync Manager software:
Step 1: Launch the Program
Download, install then launch the Coolmuster Android Assistant tool on the computer. From the toolbox menu displayed, enter the Android Assistant module to access the desktop app.
Step 2: Connect Your Phone to the Computer
Use a working USB cable to connect your HTC phone to the computer. Then enable the USB debugging on your phone. Once enabled, the tool will recognize the software, and you will see the homepage as below.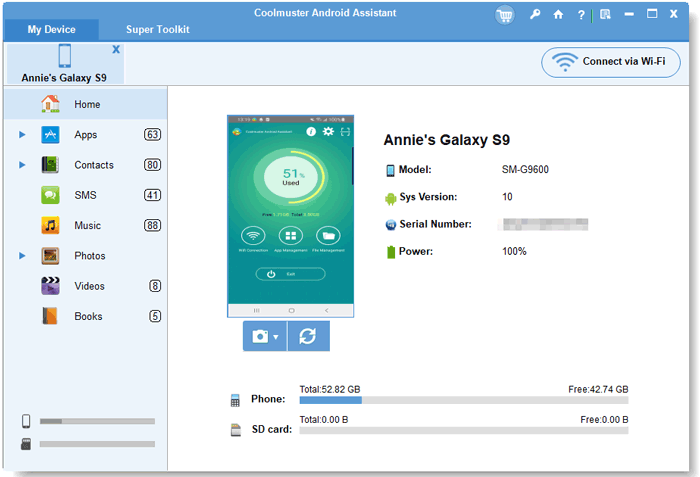 Step 3: Transfer or Manage data
Choose the data you want to sync with the computer. Tick the files you wish to migrate from the left menus. Once done, tap the Export button to transfer your files.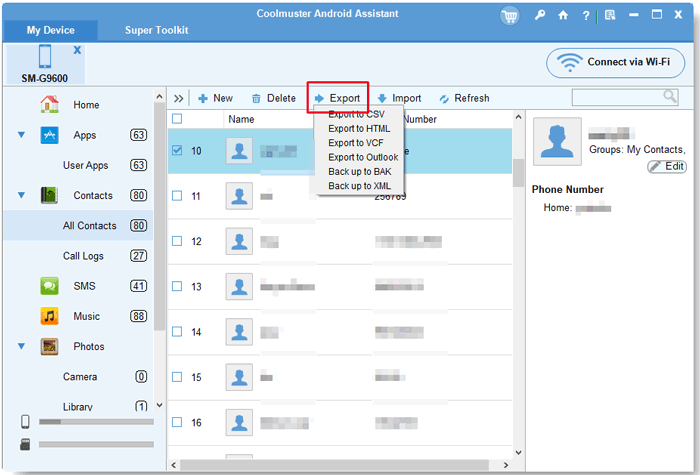 Further reading:
What to Do If Samsung Smart Switch Stuck at 99% during Transfer
The Best 12 AirDroid Alternatives You Can't Miss
2. Moborobo
This software makes it simpler for you to manage your Android files apart from syncing the data between phone device and computer. You can also install apps or games on the computer and sync them to the connected Android device. As a result, Moborobo for Android is a great alternative for your HTC sync manager. So, be sure to face no issues while syncing files from phone to computer.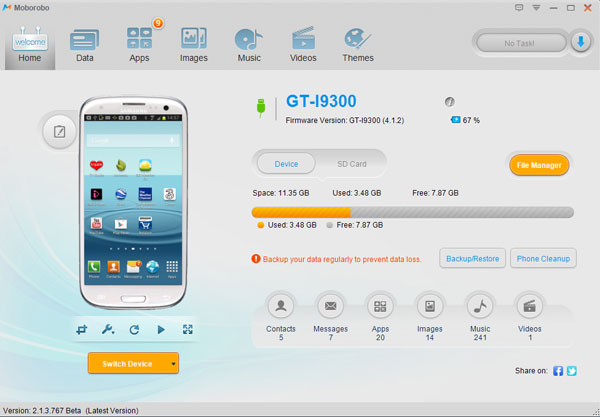 Pros:
* Show all media data and other private data on the interface.
* The user-friendly interface makes it simple to use.
Cons:
* Slightly sluggish.
* It may take some time to install apps.
* Unexpected crash.
Read more: Want to get a more practical tool than Moborobo? You can refer to these 7 Moborobo replacement tools.
3. DoubleTwist
Do you want to sync your Android device with your Mac or Windows PC? Maybe you want to use it as a digital audio player. With a little help from the doubleTwist app, you can do all that and more. The doubleTwist app is one of many HTC sync managers alternatives out there. It is free, so you just download it and start using it.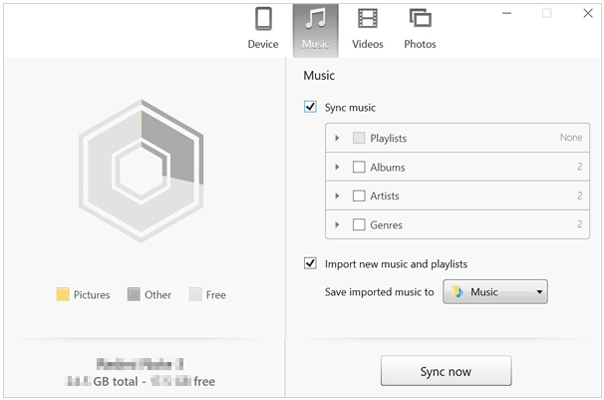 Pros:
* Concise and easy to use.
* Allows you to sync many files at the same time.
* Support music, videos, and pictures.
Pros:
* Its interface is old-fashioned.
* It does not have a drag and drop feature.
* Only some devices are supported.
Maybe you need:
Why does Move to iOS fail to transfer data? If you would like to fix this issue, browse this full guide.
How long does Move to iOS transfer take, and how can you make it fast? Read this guide to get the solutions.
4. MyPhoneExplorer
MyPhoneExplorer is a highly customizable alternative to HTC sync manager. The app allows you to change and customize settings to better manage your HTC data. One of the best features of MyPhoneExplorer is that it can be used independently or as an extension for the Official HTC Sync Manager. This means that if you find yourself running out of space on your device, simply use MyPhoneExplorer as a backup tool.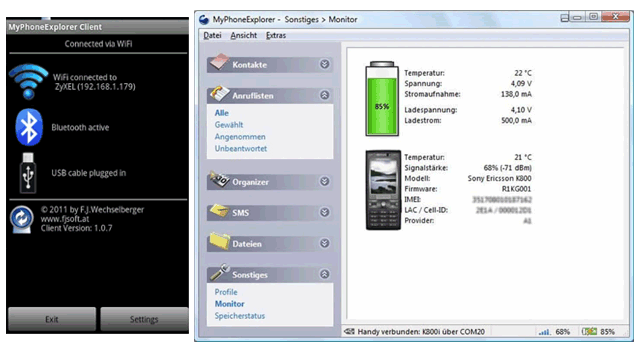 Pros:
* Allow you to make a connection via Wi-Fi, USB, and Bluetooth.
* Clear display.
* Come with many email clients.
Cons:
* Slightly challenging to use with the outmoded design.
5. ApowerManager
As a decent alternative to the HTC sync manager, ApowerManager enables you to do almost everything that you would expect a proper syncing app to do. Alongside the usual function of synchronizing your files and folders, ApowerManager also allows you to manage your devices from anywhere in the world.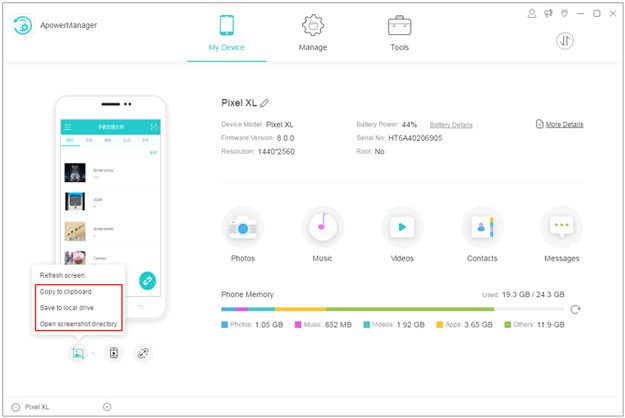 Pros:
* Fast to migrate data.
* It allows you to preview files before syncing.
* Come with additional features.
* Support Android and iOS devices.
Cons:
* Accidental disruption will cause the process to be unfinished.
6. Google Drive
With Google Drive as an HTC alternative, you will be able to keep all your files in one place easily and conveniently. It's free to use with a Google account, so there is nothing to lose. That said, the interface for setting up Google Drive can be clunky, so, not quite impressive for some users. The ability to share folders between other people on the same network is also limited: you might have trouble sharing files between gadgets that do not have Google Drive.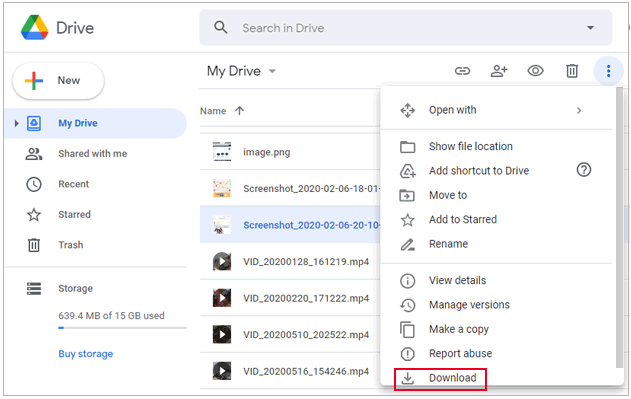 Pros:
* Sync files wirelessly.
* Come with Microsoft office.
* Provide links to share files.
* Comes with SSL encryption.
Cons:
* Pose security risks.
* Majorly relies on the internet connection.
* Limit file sizes.
* Data must be analyzed by Google.
7. OneDrive
Microsoft OneDrive is another HTC sync manager alternative, but just like with Google Drive, the interface can be clunky. The best thing is that you can share multiple files and folders and have users set permissions on files and folders they create.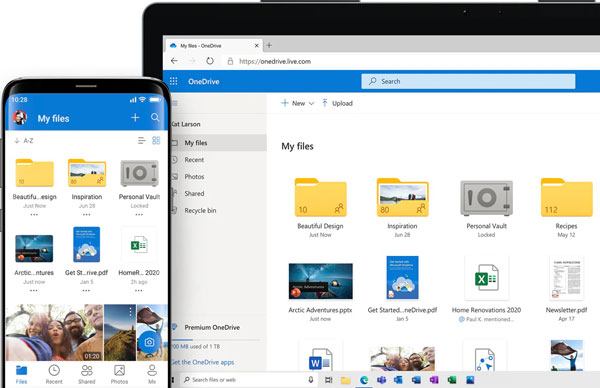 Pros:
* You can share many files at once.
* Allow you to access the files you synced with your Microsoft account on any device.
Cons:
* Limit the size of files to be synced.
8. AirMore
This is also one of the impeccable alternative tools to HTC sync manager. It's an online tool that doesn't need to be installed on a computer and needs an internet connection for it to run.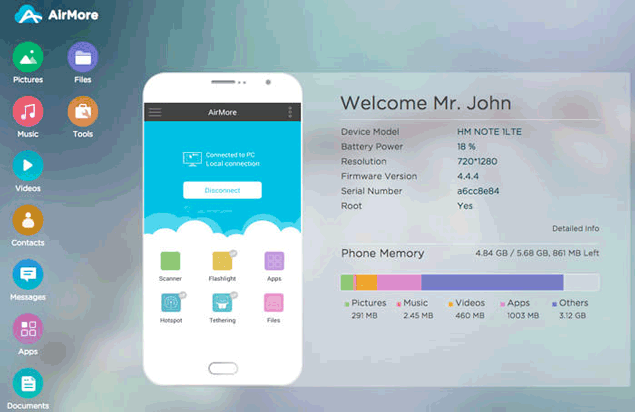 Pros:
* No need to install it on the PC.
* No need for USB cables.
* Easy to navigate.
Cons:
* Depend on the internet connection.
* Fail to make a connection at times.
Conclusion
If you have an Android device, there is a good chance that you have tried using the HTC sync manager. It is probably not the app's fault either; it just does what it says it will do. However, you might want to sync your HTC data on a different phone.
What to do? That's why we have outlined the 8 best HTC sync manager alternatives you can use to sync your data seamlessly. These apps are your solution to syncing data between different phones, and from them all, Coolmuster Android Assistant guarantees no data loss. So, this is the perfect tool to ensure the safety of your data.
Related Articles:
Five Methods to Back Up an iPhone without/with a Computer (Step-by-Step)
7 Viable Ways on How to Transfer Photos from Mac to Android
[Solved] How to Transfer Text Message Photos from iPhone to Computer?
A Complete Guide on iMazing HEIC Converter Review & Its 7 Alternatives
BackupTrans Review: What is BackupTrans and How to Use It?
3 Simple Methods to Download iCloud Backup for Android in Minutes