When you are searching for Samsung backup apps and software, congratulations, this is a good habit that may free you from trouble, and please keep it up. As you know, you can't predict when your phone data might go wrong. There are more and more Samsung backup software nowadays, and among others, can you emulate backup software related to Samsung brand? Users who are used to backing up Samsung phones may blurt out as Samsung Auto Backup, Samsung Cloud, Samsung Smart Switch and so on.
In fact, Samsung backup apps are much more than that. Google series, and some pro backup software are all included. So what do you know about these backup software, and you may also want to ask: how do I back up my Samsung phone? If you are seeking for the best Samsung backup software to PC now, just read on. The following will list top 10 apps and software for Samsung backup and discuss them in more depth.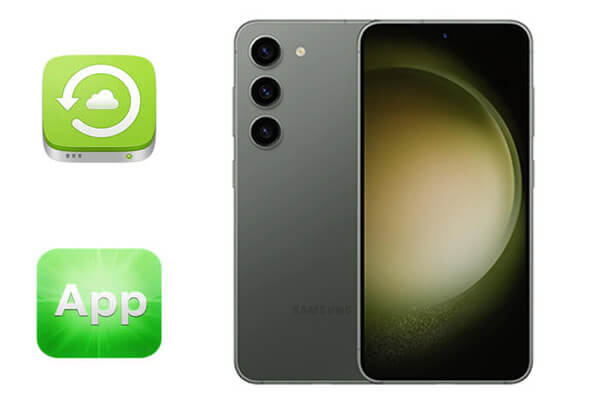 Part 1: Top 6 Samsung Backup Software for Samsung Backup to PC
1.1 Coolmuster Android Assistant (Recommended)
1.2 Coolmuster Android Backup Manager
1.3 Samsung Auto Backup
1.4 Samsung Smart Switch
1.5 Samsung Kies
1.6 PC Auto Backup
Part 2: Top 4 Samsung Backup Apps to Back Up Data to Cloud
2.1 Google Drive
2.2 Samsung Cloud
2.3 Google Photos
2.4 Amazon Cloud Drive
Part 1: Top 6 Samsung Backup Software for Samsung Backup to PC
1.1 Coolmuster Android Assistant (Recommended)
We may think of where to find practical Samsung software to back up phone to PC. Of course, free Samsung backup software is indeed an option, but considering security, professional, efficient, and green elements, you need a backup manager like Coolmuster Android Assistant, which helps you manage your mobile phone data. This management here is not just referring to back up and restore. So, would you like to know what strengths it boasts? The features described below may help you inadvertently.
6 magic assets of Coolmuster Android Assistant:
> Be compatible with Samsung and other Android phones, and save Samsung data with proper formats.
> Operate on Samsung Galaxy S23/S22/S21/S20/S20+/S20 Ultra/S10/S10+/S10e/S9+/S9/S8+/S8/S7/S6, Galaxy A51/A50/A10/A9/A8/A7/A5, Galaxy Note 20/Note 10/Note 9/Note 9 Plus/Note 8/Note 7/Note 6/Note 5/Note 4, and etc.
> Be able to transfer photos from Samsung to computer (music, videos, contacts, call logs, text messages, applications are also available.)
> Import contacts, call logs, and text messages from computer to Samsung or other Android phones.
> Uninstall apps, and send text messages from computer to different phones at the same time.
> Provide standalone backed-up services and back up and restore Samsung data in one click without virus transmission.
Thanks to its multiple functions, it wins a host of users. So, download this software to back up your Samsung phone now?
After you download it, you may want to know how to use it.
Back up with Samsung backup app of Coolmuster Android Assistant:
1. Launch this program to go for Android Assistant mode, and link your Samsung phone to computer with a USB cable. Next, turn on USB debugging from you mobile to get the phone and the PC connected. Then tap Super Toolkit from the title bar.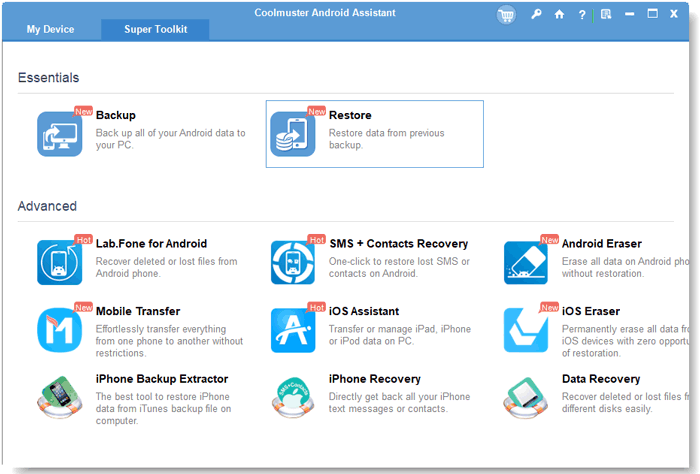 2. Below the Essential mark, click Backup icon, and the interface will show you Samsung model and the phone contents with different categories like Apps, Contacts, Call Logs, etc. Choose what you want to back up and hit Back Up to browse for a location for the chosen data.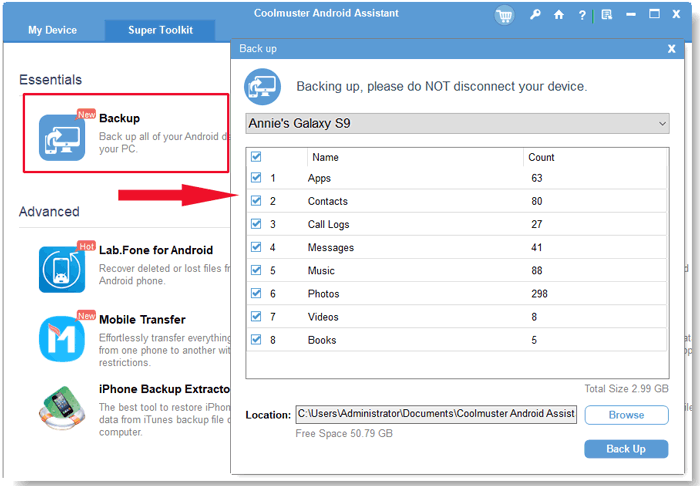 Note: If you have an Apple iPhone, you may want to know: How to Back up and Restore iPhone with or without iTunes
1.2 Coolmuster Android Backup Manager
Speaking of Samsung backup software, Coolmuster Android Backup Manager is surely worth considering. As its name indicates, this app provides a safe and easy backup solution for Android phones like Samsung. It enables you to create multiple Samsung backups to your computer, and restore the backups to Samsung phone from the computer whenever you want.
Here are the main features of Coolmuster Android Backup Manager:
> Back up files including contacts, messages, call logs, photos, music, videos, documents, app from Android to computer.
> One-click to restore backup files from computer to Android with original quality.
> Create multiple backups and choose the required backups to restore.
> Secure, user-friendly UI & easy-to-use.
> Compatible with most Android brands and models.
Coolmuster Android Backup Manager works well with almost all the Android brands, including Samsung S23/S22/S21/S20/S20+/S20 Ultra/S10/S10+/S9/S8/S7, LG, Sony, HTC, OPPO, ZTE, Huawei, Xiaomi, and more. Now download the free trial version of Coolmuster Android Backup Manager from below:
Let's see how to use Coolmuster Android Backup Manager to back up Samsung phone:
1. After installation, run the Android Backup Manager on your computer. Then connect your Samsung phone to computer with a USB cable. You will need to enable the USB debugging on your Samsung and follow the instructions on the screen to make your Samsung detected by the software.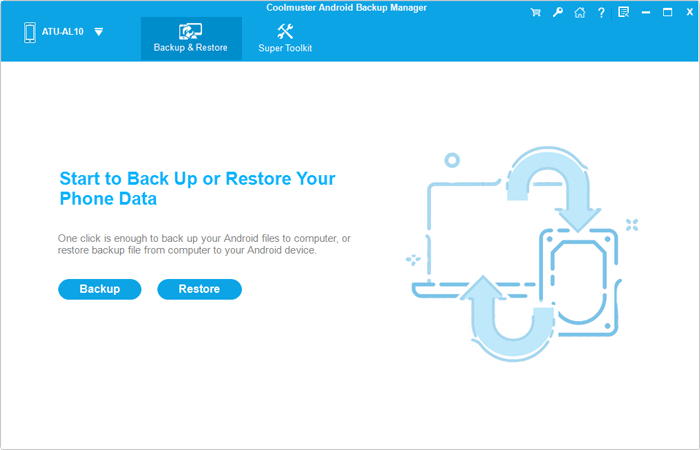 2. Select Backup and then choose the file types you wish to back up. You can click Browser to customize the location to store your backups. After selection, click the Back Up button to start to back up your files from Samsung to computer.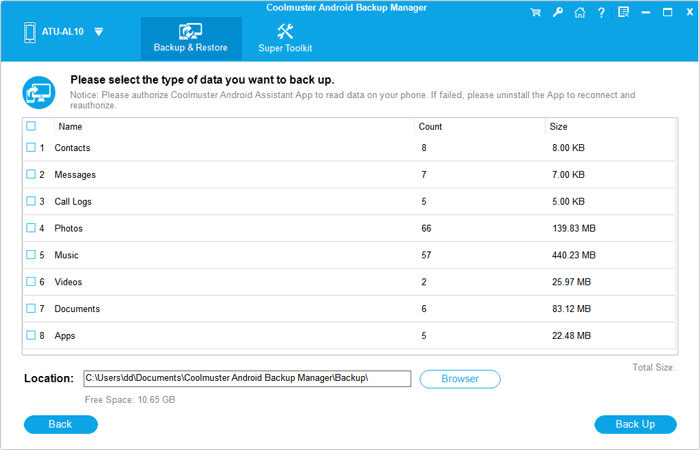 Learn more:
You can get into your locked ZTE phone even if you have forgotten the password.
Want to manage your Android phone remotely? Don't miss this guide, which will provide you with helpful control apps for Android.
1.3 Samsung Auto Backup
As a free HDD backup software, Samsung Auto Backup is archived under the hard drive software. It provides with two backup modes - Real-time mode (backed up Samsung data in real time) and Scheduled mode (regularly executed back-up function)
Being able to back up Samsung or Seagate devices, and once installation done, it will cue you to reboot your system immediately or later. After making your selections, press "Finish" to conclude the installation. It's easy to conduct the backup.
Concise intro: Download, install and launch the app > Select the backup source > click Backup.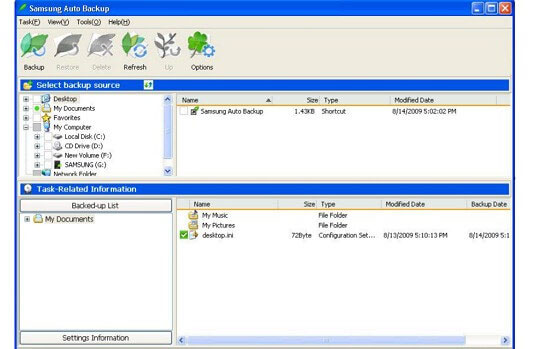 Attention: This app performs backup on Windows only, available for Samsung external hard drive as it is bundled with Samsung external drives.
Bonus Articles:
How to Export Files from Android Phones to External Hard Drive
9 Top-ranking Titanium Backup Alternatives to Back Up Your Android Phone
1.4 Samsung Smart Switch
Many Samsung owners may have used Samsung Smart Switch to transfer data from old phones with music, photos, calendars, text messages, contacts or others to new Samsung phones. In addition, it has a desktop version that can also back up Samsung data too.
Requirements: For Samsung: Samsung mobile phone version 4.3 or higher; For PC: Windows Media Player 11 or above;
For Mac: Mac operating system: Mac OSX? 10.9 or up.
Quick manuals: Launch Smart Switch on PC > Connect Samsung to PC via USB cable > Click Backup > Tap Allow > Hit OK.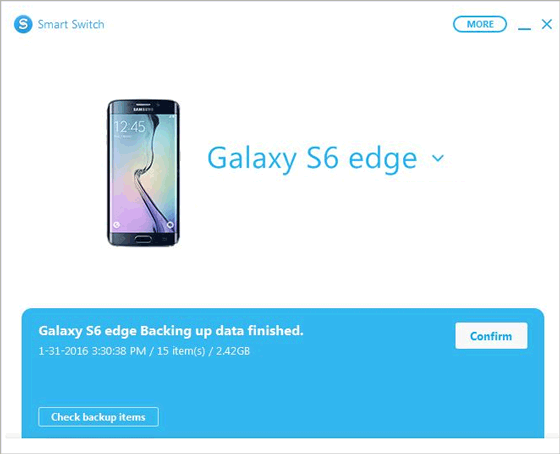 Attention: When you use this Samsung galaxy backup and restore software, note to enable Smart Switch Mobile if your phone is Galaxy S8, Galaxy S8+, Galaxy S7 or Galaxy S7 edge (Go to Settings > Backup and Reset > Open Smart Switch). Additionally, some US Samsung Galaxy devices are not supported.
1.5 Samsung Kies
Samsung Kies supports backing up files on most Samsung phones and these file types cover text messages, contacts, call logs, videos, music, photos, applications, email account info, etc.
You can also create music playlists that can be synced on your PC for music listening. Furthermore, if you own membership for Samsung apps, you can entertain yourself with personalized settings.
Clear operation: Launch Samsung Kies on PC > Connect phone to PC via USB > Choose Backup/Restore > Select data > Click Backup.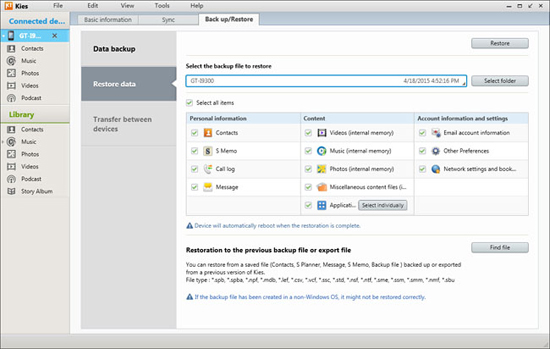 Tips: NPS is similar to Samsung Kies, but they are applicable to different phone models. Besides, it should be noted that some functions are restricted when Wi-Fi is connected, and up to now, it can't back up DRM protected data.
Bonus: Samsung Kies Cannot Detect My Phone, How to Fix? Check here>>
1.6 PC Auto Backup
Designed by Samsung Smart Camera, PC Auto Backup, similar to Google photos, can automatically back up photos and videos only. You can back up the most recent files by presetting the most recently backed-up data. On top of that, it can be connected via Wi-Fi or a USB cable to PC.
User guide: Download, install and open the app > MENU > Auto Backup > Preset recent photos and videos > OK.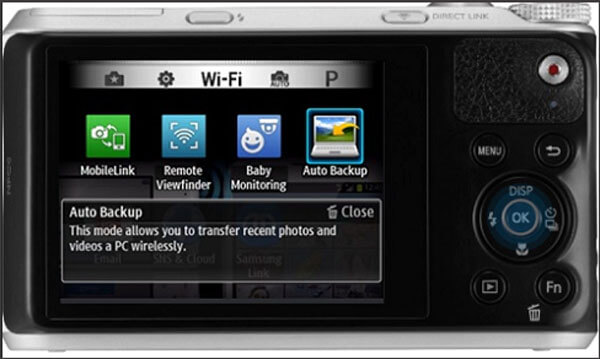 Tips: This Samsung backup software merely runs on Windows 7/8/10, etc, and it's hard to unload sometimes.
Part 2: Top 4 Samsung Backup Apps to Back Up Data to Cloud
2.1 Google Drive
Google drive can back up your entire computer or almost everything of your Samsung phone. It runs on multiple operating systems. You can set the visible range of the backup data. What's more, it can also share data, such as logging in it on other devices, and managing backups.
Concrete steps: Download Google Drive > Install > Settings > General > Backup & reset > Backup my data > automatic restore > Backup account >Set backup account > Add account.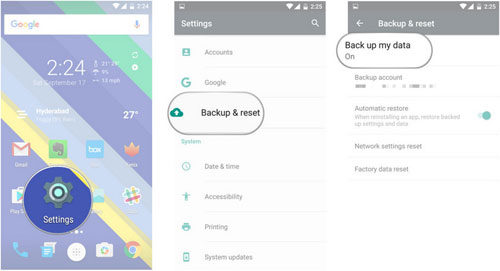 Attention: It is a bit slow while backing up, and the server is sometimes unstable. So occasionally, it fails to synchronize. Moreover, if you don't want to install chrome, you cannot execute offline editing, and it only supports 15GB of free files.
2.2 Samsung Cloud
Samsung owners who have been acquainted with this Samsung backup app might know that Samsung Cloud can be used to watch videos either for free or for a fee. Similar to Google Backup, Samsung Cloud service only supports certain phone models. But compared with the former, Samsung Cloud service is better compatible with Samsung mobiles. In the same manner, Samsung Cloud also requires a Samsung account.
Easy tutorial: SETTINGS > Cloud and accounts > Samsung Cloud > Backup settings > BACK UP NOW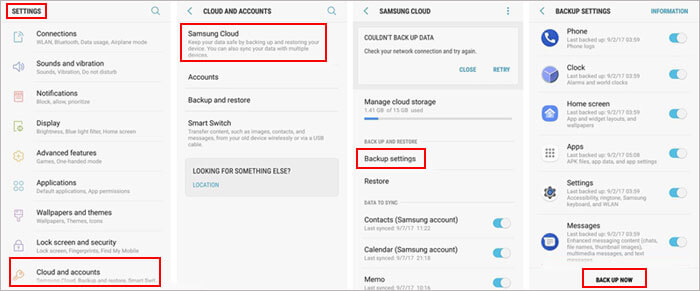 Tips: Samsung Cloud service is not very friendly to its new users, because the new Samsung account created after June 1, 2019 will only enjoy 5GB of storage space.
2.3 Google Photos
Google Photos offers photos and videos backup, and accurate autotags will help you sort images by automatically identifying them. You can also edit and share photos freely. It can use face recognition technology to aggregate all photos of the same person. However, image-preserving compression will compress pictures and videos before being backed up, which is acceptable to many people though, if you want a lossless backup, it is recommended that you choose Method #1.
Users' direction: Download and log in Google Photos > Menu > Settings > Back up & sync.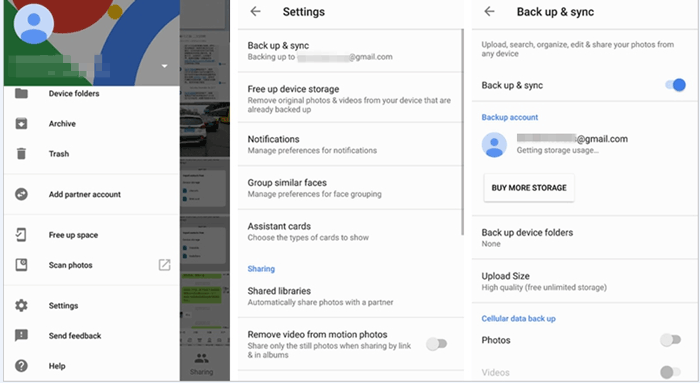 Note: Google Photos (for China) is a version without the Google service pack. So it cannot perform cloud synchronization as well as sharing photos with friends.
2.4 Amazon Cloud Drive
Why do I put it in the last part? Because it's not very easy to use Amazon Cloud Drive compared to other backup solutions. We all know that Amazon is noted for E-commerce, but it also launches a backup service, and its members have unlimited backups. However, it does not support file synchronization. You cannot choose automatic backup, and it has no collaboration capabilities. But the way it works is not difficult.
Light backup method: On Mac, right-click files > Upload to Cloud Drive. On PC, right-click data > Send to > Amazon Cloud Drive.
Attention: The web version has a 2GB capacity limit, and the login location is determined based on the languages and input methods. Therefore, if you are not in the U.S., uploading verification may take a long time and it often reports errors.
Words in the End
When it comes to backup of Samsung phones, the first reaction coming into our mind is to choose a reliable tool whether it is free Samsung backup software or not so as not to cause unnecessary losses. Characterized by safe, nondestructive, professional and well-spoken features, Coolmuster Android Assistant and Coolmuster Android Backup Manager can be your ideal choices. Thus, download the one you prefer and have a try now?
Of course, there is no denying that other 8 Samsung backup apps or software can basically complete backup tasks, but some inadequacies cannot be ignored. Now, here're some shortcomings as listed - Samsung Auto Backup: only for Windows; Samsung Smart Switch and Samsung Kies: some Galaxy devices are not supported; Google Photos and PC Auto Backup: Only photos and videos are available; Samsung Cloud and Amazon Cloud Drive: Less backup space. Google Drive and Amazon Cloud Drive: a bit slow and both servers are not very stable now and then.
Related Articles:
How to Have Samsung Backup Photos in 6 Simple Solutions
2 Ways to Restore Onedrive Backup to Android/Samsung
How to Create Samsung Contacts Backup?[6 Ways for You]
Samsung Messages Backup: 6 Ways to Backup Samsung SMS Easily
Samsung Data Recovery: Everything You Need to Know