Samsung phones have captured many people's hearts, especially its Galaxy series. We spend more time on our mobiles than we used to. This means a large amount of sensitive data is stored in them, which has to be transferred to a safer place like a computer. You may be wondering how to transfer videos from Samsung to computer.
Although the transfer process may seem intimidating, it is far simpler than you can imagine. This article will provide seven ways to transfer videos from Samsung to a computer.
Way 1. How to Transfer Videos from Samsung to Computer Via Android Assistant
The easiest way to transfer videos from Samsung to the computer is by using professional software like Coolmuster Android Assistant. It is an amazing program that enables you to freely transfer and manage your data on a computer. With just a few clicks, you can easily import all your videos from Samsung to the computer without hassle. Moreover, this software lets you preview the videos before transferring them, making it a better management tool.
Also, if you don't like the idea of transferring one video at a time from your Samsung to your computer, this software is your best bet. It has a batch transfer feature that allows you to select multiple videos at once and then transfer them all in one go to your computer. How cool! This feature makes it a convenient and fast way to transfer many large videos.
Apart from videos, this software also supports other types of files, such as contacts, music, photos, documents, and more. Rest assured, this application is 100% safe, performing only read-only operations to protect your Samsung and PC from potential harm.
Here are the top features of Android Assistant:
Transfers videos from Samsung to computer.
Instantly back up and restore all data on your Android device in one click.
Supports transfer of video files, contacts, SMS messages, call logs, and music files.
You can swiftly export and import whatever you need directly on the computer.
You can add, transfer, edit, or delete contacts on your computer.
Allows you to delete, send/reset and copy text messages.
If needed, you can also install/uninstall apps without any hassle.
Widely compatible with Samsung phones and tablets, including Samsung Galaxy S23/S22/S21/S10, A53/A54, etc..
How do I transfer videos from my Samsung s10 to my computer? Here are the steps:
01 Download the program on the computer
Choose the correct version of Coolmuster Android Assistant and install it on the computer. After it's successfully installed, launch it, then connect your Samsung S10 to the computer.
Remember to activate USB debugging mode on your device before proceeding. This will ensure the software detects the phone.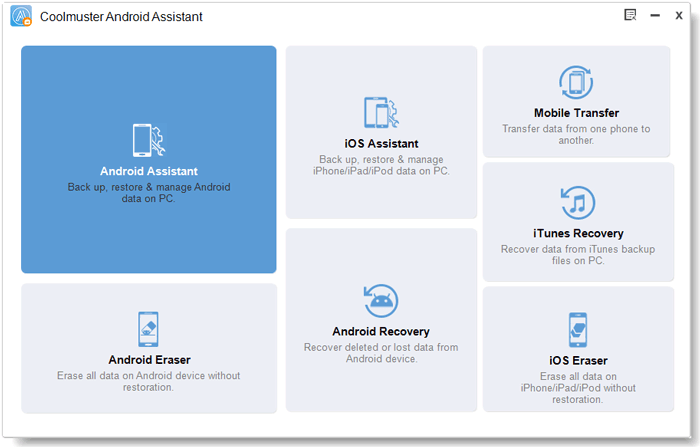 02 Select the videos to transfer to the computer
Coolmuster Android Assistant will detect your Samsung phone and instantly display all files on the left panel arranged in categories. Click on the "Videos" folder from the left menu, then tick off the items you wish to move.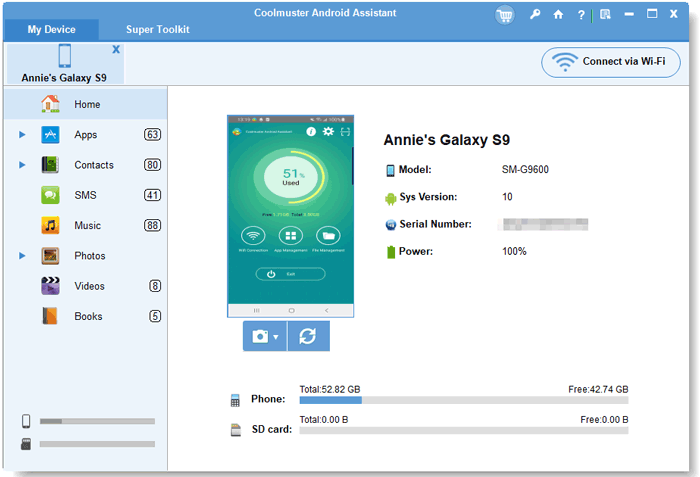 03 Export your videos from Samsung S10 to a computer
After choosing the videos, hit the "Export" button and wait as your videos are effortlessly transferred from your Samsung S10 to the computer.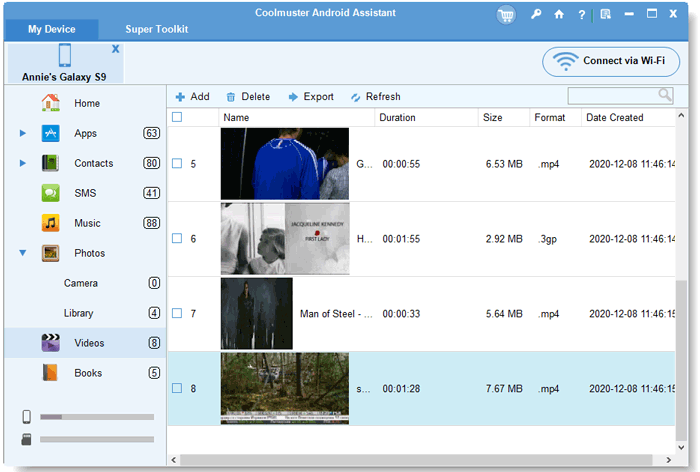 That's all. Easy right? Now you can have your videos safely stored on your computer, secure from any data loss risks.
Videos guide on how to transfer video files from Samsung to PC:
See more:
How to Transfer Files from Android to PC over Wi-Fi? [6 Ways]
How to Transfer Files from Android to iPhone [Full Solutions]
Way 2. How to Transfer Videos from Samsung Galaxy to Computer Via USB Cable
Another way is to use a USB cable. Actually, it's one of the popular ways to have your Samsung videos on a PC. You just have to connect the Samsung phone to a computer with a USB cable, then access File Manager and conveniently transfer your videos.
The use of a USB is one of the most common and easiest methods to move your videos with ease. It's only a matter of copying and pasting your files. What you need is a working USB cable and a PC to quickly have your files on your computer.
However, the process can be time-consuming, so you will have to wait longer if you have many videos.
So, if you are asking yourself, 'How do I transfer video from Samsung to Windows 10?' Here's how:
Step 1. Switch on your Samsung device and unlock it by entering the passcode if you have set up one.
Step 2. Now take your USB cable and connect the Samsung device and the computer. Insert the smaller end of the cable into your device and plug the larger end into the computer's port. Make sure the port is working.
Step 3. Click on the "Charging this device via USB" notification on your screen. Then click on the "File Transfer" option to open a file transfer window on your device.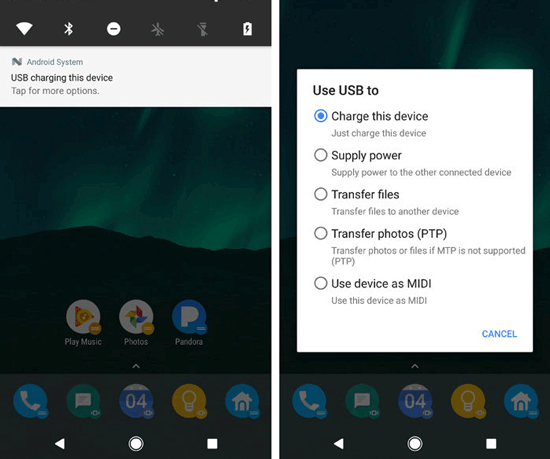 Step 4. Locate the folder with your videos and double-click on it. The directory name is often among the DCIM, Camera, Photos, or Videos folders. However, if you can't find what you're looking for in any of these locations, simply check out their contents to be sure.
Step 5. Find the DCIM folder in the device's internal storage, and copy and paste them to your preferred destination on your computer.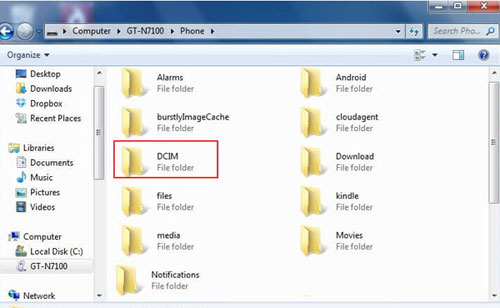 You may like:
Top 3 Ways to Transfer Files from Android to PC Using USB Cable
Android File Transfer - Transfer Android Data to Computer
Way 3. How to Transfer Videos from Samsung Phone to Computer via Cloud
If you're seeking an effortless way to share videos from Samsung to the computer, look no further than the cloud. File transfers between your Samsung and computer have never been simpler with third-party cloud services such as Dropbox, Google Drive, OneDrive, and more.
With these cloud services, you will easily access your files from any device, whether a PC, phone, or tablet. All changes made on one device will be immediately reflected on other devices logged into the same account.
1. Use Google Drive
Google Drive is a cloud storage solution for anyone who wants a good place to keep their files in the cloud. It is user-friendly, reliable, and accessible from nearly any device is an added advantage. To top it off, you get a whopping storage of 15 GB for free to store anything your heart desires. If you need more space, you can go for a subscription plan. It is compatible with Macs and PCs, so moving videos is a breeze. Plus, it's available on all Samsung devices. Just follow these simple steps:
Step 1. Open the Google Drive app by clicking on its icon. You can download it from the Play Store if you don't already have it. Download and install it. Open and enter your Google account details when prompted.
Step 2. Next, locate the plus sign in your display's lower right corner. You'll need to tap the "Upload" icon, an upward-pointing arrow over a straight line.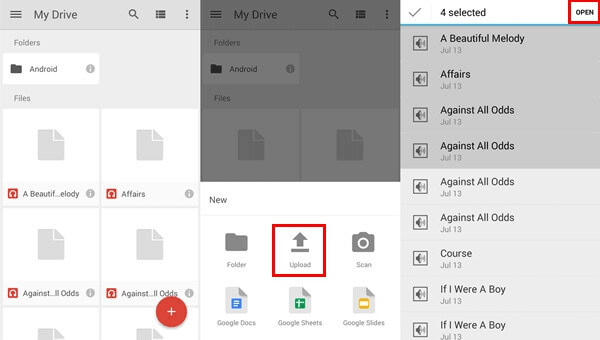 Step 3. To access your media library, tap "Photos and Videos."
Step 4. Find the video you wish to transfer to your PC and tap on it. Look in the upper right corner of your device's screen for an icon labeled "Upload."
Step 5. Open your computer and head to drive.google.com. If you're not already logged in to Google, you'll be asked to log in once the page is loaded. Scroll to the left of your Google Drive page, and you'll find "Recent"; just a few scrolls down. Click on it to show all recent files.
Step 6. Locate the video uploaded and right-click on it. This opens a contextual menu that offers you multiple choices. Select "Download" from the menu. Afterward, your video will be downloaded to the computer.
2. Use OneDrive
On the other hand, if you are a Microsoft 365 subscriber, you're given a lot of storage space in OneDrive. It is directly incorporated into Windows, making it an ideal choice for transferring videos from your Samsung phone to a PC or Mac. With such convenience in your subscription plan, why not maximize its potential? Here are the steps to migrate your Samsung videos onto a PC:
Step 1. Download the OneDrive application on a Samsung phone. Open it and log into your Microsoft account with your credentials.
Step 2. Choose the "(+)" icon and click "Upload" to upload Video files to OneDrive.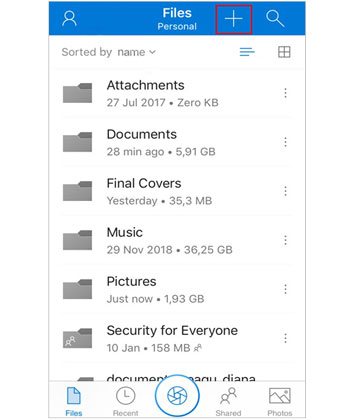 Step 3. On your Windows PC, open Windows File Explorer and choose OneDrive account. All the uploaded videos will be available on the desktop.
Way 4. How to Transfer Videos Files from Samsung to Computer Via Bluetooth
Android phones come pre-installed with Bluetooth, an innovative tech feature solely for moving files wirelessly. Although it may not be as fast as other solutions, it will always come to your rescue when you need help.
Bluetooth transfer method works well if you have only a few files to move, as its speed is quite slow. The best thing about Bluetooth is that it does not rely on Wi-Fi. Besides, you won't have to use a USB cable which is sometimes not much dependable as it can get disconnected anytime. However, ensure your computer has a Bluetooth feature for a successful file transfer. Here are the steps:
Step 1. To enable Bluetooth on your computer, navigate to "Settings" and "Devices." Look for the "Bluetooth and other devices" option. Then toggle the Bluetooth setting on.
Step 2. Next is to enable Bluetooth on your Samsung device. Navigate to the phone's settings and find the "Bluetooth" option. Hold the icon to find other devices with the Bluetooth feature turned on.
Step 3. When you find your computer, click on its name and press "Pair" to pair the devices.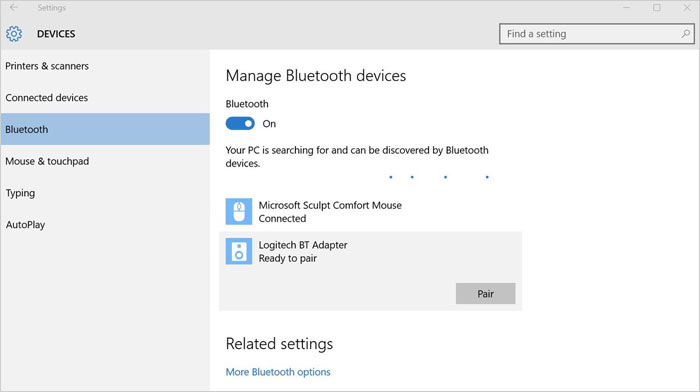 Step 4. Choose the video files you want to transfer on your computer, then click the "Share" icon and choose the "Bluetooth" option.
Step 5. Make sure to accept the popup notification on the computer. If you don't see it, simply click the Bluetooth icon in the lower panel, then choose the "Receive File" option.
Way 5. How to Move Videos from Samsung to Computer Via Smart Switch
To make the transfer process simpler on Samsung devices, Samsung has developed a revolutionary app called the Smart Switch. (Samsung Smart Switch stuck?) It provides a way to seamlessly migrate your important data, including contacts, photos, videos, music notes, etc., between Samsung devices or even Windows PC. Here are the steps to use:
Step 1. Install Smart Switch on your Samsung from Play Store. Also, download it to your computer from the Microsoft Store.
Step 2. Open the Smart Switch app on both devices, then connect the phone to PC with a USB cord.
Step 3. Choose "Backup" from the PC and videos as the data type to be transferred.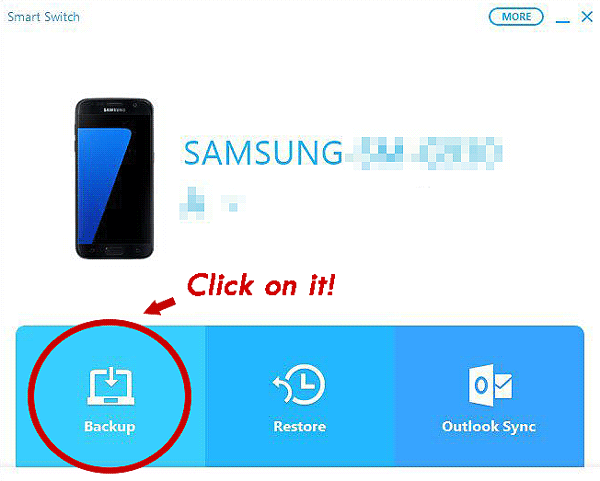 Step 4. Press the "Backup" and wait for the transfer procedure to finish.
Way 6. How to Transfer Samsung Videos to Computer Via Email
How do I transfer videos from Samsung phone to computer? An easy way to transfer files from Samsung to your computer is by emailing them. Chances are, you already know this method since we mostly use mail in our daily activities like work or study.
The transfer process is very simple. All you need to do is select the videos and then attach them to your email. Open your PC's mail application and download them. As easy as that!
Despite its perks, the main hindrance of emailing is that you can only send a maximum of 25MB in a single mail. So, for large videos, you will need to send multiple emails. If that's fine with you, here are the steps to move Samsung videos to a computer:
Step 1. Open the Gmail app on a Samsung device and select "Compose." From here, you can attach the videos you wish to share.
Step 2. Enter your email address in the "To" field, then press "Send" to receive a copy of this message.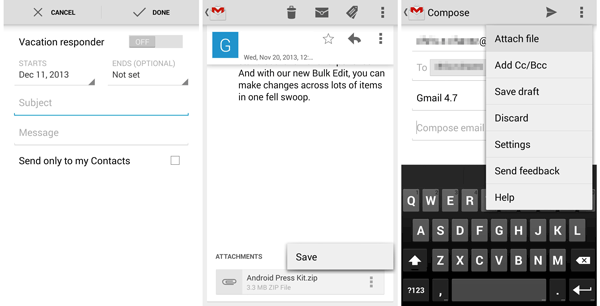 Step 3. On the computer, open Gmail and choose the email you just sent. Then, press the download icon underneath each file to save it to the computer.
Way 7. How to Transfer Videos from Samsung to Computer via USB Drive
Do you know it's possible to move your Samsung videos onto a laptop using a Pendrive? Many would agree that this is among the best options available to migrate their Samsung videos to a computer. However, your phone should be able to support USB OTG.
Besides, if you can find a dual USB drive, you can still get your videos onto a computer. Here are steps to transfer Samsung videos to a computer using a flash drive:
Step 1. Insert the flash drive in the USB OTG, then connect the OTG to your Samsung device.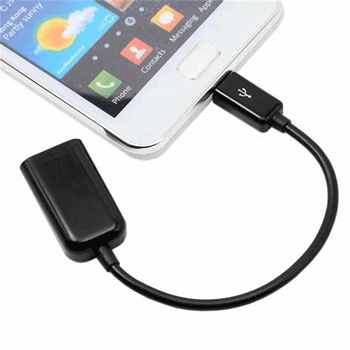 Step 2. Choose "My Files" on your Samsung phone and choose "Videos" from your phone.
Step 3. Tick all the videos you want to transfer, click "Move," and choose USB drive as the storage option.
Step 4. Wait for the process to finish and confirm the videos you sent. Eject the flash from the phone.
Step 5. Now insert it into your computer and start copying the videos to the computer.
Final Words
You now know how to transfer videos from your Samsung device to a computer. All the methods mentioned are incredibly simple for anyone with little-to-no technical knowledge, yet most of them should only be used when transferring videos of small sizes.
After thorough scrutiny, we found the best and most efficient way to transfer Samsung videos to a computer without worrying about file size is Coolmuster Android Assistant. With its remarkable speed and quality assurance, this is the tool to use for all your data transfer and management. What's even more impressive is that you can send videos in batches, saving you time.
Related Articles:
How to Transfer Files from Android to iPad - A Complete Guide
How to Transfer Files from Android to Android Easily & Effectively? (6 Ways)
How to Transfer Files between Android and Flash Drive via OTG?
5 Easy Methods to Transfer Files between Android Devices via Wi-Fi
How to Transfer Files from iPad to Android Phone? (6 Evaluated Methods)
Top-Rated Approaches in Transferring Files from Android to Mac Effectively