There is no doubt that when getting a new iPhone you've long dreamt of, your happiness is absolutely beyond description. But just calm down! You just get the new iPhone, rather than fully enjoy the new device! In order to make your iPhone work properly and perfectly, there are several things you needed to do when getting a new iPhone!
1. Activate Your iPhone
To activate your iPhone, you need to install iTunes and create an Apple ID first. In terms of installing iTunes, just do to the official site to download the iTunes on your computer and then follow the steps as instructed to install it. As to creating an Apple ID, you can click here and follow the prompts to create an Apple ID on your own. After that, you can:
> Use the iPhone SIM card eject tool to open the SIM card tray and put in your SIM card;
> Hold down the Wake/Sleep button to restart the iPhone;
> Get iPhone linked to computer and then open the installed iTunes;
> Follow the prompts on iTunes to activate your iPhone.
If you should meet any problems or still fail to activate your iPhone after these steps, you can click here to get the solution.
2. Set up Email & iMessage & Facetime
Now you can start to set up Email and iMessage on your activated iPhone. After that, you can use two services for free while texting or calling another Apple device user on condition that Wi-Fi is available.
- To enable iMessage, tap Settings > Message. Then move the slider of iMessage to ON. Next, click on Send and Receive, and enter your Apple ID to link your phone number with your Apple ID. Now, Apple device users can send messages to either your phone number or Apple ID email address.
- To enable Facetime on iPhone, enter Settings > FacetTime. Then turn on FaceTime and sign in with your Apple ID and link your phone number with your Apple ID.
- To enable Email on iPhone, navigate to Settings > Mail, Contacts, Calendars. In this screen, you are free to change the way mail is displayed and handled, as well as additional email accounts for Gmail, Outlook and more. More importantly, you can also add a Signature to be attached to the end of all email messages.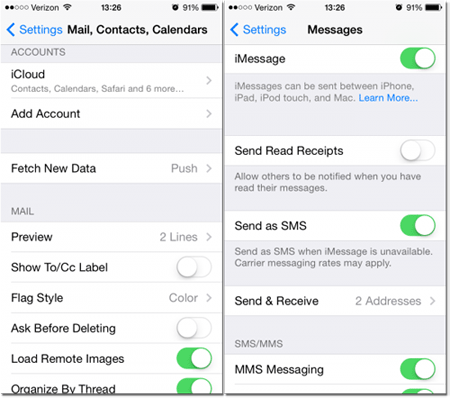 3. Create a Passcode and Enable Touch ID
If you want to protect your iPhone from easy access, you can create a passcode and enable Touch ID on your iPhone, so as to make sure that your iPhone won't be easily accessed without the right passcode or Touch ID. To create a passcode or enable Touch ID, you can navigate to Settings > Passcode Lock (Note: Passcode & Touch ID for iPhone 5s or newer users). Then you can set up a 4-digit passcode lock for your phone. Learn more about how to use Touch ID on iPhone >>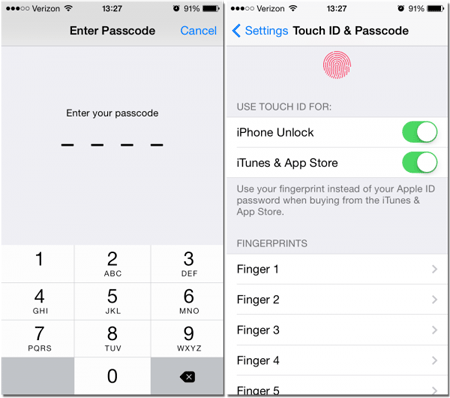 If you already have set your iPhone password but forgot, you can click here to learn how to reset your iPhone password.
4. Set up iCloud on iPhone
iCloud is absolutely an essential assistant tool for every iPhone users. You can tap Settings > iCloud. And then sign in with your Apple ID. Tap Account to create a new iCloud account. But if you already have owned an iCloud account, you can log in and then read this tutorial on how to back up iPhone files in one click.
Related:
Restore iPhone from iCloud backup
Easy Way to Download iCloud backup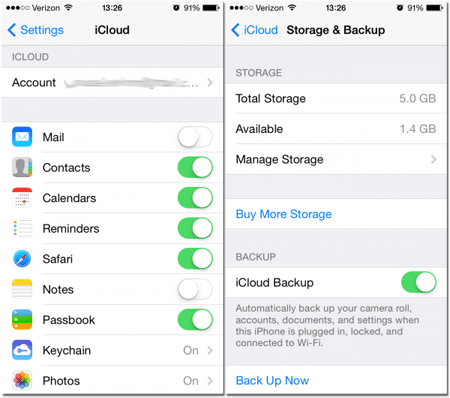 In addition, under iCloud tab, you are suggested to enable iCloud Keychain and Find My iPhone. So even when you accidentally lost your iPhone, you can easily track your lost iPhone within a few simple clicks!
5. Adjust System Sounds and Ringtones
Now navigate to Settings > Sounds. Then you can choose from Apple's selection of ringtones by tapping Ringtone. Also, you can use a song as your iPhone ringtone as you needed and liked. Moreover, you can click here to learn how to get free ringtones for your iPhone to customize your device as wanted. As to the sound, you are free to adjust the sounds of your ringtones. Also, you can choose Vibrate mode, Silent mode and etc. as you wished. If you are faced some volume problems, you can check here to solve it in one click!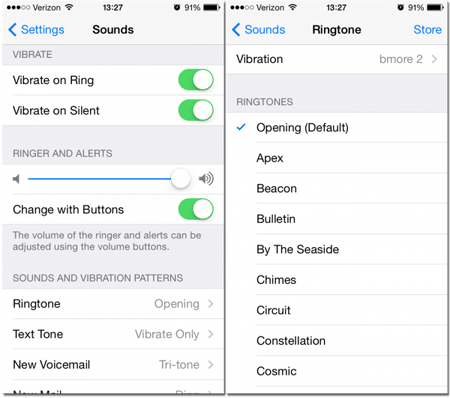 6. Personalize Your Background
You can change the background by going to Settings > Wallpapers & Brightness > Choose a New Wallpaper. Here, you are allowed to choose any pictures including the one from your photo library after being modified by professional photo editors, so that you can individualize your iPhone device freely. After all, you don't want to be exactly the same with others, right?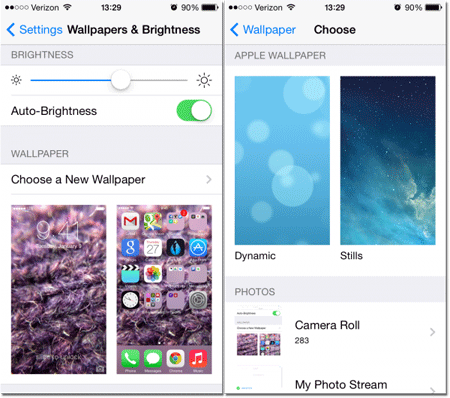 7. Manage iPhone Homescreen
You can customize iPhone homescreen by rearranging app icons and the dock. For example, you can long-press an icon until it begins to shake. Then click the X to delete it from your homescreen or drag it to a new position. Also, you can drag an icon on top of another, so as to create a folder to manager a cluster of apps on your homescreen.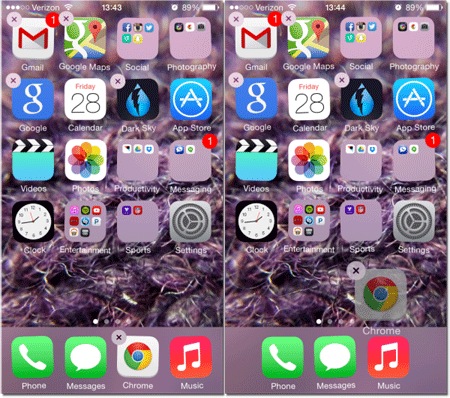 8. Add Contacts to iPhone
Navigate to Phone and tap Contacts at the bottom of the screen. Then click on the "+" option in the upper righthand corner to add contacts from your iPhone. For each contact, you can add multiple numbers and email addresses as well as set specific ringtones and/or vibration patterns. Also, you are free to add a photo to personalize or choose a nickname for your contact, as well as other info such as address, birthday, website URL, and other notes.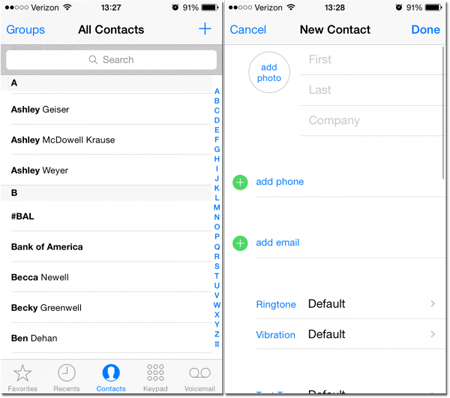 9. Get Useful Apps and Software
Now, you can download some interesting apps on your iPhone. You are free to download any apps as you wanted and need. For example, you can download music apps, game apps, book apps and etc. to entertain yourself when you are boring; you can download message apps, contacts apps to personalize your chat with others; you can download weather apps to put unpredictable weather under control; you can download calendar apps to personalize your calendar on iPhone and any other apps as you liked! You can also remove some preinstalled apps from your iPhone. But before that, you need to jailbreak your iPhone first.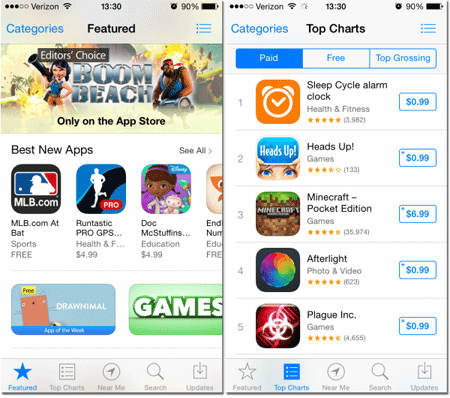 In addition, you can download this Coolmuster iOS Assistant as your best file manager for iPhone/iPad/iPod device. With this software, you can freely back up all files such as contacts, messages, apps and etc. from your iDevices in case of sudden data losses! Also, this software allows you to be the full controller over your iPhone. You are free to edit, export, manage, delete and refresh any files saved in your iPhone/iPad/iPod without restrictions!
Related Articles:
Guide on How to Identify a Refurbished iPhone
9 Best Apps to Import Photos from iPhone to PC