How long does it take to update iPhone? Performing an iPhone update sounds like a good idea since you are anxious to try the features of the new release. These range from bug fixes and enhanced usability to crucial security updates. However, when upgrading to the new iOS, you will want to know how long it takes to update the device.
We all want to keep time. This write-up will help you learn the exact time to update an iPhone and what to do when the update is taking too long. So, take a look.
Part 1. How Long Does iPhone Update Take?
To update an iPhone, you should download a new installation package, install the package then set up your iPhone. Internet speed and the quality of the hardware also influence the process. On average, updating the latest iOS takes approximately 30 minutes.
Before updating an iPhone, it's advisable to back up your iPhone to a computer or iCloud. If we break down the time to update an iPhone, the downloading process takes 5 to 15 minutes, installation takes 10 to 20 minutes, and setting up takes 5 minutes maximum.
Generally, the time taken for a complete update ranges between 15 to 40 minutes. If your device takes longer to update, let's say more than an hour, it means there is a problem.
In the next section, we'll show why iPhone updates may take longer and possible ways to fix them.
Part 2. Why Is My iPhone Taking Forever to Download the Update?
We have discussed how long an iPhone update takes in part 1. But sometimes, it may take longer. Then, why do iPhone updates take longer? Below are the possible reasons that the iPhone takes longer to update:
1. Weak internet connection
A strong internet connection is needed when downloading a new iOS system. But the downloading process will likely be stalled if the internet is poor.
2. Insufficient storage on your iPhone
The process will be interrupted if your iPhone does not have enough storage space to download the iOS update.
3. No charge on the iPhone
It takes about 20 to 30 minutes to update the new iOS. Therefore, the process may be interrupted if your phone doesn't have enough charge.
4. Background Apps
Running apps in the background can use up network resources and slow down the update download. Make sure you're not running bandwidth-intensive apps while downloading the update.
5. Unknown system issues
There could be other unknown problems in the device's system that are causing the update to take longer.
You May Like:
How Long Does iOS 16 Take to Install and Update? Find Out Here
How Long Does iOS 17 Beta Take to Install? [Answer & Solution]
Part 3. What to Do If iPhone Update Taking Longer to Update?
How long does software update take? Normally, it will take about 30 minutes, but sometimes, the process may take longer than expected. So, what to do if an iPhone update takes longer? Various factors will lead to this issue, including slow internet, traffic in Apple servers, depleted storage, and much more. However, there are some fixes to hasten the process. Let's see how to apply every fix.
Fix 1. Check the Wi-Fi Connection
As said, a complete iOS update needs a stable network. If the update takes longer, the network might have a problem. Try turning it off and on to fix the issue. Here is how to do that:
Step 1. Go to the Settings app, click on the Wi-Fi, and turn it off.
Step 2. Wait for some time and turn it back on. This should resolve the network problem affected by the iPhone update.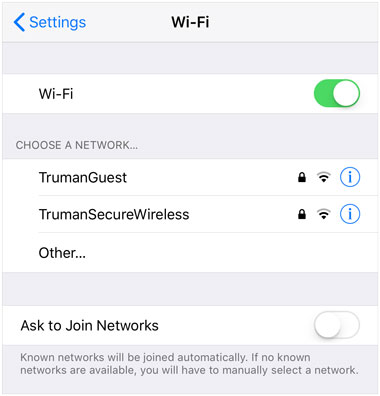 Fix 2. Reset the Network Settings
If you've already verified your Wi-Fi connection, yet your iPhone's update speed remains sluggish, you can consider resetting the entire network settings as an alternative solution. The following steps detail how to reset your network settings:
Step 1. Access the Settings on your device.
Step 2. Navigate to the General section.
Step 3. Select Reset and then choose Reset Network Settings.
Step 4. Enter your device's passcode to confirm the procedure. The system will proceed to reset your Wi-Fi connections, subsequently improving the speed at which your iOS updates are downloaded.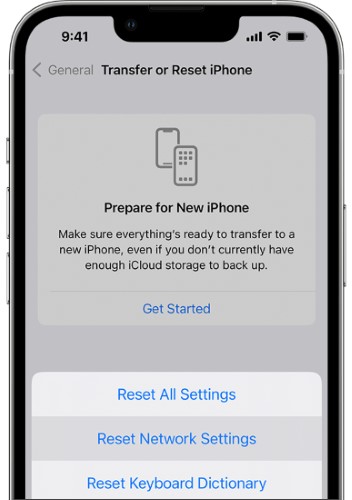 Fix 3. Force Restart the iPhone
You should also try to fix the new iPhone update takes longer by force restarting. Most of the time, this will address software glitches on the device. During the force restart, an iPhone shuts down and starts again afresh. Here's how to perform a factory restart:
iPhone 6 and earlier versions:
Press the Home and Side keys for a few seconds.
When the Apple logo appears, let go of the buttons.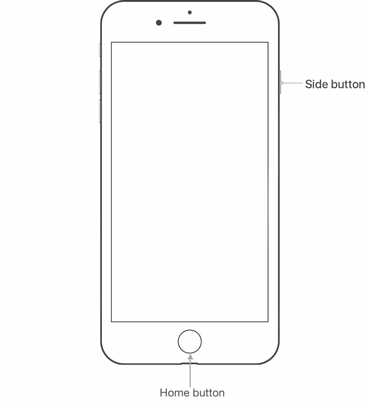 iPhone 7/7+ versions:
Hold the Side and Volume Down keys for a few seconds.
Release the buttons when the Apple logo shows.
iPhone 8 or later versions:
Press and quickly release the Volume Up key.
Press and quickly release the Volume Down key.
Hold the Side key until the Apple logo shows.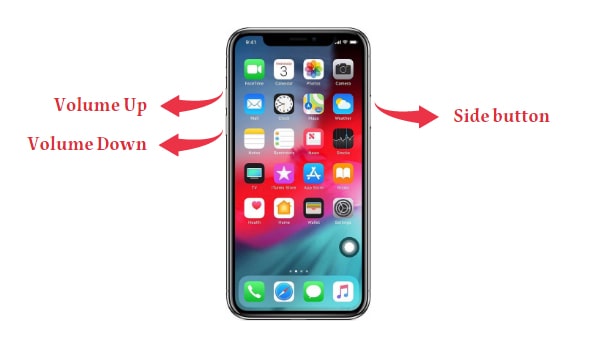 Further Reading:
How to Fix iPhone Stuck on Verifying Update? 15 Fixes in 2023
How Long Does It Take to Restore an iPhone on iTunes/iCloud? (Authoritative & Reliable)
Fix 4. Check the Available Free Space on the iPhone
Another reason for iOS updates taking forever is insufficient space on the iPhone. The iOS update needs at least 22 GB of storage. Thus, if the process takes too long to finish downloading, check the phone's storage. Here is how to check the available storage on your iPhone:
Step 1. Head to Settings, then General.
Step 2. Proceed to iPhone Storage, then check the storage.
If the space is very low, offload some unused applications to create more space. Once done freeing up space, try downloading the new iOS update again.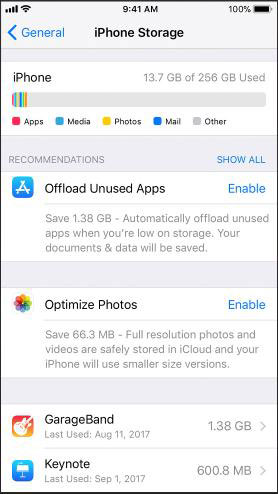 Fix 5. Check Apple Server
If your problem isn't fixed even after freeing up space on the iPhone, the issue may be with the Apple server. When new software gets released, some stuck problems could happen. Therefore, you can wait for the server to be back online and then try redownloading the update again. Alternatively, you can ask Apple Support if your phone has an issue with the Apple server.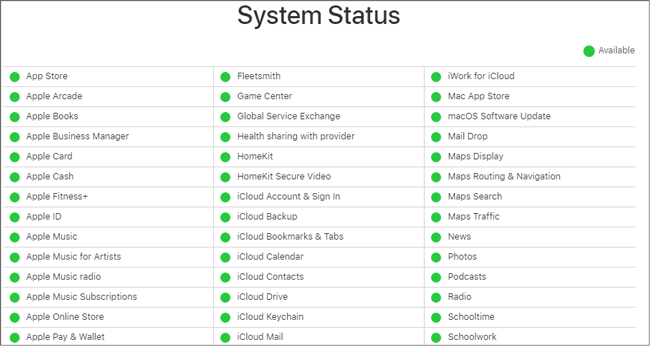 Fix 6. Remove Background Apps
Removing the background apps can also resolve the iPhone taking too long to update. Each application operating on the phone uses the processing space. If the application needs an internet connection, it'll be connected to Wi-Fi or mobile data simultaneously. Deleting these apps running in the background will make the storage space lighter.
Fix 7. Update Your iPhone via iTunes
If the solutions provided in this article have not resolved your issues, attempting an update for your device through iTunes could be a viable option. iTunes serves as a crucial tool for restoring or updating iOS devices in case of malfunctions. Before proceeding with iTunes, it's important to confirm that you have the latest version installed. Subsequently, you can follow these steps:
Step 1. Open iTunes and connect your iPhone to your computer using a USB cable.
Step 2. Select your iPhone within the iTunes interface.
Step 3. Click on the Summary section. Then, navigate to the Check for Update option.
Step 4. If iTunes identifies an available update for your iPhone, click on Download and Update.
iTunes will efficiently handle the download and installation of the latest iOS update on your iPhone, minimizing any potential delays.

Learn More:
How to Fix iTunes/iPhone Stuck on Preparing iPhone for Restore?
Troubleshooting for iPhone Stuck on Preparing Update [Top 10 Fixes]
Part 4. The Quickest Way to Update iPhone Using iOS System Recovery
If a software problem makes the iOS update take too long or not updated, the above solutions won't help. In such a case, you should use iOS System Recovery to update the iPhone hassle-free and without data loss. All it takes is a few clicks.
Moreover, iOS System Recovery can fix system problems on all iOS devices, such as being stuck in water-damaged devices, black and white screen, etc. With its two repair modes, you can fix any issue with iOS devices without a hurdle.
Top Features of iOS System Recovery:
Repair iOS systems-related issues in a click.
Compatible with all mainstream iPhones, iPads, and iPods.
Update iOS devices quickly without delays.
Easy to use with a clean interface.
How long does it take for an iPhone to update using this application? It should take you only seconds to update your iPhone with iOS System Recovery. Check the steps below:
01Download the program on the PC and launch it. Select iOS System Recovery. Connect the iPhone to the PC using USB. Tap Trust on your iPhone.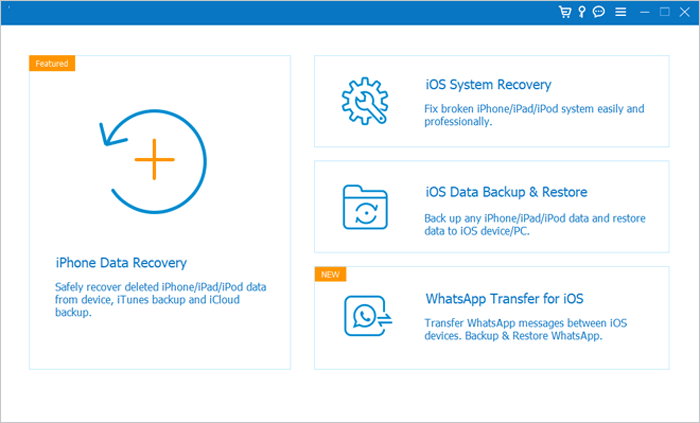 02Hit Start on the next screen after checking the several issues the tool can fix.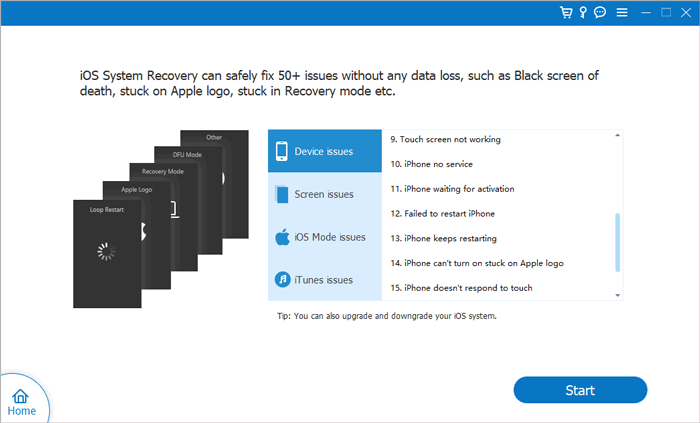 03Choose the mode to repair the device. Go with Standard Mode, which will not erase the data on your device. Then, click Confirm to continue.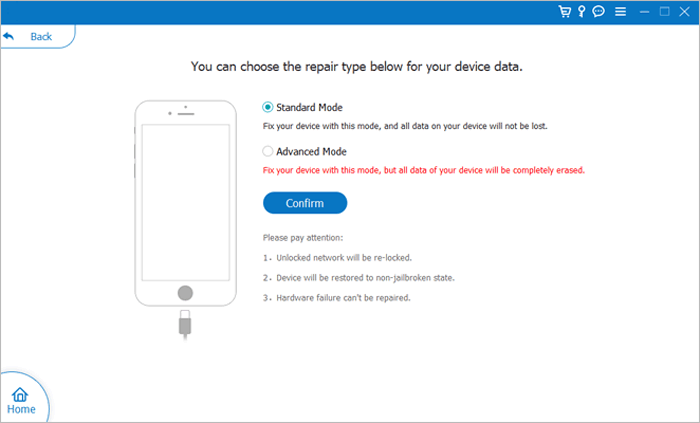 04You'll see the detected device information on the screen, such as the Type, Model, and Category of your device. If it's not correct, change it. After that, click Repair to download the correct firmware for the phone and update it.
Also Read:
How to Fix the iPhone Transferring Data Stuck Issue Effortlessly? 14 Quick Tricks Here
How Long to Transfer Data from iPhone to iPhone? Find Out Here
Summary
How long does iOS update take? Here, we have known the answer. Besides, we also learned some effective ways to troubleshoot an iPhone device when it seems to be taking forever to update. Hopefully, it has helped you. In addition, if you want a solution that offers a seamless and hassle-free experience, seek the aid of iOS System Recovery.
Related Articles:
[SOLVED] iCloud Backup Taking Forever? 8 Easy Ways Can Fix It
How to Undo an Update on iPhone 14/13/12/11/X/8? (Proven Tips)
Quick Solutions for iPhone Stuck on Preparing to Transfer Issue
How Long Does It Take to Back Up iPhone? [Updated and Informative]
iPad Won't Restore or Update? 7 Solutions to Fix It
iPhone Software Update Failed: How to Update to iOS 15/16 Smoothly