iMessage is a very popular messaging app that carries important information. Besides, this app lets you share documents, photos, texts, videos, contact info, and much more. But, just like any other application, iMessages can also experience errors or glitches. Since the introduction of iOS 16, there have been some complaints from iOS users that iOS 16 iMessage fails to work on their iPhones or iPads. Normally, this iOS 16 iMessage not working error comes after updating the iOS device, and it can be frustrating.
If you are facing the same problem after recently updating your device to iOS 16, then this guide will help you. There are several troubleshooting tips to fix iOS 16 messages not working.

Part 1. Reasons for iOS 16 iMessage Not Working
There are various causes why you may get iOS 16 text message issues. The problem could be from the iMessage app, the server, or the phone's settings. What you should do first when encountering such an issue is to know if the problem is with the iMessage app not working with all contacts or only a specific contact on the iPhone.
If the iMessage isn't working with only one contact, the issue is probably with the recipient. However, if it isn't working with other contacts, then the problem is on your side.
iMessage not working iOS 16 issues could be as a result of these reasons:
The internet connection isn't stable.
iMessage isn't enabled on your device.
The date and time aren't correctly set.
Not enough storage.
More relevant articles:
10 Tricks for the Issue Cannot Restore Backup to This iPhone Because the Software Is Too Old
How to Fix it? These Common iPhone Calendar Problems
Part 2. Best Fix for iOS 16 iMessage Not Working Problem [Advanced Repair]
Why am I receiving text messages late iPhone iOS 16? Though there are many reasons why you may be experiencing this problem, it's tricky to find a specific one and try every solution to fix it. So, you may wonder if there is a one-stop solution for iMessages-related issues. Well, there is. iOS System Recovery is a professional tool that repairs iOS devices back to normal on a computer.
It doesn't matter the cause of iMessage not working on your iOS device. The point is that your iOS has system problems, and a better way to fix it is by using the iOS System Recovery which repairs the phone in just a click. Besides, your data won't be lost or damaged, and it is easier to use for starters. It also supports all iOS devices.
Key Features:
Fix iOS devices back to normal.
Fix iPhone issues such as recovery mode, Apple logo, and more.
Safe to use.
Support the latest iOS 16.
Here's how to fix iOS 16 iMessage not working problem:
01Launch the iOS System Recovery on PC using USB. Select the More Tools option from the interface and select iOS System Recovery.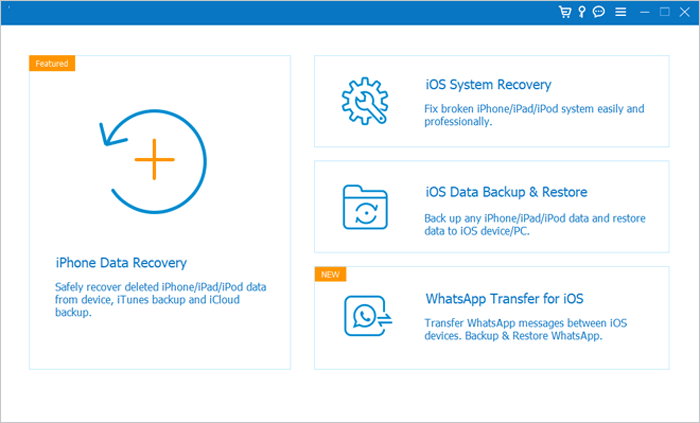 02Choose the type of your question/error and tap the Start tab to fix iOS 16 iMessage not working problem.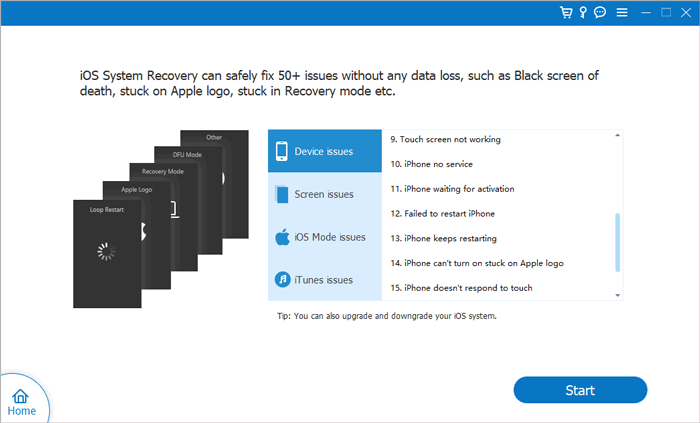 03Tap the Repair icon to download firmware on the phone. After downloading the firmware, the tool will fix the message freezing iOS 16 issues. Your device will return to normal in a short while.
Part 3. How to Fix iOS 16 iMessage Not Working Issue [Basic Tips]
Various factors contribute to iMessage not working issues. But this problem can be resolved with the solutions below:
Solution 1. Check Carrier Network
You should ensure that the network carrier connects with the internet or the iMessage. If there is no carrier network or it is slow, it may prevent the iMessage app from working normally. Also, you can try enabling and disabling Airplane mode to get back to the carrier network. Doing this may help solve the network issues.
Solution 2. Enable iMessage
You might have forgotten to enable the iMessage feature on your iPhone device, which might prevent the iMessage feature from working. To resolve this problem, you should always ensure the iMessage feature is turned on.
Here are some of the steps that you can use to enable the iMessage feature on iOS devices:
Step 1. Find the Settings application on your iOS device and click on it.
Step 2. Locate the iMessage, then select it. Turn on the iMessage toggle if it was initially off.
Step 3. Enable the Send an SMS option. It is located in the Message option at the bottom of your iPhone. Then recheck whether the problem is resolved.
Solution 3. Ensure the Date & Time Is Correct
You should always ensure the date and time are correctly set on the iOS device. This will help you use the iMessage feature conveniently. If the time and date are inaccurate, you may run into iMessage-related problems.
Solution 4. Check Apple System Status
Apple servers don't always affect iOS that much, but it's still important to confirm that the Apple servers are working as they are supposed to. To check if everything is fine with the Apple servers, head to the Apple System Status page, then see if the iMessage function has a green dot next to it.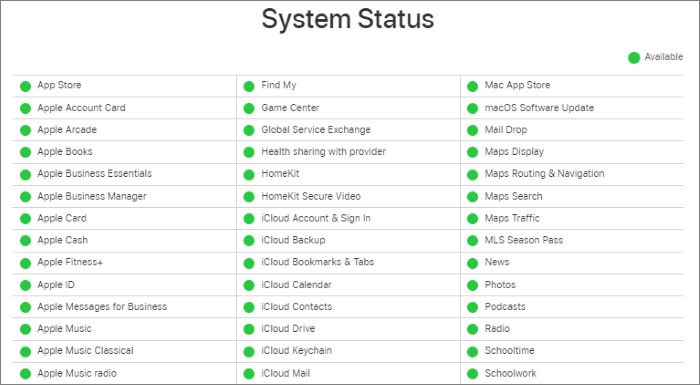 Solution 5. Reboot the iOS Device
Software bugs are a major cause of iMessage not working on your device. Therefore, you should reboot the iPhone to fix this iMessage problem. Rebooting a phone can fix all minor bugs and problems, which will help solve this issue.
Here's how to reboot your phone:
Step 1. Long press the Power (Side) and Volume Down keys at the same till you see an Apple logo on the screen.
Step 2. Your device will switch off automatically and on again after a few seconds. After it has restarted, try checking if the problem is fixed.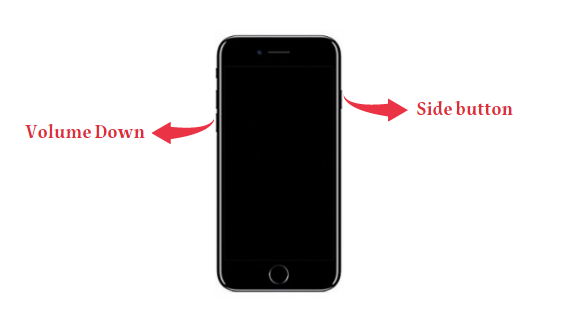 Solution 6. Check the Storage Space on iPhone
Insufficient storage space on the iPhone can also cause iMessage-related problems. When the device's storage gets depleted, you won't be able to send SMS. So, ensure you have enough storage space on your iPhone.
Here are the steps to do that:
Step 1. Launch the Settings application on your iPhone.
Step 2. Find and choose the General option and select iPhone Storage. From there, check the available space on your device.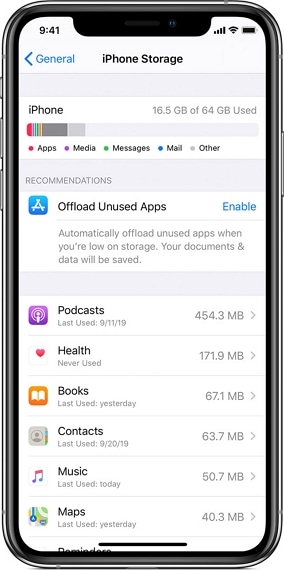 If you don't have sufficient space on the device, you may buy additional space for your device or delete some files.
Solution 7. Log Out & In Again on iMessage
Still experiencing iOS 16 SMS not working issue? Try logging out of the iMessage application and back in again. This reconnects your phone to the iMessage servers, which may prevent disruptions and data corruption. Also, it ensures the iMessage settings are correct, and your account is updated.
Here is how to log out of iMessage:
Step 1. Open the Settings application on your iPhone, then scroll down to Messages and click on it.
Step 2. Now click on Send & Receive.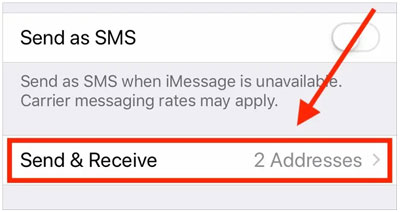 Step 3. Choose the ID option next to the Apple ID and select Sign Out from the menu.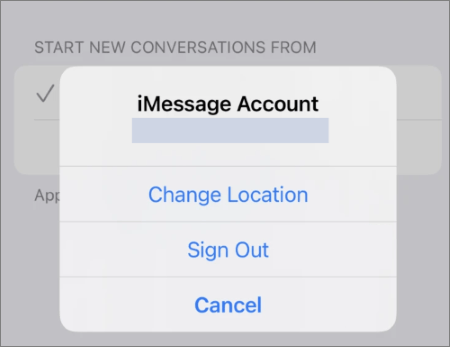 Once done logging out, you may now use Messages, just like a regular application, to send messages. However, you will not be able to access iMessage.
So, make sure you sign in again to re-enable the iMessage app. Here's how:
Step 1. Click on the Settings app on your iOS device and head to Messages. Click the Send & Receive option.
Step 2. Click on Use your Apple ID for iMessage, then choose Sign In.
Now wait for some time for the sign-in to finish.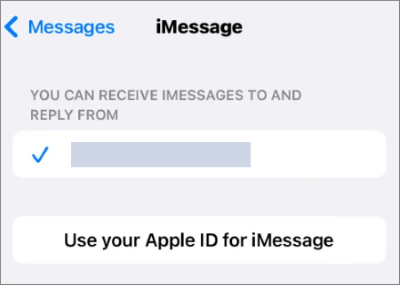 Solution 8. Restart iMessage
Another simple yet effective solution for fixing iOS 16 iMessage bug is to reboot the iMessage application. Rebooting this app is a straightforward procedure and will remove any glitches that might be preventing the app from working. All you have to do is close the application and then remove it from the app switcher.
Solution 9. Ensure the Phone Number You Entered Is Correct
If you cannot send iMessage to a contact on iPhone after recently updating to iOS 16, there's a chance you are sending the iMessage to the wrong number. As such, confirm that the number you're texting is correct. If you've mistakenly entered a wrong contact or the recipient is no longer using that number, you will likely face an iMessage-related problem.
Solution 10. Reset the Network Settings
Try resetting your network settings on the iOS device. Doing this might help restore the device's WiFi, APN, VPN, and cellular settings to factory defaults. This helps in resolving iMessage not working problems.
Here are the steps to reset iPhone or iPad network settings:
Step 1. Click on the Settings app on the phone and head to General then to Transfer/Reset iPhone.
Step 2. Click on Reset and Reset Network Settings.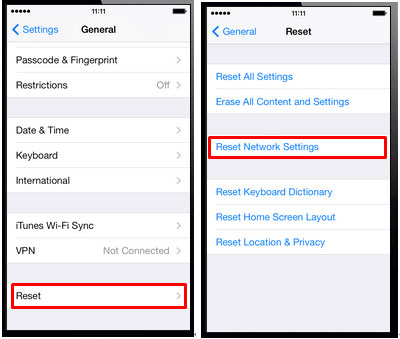 Step 3. Enter your device's password, then click Reset Network Settings for confirmation. Your phone will switch off and on again, and after finishing that, try checking if iMessage works.
Solution 11. Reach for Apple Support
Have you tried all the solutions above, but nothing seems to fix this issue? You can contact Apple customer support for help. You may also visit the Apple Store and give your device's model number and all details about the problem to get it fixed quickly. You can use their official site or email to connect with Apple easily. They may assist you and offer techniques to easily solve the iMessage freezing iOS 16 problems.
Also read:
iPhone Software Update Failed: How to Update to iOS 15/16 Smoothly
Troubleshooting for iPhone Stuck on Preparing Update (Reasons Mentioned)
To Sum Up
iMessage is one important feature of Apple that connects us. But iMessage not working after update isn't something any user will want. And because of panicking and being confused, we end up doing more harm than good to our devices. So, when you've encountered such a situation, the best thing to do is employ the tips mentioned above. iOS System Recovery is the best tool to fix iOS 16 text message issues.
Related Articles:
How to Retrieve Deleted Messages on Messenger on iPhone with Ease?
How to Fix Touch ID Not Working on iPhone in No Time? (Incredibly Simple)
Contacts & SMS Recovery for SIM Card in iPhone 14/13/12/11/Xs Max/XR/X/8, etc.
How to Recover Data from Broken iPhone with or without Backup?
How to Recover Photos from iPhone without iCloud [With Tutorial]
iPhone Calendar Disappeared: How to Recover Calendar App & Events on iPhone