Since the new iOS 17 release, users have been eager to experience its new features. However, the new iOS 17 is still in its new stages and may have countless bugs and glitches. In that case, it is advisable to roll back and wait until the iOS 17 is stable. However, downgrading from iOS 17 can result in data loss. So, how to downgrade from iOS 17 to iOS 16 without losing data? Read this guide to learn how.

Part 1. What to Know About Downgrading from iOS 17 to iOS 16
When you downgrade from iOS 17 to iOS 16, it resets all data on the iOS device, meaning you will have to start from scratch afterward.
Generally, when downgrading iOS, you must perform a full restore which deletes all data on your device. This implies that all applications, settings, photos, messages, and any other files on your device will be erased.
You must create a backup before a downgrade to preserve your data. After downgrading to iOS 16, you can use the backup to restore the data and settings. However, note that some of the data, applications, or settings may not be compatible or transferable between iOS versions, so you may experience difficulties after the restore.
Furthermore, watchOS cannot be downgraded to previous versions. If you installed the latest watchOS version and downgraded the iOS, you will not fully use the wearable. Moreover, while restoring to iPadOS or iOS 16, you can't use iCloud backup of iPadOS or iOS 17.
Part 2. How to Back Up iOS Before a Downgrade
Downgrading from iOS 17 to iOS 16 will erase all your data. To prevent this, back up your device before removing the iOS 17. Below are different ways to backup an iPhone before a downgrade:
Way 1. Back Up iPhone to Computer via Coolmuster iOS Assistant
Coolmuster iOS Assistant is the best iOS backup manager that helps users easily transfer and organize their iOS files. Before downgrading from iOS 17 to iOS 16, you should use this tool to create a backup of your files. Since it allows users to transfer files from an iOS device to the computer, it will be a piece of cake to back up all your files and restore them later.
Coolmuster iOS Assistant supports various file types, including messages, contacts, calendars, photos, music, videos, books, apps, bookmarks, notes, etc. Besides exporting files to a computer, you can also import them from your computer to your iPhone without hassle.
Key Features of Coolmuster iOS Assistant
Easily export data from iPhone to computer as a backup.
Auto-scan files on the phone and display them on its primary interface.
Compatible with all iPhone/iPad/iPod generations.
Support different data like messages, contacts, videos, photos, music, notes, bookmarks, calendars, apps, etc.
No technical skills are needed to use.
Steps to backups data via Coolmuster iOS Assistant:
01Launch Coolmuster iOS Assistant on the computer and connect your iPhone. Hit Trust and tap on Continue to proceed.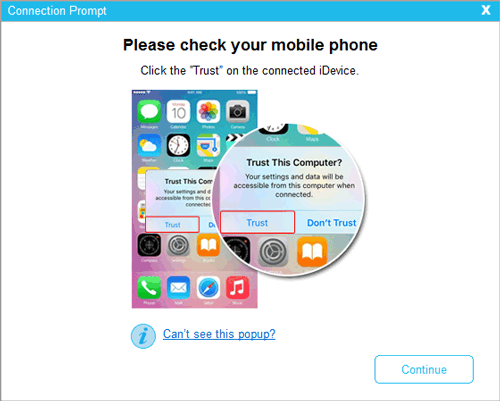 02When the software detects your device, you will see all files arranged on the primary interface in categories.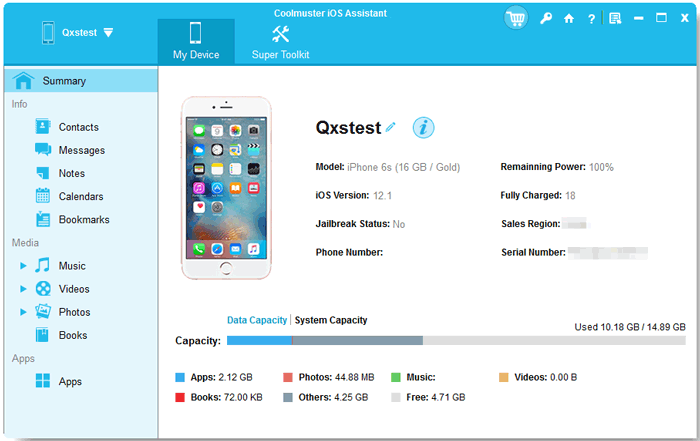 03Choose a specific folder containing the files you want to transfer.
For instance, to transfer videos, click the Videos folder on the left panel to open more detailed info on the right. Preview as you select the videos you wish to export to the PC. Tap the Export option to back up the files to the computer.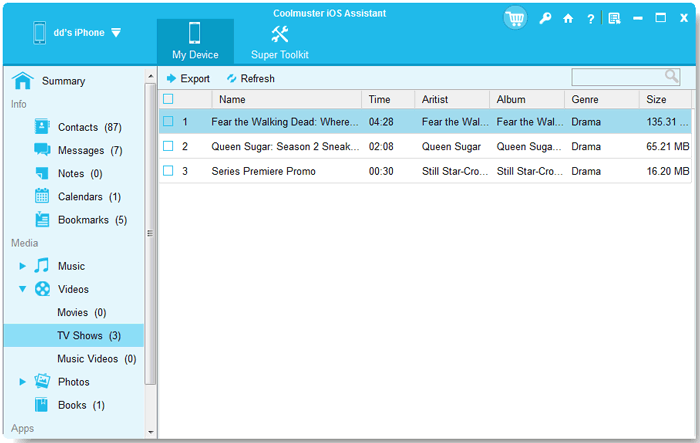 Way 2. Back Up iPhone via iCloud
iCloud is an essential cloud service developed by Apple to allow users to sync data across devices. Therefore, you can keep your data in iCloud before removing your iOS 17. You don't need a computer to back up data.
Below are steps to use iCloud to back up your iOS device before a downgrade:
Step 1. Launch Settings on the phone, select your device's name and select iCloud.
Step 2. Find the iCloud Backup option and click on it. Turn on automatic backups and click on the Back Up This iPhone button to create a backup of your device.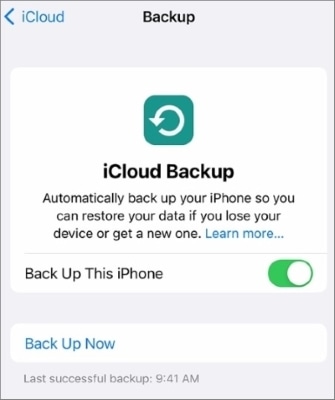 Note that iCloud backs up data on the server and has a limited free storage space of only 5 GB. When the free storage is exhausted, you will have to buy an additional space.
Way 3. Back Up iPhone via iTunes
Apart from iCloud, you can also use iTunes to back up your device. You only need a computer and a USB cable to complete the task. After creating the backup, you can restore your files quickly after downgrading your iOS 17. Here is how to backup data via iTunes:
Step 1. Start by disabling Find My iPhone on your device. To do that, head to Settings and click on [your name] at the top. Then locate the Find My option and disable the Find My iPhone.
Step 2. Open iTunes on the computer, then connect your iPhone to the PC using a cable.
Step 3. From there, tap on the iPhone button at the upper part of the screen, then head to the Summary section.

Step 4. Choose This Computer under the backups as your backup destination. Tap Back Up Now. Now wait for the program to back up your device.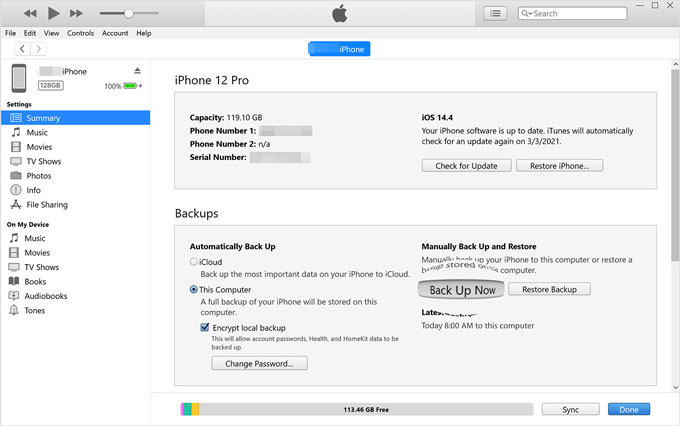 Also read:
Stop iPhone Screen Flickering: Troubleshooting Tips and Tricks
How to Transfer SIM Card to New iPhone? Solved in 1 Minute!
Part 3. How to Downgrade iPhone from iOS 17 to iOS 16
Downgrading iOS 17 to iOS 16 may seem intimidating. Even if you are a techie, this task seems risky. There are ways to downgrade iOS on your iOS devices without a computer. But, with tools, the process can be relatively easier. Here, we will show you various ways to roll back iOS updates. Let's look at them one by one:
Method 1. How to Downgrade iPhone via iOS System Recovery
If you don't want to manually downgrade iOS or are not impressed with iTunes due to its complex process, we advise you to use iOS System Recovery. It is a reliable and powerful iOS downgrader tool that can help you return to your previous iOS version in a few clicks. It provides a much safer way since there is no data loss.
It is the easiest to use when you want to perform downgrades or upgrades on an iOS system automatically. There are no manual inputs when using this tool. Thus you don't have to worry about having technical knowledge like booting the device into recovery mode or choosing an IPSW. First-timers don't require prior information to use it either. It has a user-friendly interface that makes it easier to navigate around.
It reduces the effort and steps you usually require to follow when rolling back an iOS update by automating the procedure. What's more, it helps to fix errors, glitches and bugs your device got from installing iOS 17. It will automatically repair them during a downgrade.
It can also fix many other iOS-related problems, like the iPhone stuck in headphone mode, Apple logo, etc. So, whether you wish to downgrade iOS 17 to 16, iOS System Recovery is the tool to consider using. You only need to choose the iOS version from the drop-down list, and then let this program perform the downgrading process.
Key Features of iOS System Recovery:
Downgrade iOS 17 to 16 and other versions.
Repair iOS devices stuck in headphone mode, Apple logo, black screen, etc.
Support iPhone 14/13/12 up to iPhone 4 and iPad Pro/Mini/Air etc.
Clean and easier to use without technical skills.
Here's how to downgrade your iPhone using the iOS System Recovery:
01Launch iOS System Recovery and connect your iPhone
Download and install the program on the computer. Open after installing it by following the instructions on the screen. Next, select the iOS System Recovery option from the primary interface. Plug your iPhone into the computer with a USB and hit Trust if prompted.
02Check for iOS fixing problems
From the popup, you'll see several issues the tool can fix. Next, tap the Start button to proceed.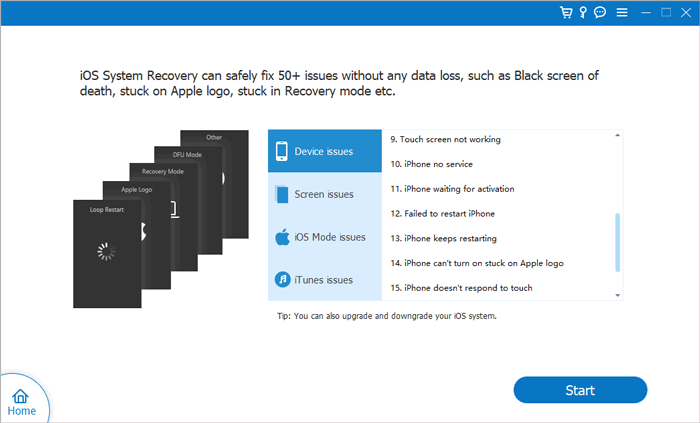 03Choose the repairing mode
Choose either Standard Mode or Advanced Mode to erase all data and settings from an iPhone. The tool will recognize basic info about the iPhone. Ignore and tap Optimize.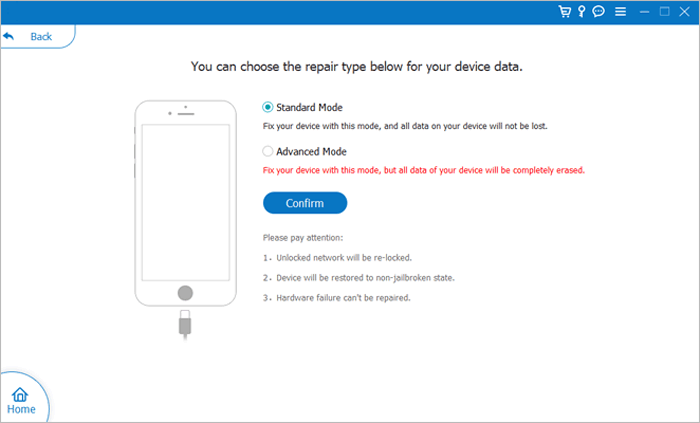 04Downgrade iOS 17 to iOS 16
You'll see the device info from the popup window on the screen, including category, Model, and Type. Check if it is correct. When done, choose the iOS version you'll downgrade to and tap Next to download the correct firmware and downgrade the iOS.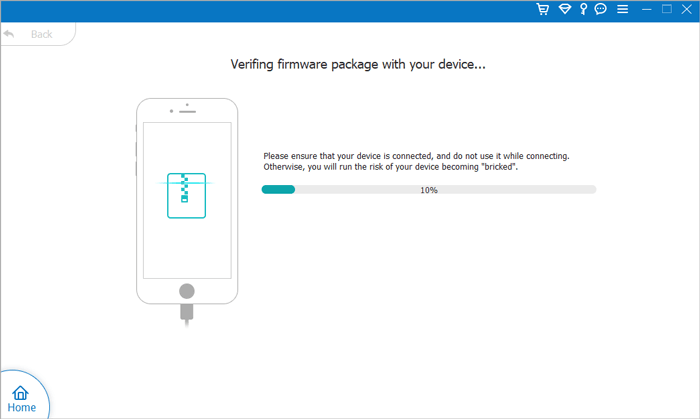 Method 2. How to Downgrade iOS via iTunes
Apart from acting as a backup program, iTunes is a great service to downgrade iOS 17 to iOS 16. Before proceeding with this method, you must install the latest version of iTunes and download a specific IPSW file for your iPhone. Also, you should manually boot the phone into recovery mode, depending on your device's model. Finally, you will have to restore your device through iTunes.
Below are steps to downgrade to older iOS:
Step 1. Open a browser on your computer and visit ipsw.me. Download iOS 16 firmware on the computer.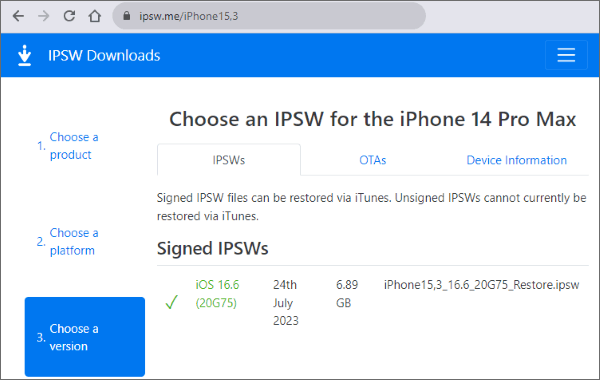 Step 2. Next, run iTunes on your computer after installing the latest version, then plug in your iPhone to the computer.
Step 3. Hold the Shift key on your computer's keyboard, then tap on the Restore iPhone. Keep pressing the Shift button until the new window shows.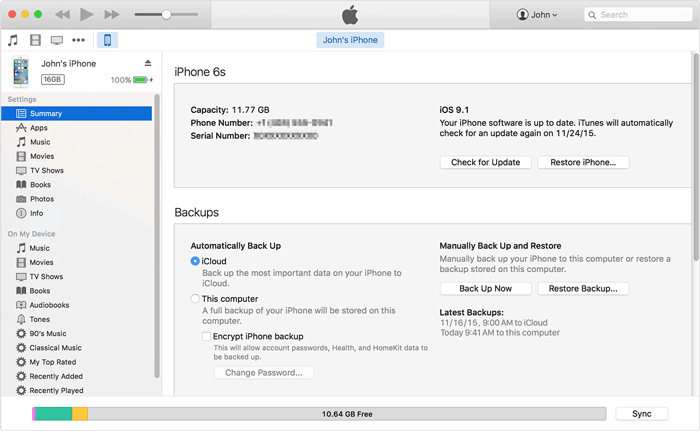 Step 4. From there, browse and choose the firmware you downloaded, then click Open. Again tap the Restore button, and iTunes will immediately restore the iPhone to the available iOS version.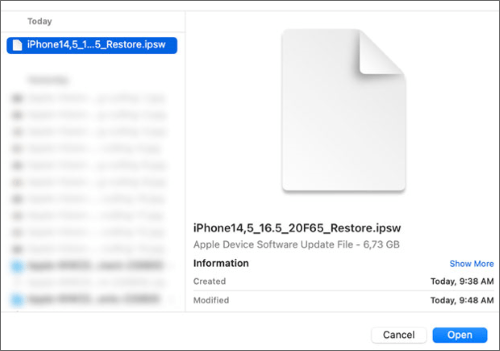 Step 5. Once done, set up the iPhone as a new device. Select Don't transfer the apps and data. Now you will have downgraded your iPhone.
Despite iTunes being a viable option to downgrade iOS 17, it has downsides. First, you are required to reset your phone, which leads to data loss. Also, iTunes is a time killer as you will have to wait for many hours to finish the downgrading process. More importantly, it is a complex procedure and requires technical skills.
Method 3. How to Downgrade to Older iOS via Settings
Another method to downgrade iOS 17 to iOS 16 is by removing the iOS 17 profile in the Settings app. Here are the steps:
Step 1. Open Settings application on iPhone/iPad. Scroll down to General and click on it.
Step 2. Find VPN & Device Management and click on it.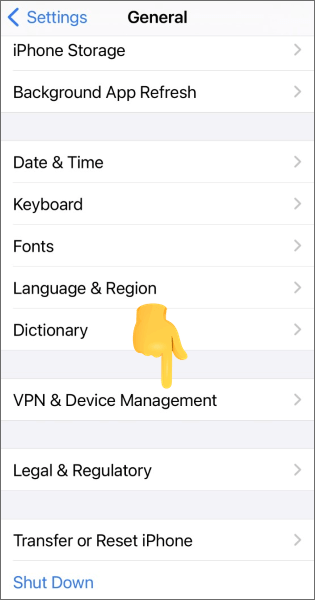 Step 3. Click on iOS 17 Software Profile and choose the Remove Profile option, then confirm the selection.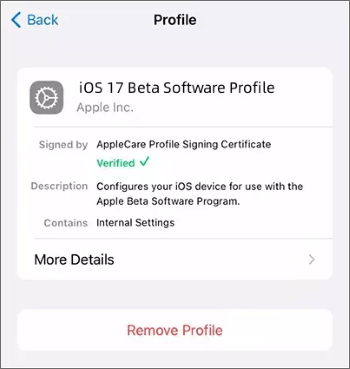 Step 4. Finally, restart the device.
Read more:
How to Change SIM Card on iPhone Easily? [Step-by-Step]
Lost in Sync: Fixing Notes Not Syncing Between iPhone and Mac
Method 4. How to Downgrade from iOS 17 Using 3uTools
You can also use 3uTools to downgrade iOS, but you require stable internet, install 3uTools, and a USB to connect the phone to a computer. You should also turn off the Find My iPhone feature and ensure you've created a backup.
Here are steps to downgrade from iOS 17 to 16 via 3uTools:
Step 1. Open 3uTools on the computer, then connect the iPhone to the PC with USB. Your iPhone should appear in the 3uTools interface after it is detected successfully.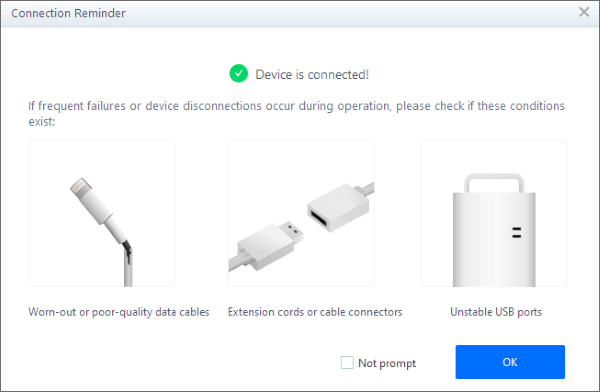 Step 2. Tap the Flash & JB button at the top of the interface for more flashing options. The current installed iOS version will be shown, and other compatible iOS versions you can install on the phone. Choose the iOS version to downgrade.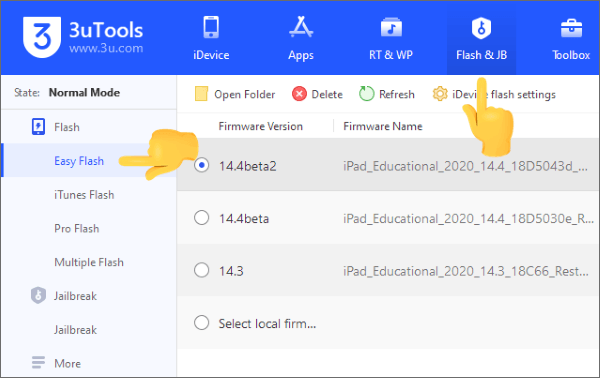 Step 3. Choose Easy Flash at the bottom and tap the Flash option at the lower right corner. It will begin flashing the chosen firmware file on the iOS device.
Step 4. Wait for the downgrade to finish, and your iDevice will automatically reboot after the flashing completes.
Conclusion
After reading this guide, you will know that it is possible to downgrade from iOS 17 to iOS 16. iTunes is a valuable service that can help you with this process. Also, tools like 3uTools can come in handy.
However, iOS System Recovery seems the easiest option to perform a downgrade, providing more convenience and speed to get this job done. Its advanced features come in handy while trying to fix issues in your device.
Either way, ensure you back up your iPhone with Coolmuster iOS Assistant before rolling back an iOS update, as it will help to avoid data loss.
Related Articles:
Full Guide on How to Use Wi-Fi Calling on iPhone
Why & How to Put Your iPad in Recovery Mode?
What is the Latest Version of iTunes & How to Update It? [2023 Tips]
12 Tips to Fix the Safari Not Loading Websites in iOS 16 Issue
Troubleshooting for 'iPhone Cannot Be Used Because It Requires a Newer Version of iTunes'
How to Fix iMessage Not Syncing on Mac via Easy and Useful Methods