Undeniably, the iPhone 14 series brought many new changes that range from Dynamic Island in the Pro/Pro Max series to fancy camera upgrades. Indeed, there is a lot to like with these smartphones. However, despite these grand and exciting new features, iPhone 14 devices are also prone to issues with the screen. One problem iPhone 14 users usually complain about is iPhone 14 won't turn on. We all know electronic devices are susceptible to these problems, so this is an unavoidable occurrence.
In this guide, you'll learn why iPhone 14 does not turn on and how to resolve the issue. We'll talk about various solutions to this issue, so if you are among the users facing this issue, this post is for you. Read on.
Part 1. Why Is My iPhone 14 Not Turning On?
Before we show you the solutions to fix iPhone 14 that won't turn on, we should address the underlying causes. Below are the main reasons:
1. Battery Depletion
If the iPhone is completely drained, the iPhone 14 won't turn on at all until fully charged. If you haven't charged your device in a while, it's worth considering that the battery might need a boost.
2. Charger Damage
Sometimes, you will find that you have charged the phone for about 30 minutes but have no improvement. In such a case, it could be a broken charger.
3. Software Glitch
Sometimes, a software malfunction can prevent your iPhone from turning on properly. This could be due to a recent update or a conflict between apps.
4. Hardware Malfunction
Faulty hardware components can lead to startup failure. A malfunctioning power button, for example, could prevent your iPhone from responding.
5. Water or Physical Damage
Accidental spills or drops can cause serious damage to your device's internal components, making it unresponsive.
You May Like:
3 Proven Ways to Recover Data from iPhone that Won't Turn On (with Troubleshooting)
How to Fix iPhone Grey Screen of Death By Yourself? (8 Solutions)
Part 2. How to Resolve iPhone 14 Won't Turn On Issue
Since you know why an iPhone 14 won't charge or turn on, learning the workable solutions to troubleshoot the problem is paramount. Here, we'll uncover the solutions to this issue, so try them one by one to help troubleshoot the problem.
Fix 1. Charge the Device
If it is a new iPhone, a quick fix to my new iPhone 14 won't turn on is to check its battery level.
Connect your iPhone to a power source using the original charging cable and adapter. Let it charge for at least 15 minutes. If the battery was completely depleted, it might take a while before any signs of life appear.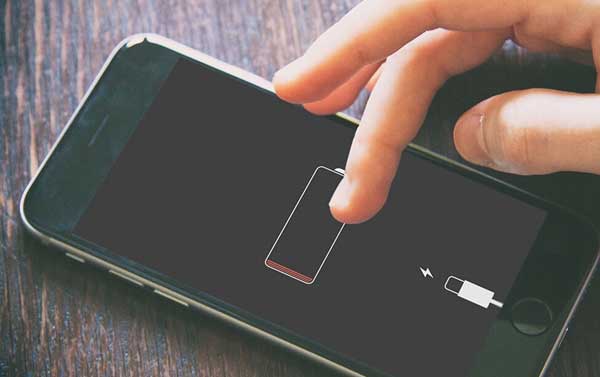 Fix 2. Check Hardware Connections
Inspect the charging port for debris or damage. Sometimes, a small obstruction can prevent the charging cable from making proper contact. Besides, cleaning the contact surfaces on ports and jacks can be enough to make it work again. Also, ensure that your accessories are functioning as they should.
Fix 3. Force Restart Your iPhone 14 Device
If your iPhone 14 Plus won't turn on, a force reboot may help. It refreshes and reloads the device and helps remove glitches. This can also fix the problem if it's caused by the firmware crashes.
Importantly, this process can be done with the external buttons. Therefore, a force restart is possible even if the screen is entirely black, but the device is charged. Follow the below steps to force restart an iPhone 14 device:
Step 1. Hold the Volume Up key for a while, then release it. Now hold the Volume Down key for a while, then release it.
Step 2. Press the Side key, then wait for an Apple logo, which should appear on the screen shortly.
Step 3. Now, release the Side key after the logo appears and allow the iPhone to start iOS.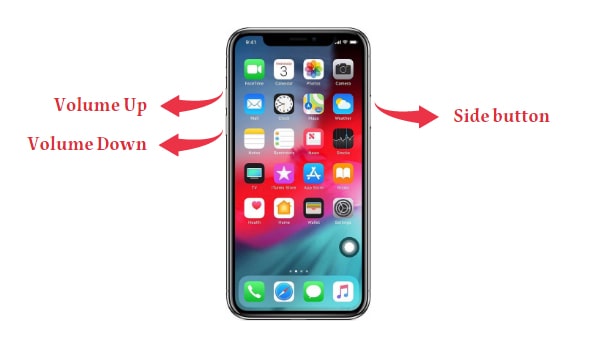 Fix 4. Restart the iPhone 14 by Updating It
If a software bug or an incompatibility issue prevents the iPhone 14 from turning on, a feasible fix is updating the iOS and rebooting the device. It's a simple trick that could remove the source of the issue immediately.
When you restart the device, it automatically downloads the latest iOS version if it is available. Wait for the device to download the update and run the operating system.
Ensure you're connected to the network and the device is fully charged before restarting. However, if it fails and won't turn on completely even after the latest iOS is installed, it could have serious equipment damage that may need Apple's expertise.
Further Reading:
iPhone Died and Won't Turn On? Quick Solutions to Fix the Issue
[SOLVED] How to Fix iPhone Won't Turn On without Data Loss
Fix 5. Restore iPhone 14 with iTunes
You can also resolve the iPhone not turning on the problem by putting it into a DFU mode through iTunes. DFU mode helps in getting problematic devices back to their proper working conditions. But your iPhone will be reset to its original settings, meaning all data will be lost. Therefore, it's important to back up your iPhone before that.
Here are the steps to follow to boot your iPhone 14 into the DFU mode and then troubleshoot the issue:
Step 1. Make sure you have the latest version of iTunes installed on your computer. Use a USB cable to connect your iPhone 14 to your computer.
Step 2. Once your iPhone is connected, open iTunes. Then, put your iPhone 14 into the DFU mode.
Step 3. iTunes or Finder should detect that your iPhone is in DFU mode and prompt you to restore or update the device.
Step 4. Click on the Restore button. This will erase all data on your iPhone and install the latest version of iOS.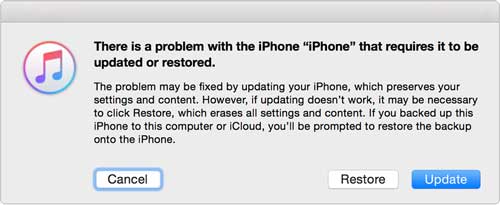 Fix 6. Contact Apple Support
If none of the solutions resolves the problem, there's a high chance the device's hardware is damaged. You may have dropped the device recently, or it was exposed to water or other liquids. In this case, you need to use the Genius Bar to seek help from the Apple Support team. Alternatively, you can make an appointment with the nearby Apple Support Center.
Part 3. How to Fix iPhone 14 Won't Turn On Professionally
If your iPhone 14 won't turn on after trying all the tips mentioned above, system or software problems are to blame. To rule out system issues on the iPhone effectively, you should seek help from a professional iOS repair tool such as iOS System Recovery.
This is a notable software that fixes all system-related problems like the iPhone not turning on, iPhone stuck in Apple logo or headphone mode, disabled iPhone, and more. It just needs a couple of minutes to fix the iPhone 14 does not turn on issue. This software is easy for starters, thanks to its clear guide. In just a few simple steps, your device will be repaired instantly. Moreover, it's safe to use, and no data will be lost. Download and install to try it now.
Main Highlights of iOS System Recovery:
Fix all system-related problems on iOS devices, including iPhone won't turn on, disabled iPhone, iPhone stuck in Apple logo, etc.
Support almost all iOS software & all iPhone models, including 14 Pro Max/14 Plus/14 etc.
Repair iOS devices without data loss.
Very secure and keep your privacy intact.
Steps to repair iPhone 14 won't power on:
01Launch the program on the PC after downloading and installing it. Connect your iPhone 14 device to the computer. Then, click on iOS System Recovery.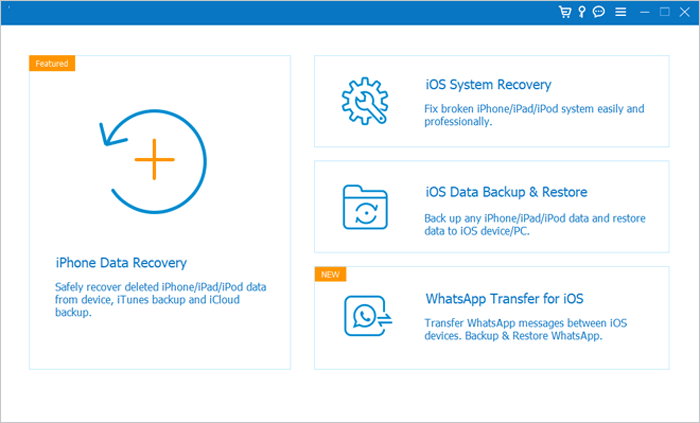 02Press the Start button to initiate the repair process. Enter the iPhone into Recovery Mode.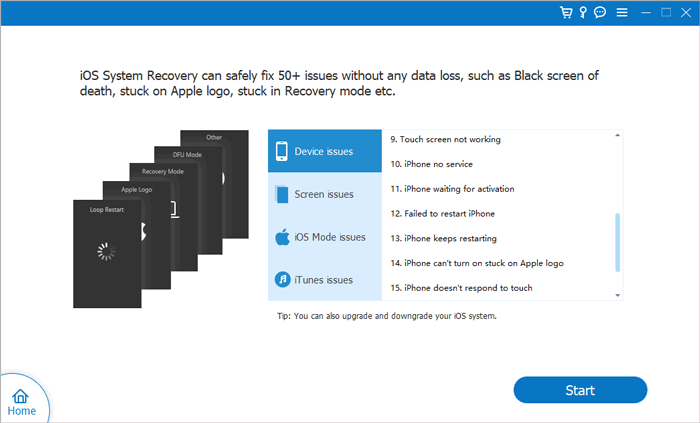 03Click on Repair. The phone's firmware will start downloading.
04When it's finished, the software will start repairing your iPhone 14 back to normal.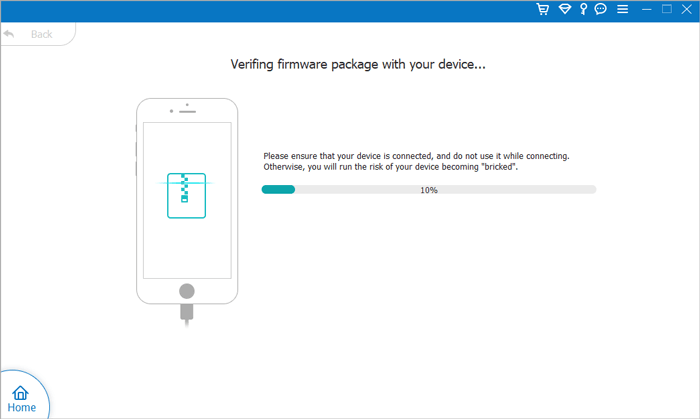 Learn More:
How to Retrieve Photos from iPhone that Won't Turn On? (Comprehensive Guide)
9 Tricks to Fix iPhone White Screen of Death without Effort (Updated)
Part 4. FAQs About iPhone 14 Not Turning On
Q1. Is there a chance my data is lost?
If the issue is related to the software or a minor hardware glitch, your data is likely safe. However, if the problem is more severe, there's a possibility that you might lose data. Regular backups using iCloud or iTunes can help prevent data loss in such situations.
Q2. Is a black screen the same as the device not turning on?
Not necessarily. A black screen could indicate that the device is on but not displaying anything due to a software or hardware issue. If your iPhone is not responding to any buttons or gestures and the screen remains black, it might not be turning on properly. (Click here to learn how to fix iPhone black screen but still on issue.)
Q3. How can I prevent this issue in the future?
To prevent your iPhone 14 from not turning on, make sure to charge it regularly, keep it away from water and extreme temperatures, and avoid installing potentially harmful apps or making unauthorized modifications to the software.
Also Read:
Fix Mail Error: 7 Tips to Fix iPhone Won't Download Emails
How to Fix the iPhone Stuck on the Emergency SOS Mode Issue?
Final Words
iPhone 14 not turning on issues can be horrible. But that should be the least of your problems right now because we've discussed all the possible solutions to this problem. You should give iOS System Recovery a shot. It is a real-time saver in fixing iOS system-related issues without data loss.
Related Articles:
How to Control iPhone with Broken Screen Effortlessly? (6 Proven Ways)
12 Tips to Fix the Safari Not Loading Websites in iOS 16 Issue
What If My iPhone 14/13/13 Pro/12 Screen Is Yellow? Here's The Fix!
iPhone Stuck on Apple Logo Storage Full - How to Fix in 4 Easy Ways?
[SOLVED!] 7 Quick Fixes to Apps Didn't Transfer to New iPhone Issue