Nothing is amazing like flaunting a new iPhone; with its many features, everyone will know you have the best. But, sometimes, an iPhone can start typing on its own and opening random apps. Of course, you'll wonder if it's some kind of secret AI mode that has been activated. But the truth is that it's nothing of the sort. This glitch is known as "Ghost Click," which sadly affects millions of iPhone users worldwide - including yourself if you're experiencing the issue. Don't worry; your phone is facing a common problem.
Luckily, you can solve this puzzle without any hassle. This post provides useful tips and tricks to help you quickly resolve iPhone typing on its own problem.
Part 1. Why is My Phone Typing by Itself?
Before we dive into some solution to fix iPhone texting by itself issue, let's first understand the underlying causes:
* Dust or water on the screen.
* Damaged screen due to falling or other reasons.
* A bad charging cable.
* Outdated software.
* Manufacturing defect.
* Software malfunction or bugs.
* Insufficient storage. (Is your iPhone storage full?)
* Incorrect installation.
If you've been asking yourself, "why does my phone keep typing by itself," you now have your answer. Let's now look at how to resolve this in the best way possible.
You may like:
How to Solve It When iPhone Keeps Crashing? 9 Easy Tricks
How to Fix the iTunes/App Store Keeps Asking for Password Issue on iPhone/iPad?
Part 2. How to Fix iPhone Typing on Its Own?
My iPhone screen is typing by itself. How do I fix it? Well, if you're experiencing ghost clicks on your iPhone, there is no need to worry. We have compiled some tactics that will speedily and effectively resolve the problem in a jiffy!
Fix 1: Clean the iPhone's screen
If your iPhone is clicking by itself, dirt and water on the display could be the cause. So, occasionally clean your device's touchscreen using a soft cloth and dirt-removal solution. Be careful not to let any liquid enter the phone's openings, which can lead to more serious damage. Similarly, avoid using corrosive liquids or rough clothing that may scratch up the coating. If this trick fails to resolve your issue, you can try other troubleshooting methods.
Fix 2: Remove the case and screen protector
Generally, we use phone cases and screen protectors to guard our devices against everyday wear and tear. However, if the protector is of lower quality or damaged, it can lead us to the issue of iPhone typing by itself. So should you find yourself in this unfortunate situation, take off your case first, then carefully remove the protector from one corner until it's completely removed. After removing it, clean the screen properly. If the issue persists, try the next method.
Fix 3: Update Your Device
The most effective way to fix the issue of an iPhone screen acting out on its own is by updating the device. If your iPhone is clicking on its own, it could be a sign that it is running on an outdated version. Updating your phone to the latest version may help eliminate any bugs causing the issue and make it work as supposed to.
Step 1: Ensure the phone has enough charge and connect it to WiFi.
Step 2: Navigate to "Settings" and choose "General".
Step 3: Head to "Software Update" and click on the "Download & Install" option.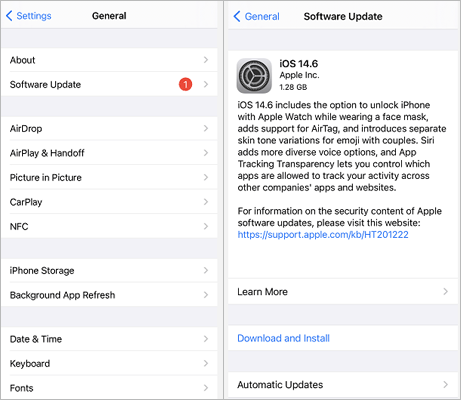 Step 4: Once done, click "Install" to update the phone. Enter the passcode when asked.
See more:
How to Fix the iPhone Stuck on the Emergency SOS Mode Issue?
[Solved] How to Unlock Disabled iPad without iTunes | Latest Guide
Fix 4: Reboot the device
Restarting your iPhone is an excellent way to resolve any issues you might face. This simple task often clears the device's memory, fixing ghost touch issues or any glitches in the process. Here's how to restart different iPhone models:
For iPhone X, 11, 12, 13 and newer models:
1. Press the Volume Button and Side button till you see the slider.
2. Move the slider to the right and wait a few seconds for the phone to power off.
3. Switch on the device by pressing the Side button till the Apple logo shows.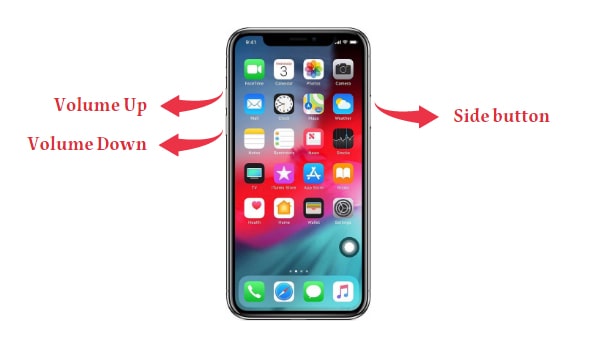 For iPhone 6, 7, 8, and SE (2nd/3rd generation)
1. Press and hold the side button until the power-off slider appears.
2. Move the slider and wait for the phone to power off.
3. Now, switch on the iPhone by pressing the Side button.
For iPhone SE (1st gen), 5, and earlier models:
1. Press the top button until the slider appears.
2. Move the same slider to the right to switch the device off.
3. Now switch on the phone by pressing the top button until the Apple logo appears on the screen.
Fix 5: Reset settings on iPhone
Resetting your iPhone to its factory settings can be an effective solution if you're experiencing the "iPhone typing on its own" issue. Rest assured that this procedure won't delete any of your personal information or content and will merely clear out unwanted personalized configurations that may have caused the peculiar behavior. To reset your iPhone, go to "Settings" and "General". When there, proceed to "Reset" and click on "Reset All Settings."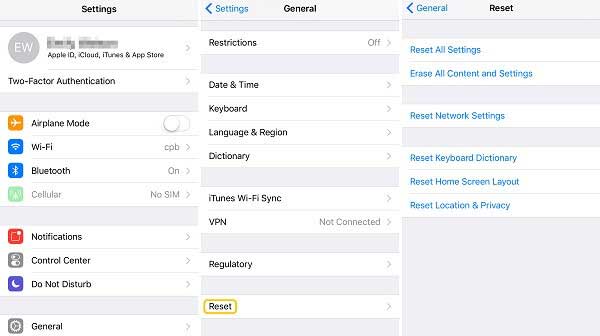 After the reset is complete, you will be asked to enter your Apple ID credentials. Once you do this, your device should return to its normal state.
Fix 6: Factory Reset the iPhone
If restarting and software updates do not curb your iPhone's ghost touch problem, performing a factory reset is highly recommended. This will help to eliminate any potential underlying software problems causing this issue. However, this action will erase all information stored on your phone! It's therefore highly recommended to back up your data beforehand - this way, you'll ensure no loss of important info.
Here is how you factory reset your iPhone:
Step 1: Open the Settings app and head to "General".
Step 2: On the General page, scroll down to "Transfer or Reset".
Step 3: Click "Erase All Content & Settings".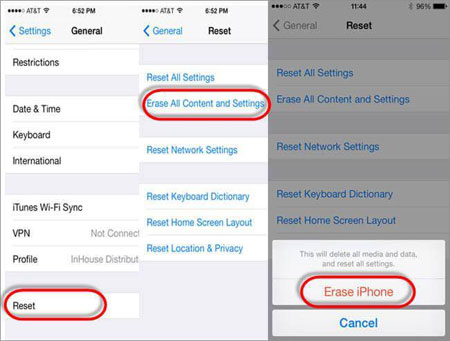 Step 4: Now click "Continue" and input the iPhone password.
After you have completed the factory reset process, it is time to start afresh by going through the setup again.
Fix 7: Take the device to Apple
You've already tried the software solutions to no avail. If your iPhone is still plagued by ghost touch, it's time for a trip to the Apple Store. A hardware issue must be causing this problem. Improper display assembly or touchscreen seating are two possible culprits behind iPhone typing by itself. Therefore, make an appointment at your nearest Apple Store and get it seen promptly so you can enjoy using your device without interference from ghost touch.
Unless you are an experienced tech, it's best to leave any complex iPhone repairs to the professionals. Don't forget that trying a do-it-yourself repair may void your warranty.
Bonus: Fix iOS System Issues without Data Loss via iOS Repair
If you have been troubled by various annoying and unexpected iOS system issues on your iPhone, luckily we provide you with the best and most powerful iPhone Repair software - iOS Repair. This exceptional program can address a broad range of problems concerning iOS devices.
This tool is the perfect remedy if you're struggling with iPhone system issue. With its single-touch solution, it has quickly become a favorite among users. It can get your iPhone/iPad/iPod out of white screen, Recovery Mode, Apple logo, black screen, and so on.
Additionally, with its Standard Repair Mode, you don't have to fear losing your data - it's totally safe. Importantly, iOS Repair offers a comprehensive range of services for all Apple devices and can fix your iPhone quickly and easily.
Important Features of iOS Repair:
* Solves system issues on iOS devices without losing data.
* It can repair more than 150 iOS system problems, such as boot loop, Apple logo, etc.
* The fixing process is very simple, easy and fast without the tech skills needed.
* Works on all iOS phones, including the latest iOS 16 and iPhone 14 models.
Here is how you can fix iOS system issue using iOS Repair software:
01 First, launch the program and choose "System Repair" from the listed options. Now specify the type of device you're repairing. Choose "iOS" for this case.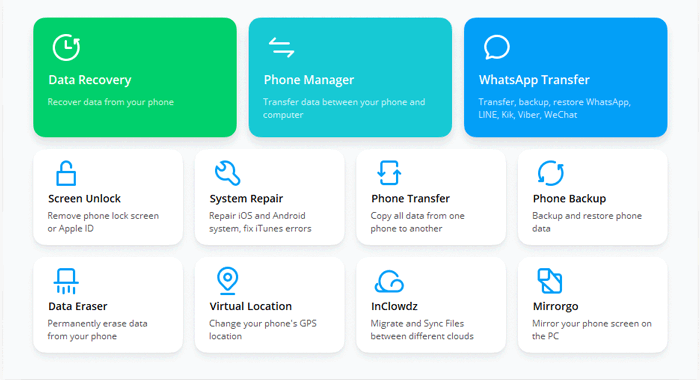 02 On the next screen, choose the "iOS Repair" option to fix system problems in your iPhone. Confirm that the software supports repairing the issue your phone is facing. If so, hit "Repair Now" to continue.
03 Go for the "Standard Repair" option among the two repair modes provided. This move repairs the device while keeping data safe.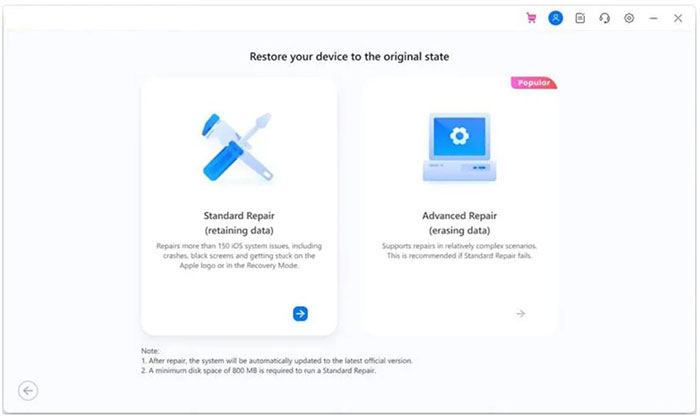 04 Now, you'll be required to boot the device into Recovery Mode. Ensure you trust the You must put your iOS device in Recovery Mode. Ensure the device is connected to the PC via a lighting cable and unlock it by inputting the passcode. Hit "Trust" and tap "Enter Recovery Mode" to continue.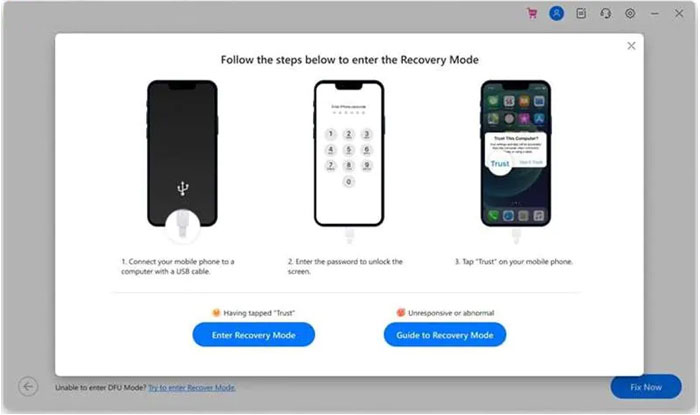 05While in Recovery Mode, the tool will automatically detect the device. You'll see various iOS firmware on the new window. Press "Download" to start the process. Wait for the firmware to finish downloading.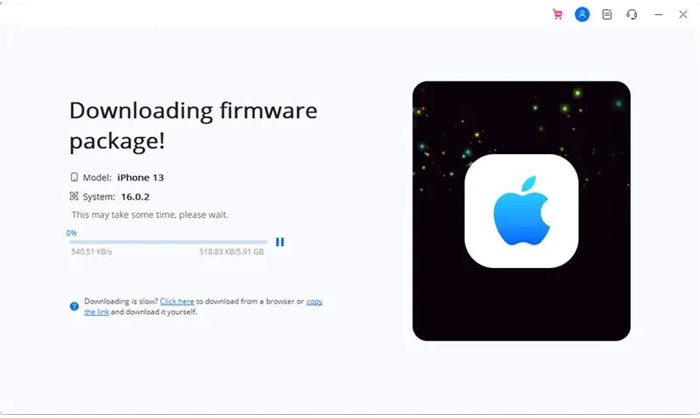 06 As the iOS firmware is verified, click on the "Repair Now" button to initiate the iOS system recovery process. Once the repair is completed, click on the "Done" button to complete the process.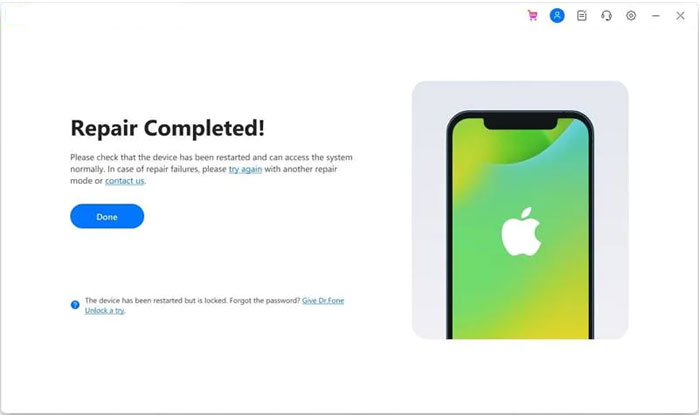 Final Words
If you're affected by the iPhone typing on its own issue, you know how annoying it can be. It keeps on pressing touch controls even when you don't want to. It not only creates problems while typing but also launches unwanted apps. We hope this guide gives you a hand in solving your device's auto-typing issue for good.
To quickly and effectively fix any issue, iOS Repair is the way to go. It is a professional iPhone repair tool that resolves all iPhone problems without any data loss.
Related Articles:
Is Your iPhone Storage Full? Free It Up without Delay [Solved]
How to Fix iPhone/iPad Screenshot Not Working
Siri Not Working after iOS 12 Update, How to Fix It?
How to Fix the iPhone Stuck on Apple Logo Issue
iCloud Backup Failed | iPhone Not Backing Up to iCloud (12 Fixes)