iPhones provide a plethora of lock screen options, such as patterns, alphanumeric, and four digits passwords. Even the recent Face ID technology on current models still requires you to swipe up to access your iPhone's home screen manually. But how can you unlock iPhone without swiping up?
Bypassing the traditional swipe-up feature on the iPhone will not only make accessing your iPhone's home screen faster, easier, and more convenient but will also allow a contactless experience. Keep reading this article to discover several ways to achieve quick access to your device without lifting a finger. Let's get started.
Part 1. The Meaning of Swipe Up and Why it is Used
Before delving into how to carry out iPhone 11/12/13/14 unlock to home screen without swiping, let us first provide a brief overview of what the swipe-up action entails. The entire process involves transitioning from your iPhone's lock screen to your iPhone's home screen and is currently employed as the default setting on recent iPhone models.
Unlocking your device becomes hassle-free when you use Face ID. However, it still requires one more step after authentication, swiping up to reach the home screen. This additional action can become tedious and repetitive over time. Using an iPhone without the need to swipe up is much more efficient. But why did Apple implement swipe-up to unlock an iPhone? Below are some uses of swipe up feature:
1. Prevent accidental unlocking.
2. Prevent errant typing and butt dials.
3. Prevent unlocking your iPhone and marking notifications as read.
4. Enhance security.
Part 2. How Can You Unlock iPhone Without Swiping Up?
Whether you choose a passcode or Face ID for unlocking purposes, the process requires swiping up the display to reach the iPhone's home screen. There are multiple ways of bypassing this process and allowing direct access without extra steps.
Method 1. How to Unlock iPhone Without Swiping Up Just 1 Click?
If you're looking for an alternative method of unlocking your device without swiping it up, you could try using a third-party tool. iOS Unlock is a well-known application used to bypass screen locks on Apple devices and has been recommended by millions of users worldwide. iOS Unlock has proven to be a reliable iOS device unlocker due to its high success rate.
Can I unlock my iPhone without swiping up? This professional iOS device's unlocker has an intuitive user interface that makes it relatively easy to execute the unlocking process. You do not have to be a tech guru or genius to use the tool, as all it requires is one click of your mouse and a bit of patience. Below are some iOS Unlock features that make it stand out.
Easily remove screen locks from all iPhone, iPad, and iPod models.
Unlock iCloud activation lock without the need for jailbreaking.
Easily bypass Face ID, Apple ID, Screen Time Passcode, Touch ID, and iTunes Backup Password without entering a password.
Unlock iPhones from carrier restrictions.
Bypass MDM lock and MDM profiles without losing data.
Click the button below to download a free trial of iOS Unlock.
The following steps should help you understand how to unlock an iPhone without swiping it up using iOS Unlock:
01Launch the iOS Unlock
Begin the process by downloading and installing iOS Unlock into your device. Then launch the iOS Unlock application and connect your iPhone to the computer.
Launch iOS Unlock application and select "Screen Unlock" from the available options. After that, use a lighting cable to connect your iPhone to the computer. Unlock it and hit "Trust" when prompted. Now click on the "Unlock iOS Screen" button.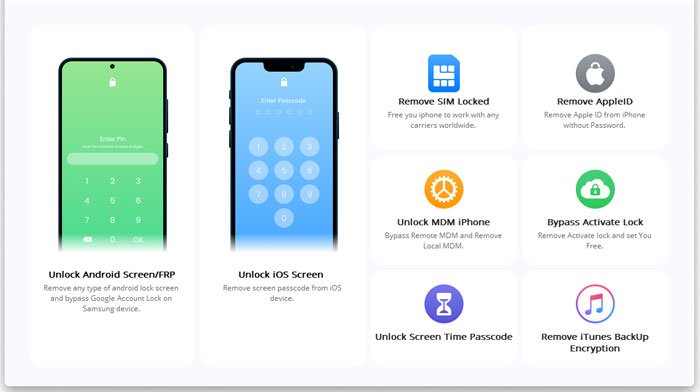 02Boot Your iPhone Into DFU/Recovery Mode
Before proceeding with iPhone lock screen bypassing, it is essential to first boot the device in DFU or Recovery mode. The Recovery option is typically preferred for iOS lock removal.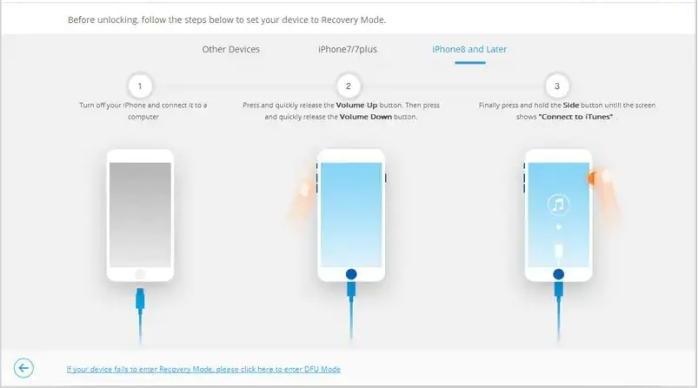 03Confirm Your Device Information
Upon entering the recovery mode, iOS Unlock will display your device's information for accuracy. If the details don't match up to what you own, choose the correct information from the available dropdown lists. Then click "Download" and get ready. It's time to download firmware explicitly tailored for your device.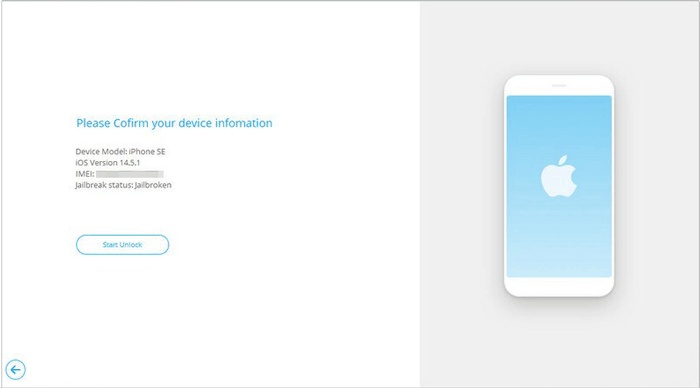 04Unlock iPhone Without Swiping Up
Click the "Unlock Now" button to remove the Screen Lock from your iPhone after the firmware is downloaded.
In just a few moments, your iPhone will be unlocked. Please remember that this unlocking process also erases all your device's data.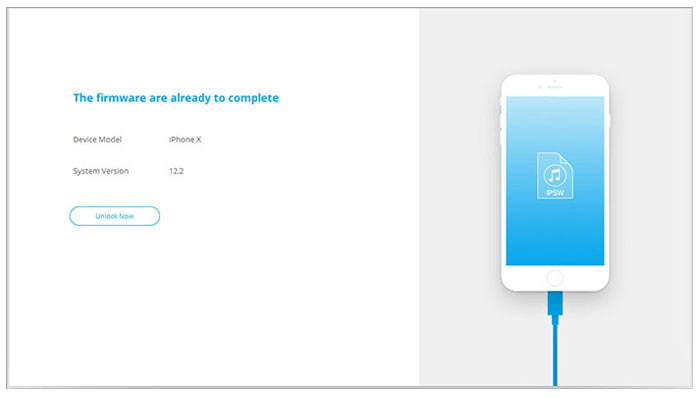 You May Also Want to Know:
How to Unlock iPhone without Passcode
3 Simple Ways to Remove MDM from iPad [Steps-by-Steps Guide]
Method 2. How to Remove Swipe Up to Unlock in iPhone by Setting?
Are you looking for a convenient way to unlock an iPhone without swiping? Below are some simple methods on how to take advantage of this effortless opportunity and be able to use face id unlock without swiping up iPhone 12/13/14:
Step 1. Launch the "Settings" application on the iPhone and hit on the "Accessibility" option. Hit the "Touch" button from the available choices.
Step 2. Scroll down the screen and locate the "Back Tap" option. Now choose whether to set the "Triple Tap" or "Double Tap" option when unlocking your iPhone.
Step 3. After selecting either "Triple Tap" or "Double Tap", you will be directed to another screen. On that screen, select the "Home" option.
You can now unlock iPhone 12/13/14 without swiping up. Every time you triple-tap or double-tap on the back of your iPhone, it will automatically direct you toward the home screen. That's how easy it is.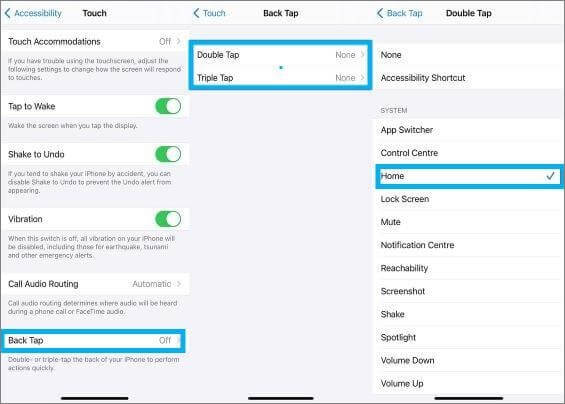 Read More:
How to Reset Restrictions Passcode on iPhone? [The Effective Ways]
How to Erase All Content and Settings on iPad?
Method 3. How to Unlock iPhone Without Swiping Up via Turning On Voice Control?
If you'd like to access an iDevice without swiping it up, voice control is a straightforward solution. This speech recognition technology bypasses the screen lock to grant you entry into your iPhone's Home Screen with ease. Follow the simple steps below to learn how you can achieve that:
Step 1. Launch the "Settings" application.
Step 2. Navigate to the "Accessibility" button and hit on it.
Step 3. Scroll down and select on "Voice Control" option.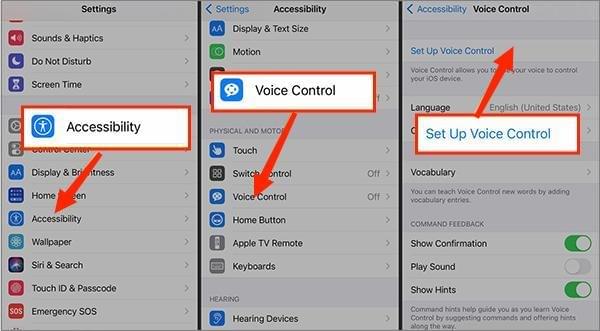 Step 4. Tap on the "Set Up Voice Control" and hit on the "Control" button.
Step 5. Hit the "Done" option to complete the process.
You May Need: How to Unlock iPhone without SIM Card? [Updated Tutorial]
Method 4. How to Remove Swipe Up to Unlock in iPhone by Setting a Switch Control?
A good solution to unlocking your device without swiping it up is Switch Control. Activating this feature and assigning a switch for unlocking is relatively straightforward, though it may require some patience as the instructions are comprehensive yet easy to follow. The steps involved are shown below:
Step 1. Launch your iPhone's "Settings" application and hit the "Accessibility" button. Toggle on the "Switch Control" feature and move to the "Switches" option.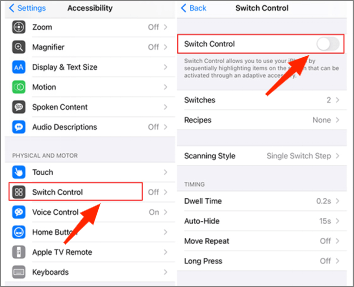 Step 2. Hit the "Add New Switch" feature, tap on the button named "Camera", and then set the "Right Head Movement" and "Left Head Movement" to the "Home" option. Doing this will lock your iPhone's screen when you move your head right or left.
Step 3. Navigate to the "Recipes" option under the "Switch Control" option. From the top corner of your screen, locate and hit the Edit button. After that, press each respective icon to erase all recipes from sight.
Step 4. Set the "Scanning Style" as "Single Switch Step Scanning" and "Dwell Time" as lowest as possible. After that, disable all the other options under the "Switch Control" feature.
Step 5. Save your switch and return to Settings. After that, navigate to the Accessibility option again and hit on the Accessibility Shortcut. Subsequently, configure your device to activate Switch Control when you click the iPhone's Home button three times in quick succession.
Step 6. Tap your Home button three times to turn on the Switch Control. Then securely lock the iPhone again, and attempt to unlock it without sliding up on the screen.
Futher Reading:
How to Bypass iPhone Passcode Step by Step? (5 Amazing Ways)
How to Unlock iPhone with Unresponsive Screen? [Full Guide]
Method 5. How to Unlock iPhone Without Swiping Up by Turning on AutoUnlockX?
Get ready to experience effortless unlocking with this fantastic and free iPhone tweak. With the help of a Face ID, you don't have to worry about swiping up every time. All it takes is a glance. Unlocking your phone will be as easy as it gets. Additionally, activating this feature also unlocks plenty of additional customization options for enhanced privacy settings. Follow the instructions below and unlock your device instantly.
Step 1. Improve your iPhone's experience by downloading a repository like Cydia or Sileo. They behave just like emulators. Unfortunately, you won't find these apps in the App Store. Download them from the Spark Dev site to access them and take advantage of their excellent features. Manually add the repo to the application since it wouldn't be done automatically.
Step 2. To access the selected repo, enter your query to its Search page. Then confirm it, followed by hitting on Restart SpringBoard for downloading completion.
Note:Once the alteration appears, it is important to make a selection. You can then open the repositories for further details on their information page. Be sure to allow some minutes for the installation process to complete.
Step 3. Launch your iPhone's "Settings" application to modify Auto Unlock X software and choose "Auto Unlock X". Make sure to toggle on the "Enable Auto Unlock" option. After that, customize any additional preferences the way you like.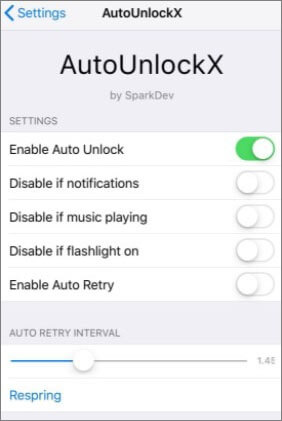 Note:After the iPhone resprings, activate the AutoUnlockX setting for it to take effect. To ensure that everything is set up to your desired specifications, thoroughly review your settings once you have enabled the Auto Unlock feature.
Step 4. After you are content with the preferences and modifications, tap "Respring". Upon completing each step, unlock your iPhone with Face ID to complete the process.
Learn more: If you want to unlock an Android phone without password, you can utilize these 5 ways.
Part 3. FAQs Regarding Unlock iPhone Without Swiping Up
Q 1. Is unlocking my iPhone without swiping it up safe?
Yes, using the iOS Unlock tool is safe. The application uses a secure algorithm to unlock your device.
Q 2. Does iOS Unlock require a jailbroken device?
No, iOS Unlock does not require jailbreaking your device to work. The application is designed with advanced algorithms that allow you to unlock your device without carrying out any jailbreak process.
Q 3. How long will it take for my iPhone to unlock?
It depends on your device's model, but the process usually takes about 10 minutes or less. The unlocking process is relatively quick and easy, and you can enjoy using your unlocked device in no time.
Conclusion
Above, we have provided several simple methods that will enable you to easily unlock your iPhone without having to swipe it up. Undoubtedly, iOS Unlock is the most reliable method, you can rely on it to automatically unlock iPhone at home. This all-in-one professional tool has been trusted by millions to provide secure solutions and bypass various screen locks on Apple devices. Whether you are familiar with technology or not, the user-friendly interface will guide you through the process, so you can enjoy the benefits of having your iPhone unlocked in no time. Say goodbye to the hassle of having to swipe to unlock iPhone.
Related Articles:
How to Unlock iPhone without Passcode? [Top 4 Ways]
How to Unlock a Stolen iPhone without Passcode in 3 Ways?
3 Easy Ways to Remove Swipe Screen to Unlock Samsung Phone
How to Unlock iPad Passcode without Restore [4 Ways]
Super Android Unlock Apps: Unlock Android Devices Easily [New]