Are you staring at the Unable to Load Video notification? It must've given you a heart attack.
Since videos contain more info than pictures, you may capture them with an iPhone and burn them to DVD. This way, you can record your most important life moments. But when browsing these videos on iPhone Camera Roll, you may encounter the dreadful unable to load video an error occurred iPhone camera roll error.
You may be wondering if the video is corrupted and if your beautiful memories are gone. Well, no need to panic since the unable to load video iPhone error is prevalent and many users have encountered it when trying to play high-quality resolution video. Here, we'll address iPhone unable to load video error and how to fix it.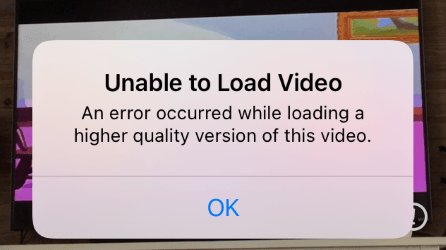 Part 1. Why Won't My Videos Load on iPhone?
There's no specific reason for the iPhone error loading video. Normally, the videos saved in iCloud may show an unable to load error if there's slow or unstable internet.
Another common reason for unable to load higher quality video iPhone error is that the option for optimize storage has been enabled on iPhone. This Apple feature helps to save storage space on iOS devices and stores videos in high resolution to iCloud. But, this may often lead to video loading issues on iOS devices such as: iCloud videos not loading, unable to load video of high quality on iPhone, etc.
Also another very common reason is insufficient storage on iPhones. This may prevent videos from loading properly. Additionally, there could be a bug in the system which can be solved by updating your device.
Also read:
Is iPhone Storage Full? How to Free Up Space on iPhone Easily
13 Ways to Fix and Avoid iPhone Stuck on Spinning Wheel Issue
Part 2. How to Fix Unable to Load Video on iPhone [Basic Tricks]
This isn't a complex error; it needs little tweaks in the device's settings a fresh start. It can be fixed quickly with the following troubleshooting steps:
Trick 1. Update App Showing Video Load Error
If the error pops up in a particular application like Instagram or YouTube, then you should update the app. However, if the update does not fix this error, you can reinstall it. You will find the app updates in App Store.
Below are steps to update any app on your iPhone:
Step 1. Launch the App Store and tap on [your profile] at the top.
Step 2. Scroll through the apps to find the app you are looking for, and tap the Update icon next to it. Also, you can choose the Update All option to update all the apps at once.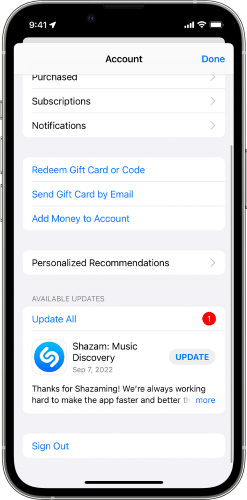 Trick 2. Set Revert to Original Before You Open the Video
The problem may also happen because of a glitch in multimedia modules since the iPhone fails to load the essential modules properly while playing a video. So, setting Revert to Original in Photos app before you open the video may help fix the error:
Step 1. Open the Photos app, then choose Video. Click the Edit tab and Revert on the interface.
Step 2. Click Revert to Original, then see if you can play the video without the error.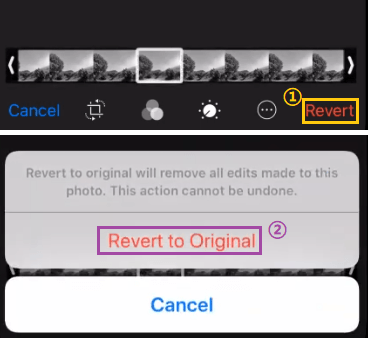 Note:If that doesn't work, check if duplicating the video file in the app will clear the issue. Also, you can import the video to iMovie to see if it loads.
Besides, you can install the Metapho application, run it and tap on 4 Assets > FullSizedRender.mov > video thumbnail and wait until the loading bar finishes and see if the issue is fixed.
Trick 3. Edit Camera Settings
iPhone camera settings such as 4K cause a loading error while playing high-quality video since the device won't be able to parse video codecs. In such a case, editing camera settings may help resolve the issue.
Here's how:
Step 1. Run Settings on your iPhone, then open the Camera option; click on Formats, then choose Most Compatible.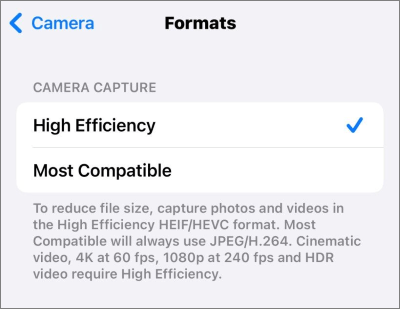 Step 2. After that, tap the back icon, then turn off the Smart HDR option by changing the switch-off position.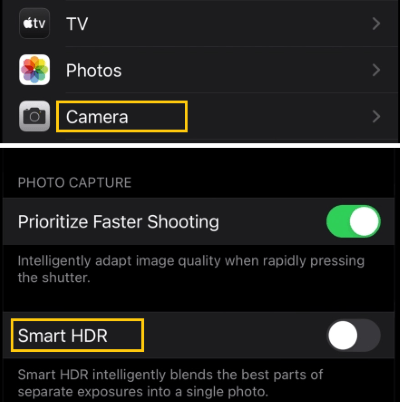 Step 3. Open the Preserve Settings and then set the Camera Mode option to on. Restart the iPhone and see if the videos are loading correctly.
Step 4. If not, open Settings > Camera > Record Video and choose 4K at 60fps. Now see if the video loads.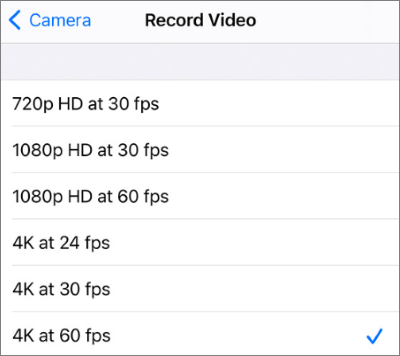 Step 5. If the issue is still unresolved, check if setting the Record Video in the Camera Settings of your iPhone to 1080p HD will help.
Trick 4. Disable View Full HDR
Typically, HDR (High Dynamic Range) balances the shadows and highlights of a video or image. However, this feature can lead to iPhone video-loading problems if the image/video is in full HDR. So, try turning off the view full HDR in iPhone's settings.
Step 1. Launch Settings and click on Photos.
Step 2. Turn off the View Full HDR option by toggling the slider to the off position. Then restart the iPhone and see if the problem is cleared.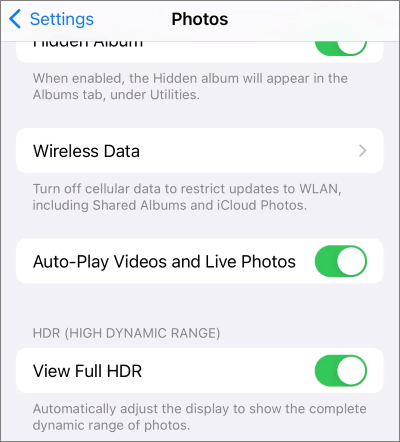 Trick 5. Check the Available Storage
Another culprit for photos and videos not loading on iPhone is lack of space. So, check the available storage space on your iOS device.
To check available storage space, head to Settings > General > iPhone Storage. Here, you'll see the used storage. Make sure the free space is at least 2GB.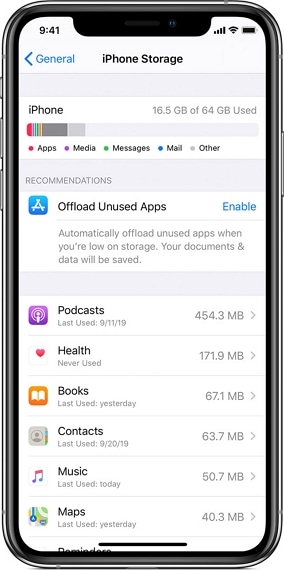 Trick 6. Disable Low Power Mode If It's On
If you don't know, the Low Power Mode function limits the background activities like saving the battery. So, turning on the Low Power Mode is not advisable unless your battery is really low and you wish to save some charge for emergencies.
To turn off the Low Power Mode:
Step 1. Head to the Settings menu by clicking on the Settings app on your iPhone. Select Battery.
Step 2. Now toggle off the Low Power Mode slider.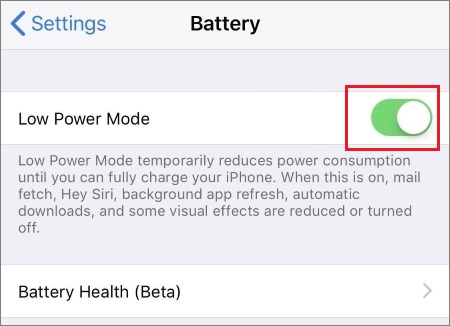 Trick 7. Restart Your Device
Also known as a soft reset, restarting your iPhone may help fix the unable to load video iPhone high-quality error. It gives your device a fresh start and closes any activity running in the background.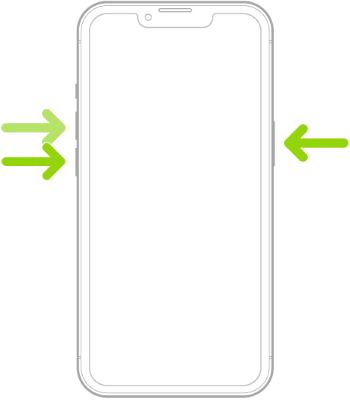 Trick 8. Disable Optimize Storage Feature
When you enable the optimize storage feature on your iPhone, all high resolutions of videos & photos will be saved to your iCloud with only compressed versions remaining on your iPhone. If you try opening a video on iOS device, it will take time to eventually load it from your iCloud. Though sometimes, the video may fail to load entirely.
So, to fix unable to load a higher quality version of this video error, you should turn off the Optimize Storage option. Here's how:
Step 1. Open the Settings menu on your iPhone and tap on the [your name] option.
Step 2. Click on iCloud > Photos. Under Optimize iPhone Storage, click on Download & Keep Originals.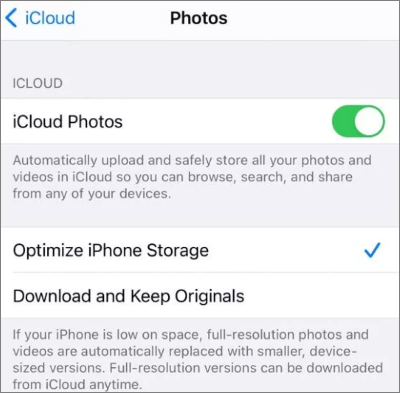 More relevant articles:
13 Solutions to Fix iCloud Photos Not Syncing on iPhone/iPad/Mac
Why Is iCloud Backup Stuck? How to Solve iCloud Backup Not Working?
Part 3. How to Fix Unable to Load Video on iPhone [Advanced Solution]
iOS System Recovery is a reliable software to troubleshoot iOS system issues. So, if the above tricks don't resolve the unable to load video iPhone problem, try this tool. It is your one-stop solution to fix all iOS system-related issues.
It is most likely to help fix the inability to load completely and be able to load your images and videos on your iPhone again.
Here are the top features of iOS System Recovery:
Repair iOS system issues on iPhone/iPad/iPod in a few clicks.
Support most iPhone models and the latest iOS versions.
Easy and very safe to use.
Windows 7/8/10/11 versions & Mac OS X 10.7 and higher supported.
The steps to repair an iPhone and solve the unable to load videos error:
01Start by launching the software after installing it on PC/Mac. From there, go to More Tools on the left panel, and on the next window, choose iOS System Recovery.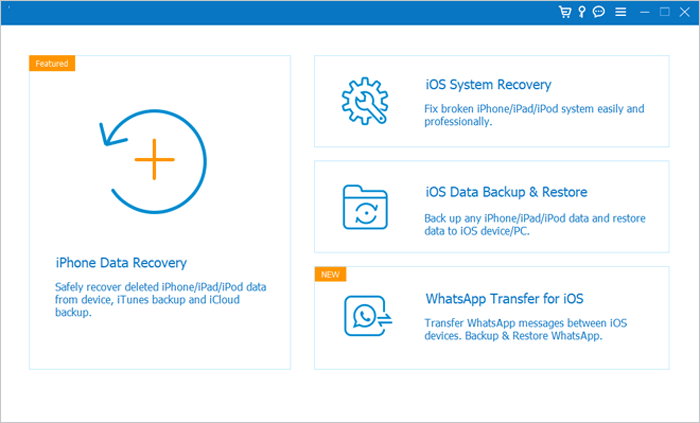 02Press the Start button at the bottom and boot iPhone into DFU mode following on-screen instructions.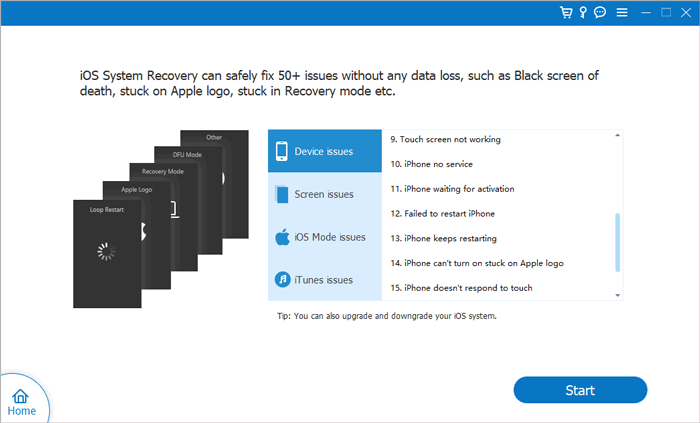 03Start the installation of iOS firmware once you click on Repair. Once done, the tool will repair the iPhone, which fixes the unable to load video issue.
Get Your Memories Back
If you find that your videos won't load on iPhone, relax. It's a temporary problem you can easily solve with the simple but effective tricks mentioned here. You can then view all your videos and images to relive those priceless memories. Of course, you also have a repair tool- iOS System Recovery at your disposal to professionally fix any system issues on your iPhone.
Related Articles:
How to Restore from iCloud Backup without Reset? (5 Effective Methods)
[2023] How to Recover Snapchat Messages on iPhone in Four Hassle-free Ways?
10 Methods to Fix iPhone Text Messages Disappeared Issue in 2023
iPhone Calendar Disappeared: How to Recover Calendar App & Events on iPhone
[Reviews in 2023] Best Diskdigger Alternative for iOS Devices
How to Bypass iPhone SIM Not Supported Issue? (Top 11 Methods)