If you're a new iPhone user, transferring files from your Android device to your new iPhone can be daunting. Luckily, Move to iOS app is there to rescue you. It makes transferring data much more straightforward. But sometimes users may encounter the "move to ios did not transfer contacts" issue, which could arise for various reasons.
Here we've provided different workable solutions and clarity about why you may be struggling. This article has all the information concerning this error, so take advantage of what it has in store for you today.
Part 1. Why Is It Failing to Transfer Contacts?
Move to iOS app was created to simplify and ensure the secure transition of personal data from Android mobile devices to iPhones. Photos, videos, contacts, messages, mail accounts, calendars, and web bookmarks can all be transferred in a flash. All that is required is an iPhone running on iOS 9 or higher version and an Android OS 4.0 or later. Now you no longer have to worry about losing important information when swapping phones. Just open up Move To iOS for a smooth transition experience.
If you're puzzled why Move to iOS didn't transfer your Android contacts to your iPhone, there are a few explanations. It might be that the available storage space on your iPhone cannot accommodate all of them. It may also mean that some contacts were synced only with the Android device. Below are some reasons why Move to iOS may fail to transfer contacts from an Android to an iPhone.
1. Lack of enough space on your iPhone.
2. Contacts only synced with the Android device.
3. Weak Wi-Fi connection.
4. Interruption while transferring.
Part 2. How to Fix Move to iOS Did Not Transfer Contacts?
Are you wondering how to fix "Move to iOS did not transfer contacts"? Don't worry. We've got you covered. Here are some solutions to properly resolve this issue and successfully transfer your contacts.
Method 1. Restart The Process
After the unsuccessful transfer, you can restart the process by following the same steps to ensure all your contacts have been correctly transferred. Follow the below steps to solve the Move to iOS did not transfer contacts problem:
Step 1. Open the Move to iOS application on your Android phone.
Step 2. Erase all existing data on your iPhone. After that, follow the on-screen instructions until you arrive at "Apps & Data".
Step 3. Click the "Move Data from Android" option and start transferring data from your Android to your iPhone device.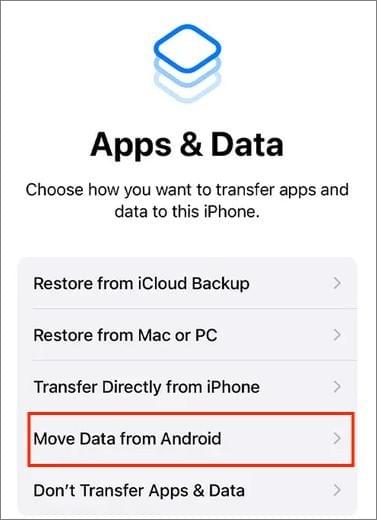 Futher Reading:
Move to iOS Transfer Interrupted? Repair It Now [Why and How Guide]
Why Is Move to iOS Taking Forever? Fix It and Make the Data Transfer Faster
Method 2. Ensure That Your iPhone Has Free Storage Space
Don't let low iPhone storage space hinder you from transferring contacts with Move to iOS. Before attempting any transfer, ensure your iPhone has enough room to save all your desired contacts from Android to iPhone. To ensure a successful move, follow these steps:
Step 1. Launch your iPhone's "Settings" application, locate the "General" option by scrolling down and tapping it.
Step 2. Check the available storage space on your iPhone by clicking on the "iPhone Storage" option.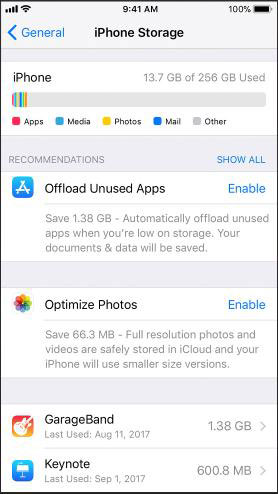 Step 3. If your iPhone is running out of space, delete the files and apps that you do not need to create some free space. Then try using Move to iOS once more to transfer your Android contacts successfully.
See Also: Answered: How Long Does Move to iOS Take? [Informative Guide]
Part 3. How to Transfer Contacts from Android to iPhone via the Alternative Solution of Move to iOS?
Move to iOS still not working after trying the methods above? Well, there are other Move to iOS alternatives to transfer files from Android to iPhone.
Method 1. Transfer Contacts Using a Professional Tool
One of the easiest and most effective ways to solve Move to iOS, not transferring contacts, is using a professional tool such as Coolmuster Mobile Transfer. This program provides an efficient solution for transferring contacts from Android devices to iPhones without experiencing any issues. It's a robust, secure, and user-friendly software that can easily help you get the job done.
Coolmuster Mobile Transfer allows you to share data between devices effortlessly. There's no limit to iOS or Android. Moreover, it ensures that no existing data is overwritten during transfers. It works perfectly with all iPhones and Androids alike, so why hesitate? Enjoy seamless transfers today with this unbeatable Phone Transfer Software. Some key features of Coolmuster Mobile Transfer as follows:
Support transferring contacts from Android to iOS and other types of data.
Transfer files quickly and safely without losing any existing info.
Offer a simple, intuitive interface that anyone can use with ease.
Support both Windows and Mac operating systems.
Compatible with all iPhone models, ranging from the oldest (4S and later) to the newest.
Click on the button below to download a free trial of Coolmuster Mobile Transfer.
Follow the below steps to transfer contacts from Android to iPhone using Coolmuster Mobile Transfer:
01Install and Launch
Begin by downloading and installing Coolmuster Mobile Transfer on your computer. Launch the program and click the "Mobile Transfer" button from the available options.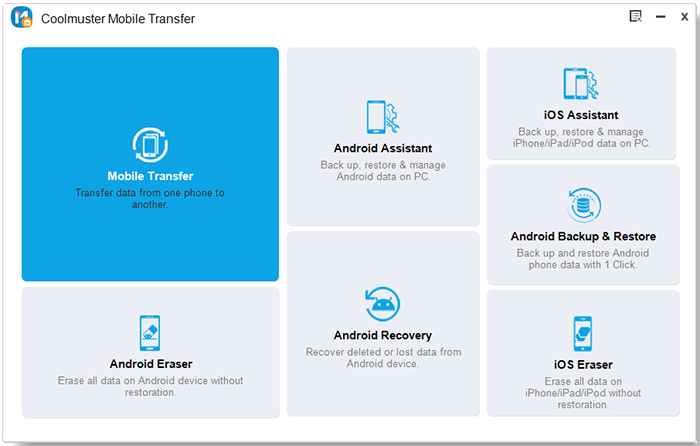 02Connect The Devices to The Computer
Use a USB cable to connect your Android Phone to the computer and a lighting cable to connect your iPhone to the computer. Enable debugging mode on your Android phone and click on your iPhone's "Trust" pop-up to establish a connection.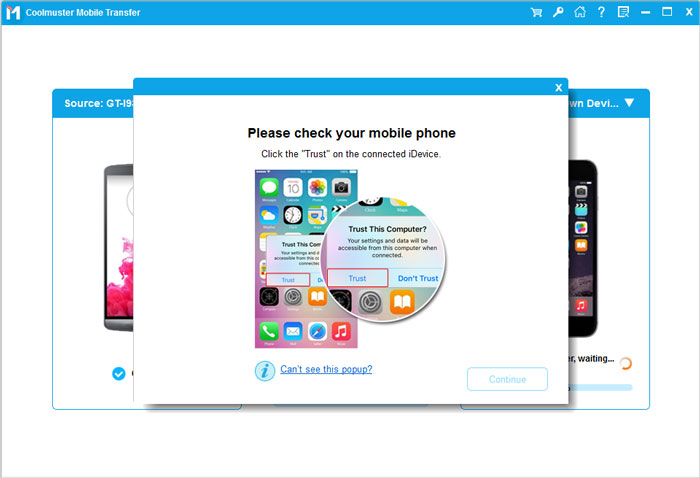 03Transfer Contacts from Android to iPhone
Select all the contacts you want to transfer and click the "Start Copy" button to begin the transfer process. Wait for the transfer process to complete, and you will see the "Transfer is completed" message when the process is completed.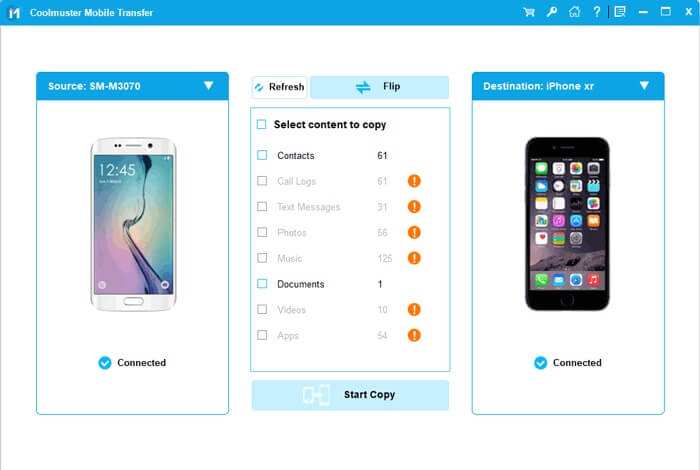 You May Like:
[Fixed] How to Solve Move to iOS Not Working Issue
How to Fix Move to iOS Unable to Migrate Issue without a Hitch?
Method 2. Transfer Contacts by Syncing Them Through an Email
If you have your contacts saved on an email account associated with your Android device, syncing them to the iPhone is easy. All you need to do is add that same Google account to the new iOS phone. Let's take a look at how this works:
Step 1. Launch the "Settings" application on your iPhone.
Step 2. Look for the "Contacts" button and select it. Tap the "Accounts" option and hit the "Add Account" button.
Step 3. Select the "Google" option and sign in using your Google Account and password. All your contacts will be transferred to your iPhone automatically.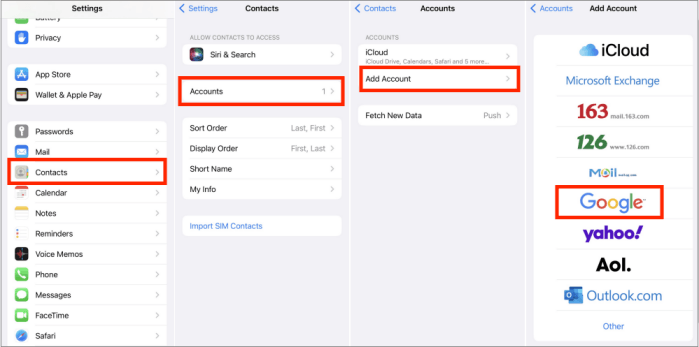 Can't Miss: App to Transfer Data from Android to iPhone Smoothly - 10 Top Options
Part 4. FAQs about Move to iOS Did Not Transfer Contacts
Q1. Is using Coolmuster Mobile Transfer safe?
Coolmuster Mobile Transfer is safe to use. All the data transferred using this tool is encrypted and will not be shared with any third party. It's also free from any virus or malware that could damage your phone or data.
Q2. Is Move to iOS free?
Move to iOS is a free application that transfers data from Android to iPhone. You only need to download the app on both your device and follow the steps to transfer your desired data.
Conclusion
If you have been facing the issue of Move to iOS not transferring contacts, try using any of the above methods for a successful and hassle-free transfer. All the methods provided here are easy and convenient to use without worrying about data loss or other errors. Ensure your device has enough storage before attempting contact transfer, and take necessary caution while deleting files or apps. All in all, the ultimate way of solving the Move to iOS contacts missing problem is using Coolmuster Mobile Transfer.
Related Articles:
How to Transfer Android to iPhone? It's A Piece of Cake
[Transfer to iPhone] How to Transfer Data from Android to iPhone?
How to Transfer Contacts from Xperia to iPhone Effortlessly?
How to Transfer Files from Android to iPhone [Full Solutions]
[Solved] How to Transfer Text Messages from Android to iPhone