2 Ways to Transfer iCloud Messages to Android
Compared to the open Android system, the iOS system is relatively closed. Because of its closure, many people have headaches because they don't know how to send text messages from their old phones to new phones, especially cross-system transmission. Although iPhone supports Bluetooth, it can only support file transfers between two devices in iOS system. Moreover, even file transfers between two iOS devices are not 100% successful, let alone cross-system transfers. In order to relieve your concerns, we have written this article to tell you how to transfer iCloud messages to Android.
So if you have an iOS device and backed up your files to iCloud, now you have changed to Android and need your iCloud backup data, this article is your solution.
Way 1. Transfer iCloud Messages to Android with Mobile Transfer in 1 Click
Way 2. Transfer SMS from iCloud to Android with Samsung Smart Switch
Way 1. Transfer iCloud Messages to Android with Mobile Transfer in 1 Click
SMS is very important to us because it may include our chat history with family, friends, colleagues and various types of transaction records. If you are a businessman and often keep a relationship with your customers by sending text messages, losing this important information can be a terrible thing. So, when you change your phone, the first thing is to transfer this information from iCloud to your new Android phone. Phone Transfer is a powerful tool that restores information from iCloud backup to Android phones. All you have to do is giving a click on the mouse.
In addition, it supports file transfer between two phones with different operating systems, such as Android, iOS, WinPhone, BlackBerry and Symbian. It's easy to use, so you don't have to worry about the process and the level of mastery of the technology, just follow the guidelines below.
The Core Features of This Phone Transfer:
- One-click restoring of backup data from iCloud Backup, iTunes Backup and BlackBerry Backup to your new phone.
- Support file transfer between major smartphone operating systems such as Android, BlackBerry, iOS and Symbian.
- It is compatible with the latest iOS 12 and Android 8.0.
- One-click data backup and recovery, and maintain the original quality of the data.
- Share music and playlists from iTunes to Android devices, iPhone, iPod touch, iPad or Symbian phones.
- You can also use it to sync iCloud calendars to Android and transfer iCloud contacts to Android.
How to Transfer iCloud SMS to Android with this transfer tool:
What You Need: Phone Transfer, Android phone and a USB cable.
Step 1. Download, install and launch the iCloud to Android transferring program - Phone Transfer on your computer. Choose the option labeled Restore From Backups and click iCloud icon.
Tips: After you choose the option of "Restore from Backups", not only icloud, you are also allowed to choose to restore from iTunes, BlackBerry, Samsung Kies and etc.
Step 2. Sign into your iCloud account and use a USB cable to connect your Android phone to the computer. After detected, the iCloud backup files with your wanted text messages will be displayed on the left and the connected Android phone on the right.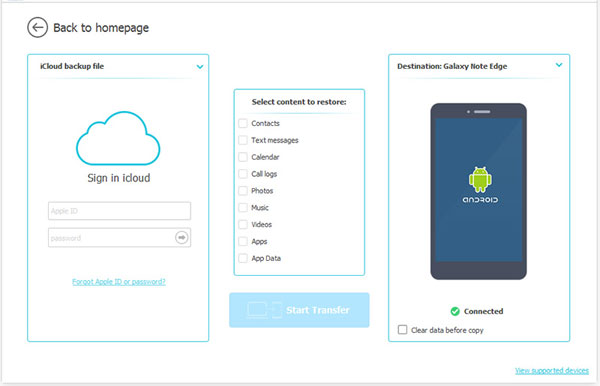 Step 3. If you only want to transfer text messages only, you need to uncheck the other contents except Text messages. Then, click Start Copy to transfer selected messages from iCloud to Android phone.
Before finishing the process, keep your Android device connecting with the computer. This process will take a few minutes, just wait with patience..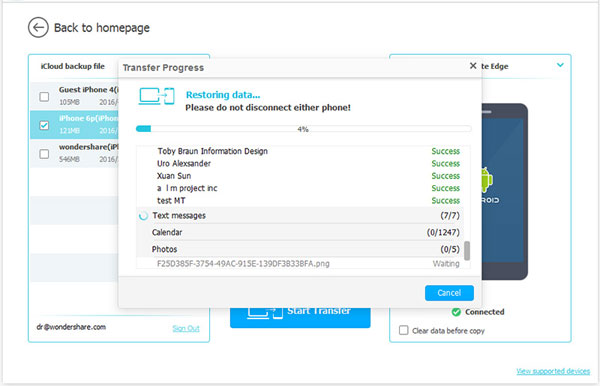 Don't Miss:
Share Calendar between iPhone and Symbian
iCloud to Samsung: Transfer iCloud Data to Samsung
Way 2. Sync SMS from iCloud to Android with Samsung Smart Switch
To perform iCloud to Android SMS transfer, in addition to Phone Transfer, you can also ask the help of Samsung Smart Switch. This is a special app designed by Samsung that allows you to freely transfer content from your old phone to a Samsung Android device. This application is a good choice because it helps you achieve a smooth and easy transfer process from iCloud to Android phone.
Follow the steps below to transfer text messages from iCloud to Android using Samsung Smart Switch:
Step 1. Open Google Play Store on your new Android phone and go to search box to search for Smart Switch. Download and install it on your Samsung device.
Step 2. Run Smart Switch on the phone and choose "Wireless" > "Receive" > "iOS". Then, log in to your iCloud account with Apple ID and password.
Step 3. After login into your iCloud, all the iCloud backup files you can transfer are listed here, including contacts, messages, app list, notes and so on. Select the "Messages" you want to restore to your Android phone and unselect other contents. Then, click on "Import" button to start importing the selected SMS from iCloud to Android.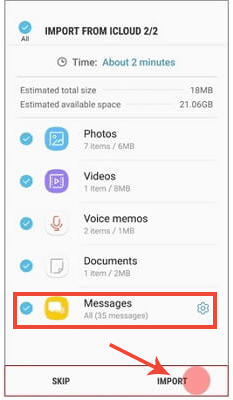 Cons:
1. Smart Switch only supports to transfer data from any device to Samsung device and the opposite is not supported;
2. Not all devices are compatible with this app;
3. The latest version of Samsung Smart Switch only works on iOS 10 or higher. That's to say, if your iPhone is running an older iOS version, you are unable to use this app.
Conclusion:
The above is what I would like to recommend on how to transfer text messages from iCloud to Android phones. As you can see, comparing these two methods, regardless of the difficulty level, the types of devices supported, the types of files supported, and the supported transmission methods, Phone Transfer is undoubtedly better. All you need is your iCloud account and USB cable. You don't have to go through a long and complicated process, but with just a click of the mouse. Don't hesitate, just try it. Finally, we recommend that you develop a habit of cloud backup to ensure that data can be restored securely and smoothly.
Related Articles:
How to Transfer Contacts from One iPhone to Another
How to Transfer Content/Data from Samsung to Samsung
Copy Call Logs from iPhone to Samsung