After buying a new iOS device, you'll realize how everything operates flawlessly. With just a mere sign-in in Apple devices, all your data starts syncing among the linked devices. You may also notice how much data gets stored on your iPad as you keep syncing with your iPhone, which can fill up the storage space. Maybe you want to sell your iPad device or don't want others to access your personal data (Want to wipe iPad data for selling?). If that's the case, you must unsync iPhone from iPad.
But how? Unsyncing devices can be difficult, especially if you're unsure how to do it. Fortunately, we have some tricks for you on how to unsync iPhone and iPad. Stay tuned as we take you through!
Part 1. Why Unsync iPad and iPhone?
It's important to sync data between devices as you never know what might happen later. But, it may bring you unnecessary stress when you find unwanted data on your iPad or iPhone. For instance, you have taken too many photos and are taking up a lot of space on your device. Besides, privacy will also not be guaranteed when other users can access the connected devices. That's why so many people chanted: I don't want my iPad and iPhone linked. Unsyncing is a sure way that your data will be kept safe even when you share the device with others, and you'll have privacy for your data.
You may like:
Top 7 Ways to Mirror iPhone to iPad Easily [Latest Tutorial]
[Solved] How to Transfer iBooks from iPhone to iPad or Vice Versa
Part 2. How to Unsync iPhone from iPad?
There are several valuable methods to unconnect iPad from iPhone. We will show you how to stop sync iPhone to iPad step by step.
Method 1. How to unsync iPhone from iPad on iCloud
As far as we know, iCloud is one of Apple's most powerful cloud services. It is mainly used for synchronization purposes; therefore, to stop Apple devices syncing with each other, you have to unlink through it. When iCloud sync is enabled and your devices are connected to the internet, your files will automatically sync to the devices with the same Apple ID.
So to stop syncing these files, you must disable your iPad or iPhone on iCloud. How do I unsync my iPad from my iPhone on iCloud, do this;
Step 1: Look for the Settings application on your iPad or iPhone, open it and click the "[your name]" option.
Step 2: Tap on "iCloud," then toggle OFF the icon for Photos and Messages not to sync.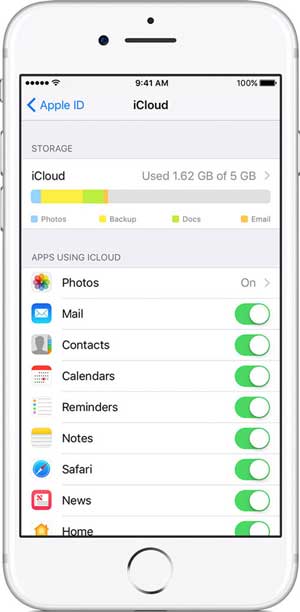 Method 2. How to unpair iPad from iPhone by disabling Handoff
Handoff is one of the most interesting features of Apple. It allows users to switch between devices easily by using the same Apple ID. For instance, when you are typing something on your iPhone, you can continue the task where you left off on your iPad. Besides, you can copy files on an iPad and paste them onto an iPhone. To disconnect iPad from iPhone by disabling Handoff, do this;
Step 1: Go to the Settings app on either iPad or iPhone.
Step 2: Click the "General" option from the settings page, look for "Handoff and Airplay," and click on it.
Step 3: On the Handoff button, swipe to the left the Handoff button to turn it off.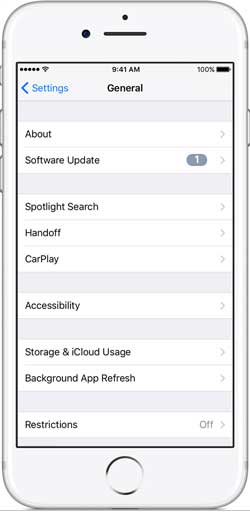 Method 3. How to unconnect iPad from iPhone using iTunes
It's also possible to unsync Apple devices with iTunes. If you can access iTunes on the computer, you will see all devices associated with your account enabling you to remove unwanted devices from there. To use iTunes for unsyncing iPad from iPhone, do this;
Step 1: Open the iTunes application on your PC.
Step 2: From the menu, tap "Account" and proceed to tap on "View My Account."
Step 3: You can see all devices connected to your Apple ID on the account page. Input your passcode when asked.
Step 4: Go to the "iTunes in Cloud" section and tap "Manage Devices You'll see the Manage devices section if." you have more devices connected to the same Apple ID.
Step 5: In the Manage devices section, all devices connected to your Apple ID will be listed. Tap "Remove" to unlock your iPad or iPhone.
Method 4. How to unlink iPad from iPhone via the Device
Apart from using iTunes and Handoff, you can also decouple iPad from iPhone through the device itself. This method is very simple, and if you don't want to use iTunes can unlink the iPad from iPhone from the device itself. How to unlink my iPad from my iPhone via the devices? Here is how to achieve that;
Step 1: Open the Settings application on either iPad or iPhone.
Step 2: Click on the option for "[your name]"
Step 3: Click on "iTunes and App Store."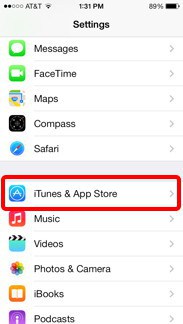 Step 4: Go to the top of screen to tap your Apple ID.
Step 5: Choose "View Apple ID" in the pop-up window, and input your Apple ID password.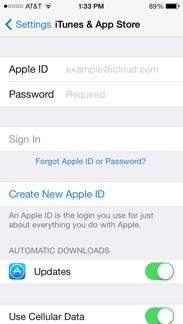 Step 6: Tap "Remove This Device".
Bonus: Transfer Data between iPad and iPhone Properly
Data syncing is essential, but still, it can lead to a lack of privacy and insufficient storage space on your device. Though you won't want to delete your phone's data, you would still want enough space in your device. So, the best way would be to selectively transfer the data you want to sync between two devices by using Coolmuster Mobile Transfer. It's a powerful tool that allows you to share files between iOS and Android devices. It's a Mac and Windows-compatible app that can help you transfer Contacts, Calendars, Notes, Books, and Bookmarks. Besides, you won't experience data loss and data corruption.
Key Features of Coolmuster Mobile Transfer:
* Transfer data from iPhone to iPad, and vice versa, with one click only.
* Supports most iOS and Android devices.
* Supports Notes, Books, Calendars, Contacts, Messages, Photos, Videos, Bookmarks, etc.
* A secure and simple way of transferring data.
* It can transfer files between different devices operating in different operating systems.
Let's see how you can transfer files between iPhone and iPad Properly with Mobile Transfer;
01 Launch the program on the computer
Install and launch the Coolmuster Mobile Transfer on the computer. Once done, tap the "Mobile Transfer" module from the list.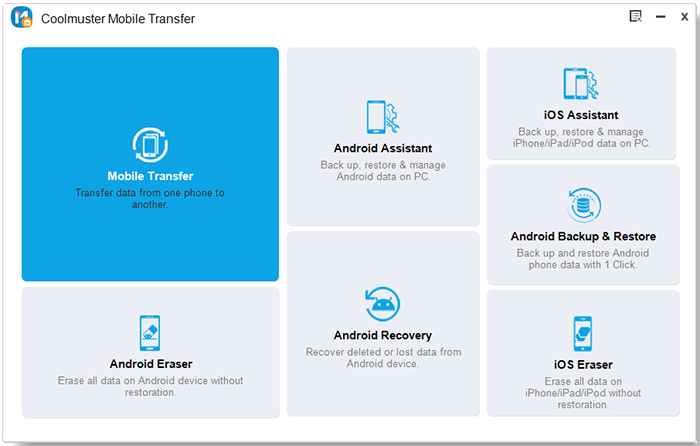 02 Connect your iPhone and iPad to computer
Connect your iPhone and iPad to the computer using a USB cable and enter their respective passwords to unlock them. This will allow the program to recognize the devices. Click on the "Trust" icon to trust the computer when a notification pops up.
Make sure the devices are in their right locations. iPhone device should be in the Source place while iPad in the Destination place. You may still switch them by clicking on the "Flip" button.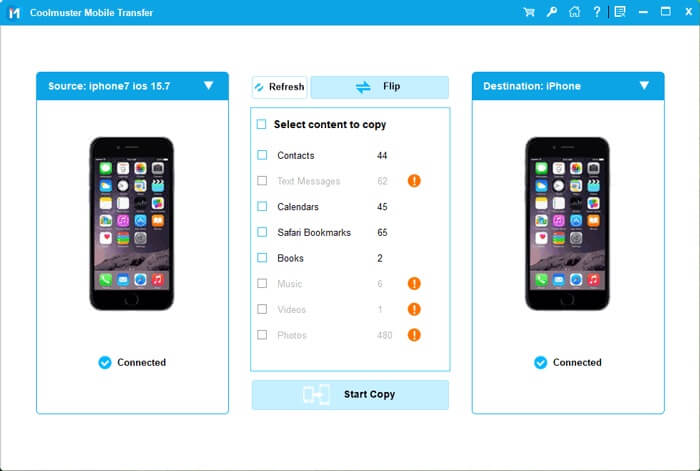 03 Transfer your data
Select the files to transfer from the content list. Once done, tap the "Start Copy" icon to start the transferring process.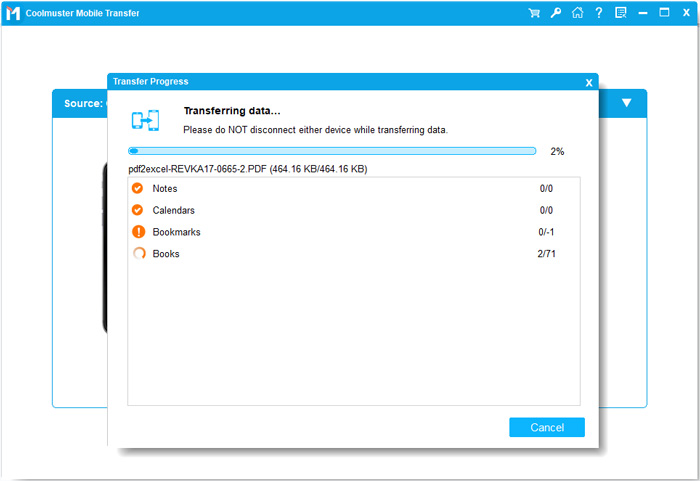 See more:
How to Transfer Contacts from iPhone to iPad in 5 Ways
How to Transfer Music from iPhone to iPad [All 6 Ways]
Conclusion
Generally speaking, unsyncing iPad from iPhone is a reliable way to safeguard your private data on both devices. You will also be sure that your data won't be in the wrong hands when you sell your phone or iPad. The above are sure ways to unsync iPad from iPhone easily. If you don't want to iPad and iPhone to sync anymore, share files between them with Coolmuster Mobile transfer.
Related Articles:
How to Restore Safari Bookmarks from iPhone and iPad?
What Happens If You Reset Your iPhone or iPad
How to Restore iPad from iPhone Backup Effortlessly? (3 Undemanding Solutions)
[Proven] How to Transfer WhatsApp to New Phone Easily? (Android & iPhone)
How to Sync Notes from iPhone to iPad with or without iCloud?