Working remotely may have become the norm, but still we must attend meetings. Messaging and email can handle most conversations, but there is something special about meeting people face-to-face. Don't worry; you don't need to disrupt your remote lifestyle just for one gathering. Thanks to technology advancements, there are multiple great platforms that can make virtual meetings a real thing.
If you don't like physical meetings, this would be your saving grace. With these solutions at hand, attending meetings virtually will be easy. To make things easier, we have compiled a list of the 7 best virtual meeting platforms. From those good for smaller meetings to ones that provide seamless experiences with large groups, we've got it all covered. Continue reading to know more.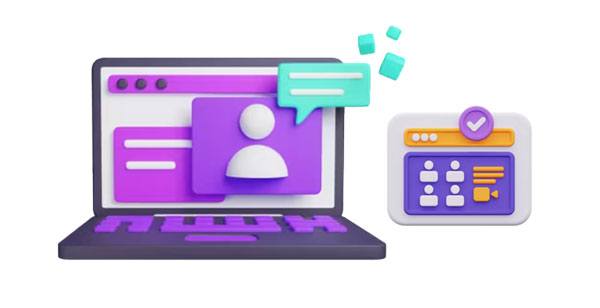 Part 1: What's a Virtual Meeting?
It is a form of communication that allows people in different locations to meet in the same virtual room through their mobile phones or other devices connected to the internet. Virtual meetings offer a remarkable opportunity to connect with colleagues, business partners, and customers. Creating a virtual meeting room online allows attendees to interact in real-time without geographical limitations. With this revolutionary form of communication comes increased efficiency and productivity, along with more opportunities for collaboration.
Part 2: Best Platforms for Virtual Meetings
There is a myriad of virtual conferencing platforms available. Check them below, and learn about their features, pros and cons. Then you can select one for virtual meetings.
2.1 Zoom
Zoom is one of the most acclaimed cloud-based video conferencing solutions available. With a global user base of 300 million daily meeting participants, it assists teams worldwide in hosting meetings, events, and webinars. Zoom makes it a breeze for anyone to get connected no matter where they are. All you need is a device and an internet connection.
Zoom stands out amongst all other virtual meeting platforms as it has a suite of features that keeps users engaged. Not only does it have options such as meeting recording and captioning, but it can also personalize backgrounds and easily share files. These are just some of the many reasons why Zoom is considered best for virtual meetings.
With many live streaming options, you can broadcast videos on Youtube Live and Facebook Live to reach more people. Moreover, breakout rooms allow a convenient way to divide participants in virtual meetings into smaller groups. This tool is especially useful during panel discussions, networking sessions, and other group conversations.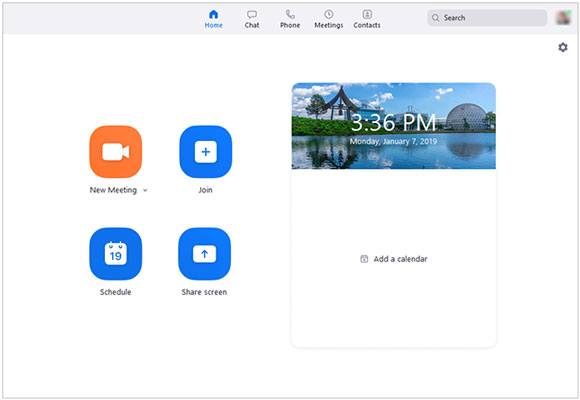 Main features:
* Hold 100 people in a meeting.
* Let you screen share and record.
* Offer an online whiteboard.
* Integrated scheduling.
* Support cloud or local recording.
Pros:
* It is free and very easy to use.
* High-quality video or audio.
* Ensure the virtual meetings with encryption.
Cons:
* The free plan only supports up to 40 minutes per meeting.
* Cloud storage is available for business plans.
Plans & Pricing:
Zoom offers a free basic plan. It's limited to only 40 minutes, making it ideal for only personal use. But if you require something more advanced, subscription plan for the Pro version starts at $149.9 for each user for a year with the possibility of add-ons such as Zoom Whiteboard, premier support, team chat, and more.
Plus, you can also subscribe to Business plans. These plans are more expensive than Pro, but they have more features.
See also: Useful Picture in Picture Video Editor: Create PIP Videos Easily
2.2 Microsoft Teams
It is one of the Microsoft 365 lines of products that enable individuals and teams to optimize their collaboration efforts. It has extensive features like a dashboard, messaging capabilities, contact synchronization, a calendar, and file sharing. These features allow it to function as a video conferencing and workspace platform.
Inviting participants to a virtual meeting is easy, just copy the meeting invite link and share it on the messaging platform you prefer, or send an invite link through Google Calendar or via email.
Meetings have cutting-edge features, such as screen sharing, noise reduction, transcription, and privacy protection for high-quality meetings. Additionally, its whiteboard capabilities surpass its competitors, making it even easier for remote and hybrid teams to collaborate quickly and efficiently. These are just some features you can use to take your virtual events from drab to fab.
A handy feature that's worth highlighting is the Together Mode which enables users to see the participants side by side as if they were in the same place. Impressively, there are a variety of backgrounds you can choose from, making your meetings more lively and stimulating.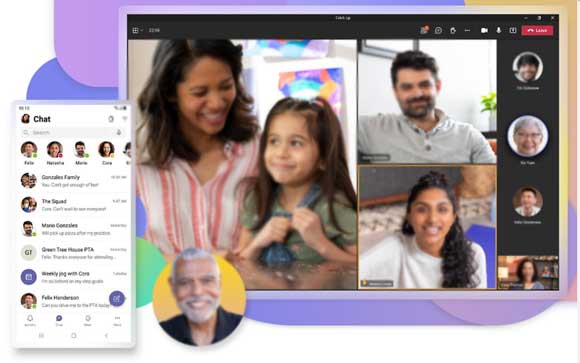 Main features:
* Allow up to 200 people in a meeting.
* Have speaker coaching and participant list.
* Personalized backgrounds and live captions.
Pros:
* Easier to use with not much training.
* Encrypted files, calls, and chats for privacy and security.
* No sign-up is needed to access meetings.
* The free plan provides great features.
Cons:
* It lacks storage usage.
* No notifications.
Plans and pricing:
Offers a free plan with no commitment for personal and business use. For large group meetings, pricing begins at $5 per user each month.
Learn more: Top 10 iTools Virtual Location Alternatives for Android and iOS Devices
2.3 Skype
Skype offers a comprehensive array of features, making it more than just a video conferencing platform. Its wide selection of features easily surpasses those offered by other platforms.
Skype also provides the needed convenience to individuals and teams with its wonderful features like messaging, video conferencing, and call features on multiple gadgets, including landlines. Moreover, the user interface has been carefully crafted to be easy yet effective. This makes signing up and starting your virtual meetings effortless.
However, you can start meetings and add participants without signing up. Skype meetings are particularly suitable for small to medium-sized organizations and teams since the number of participants who can get on a call is up to 100.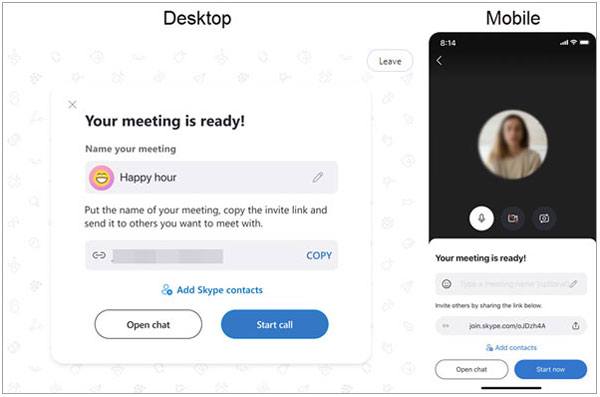 Main features:
* Support screen sharing.
* Allow 100 participants on a call.
* Very secure and keeps participants' privacy.
* Easy to use interface.
Pros:
* No sign-up is required to launch a meeting.
* File sharing is entirely free.
* Consistent call quality across all devices.
* Enable you to keep your conversations going for up to 24 hours.
* Easily access significant features without cost with additional features at a lower price.
Cons:
* Low quality of live video conferencing.
* High bandwidth is needed for video calls.
Plans and pricing:
Skype makes it easy and budget-friendly to stay connected with friends and family, no matter where they may be. Users can benefit from unlimited minutes for $2.99 a month.
Read more: Want to mirror an iOS device to Mac for conference? Then you can utilize these tools.
2.4 Google Meet
If you're familiar with Zoom or Skype, then you also have a hint on Google Meet. You can effortlessly join premium video meetings for free. It's incredibly easy to use and provides an exceptional user experience every time.
To start a meeting, you simply hit the "New Meeting" button to generate a link. You can copy the link and share it with your colleagues. Moreover, when you tap on "New Meeting," you can schedule a meeting directly in Google Calendar to add information such as duration and if it'll be a regular meeting. To join the meeting, the host must invite or accept you. Consequently, security measures are strictly adhered to ensure your safety.
If you are an event planner, Google Meet is a useful platform that offers the unique capability of streaming meetings publicly to YouTube. This versatility makes it stand out from other meeting platforms and can be highly beneficial for creating content or running events.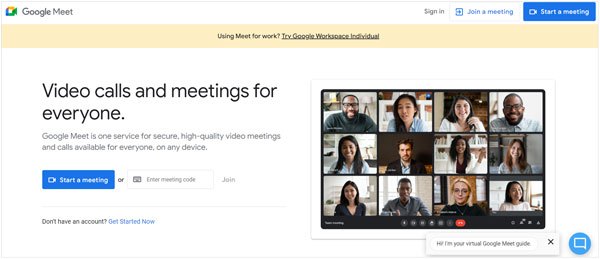 Main features:
* Allow 100 participants, no more.
* Meeting recording.
* Noise cancellation.
* The free version offers only a 1 hour minute meeting.
Pros:
* Easier to start a virtual meeting.
* The free version is sufficient to cater to most needs.
* Quick messaging options.
* Support multiple devices.
* The paid plan has a great way of canceling noise.
Cons:
* Only 100 participants in a meeting.
* Screen sharing is only for one participant.
Plans & Pricing:
If you own a Google account, you may use Google Meet to host a virtual meeting that can last only an hour with 100 participants for free. Still, Google Workspace offers subscription plans for individual users, small and large companies, and education institutions. The 14-day trial starts after the free trial with a price of $4.80 for every user per month.
You might like: How can you change your region on TikTok? Then the guide will tell you all the steps.
2.5. BigMarker
BigMarker offers a reliable platform for training, webinars, and virtual or hybrid events, so you can use it for virtual conferences. With their customizable presentations, you can have a fab meeting. If hosting live sessions is something you frequently do, then take advantage of BigMarker's white-label services. This method allows you to create dynamic and engaging video experiences for your marketing campaigns.
If you don't want to go with white-label services, you will find plenty of customization options. You can modify the design, aesthetics, and structure to provide a truly personalized experience. In addition, it has more than 15 modules so that you can create all event formats.
For an event to be successful, you need good interaction. With BigMarker's networking and interactive functions, engagement will be boosted considerably. It has a matchmaking function powered by AI to partner attendees with relevant contacts. Participants can also use network builders to select connections based on goals and interests.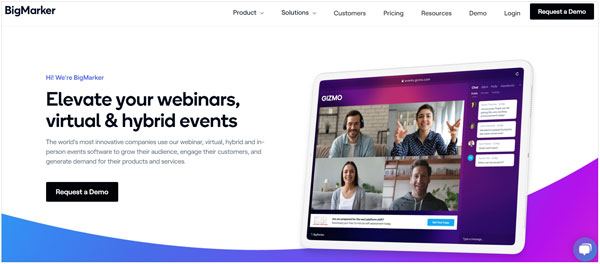 Main features:
* In-built marketing tools.
* White label services.
* Reporting and analytics.
* Post-sessions surveys.
* AI-designed matchmaking service.
Pros:
* It doesn't compromise video quality.
* Unique features when doing webinars, participation, and lounge.
Cons:
* It's not effective when integrating it with other apps.
* Audio can sometimes lag.
* Costly.
Plan and Pricing:
BigMarker's price is relatively high. For up to 100 attendees, it's $79 per month, while 500 and 1000 participants will set you back at $159 per month and $299 per month, respectively.
2.6 Webex by Cisco
Like Microsoft Teams, Webex is an ideal program for groups and teams needing a shared workspace. Both services offer collaborative tools as well as messaging capabilities to enable team members to communicate effectively with each other.
Webex meetings provide an optimized experience with functions that facilitate collaboration, such as breakout rooms, control sharing, and whiteboards. These meetings are guaranteed the highest quality for low bandwidth and HD video display.
Webex is dedicated to diversity and inclusion, which stands out in the industry. The real-time translations add-on makes it possible for anyone attending your meeting or webinar to have conversations translated into more than 100 languages with closed captions available in 13 languages. This remarkable feature from Webex opens up possibilities for communication and collaboration.
Main features:
* 200 participants in the meeting.
* Free screen sharing and video calls.
* Online whiteboard
Pros:
* Safe to use.
* Support background noise cancellation.
* Real-time translation.
Cons:
* The free plan only allows 100 participants.
Plan & Pricing:
The free basic plan with a meeting length of 40 minutes. Paid plan starts at $25 per month.
2.7 Hopin
Hopin is a perfect platform for event planners looking to create engaging, interactive online events and meetings that mimic an in-person experience. Their software was designed with one goal in mind: to replicate the feeling of being together as closely as possible from any location.
Since its launch in 2019, this software has gained immense popularity among users from different corners of the world. The proof lies in their success stories, one being that it helped the Toronto International Film Festival (TIFF) organize 60 events within 10 days for their 2021 festivities.
Apart from virtual and hybrid events, you can also leverage them for in-house company gatherings. This is especially useful if your business has adopted a remote working policy.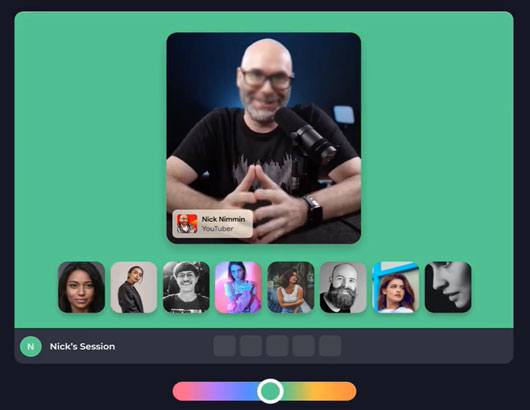 Main features:
* Have Basic analytics.
* Customizable registration.
* No-code website builder.
Pros:
* Great networking speed.
* Straightforward pricing model.
* Effective and affordable.
Cons:
* No gamification.
Plans & Pricing:
The free plan comes with a two-hour event. The price starts at $99 per month for longer events taking multiple days. If you decide to go annually, you may save almost 15%.
Part 3: Screen Mirror Your Device And Stream Virtual Meetings on Virtual Meeting Platforms
Don't want to download those complex virtual meeting tools to your computer for virtual meetings? Don't worry. Phone Mirror, the best-in-class screen mirroring app, can help you mirror your device and stream your meeting on any virtual meeting platform like Zoom, Skype, WebEx, and more. It makes virtual streaming meetings from your phone to a computer incredibly easy, allowing you to relish the convenience of a bigger screen without downloading anything.
Main features:
* Stream all your videos, music, and pictures from your cell phone to computers on platforms like Zoom, TikTok, etc.
* Support taking screenshots and recording your cell phone screen from the computer to get meeting minutes.
* You can control your device's screen on the computer using a keyboard and mouse.
* Transfer data from computer to Android and vice versa.
* Besides Android to PC mirroring, it also works for casting iPhone screen to PC.
Download this screen mirroring tool for your virtual meetings.

Free Download for PC
How to stream on a virtual meeting platform on an Android phone with this software:
01Download the program on the computer and install it. Open it, then choose the "Android Mirror" tab and connect the Android device to the PC with a USB cable.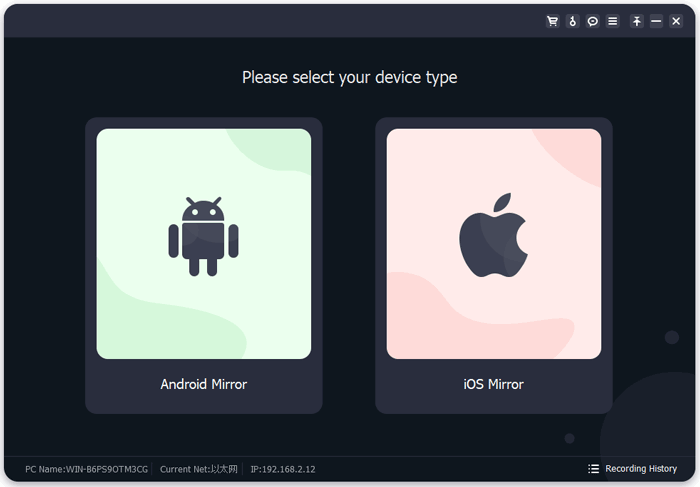 02Choose "USB Connection", and install the mirroring app on your mobile phone. Then enable the USB debugging mode. By the way, you can also choose "WiFi Connection", which is also available.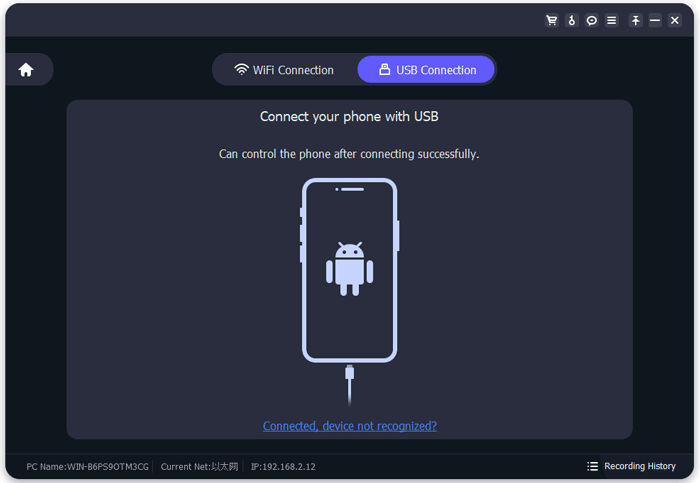 03To start a Zoom meeting, launch the app on your phone, and you will see the screen on your computer at the same time. Now organize your meeting.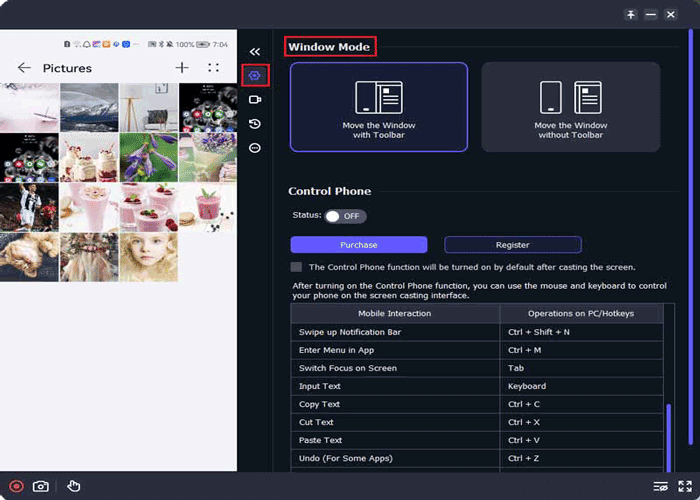 Part 4. FAQs on Virtual Meeting Platforms
Q1. Which is the best virtual meeting platform?
Many people agree that Zoom is the best virtual meeting platform. It outshines its competitors in price point, features, reliability across all devices, and scalability. It ticks all the boxes for what to look for in virtual meeting platforms.
Q2. What's the crucial factor to consider when choosing a virtual meeting platform?
You should consider the security of the platform. Ensure it provides features like access control, encryption, and secure data storage. In addition, check to see if the platform provides end-to-end encryption for all participants in the virtual meeting.
Conclusion
Virtual meetings have become an integral part of the workplace as our lives and work are increasingly digitalized. It is, therefore, essential to find a platform that is both easy to use and reliable. Phone Mirror, a powerful screen mirroring app, allows you to stream on these platforms easily. There won't be any hiccups as you go about your meeting.
The app allows you to mirror the audio and video from your device onto a display, so you can easily show presentations, videos, images, and more on bigger screens.
Related Articles:
List of 10 Best iPhone Backup Extractor Software
8 Best Android Backup Software for PC You Can't Miss
Powerful Android Flashing Software: Easily Flash Android Devices
Which Is the Best Phone Transfer Software for Android & iOS in 2023?
Best iPhone Data Eraser Software (A Comparative Study)
[Vlog Software] 11 Best Vlog Editing Software for Vlog Lovers