It is important to create a strong password for your Apple account that anyone can't guess. Remember, the stronger and more complex your password is, the better secure your account will be. However, account protection can, at times, go wrong. If you forget your password, you will not access Apple services on your iOS device.
In this case, you need to know how to recover iCloud password. Otherwise, you will fail to access Apple Store, iCloud, Apple Music, and many other services. You know, your email address and password are used on all Apple services and for making payments for downloads or purchases. Thus, it's vital to recover your Apple iCloud password.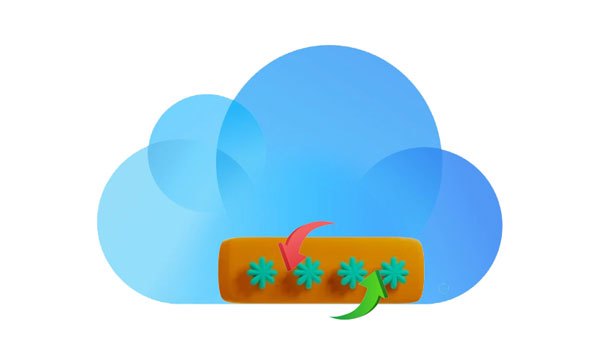 Part 1: How to Recover iCloud Password with Two-step Verification Feature?
If you signed into iCloud on your iPhone and have a two-step verification feature enabled, recovering iCloud password will be a piece of cake. Remember, it will only work if you've enabled the feature on your device, but if not, you can't recover the passcode.
A two-step verification feature is an added advantage if you want to protect your account better. It requires two factors to verify your identity when logging in: a passcode and a device you own. It sends an OTP (Time Password) to your registered phone number or email address every time you log into the iCloud service. Once you enter this code, you will be allowed access to your account.
During the verification process, you have to remember the correct recovery key provided by Apple to recover your account password. Importantly, use the device you trust to recover your iCloud password.
1.1 Recover Password for iCloud on iPhone/iPad
Step 1: Click on the Settings application on your device's Home screen. Now click on the "[Your Name]" option and "Password & Security". Then choose "Change password".
Step 2: Now enter the device's password you use to unlock it.
Step 3: On the "Change password" window, enter your new password in the fields, then click "Change". You can now enter your new iCloud password on other devices.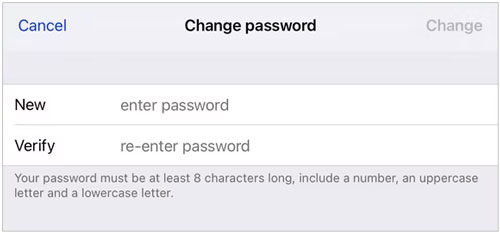 Read more: How to Access iCloud Photos on Different Platforms? 5 Powerful Methods
1.2 Recover My Apple iCloud Password on a Mac
Step 1: On your macOS catalina or later, open the Apple menu and head to "System Preferences". Here, tap "Apple ID". On earlier versions, open "System Preferences" > "iCloud" > "Account Details". Then, choose "Security".
Step 2: Tap "Password and Security" and select "Change Password". In the pop-up box, enter the new passcode and re-enter again in the "Verify" field. Once done, hit "Change".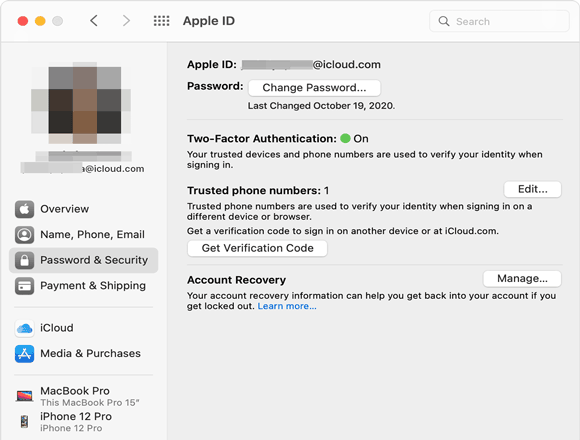 Maybe you need: You can easily back up and restore your iPhone with iCloud. This is a full guide with detailed steps. Let's check it out.
1.3 Recover iCloud Password on the iForgot Website
Step 1: Head to Apple's iForgot website and enter your Apple ID. Apple keeps the saved phone number connected to your Apple ID, showing only the last two digits. To reset your password, type in this hidden number and press "Continue".
Step 2: On all of the approved devices related to your account, you should receive a dialog box with a prompt that says "Reset Password", tap on it or click "Allow" for authorization.
Step 3: Now enter the password of your device and tap "Continue". Enter the new passcode or re-enter it in the "Verify" field and click "Next" or choose "Change". Your iCloud password will now be changed.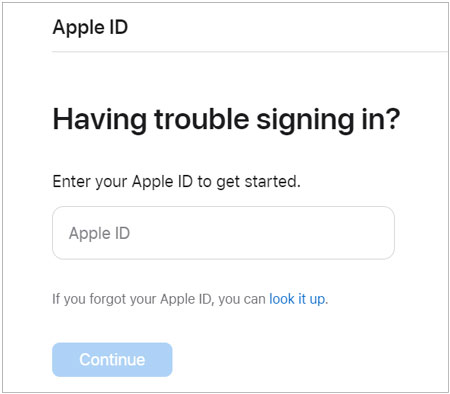 You might need: Why does it pause when you restore data from iCloud? Don't worry. You can fix it with 9 reliable solutions.
Part 2: How to Recover Password for iCloud Using My Apple ID?
How do I recover my iCloud password? If you want to retrieve your iCloud password, a great method to try is to sign into your Apple ID on Apple's website. This can help you recover and reset your forgotten password.
Step 1: Head to the "Apple ID" website and click the blue "Sign In" icon.
Step 2: Tap the "Forgot Apple ID or password?" button, and input your Apple ID. Then click "Next".
Step 3: Answer your security questions. Once done, you will retrieve your iCloud password.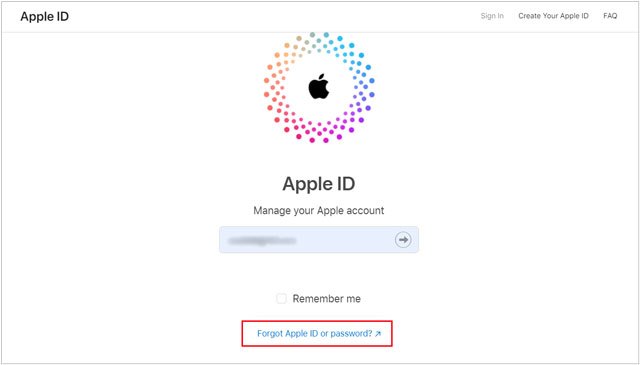 See more: How to Get Contacts from iCloud to iPhone 14/13/12? [Solved]
Part 3: How Do I Recover My iCloud Password with a Recovery Key?
You can also recover your Apple ID passcode using a Recovery Key. This is a randomly generated code, usually with 28 characters, and you can use it to reset your iCloud password or get access to Apple ID. Though it isn't needed, a recovery key enhances your account's security. Besides, you'll be able to reset your password. Here is how:
Step 1: Click on Safari to open it. Now head to the Apple iForgot website.
Step 2: Input your Apple ID, then tap "Continue".
Step 3: Hit "Change Password", then enter the recovery key to complete the remaining steps.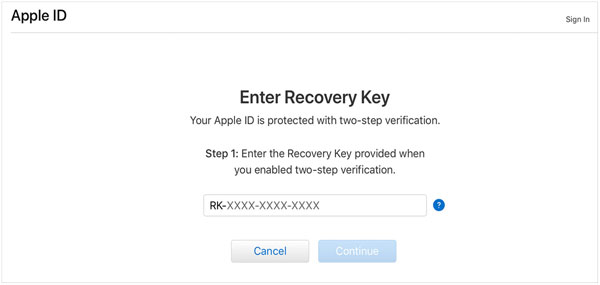 Note:Using the recovery key is secure, but keeping it safe is important because if you lose both your device and the key, you can be locked out of your account permanently. Therefore, ensure you keep it in a safe place or give it to someone you trust.
Part 4: How to Recover iCloud Password Using a Friend's Device?
You can also use your friend's device to recover your iCloud password if you don't have yours through the Apple Support application, which only works on the latest devices.
Using Apple Support App:
Step 1: Install the application, open it, and click "Reset Password" in the "Support Tools" part.
Step 2: Then choose the "A Different Apple ID" option, enter your Apple ID, and hit "Next".
Step 3: Follow the guide on the screen to reset your Apple password.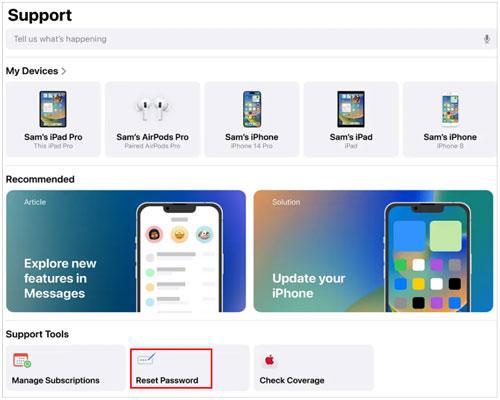 Part 5: How to Recover iCloud Password without Phone Number?
Removing iCloud locks can be a nightmare, but with iOS Unlock, it's now achievable, even without having a password or phone number. This dependable software provides quick and easy access to your iCloud account in just seconds, and help you remove your iCloud account without any problem. But your data will be lost during the process, so have a backup beforehand. By the way, this tool is also effective in unlocking iOS screen lock. You can know more features of this software below.
Top features of iOS Unlock:
* Bypass iCloud account without jailbreaking your device.
* Fast remove iCloud activation lock.
* Unlock all screen locks on iPhone, iPad and iPod touch devices.
* Eliminate the Screen Time lock from your device.
* Support different lock types, including Touch ID, Face ID, passcode, etc.
* No technical knowledge is required.
Download this unlocking software.
Here are steps to bypass iCloud lock on iPhone:
01Launch the iOS Unlock software on the computer and connect your phone. Choose "Screen Unlock" from the screen.
02Choose "Remove Apple ID" from the list to remove your iCloud account from your iPhone. Please note that this feature only works for those devices running iOS 14.2 and lower.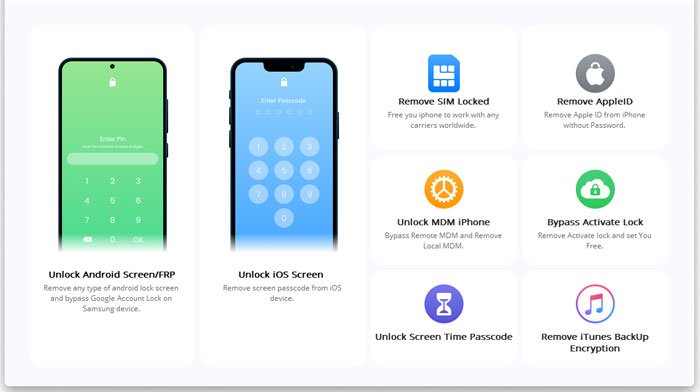 03Unlock the iPhone and click "Trust" when asked to "Trust This Computer". Then follow the instructions on the interface to get your phone into recovery mode. Next, the program will start to unlock your Apple account.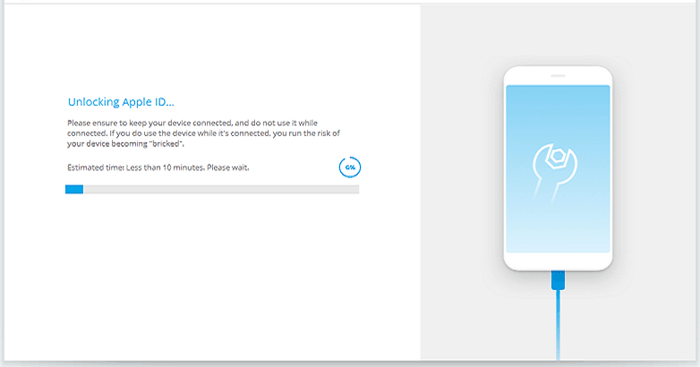 More info: 4 Methods to Remove Apple ID from iPad without password (Easy & Quick)
Part 6: FAQs on iCloud Password Recovery
Q1. Can I recover my iCloud password if I forget it?
Yes. You can recover your iCloud password by resetting it. You must go to Apple's iForgot webpage and recover your password via a trusted device or phone number.
Q2. Can I recover the iCloud password without a trusted device?
If you don't have a trusted device, try using the security questions to recover your password. However, if you want a quicker solution to bypass Apple ID without a password, you can get help from iOS Unlock.
Final Words
Your iCloud password is the key to accessing your important data and protecting its privacy. From family photos, videos, and contacts, to documents, you can rest assured that it will remain safe in the iCloud after signing into it with a secure password. But what happens when you forget your iCloud password? This article has answered your question. You have several ways to recover your password for iCloud. Whether you use the Two-Factor Authentication, Apple Support app, or recovery key, you can regain your iCloud password.
Besides, iOS Unlock comes to your rescue when you want to remove your iCloud account without password or phone number. The software is easy to use, and bypasses iCloud locks in seconds.
Related Articles:
iCloud Backup Failed | iPhone Not Backing Up to iCloud (12 Fixes)
iPad Remote Control Guide: Control and Access iPad Remotely
How to Fix the iTunes/App Store Keeps Asking for Password Issue on iPhone/iPad?
5 Ways to Unlock Android Phone if You Forgot the Password
Forgot iPhone/iTunes Backup Password? 4 Methods to Solve It!
How to Unlock iPod touch without Password (Solved with 4 Ways)