These days, losing an iPhone is a more significant concern than misplacing your wallet. This is true since we save all our private information on these devices. From bank accounts and credit cards to passwords and identity documents, an iPhone has essential information you can't afford to lose. As such, unauthorized access can have grave consequences.
Good thing Apple has always been ahead of the game regarding security features, and its latest innovation, Find My iPhone, demonstrates this quite nicely. This feature lets us deactivate our iPhones remotely and can only be used after entering the account's password. But what if you want to turn off Find My iPhone remotely? Is it viable to turn off the feature? Skim through this guide to get the way.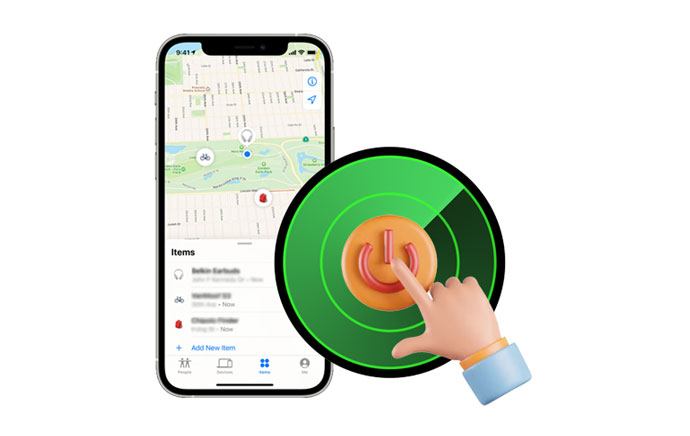 Part 1: Can You Turn off Find My iPhone Remotely?
Yes. It is possible to turn off the Find My iPhone feature remotely with your computer or mobile phone if you have the required credentials.
Specifically, you should have your Apple ID and passcode. With these in place, it is simple to remove this feature with a few clicks of the button and enjoy full control over your device again.
Part 2: What Will Happen When I Turn Off Find My iPhone Feature?
By disabling Find My iPhone, you lose the ability to trace a misplaced or stolen device. If your phone is lost in your house and you need help finding it, you will not be able to use the "Play Sound" function.
Without the Find My iPhone feature enabled, your device falls vulnerable to anyone who can get their hands on it. Also, they can easily register another Apple ID for the device.
Furthermore, without a password protecting your device's home screen, it will be impossible for you to hinder others from accessing your personal details. Considering these scenarios, Apple recommends that users keep the Find My feature enabled at all times.
See also: Want to control your iPhone remotely? You can use these 6 secure approaches.
Part 3: How to Turn Off Find My iPhone Remotely on Another Apple Device?
An effective way to turn off FMIP is by using another device, such as a friend's iPad, Mac computer, or even an Apple Watch. If you can get any of these devices, you can deactivate this feature. Here are the steps to turn off find my iPhone from another device:
Step 1: Head to the "Find My" application on another device, and log in to your iCloud. Then click on the target device you will turn off FMI.
Step 2: Scroll up and find "Erase This Device", then click on it. Don't enter the phone number when asked; this feature is to find the lost phone. The erase will start when your device is back online. After that, you'll get a confirmation email.
Step 3: Once done erasing, click "Remove This Device" and then click on "Remove".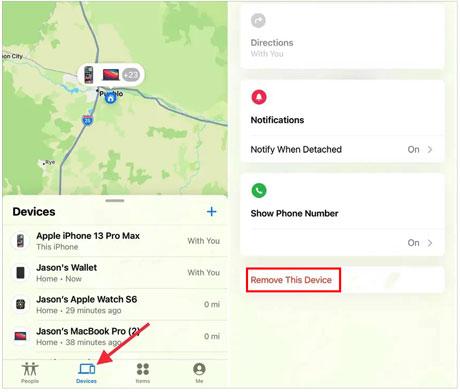 Maybe you like: How to Wipe iPhone Remotely? 4 Practical Tricks Can Solve It
Part 4: How to Turn Off Find My Phone from iCloud?
iCloud makes it simple to log in with your Apple ID and gain access to cloud-based services. Once you have signed into your account, you can take the extra step of removing all devices that are linked to it quickly and from any device you choose. It's possible to remote turn off Find my iPhone when in iCloud. Here are the steps:
Step 1: Navigate to the iCloud website, then log in. Then You will see those apps associated with your account on the home screen. Choose "Find iPhone".
Step 2: On the next page, a virtual map will show the locations of those devices linked to the same account. Choose "All Devices" and look for the device you want.
Step 3: After selecting it, you will get a pop-up box. Select the "Remove from Account" option from the box. Follow the instructions to finish the process.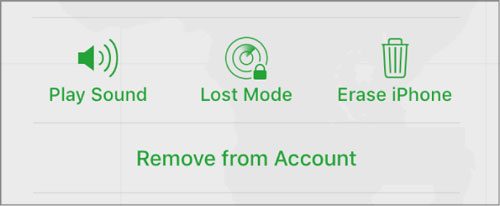 Guess you need: Is it possible to unlock an iPhone with a broken screen? Let's read this tutorial and get solutions.
Bonus: How to Unlock Apple ID without Password on iOS Devices?
Without a doubt, Find My iPhone is a beneficial feature that comes in handy when finding a lost or stolen iPhone. But what happens if you have acquired a used device that still has the feature? You'll have to remove the Apple ID to do so; however, you would require the password. Lucky you, iOS Unlock is here as your savior.
iOS Unlock can help you remove your Apple ID without requiring a password, whether Find My iPhone is enabled or not. It can also remove iCloud activation lock, SIM lock, and MDM, and more, in just a few easy clicks. Here are its features:
* Remove lock screens from iOS devices, including passcode, touch ID, face ID, etc.
* Bypass Screen Time passcode and iTunes backup password without a password.
* Allow users to remove MDM profiles and MDM locks with no data loss.
* No tech knowledge is required.
Download this iOS unlocking software.
Unlocking Apple ID should not be a difficult task; just follow the steps here:
01Install iOS unlock on PC. Open it and link your iPhone to a computer using a lightning cable. Choose "Screen Unlock" from the choices on the screen.
02You will get to the next screen, where you should choose the "Remove Apple ID" option. Next, unlock your phone, and click "Trust" if prompted.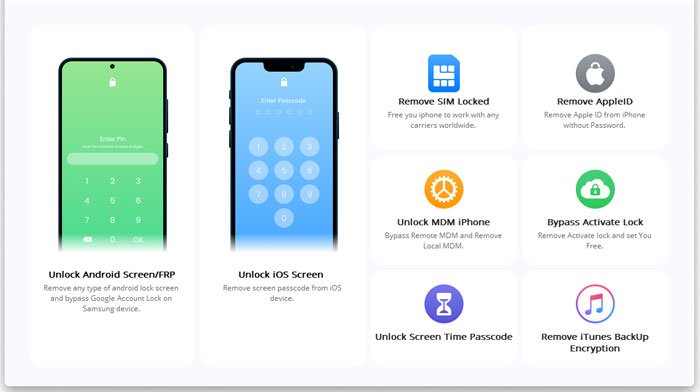 03Follow the guide on the interface to get your iPhone into recovery mode. Then the program will start to eliminate your Apple ID from your mobile phone.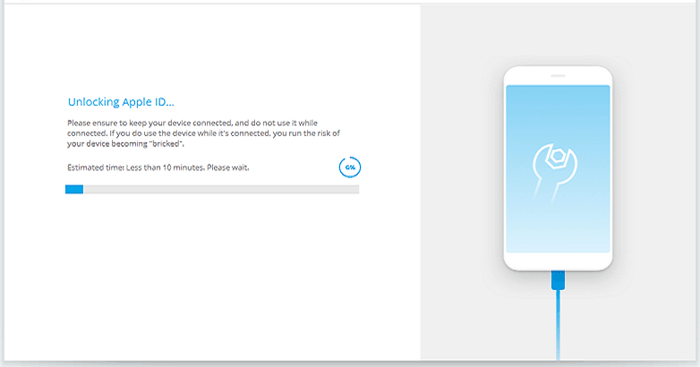 Further reading: How Much Does It Cost to Unlock an iPhone 14/13/12/11? [Ultimate Guide]
Note:FAQs on Turning Off Find my iPhone Remotely
Q1. Can I remove Find My iPhone without Apple ID/password?
If your device has the Find My feature enabled, and you don't know the Apple ID or password used for its setup, it's hard to turn it off remotely. Even if it's your phone, there is no way of disabling this service without the correct credentials used to set it up. If you purchased a used phone, it makes matters worse. You have to ask the owner to remove the feature on the device before you can use it.
You can use iOS Unlock software to remove your Apple ID, which will disable the Find my iPhone feature from your device.
Q2. Does logging out of iCloud disable Find My iPhone?
When you sign out of your iCloud account on your iPhone, all related services will be deactivated, including the vital "Find My iPhone" feature. So this means the feature to locate and track your device will be disabled instantly.
Conclusion
Understanding how to remotely turn off this feature in an iPhone is truly a thrilling experience. This article has shown you how to do just that. You can now rest assured knowing that if your device is ever lost or stolen, no one will be able to access your data. iOS Unlock is the best tool to remove Apple ID from your device even when Find My iPhone is enabled. It's easier to use and guarantees success. Don't let being locked out of your device put an end to all the fun; use iOS Unlock today for hassle-free unlocking.
Related Articles:
I Found an iPhone and How Do I Unlock It? (Effective Solutions)
8 Best Apps to Remote Control Android from PC
Android Phone Keeps Turning Off Randomly? 15 Fixes Here
13 Practical Ways to Fix iPhone Keeps Turning On and Off Randomly (Updated Tips)
How to Fix the iTunes/App Store Keeps Asking for Password Issue on iPhone/iPad?
How to Stop Parents from Tracking Your Phone | Prevent Monitor