Do you have exceptionally large files that you want to reduce? There are many reasons you may want to reduce your file sizes. For instance, most online platforms cap video upload sizes. In addition, large files can take up plenty of local disk storage.
A file size reducer can help you reduce the size of your video or audio files. This makes it easier to upload and share large files. More importantly, it makes your storage space easier to manage. Read further for an expert review of the best, most-popular file size reducer for your MP3 and MP4 file reduction needs.
1. Video Converter Ultimate - The Best Free File Size Reducer
Video Converter Ultimate is hands-down the most popular file size reducer on the internet used by millions of people globally. If you want a multi-feature file size reducer for the most complex video processing tasks, Video Ultimate Converter takes the win.
It can process and compress audio and video files, reducing them to impressively smaller sizes without losing significant video quality. This video file size reducer comes with an in-built video enhancing technology which not only maintains but can also improve the quality of your video or audio files.
Video Converter Ultimate is a fully-inclusive file size reducer that allows you to convert and edit videos besides the basic compression. You can process videos in multiple formats, including MP4, AVI, MOV, WMV, MP3, FLAC, and WMA, among others.
Key Features:
Support all encoding formats, such as H.265/HEVC, H.264, Xvid, VP8, and VP9, among others.
Support 4K to 1080P conversion, 5K and 8K conversions.
Edit your videos using a wide range of filters and basic effects.
Add and adjust subtitles and audio tracks to your MP4 files.
Allow more editing features and functions such as file merging, trimming, crop sizing, rotating and flipping.
How to Use Video Converter Ultimate:
01Find the Video Compressor feature in the Toolbox. Import a video that needs to be compressed. Once the files have been added, you gain the ability to customize the size, name, format, resolution, and bitrate of the resulting file.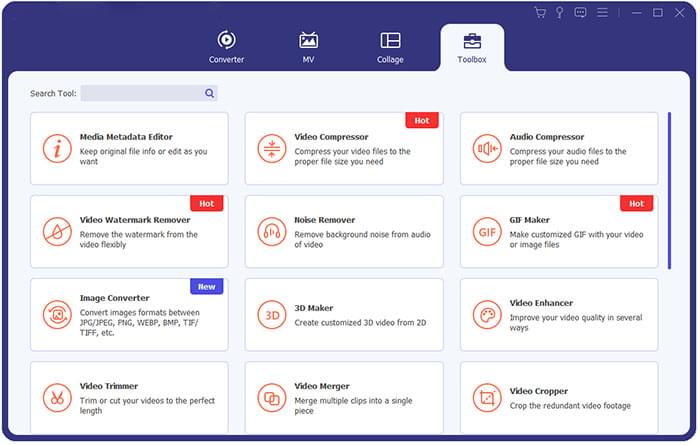 02Afterwards, select the destination directory where you want to store the compressed file. Then, simply click the Compress button to proceed.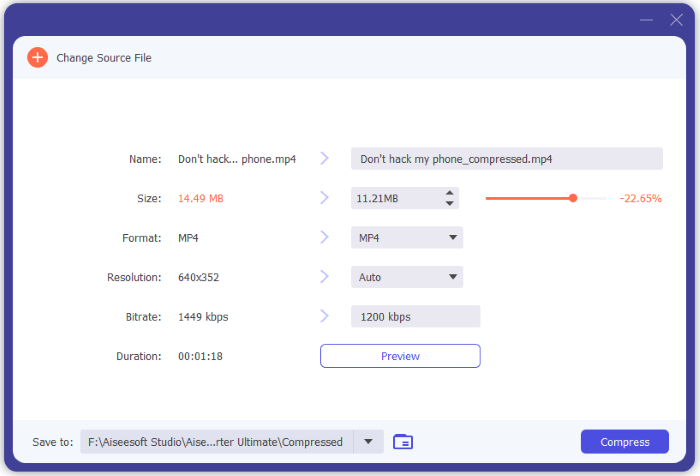 Pros:
* It is the best MP3 file reducer and editor, allowing you to edit your audios down to a more manageable MP3 file.
* Remove watermarks from your files.
* Reduce file sizes without affecting file quality.
* It is free to use.
* It is a safe and secure platform even for the most sensitive file data.
Cons:
* If you want access to the entire platform features, you may have to pay a premium price.
Further Reading:
How to Compress Photos on iPhone? 4 Ways to Reduce Photo Size
Best Video Compressors of 2023: A Comprehensive Review
2. Compress2Go
Compress2Go is a free file size reducer tool available online. Made in Germany, this tool is trusted by thousands of individuals and reputable brands. It provides you with a wide range of compression tools including:
Compressing PDF
Compressing video files
Compressing images
Compressing PNG
Compressing JPG
With Compress2Go, you can also compress ZIP files. You can create an archive file or ZIP file depending on your preference.
Key Features:
Compress documents, images, videos, and ZIP files.
Reduce file size without significantly compromising the file's integrity.
How to Use Compress2Go:
Step 1. Go to the main page to choose the type of file compression you want. For instance, if you want to reduce the size of a video file, click Compress Video. Click Choose File to select the video you wish to reduce in file size.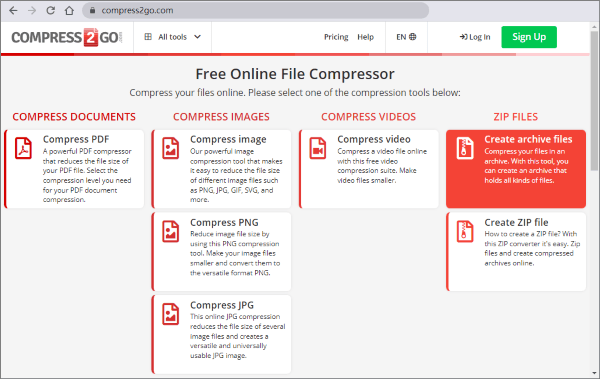 Step 2. Once the video finishes uploading to the server, click Start. Before you do, check the settings box below to customize the compressed file size.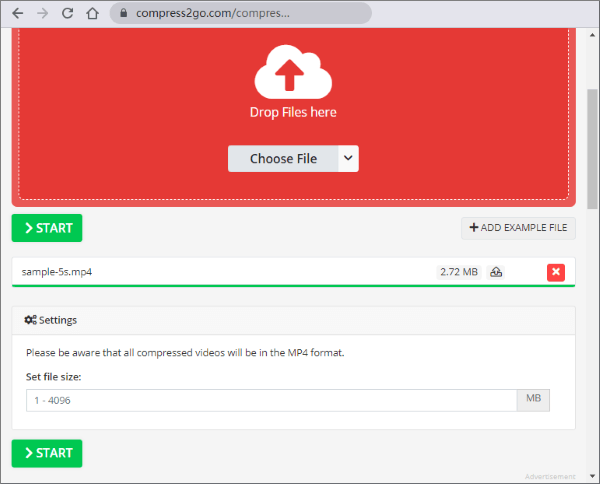 Step 3. Finally, you can access the reduced file that you can use across platforms. The compressed file will automatically be downloaded to your device.
Pros:
* It is available online, meaning no need to download external apps.
* It is free to use for the basics of video compression.
* It has a simple user interface and clean layout.
* It can reduce multiple file format types.
Cons:
* Compress2Go may require you to upgrade your account to access the more improved features.
* Its premium package starts at $6.50 per month.
* Compression of large file sizes is only available to premium users.
3. XConvert
XConvert Audio Compressor is a free MP3 size reducer. Unlike most file size reducer software, XConvert is restricted to reducing audio file sizes. However, it has a separate tool for compressing MP4 files. The MP3 size reducer allows you to compress MP3, FLAC, AIFF, WAV, WMA, AAC, and M4A audio files. It also allows you to change and customize the channels, bitrate, and sample rate.
Key Features:
Trim audio files to reduce it even smaller.
Merge images to PDF files.
Compress JPEG files.
How to Use XConvert:
Step 1. Head over to XConvert's audio compressor page.
Step 2. Click Add Files to select the files that you wish to reduce in size.
Step 3. Customize the output file settings, then click Compress to start reducing your audio file size. On the next page, click Download to access your reduced audio file for sharing or storage management.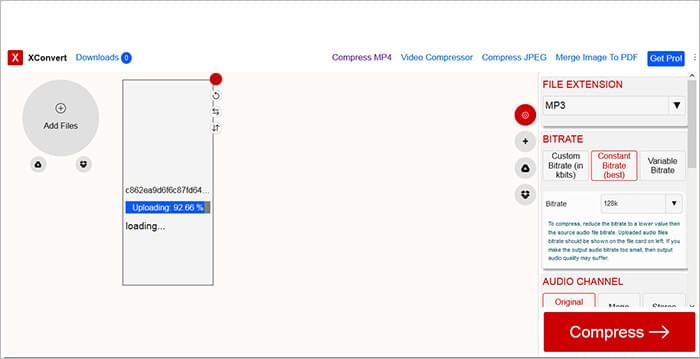 Pros:
* It is easy to use with a relatively simple interface.
* It is free and available online. You don't have to download any software to access the file size reducer.
* It has sufficient tools to perform the most file functions.
Cons:
* Since it's available online, your data is momentarily stored in the cloud, exposing it to potential security breaches.
* You may also have to get the premium upgrade to access more features.
Learn More:
[Updated] Exploring the Best Discord Video Compressor Software
Top 5 Best File Compressor Solutions [Video/Audio Compressor Included]
4. Media.io
Media.io is a free online audio compressor that allows you to compress audio files without losing significant quality. With this MP3 file size reducer, you can compress MP3, M4B, OGG, APE, WAV, M4A, AAC, and FLAC files in a few simple steps.
Key Features:
Remove vocals from video/audio.
Reduce audio noise and convert audio.
Compress audio files to more manageable sizes.
How to Use Media.io:
Step 1. Open the online audio compressor tool. Click Choose Files to upload any audio format files.
Step 2. Customize the Resolution and Reset size on the bottom left of the screen. Click Compress to start reducing the file size. You can also request to be notified when the audio compression finishes.
Step 3. Download the compressed audio file for your local or online use. You can also save the audio file directly to your Google Drive or Dropbox.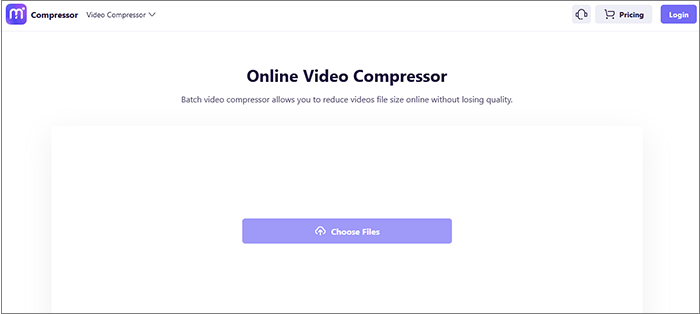 Pros:
* Compress files while maintaining the file quality.
* The service is free and online, meaning there is no need to download any external software solution.
* Fast audio compression speeds.
* No watermarks added and no file limits.
* It can compress any audio formats and sizes.
* Smart audio output settings, saving you time when compressing your files.
* It has a clean and intuitive interface providing a good user experience.
Cons:
* Media.io has multiple pricing plans which can be slightly confusing, even if you decide to purchase a file size reducer. Beginners may also find it hard navigating the site.
Note: Media.io online audio compressor is a dedicated MP3 file size reducer and doesn't come attached with an MP4 file size reducer. However, it has a separate tool video size reducer, which increases the workload of trying to access different features on multiple pages.
5. Avidemux
Avidemux is a free and user-friendly video editing tool that you can also use for compressing video files. It supports multiple video formats and basic editing features along with compression options.
Key Features:
Support multiple video formats, like AVI, MP4, MKV, and MPEG.
Offer several encoding options for video compression, such as adjusting video codecs, bitrates, etc.
Support importing and editing subtitle files.
How to Use Avidemux:
Step 1. Download, install, and launch the app from the official site. Click on the File menu, then open to add files. Click on the Video Output drop-down menu to select output format.
Step 2. Adjust the file compression settings and click on the File menu and select Save to select the output location and name then start the compression process.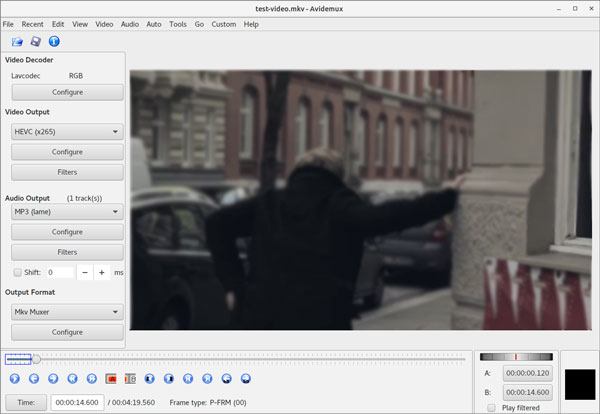 Pros:
* Free and open source.
* User-friendly interface.
* Cross-platform compatibility.
* Lightweight.
Cons:
* Lack of real-time preview.
* Some users have reported stability issues.
You May Like:
How to Compress a File to Save Space Without Losing Quality? [Hot]
Guide on How to Compress MP4 Files [7 Methods Introduced]
6. Zamzar
This versatile file compression tool supports the conversion and compression of various file types including audio, video, images, documents, archives, and ebooks. Users can conveniently add videos either by pasting a link or by dragging and dropping them into the user-friendly interface. Enjoy a seamless compression experience with an ad-free interface that offers intuitive navigation. For files under 50MB, compression services are provided free of charge, while users seeking to compress larger videos can opt for affordable paid plans.
Key Features:
Effortlessly compress video, image, audio, and document files.
Indulge in a superb user-friendly interface.
Compatible with multiple platforms, including iOS, Android, Mac, PC, and more.
How to Use Zamzar:
Step 1. Visit the Zamzar website. Click on the Choose Files button or simply drag and drop the file you want to compress into the designated area.
Step2. Click Download to access your files locally.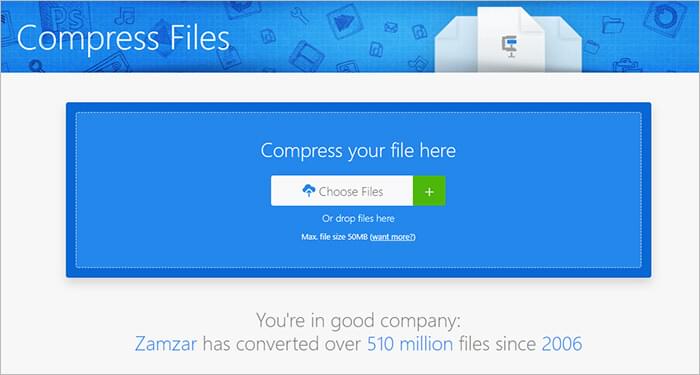 Pros:
* No app installation required.
* Free video compression for files up to 50 MB.
* Email notification sent upon completion of conversion tasks.
Cons:
* Conversion process may be slow.
* Video download link expires after 24 hours.
Final Thoughts
If you have large files you wish to reduce in size, an all-in-one file size reducer can reduce the burden of separate function tools. Compressing files can help you manage your storage spaces and allow for faster file uploading and downloading.
Fortunately, Video Converter Ultimate is a top-of-the-line, reliable file size reducer with a broad user base. It can reduce your file sizes to a greater extent without destroying file quality. What's more, it's free, fast, and intended for your video and audio compressions. Download Video Converter Ultimate to enjoy the best of our free versatile file size reducer.
Related Articles:
[Vlog Software] 11 Best Vlog Editing Software for Vlog Lovers
12 Best Video Converter Software for Windows 11/10/8/7 (Free & Paid)
Top 11 File Manager/Explorer/Browser for Android Phone & Tablet
How to Convert HEIC to PNG Online or Offline? (6 Simple Methods)
Practical Video Lighting Editor List: Make Video Brighter in Easy Steps