Nowadays, you can easily create videos using a smartphone, webcam, digital cameras, and more. However, you may find the video too long, and you need a reliable MP4 cutter to divide it into several clips or remove unwanted portions. There are many MP4 video splitters available, but finding a good one can be difficult. In this post, we will discuss the best MP4 splitters that work on Mac, Windows, and online.
1. Video Converter Ultimate (Recommended)
If you want to split a long video into many segments, then Video Converter Ultimate will meet your needs. It allows you to trim your video file to the desired length using the slider. Moreover, it has powerful and excellent editing features that enable you to easily and quickly make cool videos. This tool supports over 1000 video formats, including MP4, FLAC, WMV, WMA, AVI, etc. Moreover, it is very easy to use and lets you split several videos into short clips that you can easily share with your friends.
You can also use this tool to convert any video with ease. It supports HD, 4K, 5K, and even up to 8K converting. If you have a lot of videos that you want to convert, this tool will let you convert them simultaneously with just one click. With this tool, you can easily find and apply stunning filters to make your video look professional.
Key Features:
Split MP4 video into clips and allows you to remove unnecessary portions.
Allow users to preview video clips at any time.
Enhance the quality of video automatically while cutting and editing.
Convert video clips to any video format.
Below are a few simple steps for using the Video Converter Ultimate application to split MP4 video:
01Download and install this tool on your computer. Proceed by launching the program on your PC. Choose a video file, then press the Cut button.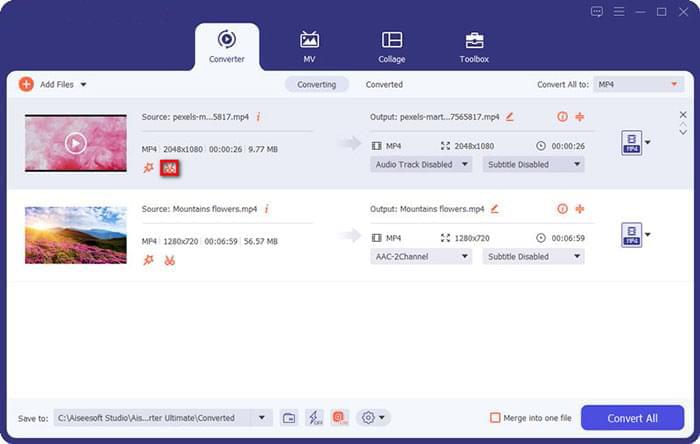 02To remove unnecessary portions, enter the start and end time on the Duration bar or drag the clipper on the progress bar. If you want more video segments, tap Add Segment to create a new clip. Select another video part using the same method.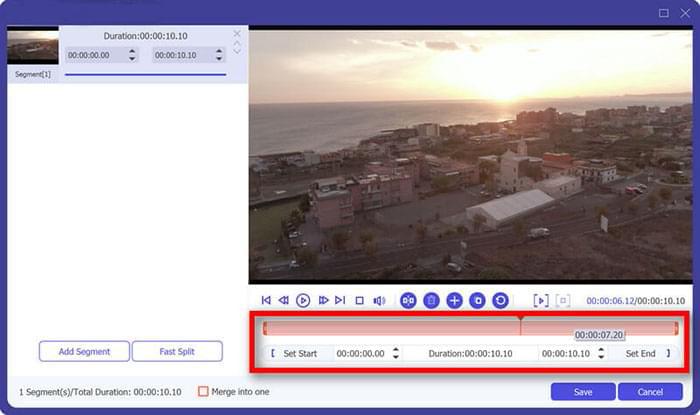 03After correcting everything, press the Save button. Select the Merge into one option to merge them into one.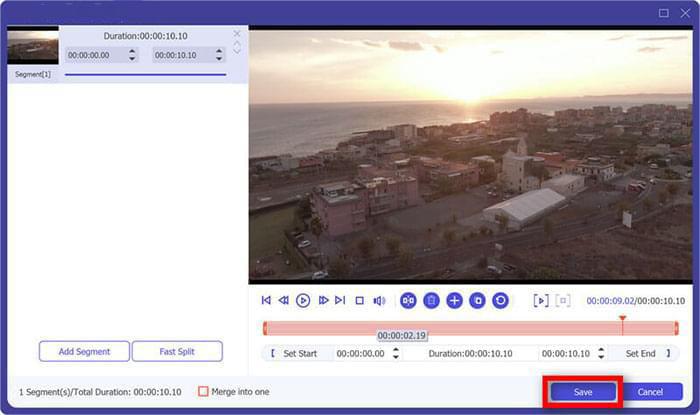 04You have returned to the main interface. Click the thumbnails to preview the video. You can tap the scissor button again to modify the video.
Pros:
* Cut, split, and convert videos easily.
* Compress videos without affecting the output quality.
Cons:
* Not free.
Pricing:
* The price of a 1-month license is $14.50.
* The price of a lifetime license is $49.96.
* The price of a business license is $79.96.
Further Reading:
How to Add Your Own Sound to TikTok [Can't Miss in 2023]
Unleash Creative Potential with the Ultimate Snapchat Video Editor App
2. Windows Movie Maker
Developed by Microsoft, this MP4 video splitter enables users to edit and publish videos on Vimeo, Facebook, OneDrive, Flickr, and YouTube. This free MP4 splitter application is an easy-to-use video editor that works nicely on low-spec PCs. After you import your MP4 video into this software, you can edit the video by splitting and trimming it. Moreover, this software is designed to speed up or slow down the video and add vivid visual effects, transitions, animations, and background music. It will polish your MP4 video file into something awesome and professional.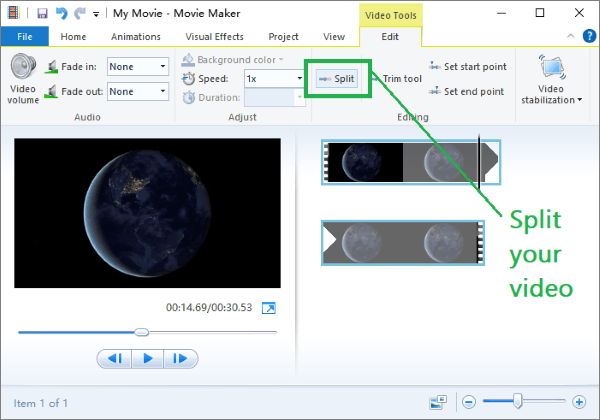 Key Features:
Lightweight app and easy to use.
Support different output formats.
Allow users to add stylish transitions, filters, and titles.
Pros:
* Contain a lot of themes to enhance the video.
* Have a lot of editing options, such as rotating clips and adding music.
* Wide range of audio track selections.
Cons:
* It has been discontinued in more recent versions of Windows.
Pricing:
* Free.
3. Lightworks
Lightworks was originally released in 1989 and has been in development since then. This MP4 split freeware is popular for Mac users and is available for both paid and free versions. Moreover, you can save the cut video without affecting its quality. This MP4 splitter is a perfect choice for professionals as it provides advanced multicam editing, ready-made transitions and titles, real-time effects, and 720p export. Its cloud-based video editor has great functionalities that make it easy to spit MP4 videos.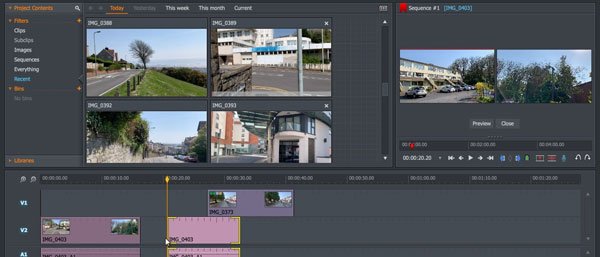 Key Features:
Ideal for all types of video editing.
Beginner-friendly creative tools.
The free version provides 720p export.
It's fast and flexible.
Pros:
* Provide robust support.
* Available for both Mac and Windows OS.
* It has tons of features.
Cons:
* Do not properly show landscape videos on iPhone.
Pricing:
* Have a free version.
* Lightworks fro Create is available at a starting price of $9.99 per month.
* Lightworks fro Pro is available at a starting price of $23.99 per month.
4. OpenShot
This is another powerful MP4 video splitter tool ideal for editing all video tasks. It is capable of splitting several video clips at once. In addition, it can make slow-motion videos, render 3D animations, and slit videos to any size. This tool is available for Windows, Mac, and Linux operating systems and supports over 70 languages. To use OpenShot, drag and drop your video on the application and click the Scissor icon to start splitting your MP4 video.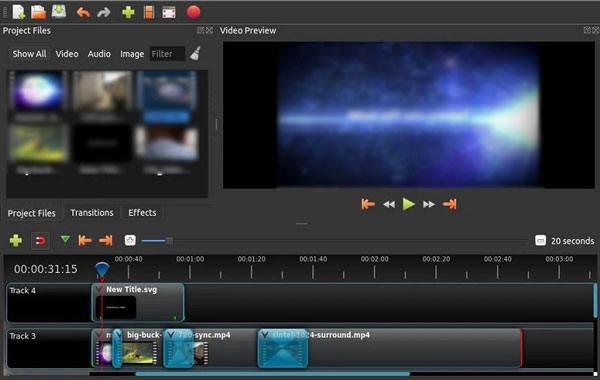 Key Features:
Very easy-to-use application.
Support 70+ languages.
Allow users to add beautiful 3D animations.
Pros:
* Can split videos of any size.
* Zoom feature that allows for accurate and precise video trimming.
* User-friendly drag-and-drop interface.
Cons:
* Saving split MP4 videos can be time-consuming.
Pricing:
* Free.
You May Like:
Effortless Editing: How to Crop a Video on TikTok in Just a Few Steps
Top 14 Best AVI Video Editors | Easily Eidt Your AVI Files
5. iMovie
iMovie is a great MP4 splitter software for cutting MP4 files on Mac devices. This app is compatible with the most recent versions of iOS and is available at no cost. It comes pre-installed on Apple devices; hence you don't have to download it. It allows users of all levels to easily edit, split, and trim videos. You just need to drag and drop your video into the app and start splitting your video. Besides basic cutting techniques, this app has numerous editing effects such as adding titles, color correcting, transitions, filters, pinching to scale, creating credits and graphics, etc.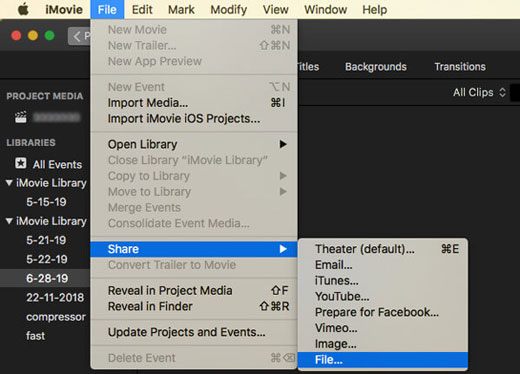 Key Features:
Come pre-installed on Mac OS or iOS devices.
Crop video files at any aspect ratio.
Classic video transitions.
No watermarks.
Preserve the video quality.
Pros:
* Have an easy-to-use interface.
* Come with over 20 storyboards for movies.
* Have valuable video editing features.
* With a few clicks, you can make and edit movies.
Cons:
* Splitting large files using the MP4 splitter can become cumbersome.
Pricing:
* Free.
6. QuickTime Player
QuickTime Player is a well-known and default video player developed by Apple. It not only allows its users to split movies into parts, but it's also perfect for editing movies. You can cut, split, trim, flip, and crop your videos effortlessly with this MP4 splitter. Other than that, this app can edit, record and share videos and audio files. The app is compatible with only Mac OS operating systems. You can easily edit your video and upload it to social media platforms like Facebook, Youtube, and Vimeo.
Key Features:
Suitable for Mac OS.
Simple but useful MP4 split tool.
Enable you to resize the video.
You can share your trimmed video via AirDrop, Mail, YouTube, etc.
Pros:
* It can handle a wide range of video formats.
* Have a clean and simple interface.
* Support lifestreaming.
* It is regularly updated.
Cons:
* Support only Mac OS.
Pricing:
* Have a free version.
* The price of Quicktime Pro is $30.
7. Avidemux
This free MP4 video splitter is available for both Mac and Windows operating systems. It has a user-friendly user interface making it possible even for novices to cut videos with just a few clicks. You can also use this tool for adding filters, encoding or decoding MP4 files before you save them.
This video editing software supports a lot of video file formats, including ASF, AVI, MP4, and many more. With Avidemux, you can convert audio into MP3, FLAC, AC3, AAC, M4A, and FLAC from the "Audio Output" panel. Other than that, this tool can estimate the final size of the file depending on your current settings and can improve the playback quality.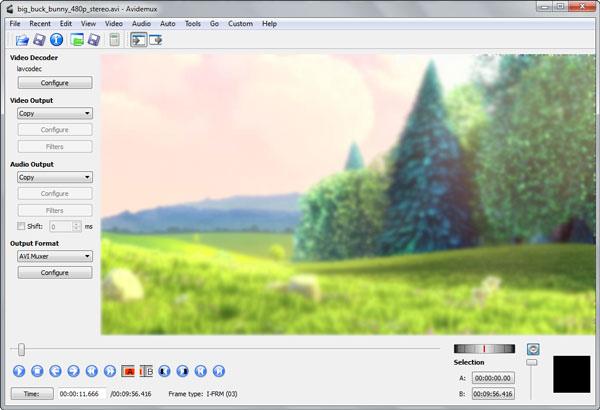 Key Features:
Have a lot of video editing features.
Support all basic video formats.
Extract audio tracks from videos/ DVDs.
Allow useful video filters.
Pros:
* Have an uncluttered interface.
* Clip-out video choices.
Cons:
* Using it can sometimes be a challenge.
Pricing:
* Free.
Learn More:
Select the Best GoPro Editing Software - 10 Excellent Options
10 Best MOV Editor Options - Edit MOV Files Easily [Updated Guide]
8. MP4Tools
MP4Tools is a mini-kit with numerous features that enable users to handle MP4 files. You can use it to split a video into several parts or merge video files without worrying about quality loss or re-encoding. This kit has two features which include MP4Splitter and MP4Joiner. The MP4Joiner allows you to merge several MP4 video files, while the MP4Splitter allows users to split a long MP4 video file into several pieces.
It is very easy to divide your video using this tool. You just need to load your MP4 video into this software, add splitting points and then tap Start Splitting. This tool may not look like other high-end packages, but it will get your job done.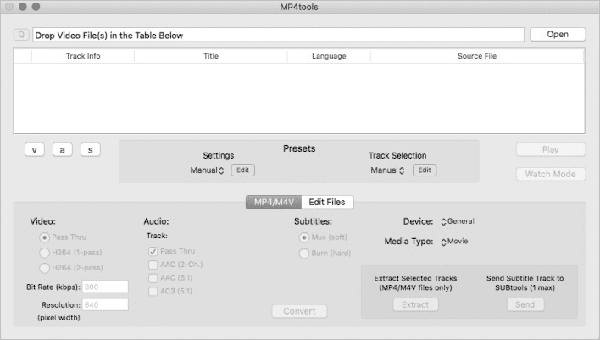 Key Features:
Do not add watermarks on videos.
Work with both small and large video files.
Very easy to use.
Available for free.
Support batch processing.
Pros:
* Merge video or split video without re-encoding.
* You can do batch conversions.
* Offer lossless conversion.
Cons:
* Support only MP4 video files.
Pricing:
* Free.
9. FileLab Video Editor
FileLab Video Editor is an open-source MP4 splitter application that enables users to edit their videos. This software can trim, rotate, merge, add transitions, split, and overlay videos. It supports all key video formats, including MP4, MPEG, MKV, and others. One important feature of this online video editor is that it can add layers to change the transparency and position of the video and accept changes through timeline editing. After splitting or merging your video, you can use the ready presets to upload your files to upload it to your Android devices, YouTube, Xbox, etc. Its intuitive and user-friendly interface makes it easily usable.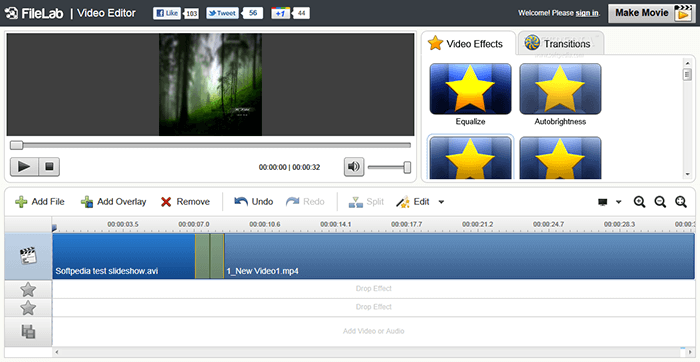 Key Features:
Free web application.
Have an intuitive and user-friendly interface.
Have a wide range of effects to apply to your video.
Support all key video formats.
Ready presets to save your video and upload it to YouTube.
Pros:
* Support many video formats.
* Availability of adding layers.
Cons:
* Uploading may take significant time.
Pricing:
* Free.
10. Boilsoft Video Cutter
Boilsoft is a great video editing tool that allows you to cut video files into several parts quickly and easily. It is a powerful video cutter that trims, cuts, or splits large AVI, FLV, 3GP, WMV, ASF, RM, or MPEG videos into small-length videos without re-encoding. Typically, this tool cuts video more efficiently and faster. With the help of its built-in player, you can select the segments you wish to cut precisely and conveniently.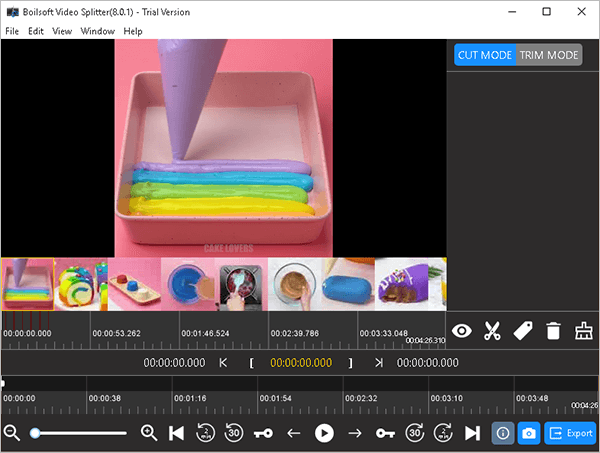 Key Features:
Have an interactive and easy-to-use user interface.
Cut long videos into small segments without re-encoding.
Support major video formats.
Pros:
* Retain the quality of your videos.
* Trim the video to remove unwanted parts.
Cons:
* Solely run on Windows computers.
Pricing:
* Free version available.
* $34.95 one-time payment for the premium version.
Also Read:
[Vlog Software] 11 Best Vlog Editing Software for Vlog Lovers
Kapwing Video Editor: A Complete Review and Powerful Alternative
11. Online Video Cutter
This superb editing video tool efficiently cuts long MP4 videos into small files. It is an online software that works from a browser. Hence it does not require installation. You can import video from Google Drive, Dropbox, computer drive, or video URL. With this video cutter, you can split your video, rotate your video to any angle and frame the video to your desired area. Also, you can choose the format and the quality of the output files.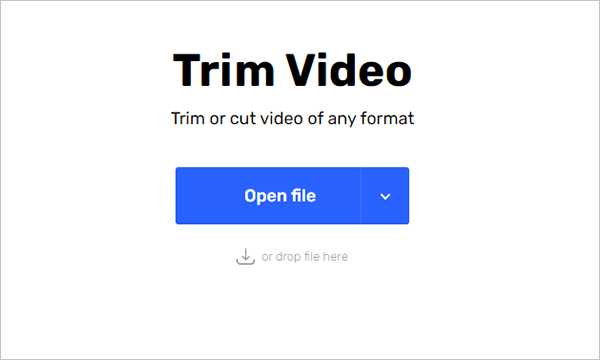 Key Features:
Support all video files.
Completely free and easy to use.
Pros:
* Require no installation.
* Support real-time preview.
Cons:
* The maximum file size is 4GB.
Pricing:
* Free.
Conclusion
If you love editing videos and you require to cut your videos into small segments at some point, you require powerful software to help you. The above tools are the best MP4 video splitter on the market today. However, Video Converter Ultimate is the best tool for splitting videos while preserving their quality. This tool offers a comprehensive range of features and options besides splitting videos. You can also use it to convert, compress and edit your videos.
Related Articles:
Useful Picture in Picture Video Editor: Create PIP Videos Easily
Practical Video Lighting Editor List: Make Video Brighter in Easy Steps
12 Best Games Video Editors - Edit Videos without Effort [Updated]
How to Convert iPhone Video to MP4 without Quality Loss in 7 Ways?
How to Convert MP4 to MKV Effortlessly? [Apps & Online Tools]