If you have excessively large files that overwhelm your storage space or can't upload and share on any platform, you need to compress the file. File compression is not a new concept, especially since software compression programs had already started undergoing development by the late 1970s. If you're new to file compression, you may be wondering how file compression works and which is the best way to compress files. What does compressing a file do? Find out more below.

Part 1. What Is File Compression? How Does It Work?
What does it mean to compress a file?
File compression is a file reduction/data compression method in which the file size is cut down to save on disk space and to allow for seamless transmission over the Internet or a network. It allows for the creation of a version of a file with similar data but at a relatively smaller size than the original file.
File compression can also be known as zipping, even though zipping is just a form of file compression. Zip files comprise multiple compressed files known as archives. These files are the most popular compression format among Windows users.
How does file compression work?
File compression uses a compression algorithm that is a mathematical formula utilized for an electronic data file's compression and decompression. The two main types of compression algorithms include:
Lossy Compression
Lossy compression reduces file sizes by eliminating unnecessary bits of data. The compressed file tends to be smaller than the original one. Lossy compression is popularly used to compress audio, images, and videos, ideally where the source file's representation isn't mandatory.
Lossless Compression
Lossless compression stores the same data more efficiently by removing redundancy. The compressed file has the same size as the original. Often, no content or detail is lost under lossless compression, and you can reconstruct the original file easily.
Zip files use lossless compression, meaning data quality remains uncompromised when compressed in ZIP formats. Note that compressing a file into a zip file format may not help you with significant disk storage space savings.
Pros of file compression
Free Storage Space - The larger a file is, the more space it takes up. File compression removes the unwanted parts of a file, reducing its size and allowing you to optimize your storage space.
Improve File Quality - Zipped files may also be vulnerable to data quality loss. However, with the right file compression tool, like Video Converter Ultimate, you can compress with the help of an AI-enhancing technology to retain or improve your file quality.
Allow for Easier File Shareability - Discord limits video uploading to 8 MB, while Gmail caps file uploading at 25 MB. This can be frustrating if you want to share videos online. File compression reduces file size significantly, allowing you to upload and share files online without restrictions.
Save Storage Space - Compressing files saves you the cost of storing large data–whether purchasing a large hard drive or upgrading your cloud storage subscription.
See also:
Effortlessly Reduce File Sizes: The Ultimate File Size Reducer Tool
How to Compress a Video Without Losing Quality? [Productively]
Part 2. How to Compress Video Files on Windows 10
Compressing a file makes it smaller to fit your storage needs and allows easier uploads and downloads. However, you need to know how to compress files well to attain a relatively good compression result.
How do you compress a video? Find out in this section.
Method 1: How to Compress Video via Video Converter Ultimate [Offline]
Video Converter Ultimate is one of the most popular, easy, and affordable ways to compress a file. Available for both Mac and Windows users, Video Converter Ultimate takes file compression to a higher level.
What does compressing files do with this tool? Video Converter Ultimate compresses large files into significantly smaller ones without losing file quality. It reduces files to easier-to-manage sizes.
Features of Video Converter Ultimate
Compress and convert videos and audio files in multiple formats.
Compress files without losing quality.
Edit video files to enhance their quality.
Record videos and audio effortlessly.
Video Converter Ultimate has a simple user interface. This means you don't need to have technical skills to know how to compress files on the platform.
Here is a guide on how to compress a file using Video Converter Ultimate.
01Download, install, and run Video Converter Ultimate on your computer.
02On the program's interface, go to the main menu, click Toolbox, then select Video Compressor. Click Add File or click the rectangular drop section to add your video files for compression.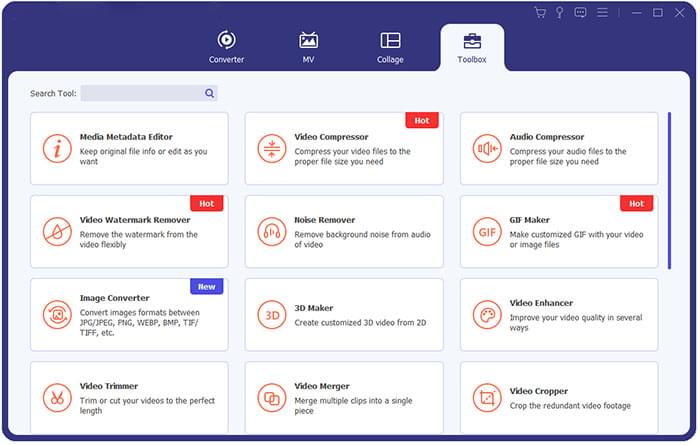 03Set the compression parameters/ settings on the Video Compressor window. Hit the Preview button to preview your video before compression. Click Compress to reduce the file size.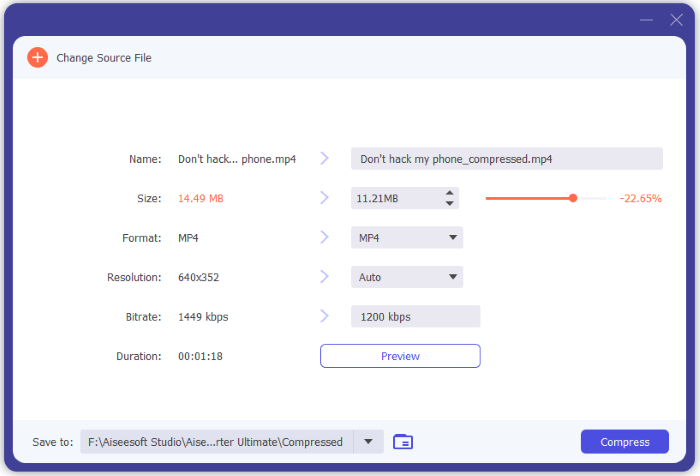 Method 2: How to Compress Video Files via VLC [Offline]
VLC Media Player is a popular media player app found on Windows and Mac devices. While it doesn't have a dedicated file compressor, you can use its inbuilt file reduction features to compress your video files.
What does compressing a file do in VLC? VLC compresses files by downscaling video resolutions, converting video codec formats, changing video encoding parameters, changing audio encoding parameters, and cutting unnecessary video segments.
Here is how to compress a file using VLC.
Step 1: Run or install VLC Player on your computer if you don't have it.
Step 2: Click Media, then Convert/Save. On the popup Media window, click the +Add button to add the file you want to compress. Click the Convert/Save button again.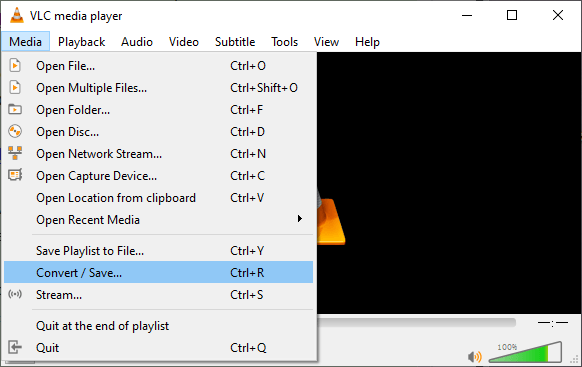 Step 3: Select the target format from the available options in the next window. Then, click the settings icon to open a Profile edition window.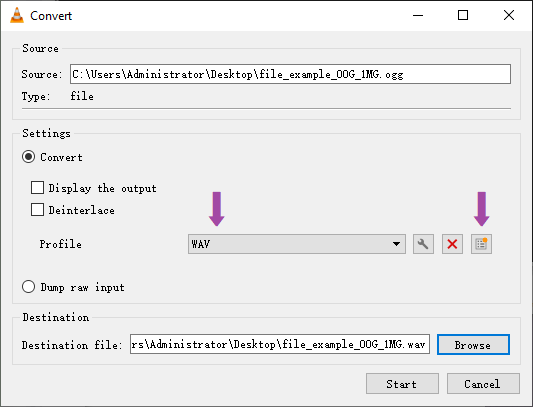 Step 4: Customize the compression settings on the Video codec tab. Click Save to confirm the setting changes. Click Browse to select the compressed file's destination folder. Click Start to compress and save your video files.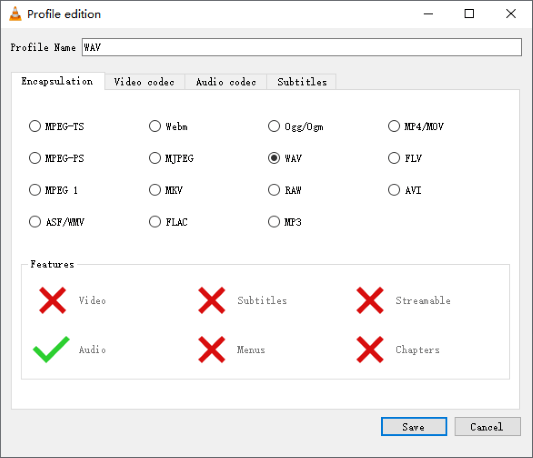 Compressing a file on VLC reduces the file size without compromising image/video quality by reconfiguring the audio parameters like sample rate, bit rate, audio codec, etc. It reduces the files to a manageable size.
Method 3: How to Achieve File Compression [Online]
An alternative method to compress your files is via a web-based file compressor. There are many tools that can help compress video files online.
What does compressing a video do online? Like most file compression software and program, an online file compression tool reduces the file size significantly, allowing for massive storage space savings without losing file quality. However, this depends on the online file compressor you use.
How does compressing a file work online? In a nutshell, compressing a file online involves simply uploading your video file on the online converter's page, setting the compression settings (if applicable), and running the process.
Popular online file compressors include:
Zamzar
Here is how to compress a file using Zamzar.
Step 1: Open your web browser and go to Zamzar's online compression page. Click Choose Files to add the file you wish to compress.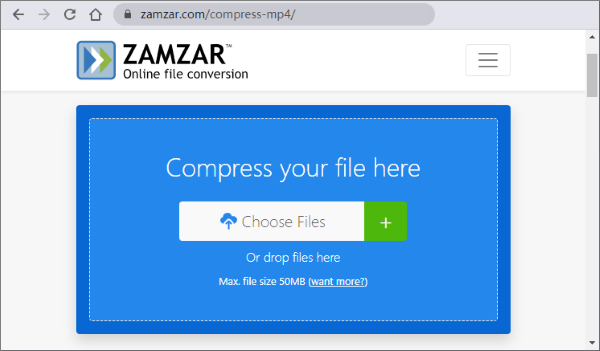 Unlike some online file compressors, Zamzar limits customization capabilities when compressing files. The file will upload and compress automatically.
Step 2: Click Download to access the compressed file.
Compressing a file on Zamzar is free and gets you a reasonably clean file compression without compromising file quality. With Zamzar, you can compress videos, documents, images, and audio files.
Compress2Go
Compress2Go is an online file compressor tool available for free.
What does compressing files mean on Compress2Go? Fast and high-quality compressions without excessive data loss.
While it certainly doesn't compare to Video Converter Ultimate's superior file compression capabilities, Compress2Go is a reliable method to compress your files without having to download software. Compress2Go compresses different file types, including videos, images, PDF files, etc.
Here is how to compress files online with Compress2Go.
Step 1: Go to Compress2Go's online page. Select the type of compression you would like.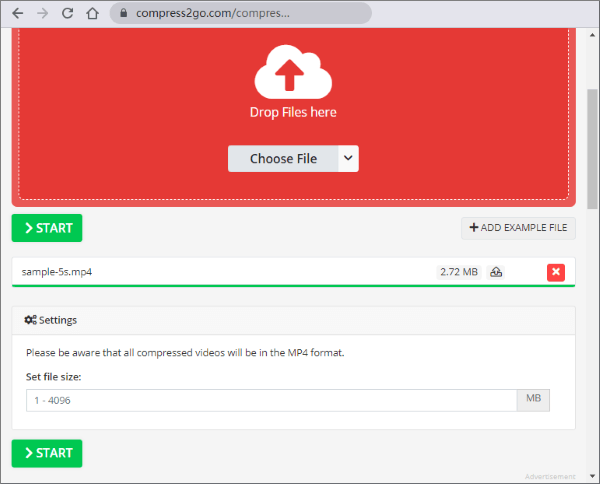 Step 2: Click Choose File or drag and drop the file to the drop section. Scroll down to set the compression settings.
Step 3: Click Start to start compressing your files. The compressed file will be downloaded automatically.
More to read:
How to Convert 4K Video to 1080P Without Losing Quality
How to Compress a File to Save Space Without Losing Quality? [Hot]
Conclusion
Still don't know what file compression does to your videos? In a nutshell, file compression reduces the file size to by about 50-90% more or less to fit your desired size.
This helps you save more storage space. In addition, it allows you to bypass upload size restrictions placed by platforms such as Discord, Yahoo, and Gmail, among others. However, with the right file compressor, you don't need to know the intricacies of the process.
Video Converter Ultimate is a comprehensive file compression tool that can compress different file types, including videos and audio. It can compress your videos significantly without losing quality or data. Download Video Converter Ultimate to compress your files fast and efficiently.
Related Articles:
Top 10 Audio Compressors to Compress Audio Without Losing Quality
How to Reduce MP4 File Size Without Losing Quality [7 Easy Ways]
The Top Offline & Online MP4 to MPG Converters You Should Know
Revolutionize Media: The Best Tools for M4A to MP4 Conversion
Windows Conversion Made Easy: How to Convert MP4 to MP3 on Windows
Unlocking Efficiency: How to Compress a Video for Email with Ease