Netflix is an online media streaming service that has rapidly won over movie lovers' hearts. Its endless, fantastic content keeps anyone company when bored or traveling. But, sometimes, you may not be able to access some Netflix shows due to your location. To make matters worse, you keep hearing your friends endlessly praising a certain Netflix series that isn't in your region which can be really disheartening. Netflix works in a very smart way that can tell where its customers are located by using their IP addresses. That's to say that Netflix's content is location-based. Not all regions can have access to the same content.
However, that isn't a problem anymore. Now, any person can access Netflix content regardless of their location. But how? We will show you how to change your location on Netflix and access all content without a problem.
Part 1: Why Doesn't Netflix Show Same Content in All Regions?
Netflix is a streaming service that allows you to watch your favorite films and series from the comfort of your home. But, not all regions have access to the same content. The main reason why Netflix shows different content in different places is because of licensing of movies and shows. In some regions, different networks have licensing deals with various shows.
If a certain show is available in a country on another streaming service, it is unlikely to be on Netflix. But, with the powerful software you'll learn from this article, you can easily relocate to another country where Netflix has the license to show its movies and shows. If you have a Netflix account, it will be very easy to change your location on Netflix and be in the country where Netflix airs its shows.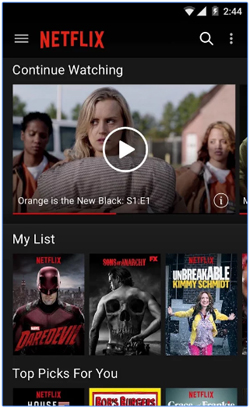 You may like:
6 Feasible Ways to Spoof GPS Location on iPhone
One Click to Make Full Use of Location Services on iPhone
Part 2: How to Change Location on Netflix?
You've always wanted this! Does Netflix change based on location? How to change country on Netflix account and access all Netflix content? No more difficulties in watching your favorite shows. Now, we will show you super ways to change region in Netflix and start watching movies the way you want.
Method 1: How to Change Country on Netflix on Android Using a Proxy Server
In recent years, proxy servers have become very common to use in order to access any website that is blocked. A proxy server acts as a middleman between your web browser and the internet. That's why it can easily bypass blocks put in place by local internet service providers or institutions in order to restrict certain accesses. Just like a VPN proxy hides your actual IP address and gives you a new address based on the server you're connecting to. However, they're much safer than VPNs since proxies don't encrypt your information, preventing your data from being collected or, worse, getting hacked.
With proxies like HideMyAss, you can easily change Netflix to canada, Australia, Malaysia, etc.. There is no need to set up your device, which is useful if you only wish to visit a few specific sites. Let's see how to connect the proxy server to your device and start streaming Netflix with ease.
Step 1. Head to the HideMyAss app's site.
Step 2. Input the Netflix URL and select the server that's located in the place you wish to unblock. Click on "Agree" and Connect" to continue.
Step 3. Hit the "Continue to page" option. You have to tap "Agree & Connect" once again. Or wait for the timer to run down to zero. You may then have to click "Agree & Connect" once more.
Step 4. Sign into your Netflix account and start streaming shows on Netflix.
Method 2: How to Change Netflix Location Using a VPN
If you are an Android user, you can change Netflix location via VPNs like ExpressVPN. ExpressVPN is an incredibly powerful tool that allows you to bypass network restrictions in your country and change the region on Netflix. ExpressVPN uses second-generation encryption, and you can even use it to unblock Netflix, Hulu, and other streaming services from anywhere in the world.
All you need to do is download ExpressVPN for your Android device and change your location on Android. Here is a simple step-by-step guide to get other countries on Netflix on Android using ExpressVPN without a problem.
Step 1: Install ExpressVPN on the device from Google Play Store for free. Open the app after installing it on the device, you may find it in the Apps tray of your phone.
Step 2: Click on the red button with the "Start a Free Trial" option at the lower part of the screen. If you have an ExpressVPN account, just click "Sign in" and enter the email address. The free trial lasts seven days.
Step 3: After entering the email, click on the "Start a Free Trial" icon. Choose "OK" to be notified when there are crash reports and other details about the VPN, or you can choose "No Thanks" to decline.
Step 4: Next, tap "OK" to set up the VPN connection. When you see a pop- window, tap "OK" to enable ExpressVPN to set up a new connection on the device.
Step 5: Click "Smart Location country" from the drop-down, which is optional. Still, you can choose the location you want, which will open all available countries you can locate. Choose the country of your choice from the list. Click on the "All Locations" icon next to the upper right corner to search for the city/country."
Step 6: Click on the "Power" button enclosed in a red circle after connecting to VPN. Doing this will connect your device to the VPN and change your network to the chosen country.
Step 7: Open the Netflix application, which will switch to the selected VPN country automatically.
Method 3: How to Change Netflix Country on Android/iOS using Netflix Location Changer
The best way to change where you live on Netflix without a hassle is by using a powerful yet simple Netflix Location Changer. The app can set any location you select without being detected. No need to go through the hassle of setting up a proxy server or VPN when a cool app is here to help you. In just a few seconds, you'll be able to move to your desired location without moving an inch.
This best tool also works with almost all types of iPhone and Android smartphones. It's compatible with the latest versions too. Not only does it fake your location on iPhone and Android, but it also plans a route and uses it as a customizable place.
The app finds specific destinations that are friendly for the AR games, such as Pokemon Go. Apart from that, it's super helpful when you want to change location on platforms like Tinder, Snapchat, etc. It's so easy to change the location of your device with this tool, all in 1 click!
Key Features of Netflix Location Changer:
* Instantly changes Netflix's location on your Android/iOS to any place in the world.
* Joystick feature for GPS movement simulation.
* Works well with location-based applications and social media platforms. E.g., social platforms, AR games, etc.
* It's iOS 16 and Android 13 supported.
* Works on both iOS and Android devices.
Here are the simple steps you need to follow to switch your location on Netflix using Netflix Location Changer;
01Launch the Netflix Location Changer app on your computer and click "Get Started." Use a USB cable to connect the device to a computer or Mac and grant access permissions.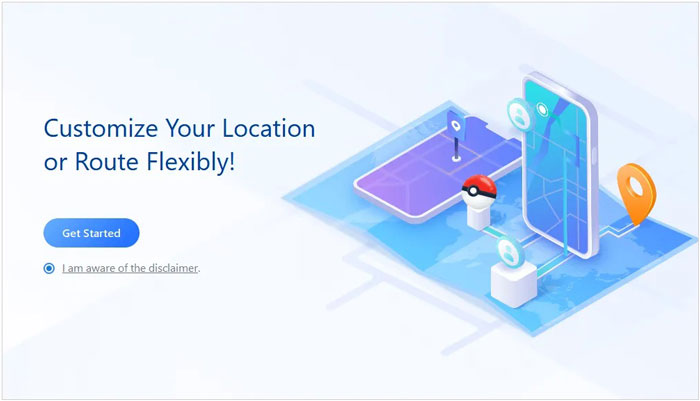 02Choose "Teleport Mode," the 3rd icon at the upper right corner of the program's interface. Choose your location by entering the address or coordinates in the search bar (upper-left corner).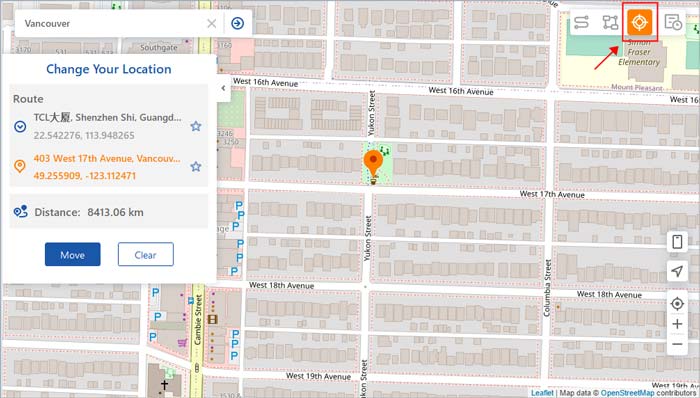 03After selecting the location, you'll get a pop-up menu on the left section of the screen. Tap the "Move" icon to change your location.
See more:
Why Is My Location Wrong on My iPhone? (Fixes Included)
How to Change Home Address on iPhone? 5 Ways You Will Need
Part 3: FAQs on Netflix Location Changing
Q1. Is changing the IP address for the Netflix location illegal?
It's not illegal to change your IP address and stream Netflix, but it's against Netflix's Terms & Conditions.
Q2. Is it possible to watch Netflix while in a different country?
Yes, you can watch Netflix from anywhere in the world using your Netflix. But downloading and streaming choices will change, and My List and Continue Watching titles won't be available. Also, the current titles you downloaded may be unavailable.
Q3. How will Netflix know my location?
Normally, Netflix gathers information about your location based on the IP address. Therefore, it'll show all content only allowed in your place.
Conclusion
We have listed all the hacks you need to know about Netflix location changing. With these wonderful techniques, you can enjoy watching Netflix in any country you like. The most secure, and easier way to switch your location on Netflix will be through Netflix Location Changer. The software changes your location instantly, and in no time. You'll be in your desired location enjoying Netflix shows as you wish! Cool, right? Then try it.
Related Articles:
How to Fake Twitter Location Easily | FAQs and Solutions [Proven]
How to Fake GPS on Android without Mock Location?
How to Fake GPS with No Root on Android? [8 Trustworthy Apps]
[Huawei Mock Location] How Do I Change My Mock Location on Huawei P40 Pro/P30 Pro/P20 Pro?
How to Change TikTok Region Safely and Quickly? [New Guide]
Top 10 iTools Virtual Location Alternatives for Android and iOS Devices