It is not easy to fake the location of a mobile phone since there isn't an in-built feature or setting to do so. You require a fake GPS app to spoof or fake your device's location. There are many fake GPS apps out there, but, at the same time, choosing the right one becomes a challenge.
A good mock location app has excellent spoofing features, a user-friendly interface, compatibility with various gadgets, and most importantly, the process is easier. Therefore, before choosing a fake GPS app, ensure it has all these aspects. A fake location app hides your actual location, thus enabling you to have a little fun, like pranking your family and friends in your new location.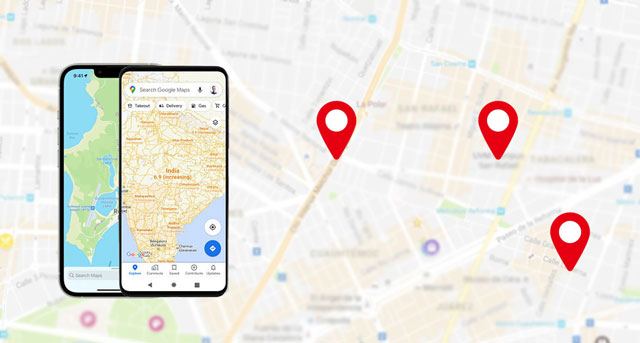 Part 1: What Is Mock Location App?
Part 2: Best Fake GPS Apps for Android
Part 3: Best Apps to Spoof Location for iPhone
Part 4: How to Enable the App That Fakes Your Location on Android?
Part 1: What Is Mock Location App?
A mock location app is a tool that can be used to manually change the location of your mobile device to any place you want. This app benefits those who want to download apps that can't be accessed in their current region.
For instance, it can help people make friends all over the world on social apps by changing their locations, and bypass the regional restrictions in mobile games to pass games more easily.
Part 2: Best Fake GPS Apps for Android
To effectively spoof your location, you need a good app, and below are our best fake GPS apps for any Android device.
1. GPS Changer
Can I change the location of my Android devices to a location I want? Absolutely. Spoofing your location becomes a piece of cake if you use this GPS Changer app. With a Two-spot Mode and a Multi-Spot Mode, nothing can hinder you from teleporting to a location of your choice.
You can also simulate the GPS movement with customized routes. As for compatibility, you don't have to worry about it. It's highly compatible with many Android phones and most generations of iPhones.
Key Features of this location changer app:
* Fake GPS on Android without root, and spoof location on iOS without jailbreak.
* The joystick feature helps you control your movement when you play games.
* Allow you to enter a desired location and change to it instantly.
* Compatible with Android and iOS devices.
* Import or export a GPS file to store your customized routes.
Pros:
* Multi-spot mode on a route planner.
* Change location in just 1 click.
* Retain privacy while using the apps.
* Instantly change location to any place.
Cons:
* You must tether your device to a computer to use the app.
Download this fake location app on your computer.
How to Fake GPS Location With this best mock location desktop app:
Step 1: Launch the Program
Download, install, then launch the program on the computer and tap Get Started to commence the process.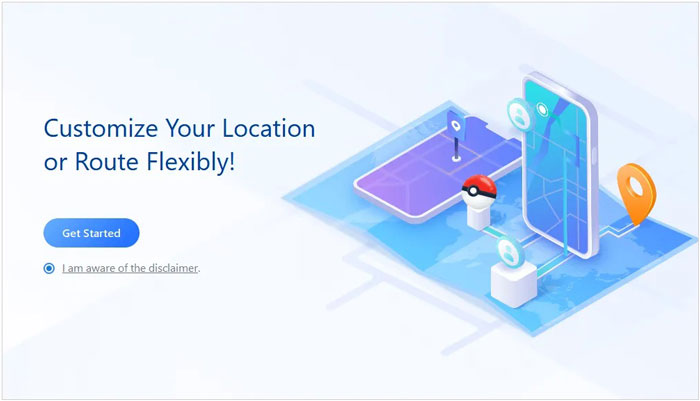 Step 2: Connect Your Device
Use a USB cable to connect your phone to the computer, and choose your Android phone on the interface. Then enable the USB debugging feature, and select the MTP option.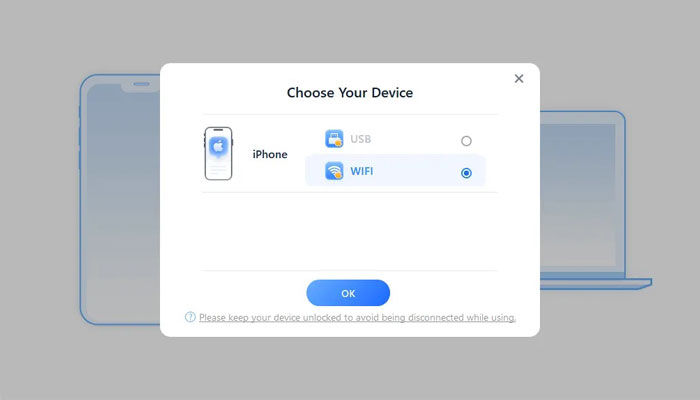 Step 3: Select a Mode
Please select a mode you want: Gaming or Social. Then follow the guide displayed on the interface to install the mock location app on your Android phone, and select the app on the phone Settings app.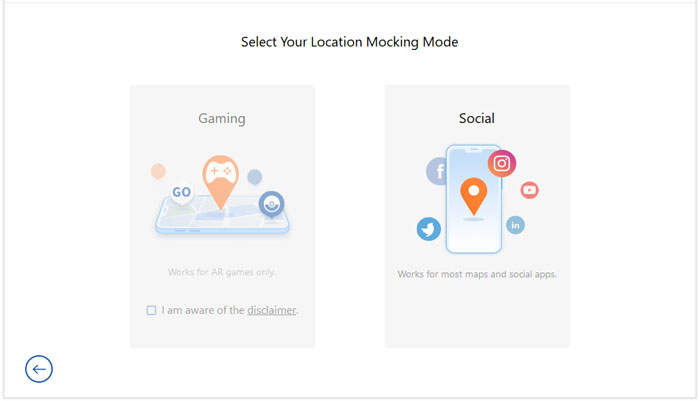 Step 4: Fake GPS Fast
The app will now start to load the map, and once done, you may find the location there. Please select Teleport Mode from the upper right corner.
Zoom in/out by scrolling the mouse and choosing your preferred destination. If not, you can still enter the GPS/address coordinates to look for your destination.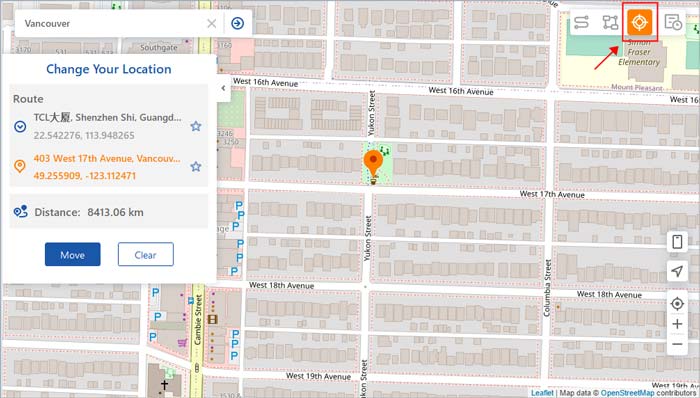 See more:
Easily Fake Twitter Location | FAQs and Solutions
[Huawei Mock Location] Fast Change My Mock Location on Huawei Phone
2. GPS JoyStick
The GPS JoyStick is also a superb fake location app for Android devices that have been in use for some time now. It doesn't require rooting the device, and you may change your location with just a few taps. Thanks to the joystick option, you can change your location from one place to another.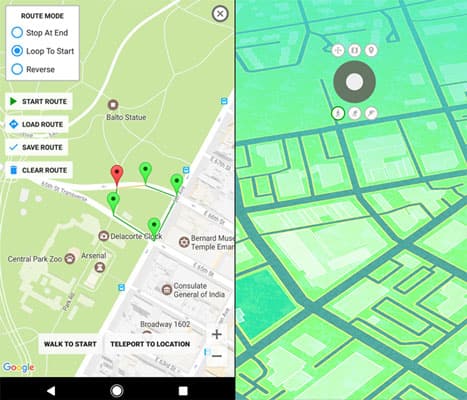 Pros:
* You can easily switch locations with the joystick feature.
* Directly choose the location to change on the map.
* Allow you to enter the latitude or longitude of the place you want and change to it with ease.
Cons:
* Many unwanted ads.
* The app can crash while using.
* Sometimes, Pokemon Go doesn't detect the location you set with the app.
Learn more: Failed to get your Android phone out of Recovery Mode? Then you can follow these tricks to exit the mode.
3. Fake GPS 360
This is an all-in-one solution for your location-changing requirements. The app can be installed on your device and quickly change its location to anywhere you want and have access to apps as well as social media. The search feature, world map, or coordinates option enables you to search for a new location you want to go to.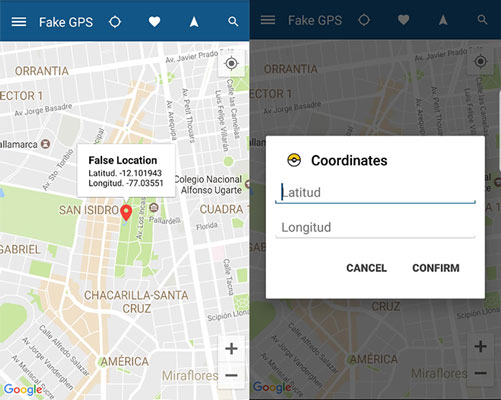 Pros:
* There are many ways to choose your new GPS location.
* Customized GPS accuracy.
* Allow you to add locations to favorites.
Cons:
* Fail to work with certain apps.
* Sometimes, the application closes by itself.
* You may encounter joystick problems.
You might like: If your text messages disappear from your Android phone, you can quickly find out the reason and solution from this article.
4. VPNa
If you've ever used a VPN on your mobile phone, then you have at least heard about the VPNa. This is an app that can fake GPS locations on an Android device. It's similar to a normal VPN, and it aids in systematic change of location on Android devices. When you change your phone's location, everything on your phone will believe that you're in that specified location.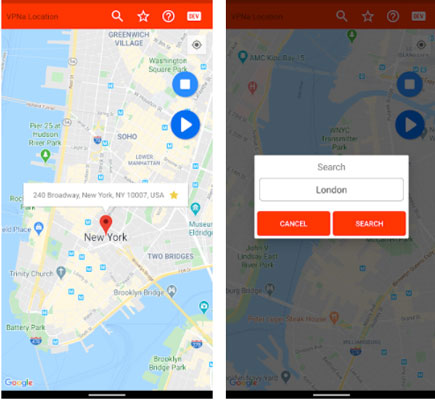 Pros:
* You don't have to root your phone.
* Set your new location quickly.
* Save location easily.
Cons:
* At times, the location will reset itself.
* Many ads.
* No joystick feature.
5. Fly GPS
You've likely come across the Fly GPS app after searching for spoofing apps. The app offers options needed to change your device's location. It features a joystick that allows one to switch to a new location seamlessly. You've got various options to set up your new location.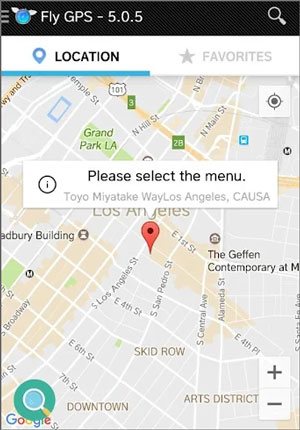 Pros
* Have the joystick feature.
* Many search engines for maps.
* Offer you a favorite location list.
Cons:
* Unwanted ads.
* Sometimes the search feature fails to work.
Part 3: Best Apps to Spoof Location for iPhone
iOS device users are not left behind either, as there are various apps to spoof the location of such devices. So, check out the list below and decide the one you will use to change to a location you desire on iOS devices.
6. iSpoofer
Are you looking for a great and easy-to-use location spoofer for your iOS device? Look no further than the iSpoofer app. You shouldn't miss this wonderful desktop app that comes with everything you need to fake your location on your iPhone/iPad instantly.
Whether you want to be in a different country or just enjoy Pokemon Go, this app is your solution. No jailbreaking of devices is needed, which is actually a big plus. Its many spoofing features that you can access after installing the app are an added advantage too.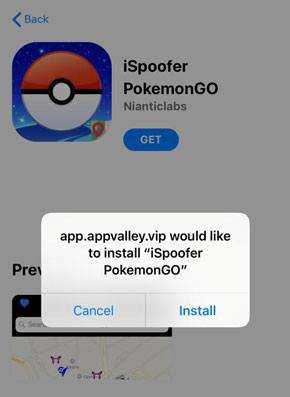 Pros:
* Move to a new location automatically.
* Spoof your location wirelessly.
* Operate on both Mac and Windows.
Cons:
* Not safe to use the app to spoof locations for certain games.
Tips: How can you spoof locations on Pokemon Go on an iPhone? Open this link to learn 7 effective methods.
7. Tenorshare iAnyGo
Faking location on your iPhone has been made easier with Tenorshare iAnyGo. Most iOS devices need jailbreaking before you can fake a location. Fortunately, you don't need to do that while using the Tenorshare iAnyGo app. You will quickly change the location of your iPhone to anywhere you want if you have this fake GPS app.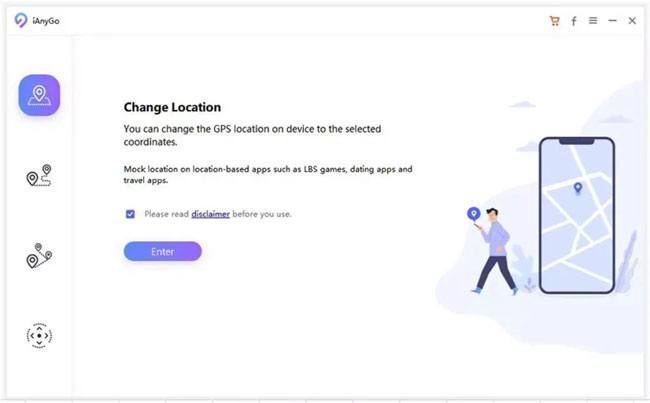 Pros:
* Single click location change.
* Save your favorite locations.
* Compatible with the latest iOS devices.
Cons:
* The app isn't free.
Guess you like: Maybe you want a practical iSpoofer alternative? If so, Please open this full guide.
8. iTools
Do you need an app that does more than just fake locations for Pokemon Go? iTools is that app. If you have iTools, you can carry out various tasks on your iPhone and set a virtual location.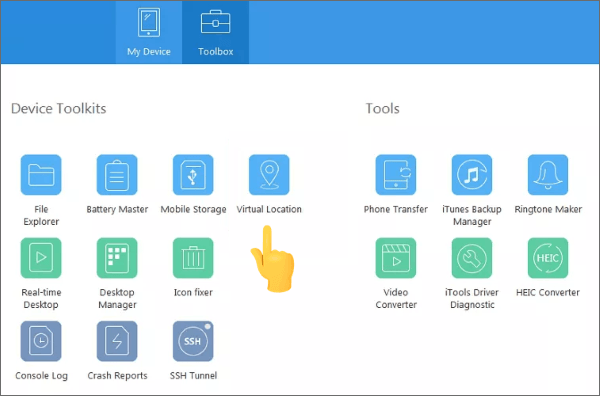 Pros:
* Come with many tools.
* Easily fake locations on iOS devices.
* Have user-friendly interfaces.
Cons:
* The app loads slowly.
* The process isn't simplified enough.
9. iToolab AnyGo
If you want an easier-to-use ios fake GPS app, then iToolab AnyGo is your option. iToolab AnyGo allows you to change an iPhone device's location to anywhere you want without necessarily jailbreaking it. It operates well in social media and location-based games such as AR games. With many features and modes, you are likely to change your iPhone's location without difficulty.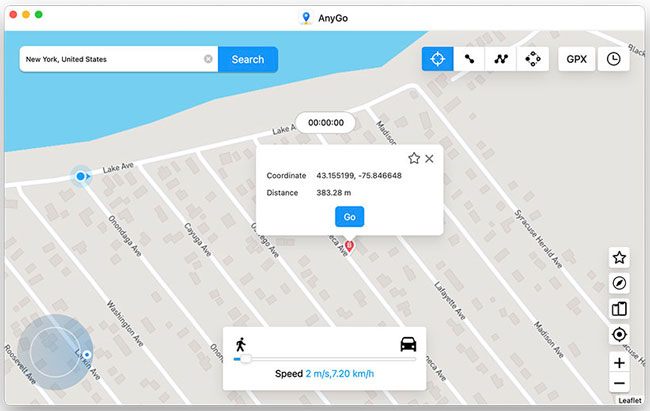 Pros:
* Change the GPS locations with the teleport mode.
* Keep historical records of movements made.
* Work well in social media and AR games.
Cons:
* Compatibility problems for Mac users.
10. MockGo
Teleport and bounce anywhere you want in this world with MockGo. The app enables you to simulate natural movement on a planned route with no lagging problems. This makes it easier for you to play any of your favorite games, such as Pokemon Go, Mobile Legends, and many more.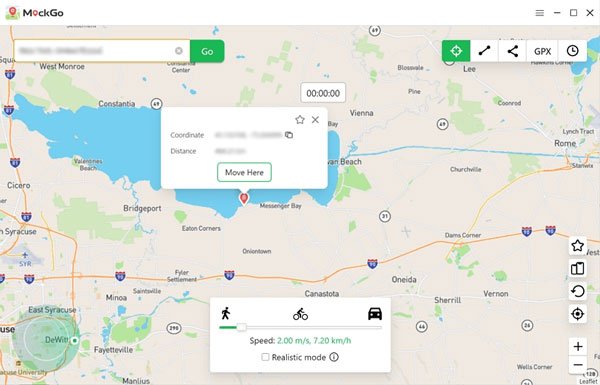 Pros:
* Fast teleport the location on an iPhone.
* Travel automatically when you use an AR game.
* Enable you to simulate routes.
Cons
* Sometimes, the operation is not smooth.
Part 4: How to Enable the App That Fakes Your Location on Android?
Before using the mock location app on your Android device, you, first of all, have to enable it from the Developer options. Here is a step-by-step process of how to do that:
Step 1: Download the app from Google Play Store on an Android device.
Step 2: To spoof the location, you should enable developer options on Android devices. To do that, navigate to Settings > About > Build Number, and click on the build number many times till you receive a message that says, You're now a developer.
Step 3: Navigate to the Developer Options and look for Select Mock Location App. Tap on it and choose the fake location app you downloaded. You may now open the app and start spoofing your location.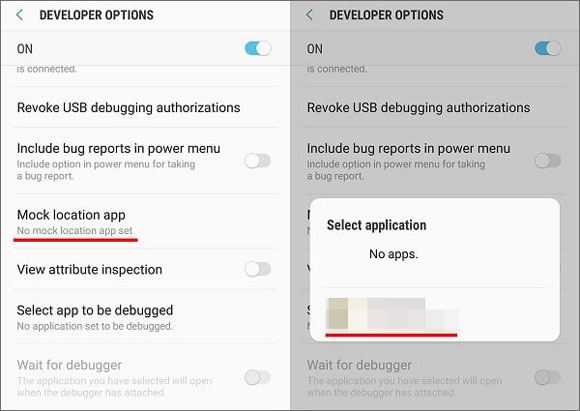 Conclusion
The fake location apps come in handy. No matter your reason, it's a wonderful tool that can't go unnoticed. A suitable app allows you to spoof your location without a hassle. All the best fake GPS apps mentioned in this guide are reliable and can spoof your location in no time. However, GPS Changer stands out among them as it allows you to fake the location of your device with just one click, and it's 100% safe with no technical skills needed. Cool, right?
Related Articles:
3 Simple Ways to Back Up iPhone to Flash/USB/Thumb Drive [Reassuring Guide]
Why Is iCloud Backup Stuck? How to Solve iCloud Backup Not Working?
How to Transfer Videos from Android to Android Quickly?
10 Ways to Fix the iPhone Migration Not Working Error without Trouble
How to Transfer Files from OnePlus to Mac? (3 Easy Solutions)
The Ultimate Way to Export Text Messages from Android to PDF [Latest]