Hulu is one of the most popular streaming sites in the world, with millions of subscribers. However, some people may be looking for ways to change their Hulu location to access content from other countries. The company offers many shows and movies, but these are only available in some countries. Luckily, there are a few solutions for Hulu location changes. Then they will see other versions of these programs or want faster access to the latest episodes.
If you are looking for ways to change Hulu's location, this article has got answers for you. We will guide you on how to change Hulu's location to access content unavailable in your country.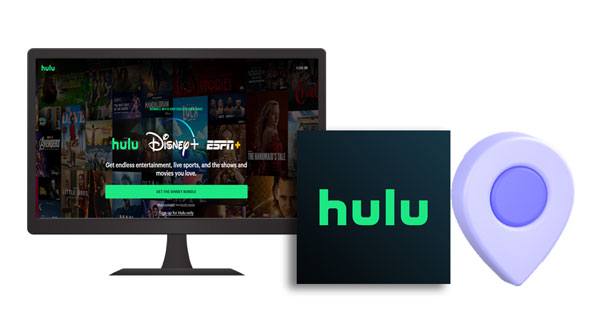 Part 1: What Should You Know Before Changing Hulu Location?
1.1 What is Hulu?
Hulu is one of the most popular home networks to get access to both live TV shows and movies. Hulu Live TV needs a home area that is dedicated and identified when setting it up for the first time. Technically, the Hulu application identifies this as the "Home Network" for the subscriber. You will be given 30 days to set up your "Home Network" after signing up.
1.2 What is Hulu Home Location?
Hulu will confirm your home location when signing up. It uses an internet connection to locate your home. This location setting will make you get the specific content in your area. Thus, you cannot access all channels in other places.
The only exception to this is when you use shared Wi-Fi or a mobile hotspot. When using a mobile hotspot or Wi-Fi connection, you will not be prompted to confirm your home location while you sign up, but you will have to confirm within 30 days to continue using the service.
You should be careful when deciding your home location, especially if you plan to relocate more than four times a year. Your device will be automatically blocked from accessing the service if you change your living room device home network more than the specified times. Due to that, you need another way of changing your home location.
Further reading: How to Fake GPS with No Root on Android? [8 Trustworthy Apps]
1.3 Why is Home Network important on Hulu?
The basic Hulu subscribers are not required to set up a "Home network" since the requirement is for those users who access live TV. Setting up a "Home Network" is pretty simple and takes place the first time the subscriber uses a "living room" device such as a streaming player, set-top box, or smart TV to access the service. When signing up for the service using your desktop browser, Hulu will ask you to confirm your location.
You can only set one "Home Network" location at a time. Therefore, Hulu's live TV subscribers cannot enjoy the right to link more than one home location to their Hulu accounts. Even if Hulu users could do so, it would not matter because Hulu does not allow "living room" devices to access the services in two different locations.
As a result, Hulu users looking for ways to access the services using their living room device in another home will need to change their "Home Network" to connect to a new location. Besides, Hulu allows Live TV users to change their home network only four times a year.
Read more: If you dislike to use iSpoofer to change your GPS on your smartphone, you can get an iSpoofer alternative here and use it without trouble.
Part 2: How to Change Location on Hulu via 3 Approaches?
"Hulu won't let me change my home location if I have changed it four times?" This question has been asked by many users. Suppose you use your device to visit Hulu's official site. In that case, their IP tracking software will detect your IP address, and you will be automatically blocked from accessing it if you do not reside in the United States.
You will see an error "Hulu isn't available to watch at your location". As a result, you will need to have a way of faking your actual GPS location. Continue reading to learn more about changing Hulu's location.
2.1 How to Change Hulu Home Location Manually
You can easily change the location of your Hulu application, especially if you are using a streaming player or a smart TV. If you open the application using a new internet connection, it will recognize that you are not at home and display "Hi [your name], it seems like you are not at home".
The message will have a "Yes" option for making the new location your home location. Clicking on the "Yes" option will link your Live TV account to a new location. You can also change your home location by accessing your account using a desktop or a mobile device while you are connected to the internet in your new home.
Follow the below steps to change Hulu's home location manually.
Step 1: Navigate to the Live TV site for the Hulu application.
Step 2: Sign in to your account and tap on your "Profile" icon.
Step 3: Select the "Account" option and locate the section named "Privacy and Settings".
Step 4: Click on the option named "Set or Change Home" location, and confirm your new home location.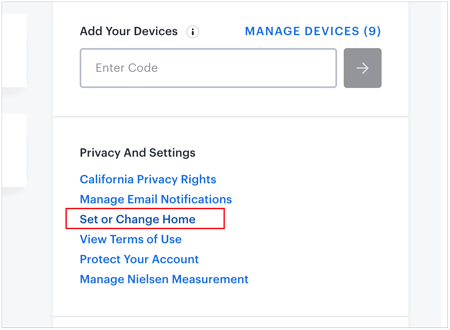 Hulu will still use your internet connection to confirm your location, whether you are accessing a living room device using a web browser or a room Device.
You might need: Want to know the tricks to evolve Dreepy? Then you can read this guide.
2.2 How to Change Home Location on Hulu via ExpressVPN on Different Devices
ExpressVPN is an app that can provide you different virtual private networks gobally. As long as you install it on your smart TV, Android phone, computer, iPhone, or other devices, you can use it to connect your device to other networks worldwide. Then, you can alter the home location on Hulu without a hitch.
Follow the below step-by-step guide to change the Hulu location on your device:
Step 1: Subscribe to ExpressVPN services on their official website, and switch on your smart TV or other devices. Then navigate to the "App store", type "ExpressVPN" on the search box, and click on the "Go" button.
Step 2: Choose "Install" after you find the Express VPN application. Open the Hulu application, sign in using your login credentials, and click on the "horizontal three dots" to select an area that matches the location of the Hulu application. Next, follow the instructions on the screen to create a VPN connection.
Step 3: Finally, open the Hulu application and enjoy watching your favorite channels.
Learn more: Which Is the Best Fake GPS App for Android and iOS Devices? [Practical Options]
2.3 Hulu Home Location Change via GPS Changer for iOS and Android Devices
If you change your Hulu home location too many times a year, it might block your changing. But you can get a location changer to make it easy. Suppose you use an iOS or Android device and need to change your location. In that case, you can easily use GPS Changer to change your location on Hulu. It is a professional program for changing virtual locations.
With just a few clicks, you can change your Hulu location from anywhere to anywhere as you wish. The best thing is that it allows you to change your location to the United States or any other world region within seconds. This software provides a simple and quick way of geo-spoofing your iOS/Android device.
Key features of this GPS changer:
* You can fake your GPS location on an Android/iOS device anywhere in the world.
* Easily change the Hulu location on your smartphone.
* Use it to play AR games without going out.
* You can save your best route by exporting/importing GPX files.
* Change the GPS location of more than one device simultaneously.
* Natively work with all location-based applications like social platforms, Hulu, Pokemon Go, etc.
* Compatible with most Android OS and iOS versions.
Download this location changer for your Hulu.
Below are the steps for using this software to change Hulu live location on Android or iOS devices:
01Download and Install the Location Changer
Open the GPS changer on your computer after installing it, and click on the "Get Started" button.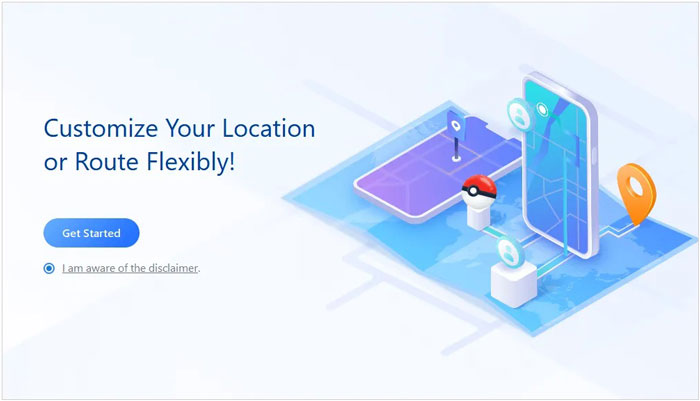 02Connect a Device to the Computer
Use a USB cable to connect your device to the computer. Then wait for the application to load the Map on your computer automatically.
03Change Your Location on Your Device
On the upper side of the computer screen, select "Teleport Mode". It is on the top menu list. Select the destination of your choice by scrolling using your mouse. You can also directly enter your destination's GPS coordinates.
04Connect to the New Location
Once you select the destination, a pop-up showing your destination's distance, coordinates, and name will appear. Click on the "Move" button to relocate to a new place. Once done, you can use the new location on Hulu.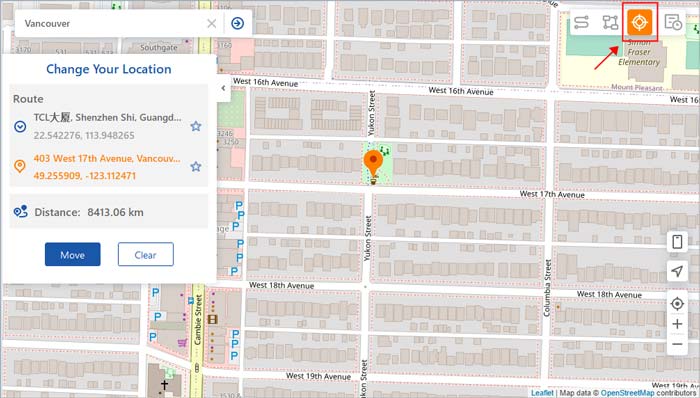 Conclusion
Hulu is the world's leading network built around premium content, which includes major movie and TV studios, channels, and popular web series. Hulu is a gateway to streaming services. You can use the VPN to access restricted content based on your location. In addition to that, you can use GPS Changer to alter your GPS location and watch Hulu on your iOS/Android device. This software is the most convenient way of faking your GPS location. Let's give it a shot.
Related Articles:
Best Spoofing Apps for Pokemon Go on iOS and Android
Top 3 Ways to Fake Location on Zenly [iPhone & Android Supported]
How to Fake Twitter Location Easily | FAQs and Solutions [Proven]
Repair It When Snapchat Location Is Wrong! [Functional Guide]
iPhone Software Update Failed: How to Update to iOS 15 Smoothly
How to Change iPhone/iPad Location without Jailbreak in 4 Cost-effective Ways?