As a giant of the world phone industry, Huawei generally releases new products every year. Its mobile has distinctive features. For example, Huawei, with the same configuration, is often much cheaper than other mobiles. And its battery is stable and of good quality. The most important thing is that its signal is for your convenience at all times. Huawei 5G has taken the lead in commercial use, while the latest Huawei P40 series support 5G. You may need to conduct Huawei file transfer if you already have a Huawei gadget or plan to buy one.
When you think about Huawei phone file transfer, a thought - conducting it with Hisuite - may come into your mind, but because of its shortcomings, many people may choose other apps. Therefore, this post will discuss how to perform Huawei file transfer with or without Hisuite.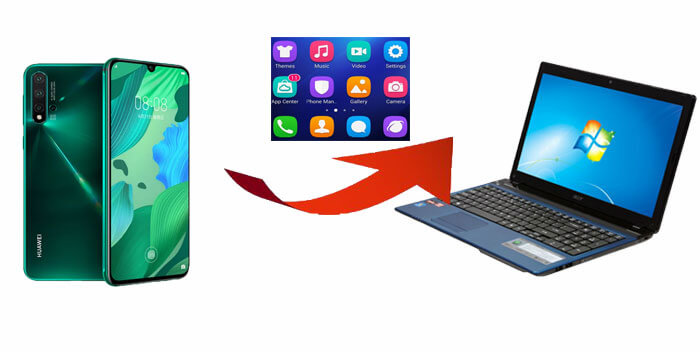 Part 1: How to Transfer Files without Hisuite (from Huawei to PC)
Being an assistant of Huawei phone, Hisuite is well known to Huawei fans because of its criticism before and after use. Many veterans don't like to use it very much. For instance, Huawei screen must be always on during data transfer, otherwise the backup will fail. Another example is that in Huawei app store, you cannot recognize whether the software has been installed on PC. If your nearby WiFi is unavailable, you won't use your phone to update with the Internet.
Usually, Hisuite on the computer is difficult to uninstall, and it needs to be forced to uninstall by deleting some contents in the registry.
1.1 How to Conduct Huawei File Transfer from Huawei to Mac/Windows PC via Coolmuster Android Assistant
In order to avoid all kinds of unpleasant experiences in the use of Huawei Hisuite, here we introduce Coolmuster Android Assistant (for Huawei file transfer on Windows or Mac) that is safe, easy-to-use and professional. It can not only avoid the disadvantages of the former, but also play the role of mobile manager to the extreme. In addition, its version and functions are constantly updated, so with a software like this, you will no longer suffer from annoying phone problems.
Part of the properties of Coolmuster Android Assistant:
- Do well in working with practically all Android including Huawei, like Huawei P80/P60/P50/P40/P40 Pro/P40 Pro Plus/Mate X/Mate 20/Mate 10 Pro/Mate 10/Mate 9/V20/V10/P30/P20/G9, and so forth.
- Send videos and photos from Huawei and PC, in addition to contacts, SMS, call logs and other files.
- Take screenshot, put photo library into your camera, and edit Android contacts on PC.
- Get contacts, SMS, call logs from your computer to your Huawei or another Android phone.
- Add, reset or delete Android contacts from PC, and uninstall your unnecessary apps from Android.
- Backup and restore Huawei data with USB cable or WiFi, delivering fast Huawei file transfer with 1 click.
Download it to escort your Huawei phone now.
How do I share files from Huawei to PC with Coolmuster Android Assistant?
01 Attach Huawei phone to PC via a USB cord and open Coolmuster Android Assistant to enable USB debugging for detection by the program. Then tap Allow or OK to see the phone info below.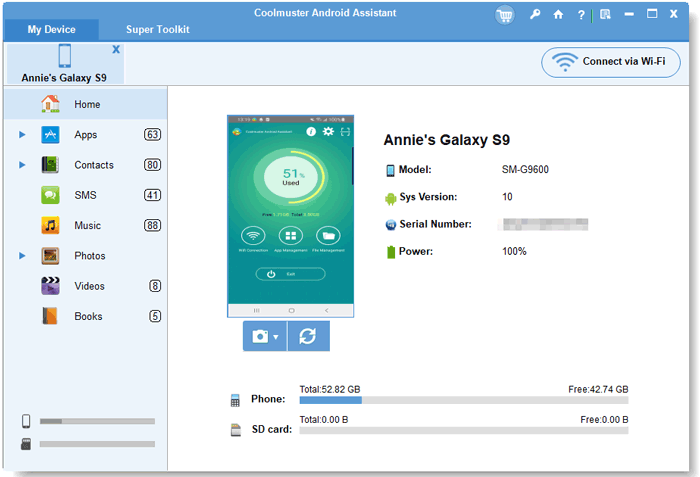 02 On the main interface, go to Super Toolkit > Backup to choose your attached phone name and your needed data types as listed. Then click Back Up to conduct Huawei file transfer to PC from Huawei phone.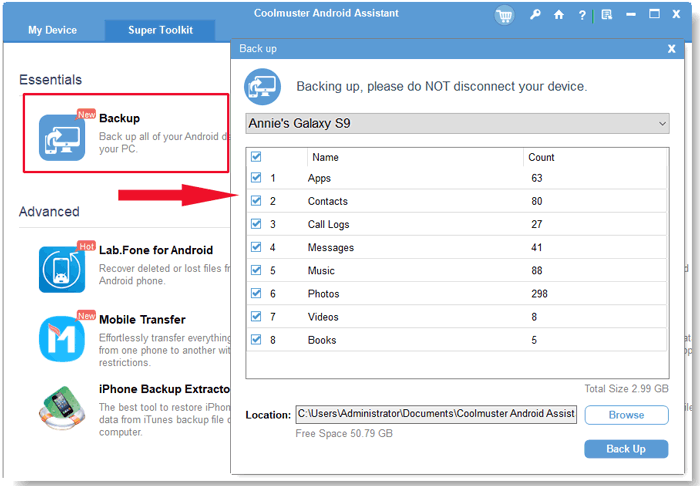 Video Tutorial:
Have a look at the video below to see how easy it is to transfer everything from Huawei to computer.
1.2 How to Transfer Photos from Huawei to PC Using USB Cable Only (Photos & Videos)
Can I perform Huawei transfer files to PC from Huawei phone with WiFi? No. And can a USB cable be used to transfer Huawei data to PC directly? Sure, it seems a little magical. Indeed, a USB cord can achieve the mobile transfer between Huawei and your computer. But the work it can do is extremely limited, only suitable for moving photos and videos. That's to say if you need to transfer data such as contacts, SMS, mobile apps, please select method 1 - Coolmuster Android Assistant.
How do I transfer photos from my Huawei phone to my laptop or desktop using USB cable only:
1. Connect your Huawei to PC using a USB cable. Then enable Multimedia Device or USB Storage option in the notification tab from your handset.
2. After that, your Huawei will be detected by PC and you should navigate to My Computer or This PC to get access to the phone files.
3. Open the removable drive (your Huawei phone) and choose DCIM folder. You can see all your photos and videos there. Next, copy your needed pictures or videos and paste them to PC.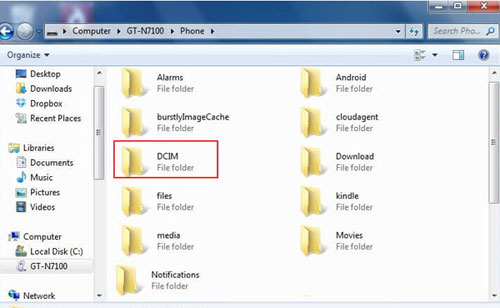 See Also: How to Restore Lost Contacts from Huawei Phones?
1.3 How to Perform Huawei Phone File Transfer on Mac with Huawei Share
Many methods of Huawei data transfer need a USB cable, but one method does not need it, such as Huawei Share. This provides a good choice for many businessmen. Because Huawei phone tends to aiming at those group and young people in pursuit of fashion. Besides, this feature is applicable to models such as Huawei Glory 9X Pro/Glory 9X/Huawei Nova 5I/Nova 5, etc. So, please confirm whether the model is supported before use. Let's see how it works on Mac now.
How do I transfer files from my Huawei phone to my Mac with Huawei Share?
1. Unlock your Huawei and go to Settings > Phone connection > Enable both Huawei Share and Wi-Fi. Next, enter in Huawei Share with a username and password.
2. Go to Finder > Network on Mac to find the Huawei on the list. Then double click Huawei icon and press Connect As to sign in with the same username and password too.
3. On your Mac, go to Finder to find out the files from Huawei. Next, copy files you'd like to from Huawei and Paste them on Mac.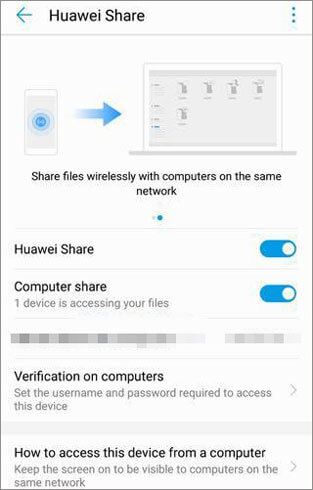 Tip: If you want to transfer data from other phone to Huawei, you can check this guide on how to conduct Huawei data transfer.
Part 2: How to Transfer Files from Huawei to PC with Hisuite
As mentioned in the first part, Hisuite is not used by many people to manage mobile phones because of its shortcomings in performing tasks. But for many Huawei novices, they may want to try to use Hisuite, but they may not understand how to use Hisuite very well. At the end of the article, we will bring you the use methods of Hisuite
This is how to perform huawei P40/P30/P20 file transfer with Hisuite:
1. Download and install and open Hisuite program on PC. Then connect your handset to PC via a USB cable.
2. Switch on USB debugging on Huawei phone. Then turn on HDB from Settings > Advanced Settings > Security to click Allow Hisuite to use HDB. Next, Back Up and Restore options will show on the window.
3. Click
Back up
and choose your needed file types (you can choose to encrypt the backup if needed). Then hit
Back Up
again to transfer files from Huawei to PC with Hisuite.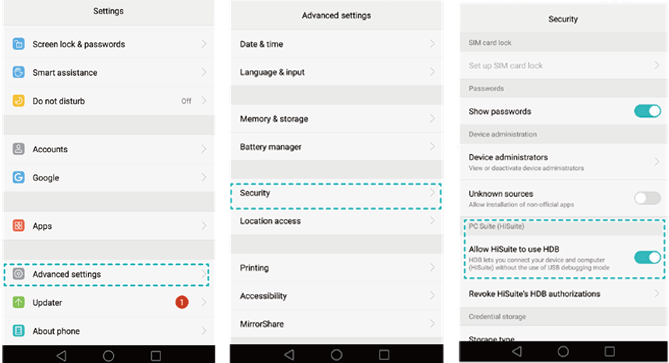 Attention: Providing the backup fails, it is recommended to upgrade Hisuite to adapt to the current version of the Huawei phone.
Summary
Don't want to be limited by the poor experience of Huawei Hisuite? Have you got anything after reading this article? As for Huawei file transfer, Coolmuster Android Assistant can be your first choice, for the biggest feature is that its design concept and pro functions meet the needs of most people, and let you find a sense of belonging in the use process. Want to know more about this green, easy-to-use, efficient and multi-functional mobile "bodyguard"? Download it and find out its enjoyment please.
Related Articles:
Top 5 Ways on How to Transfer Contacts from Android to PC
How to Transfer Pictures from Android to Android?
How Can I Transfer Data from Huawei to iPhone?
How to Transfer Data from iPhone to Laptop? (6 Proven Ways)
How to Wipe Android Phone Completely before Selling?