For the purpose of following the trend around the world, many phone users have replaced their phones with Samsung. For these new fans of Samsung, they may ask their friends or colleagues to find a practical PC suite. Well, here are some of my previous experiences. To provide you with some of the latest and most reliable Samsung PC suite, I spent some time trying these products and finally ranked them according to their comprehensive assessments.
I hope the presentation below will bring some reference to Samsung newbies. Of course, this article is formed by consulting a large number of authoritative data and combining with many users' feedback.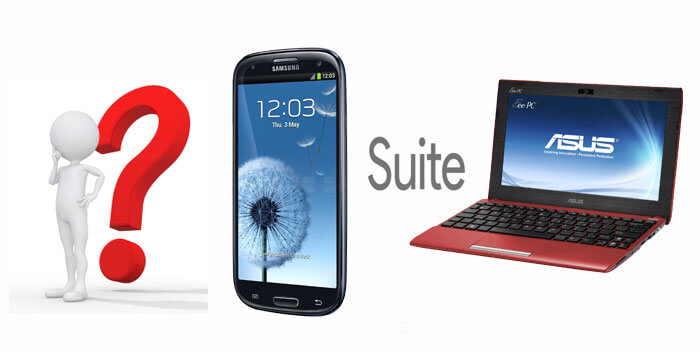 Option 1. Samsung PC Suite for Desktop or Laptop - Coolmuster Android Assistant (Most Feasible)
Option 2. Samsung PC Suite - Samsung PC Studio
Option 3. Samsung PC Suite for Windows10/8/7 - Mobiledit
Option 4. Samsung PC Application Suite - SnapPea
Option 5. Samsung Software for PC - Samsung Kies
Option 6. Samsung Mobile PC Suite - MoboRobo
Option 1. Samsung PC Suite for Desktop or Laptop - Coolmuster Android Assistant (Most Feasible)
Among the Samsung PC application suites I've tried, there are several that impress me more or less. And the most impressive one is Coolmuster Android Assistant. Why do I say that? This Samsung PC suite is known for its professional features developed from the user's point of view to solve Android mobile problems.
The first trial version of this Samsung PC suite only supported simple maintenance of some mobiles like data transfer between PC and Android. Gradually, its functions expand, and now it also supports data backup and restore, as well as other functions. let's take a look at its specific features.
7 merits of Coolmuster Android Assistant:
1. Work on almost every Android phone including Samsung, such as Samsung Galaxy S23/S22/S21/S20/S20+/S10/S10+/S10e/S9+/S9/S8+, Galaxy A70s/A70/A50s/A90/A20s/A80/A60/A40s/A9/A8/A7, Note 20 Ultra/Note 20/Note 10/ Note 9/Note 8/Plus/Note 8/Note 7/Note 6/Note 5, etc.
2. Edit Android phone contacts on PC/Mac computer, uninstall unwanted applications from Samsung, take screenshot and move photo library to screen shots or to camera.
3. Move data like contacts, SMS, music, photos, videos, call history, etc. from Samsung to PC.
4. Save Android contacts to Excel format (CSV or XLS), VCF Outlook, BAK files and HTML formats.
5. Add, reset or delete Samsung contacts from your Desktop or laptop within 1 click.
6. Import contacts, SMS, call logs from your computer to your original Samsung mobile or another Android phone.
7. Back up and restore Samsung data as required and provide easy, green and lossless transfer.
Download this Samsung PC suite for a free trial:
Brief manual on how to transfer data between Samsung and PC with this Samsung PC Suite (Taking contact transfer as an example)
Connect Samsung to PC via a USB cable and enable USB debugging on your Samsung for the detection. Then touch Allow or OK to continue. Next, choose Contacts from the left panel and click Export or Import to transfer files between Samsung and PC using this Samsung PC suite for Windows 10/8/7.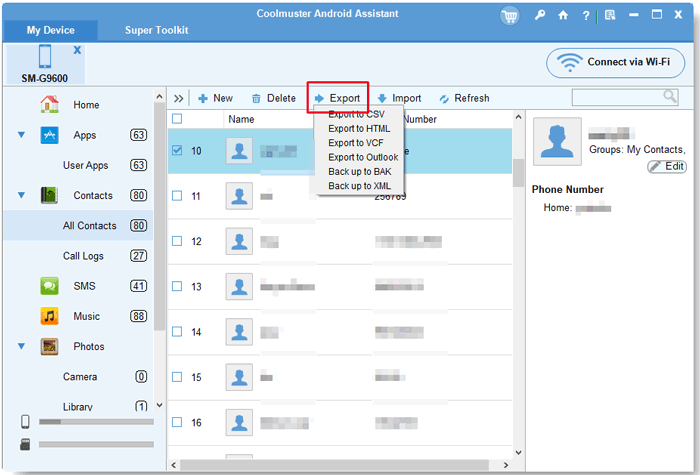 Tips: You can also implement other operations as the interface lists, following the similar steps like contact transfer as above.
Video Direction:
Want to know how to use the best Samsung PC suite - Coolmuster Android Assitant to back up and restore your Samsung? Check the intuitive video below:
You may also like:
Top 10 Samsung Backup Apps and Software [Selected]
Top Samsung Root Software: Root Your Samsung Device Safely
Option 2. Samsung PC Suite - Samsung PC Studio
Type in "Samsung PC download free" or "all Samsung PC suite free download" on a search engine, you may be confused by the search results. For file management green hand, it may be more painful to manage Samsung mobile files. With Samsung PC Studio - a great Samsung PC application suite, you will have a cozy management procedure.
It offers several means to connect PC and Samsung phone - a USB cable, the infrared, Bluetooth or other ways. It supports convenient and fast data sharing, data transfer, data backup and so on. Samsung PC Studio can be used to manage files, add contacts, send text messages, install applications, view multimedia, create wallpaper, transfer music, store images, connect to the Internet and update mobile software, etc. However, it only works on Samsung devices.
Pros: offer multilingual operation interface and import contacts edited on your PC.
Cons: in addition to installing the driver, you also need to perform Settings > PC connection - Samsung PC Studio to launch it manually. Besides, it is unable to maximize the main window, and too many dialog boxes will pop up while conducting tasks.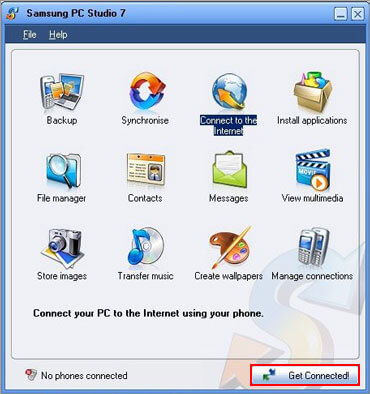 Notice: The order of installation of drivers and this Samsung PC suite: install USB driver, and then install Samsung PC Studio. Note that after the app installation, connect your Samsung with a USB cable. In addition, you need to execute Settings > App > Developer to turn off USB debugging on your Samsung before you try it.
You May Want to Know:
How to Retrieve Deleted Texts on Samsung Galaxy/Note
How to Unlock Samsung Tablet without Losing Data? [6 Proven Ways]
Option 3. Samsung PC Suite for Windows10/8/7 - Mobiledit
Mobiledit is another Samsung PC application suite, which can share data between Samsung and PC. It can easily view phone files on computer, and copy data such as contacts, call records, SMS, photos to computer. The official version of Mobiledit allows you to control your Samsung through Bluetooth, infrared and cable on PC. You can simply download ringtones, MP3 players and documents to your Samsung. At the same time, you can make calls and send and receive SMS on your computer. Users need to add more plug-ins to expand its serviceable range.
With this tool, you can edit, optimize and back up the data on your Samsung. It supports saving any of your contacts to other phones. Moreover, it offers a very secure data cloud storage function, saving a lot of Samsung files on the Internet platform, and back up Samsung call records, SMS, photos, files, phone details, notes, tasks, SIM cards, applications. It also can be used to send data directly from Samsung to your computer.
It's easy to add, modify or delete anything you want. Apart from that, the photo viewer, supporting most file types, can preview and select pictures to transfer or remove from your Samsung device.
Pros: search and replace all contacts, encrypt SMS and set SMS automatic reply.
Cons: need to create a Mobiledit account beforehand and its probationary period is short.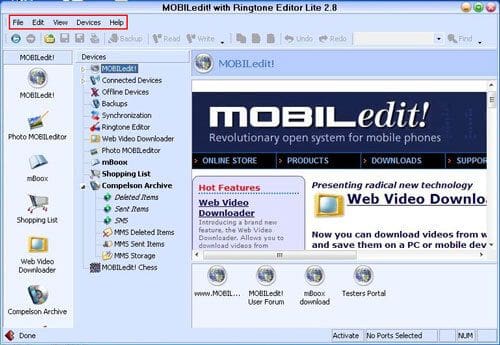 You might wonder:
Is Coolmuster Android Assistant free to transfer files between Android and computer? If you want to learn about this software, please click the link.
If you want to play Android mobile games on your Windows PC, read this guide to get useful tools.
Option 4. Samsung PC Application Suite - SnapPea
Snappea, a smart Samsung software for PC can transfer Samsung data to PC in a short time. You must install both its Windows and Android version on PC and Samsung respectively. There is a column on the right side of its interface, which contains quick access to music, video, photos, text and summary views.
It is found that Snappea contains a bunch of preset websites, the most famous of which is Google Play. This means that you can browse applications and install them directly from Google play and import or export music, videos, and even text messages for archiving as well.
Peapod, another name for Snappea, offers applications that clearly mark security, privacy, advertising and official verification info. It can transfer almost all sorts of files, including apps, music, videos, e-Books, photos and other contents or download them directly from the network to your Samsung. It can also be used to conduct backup, contact management, mass sending of SMS, screenshot and other tasks.
Pros: it's quick to transfer data and filter advertisements.
Cons: the design of its interface is not very user-friendly, especially for newbies.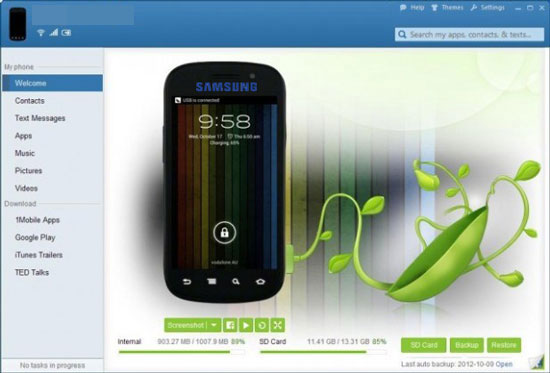 Guess you like: Seeking a useful Lenovo recovery tool to retrieve your phone data? You can take a look at this list.
Option 5. Samsung Software for PC - Samsung Kies
Produced by Samsung Inc, Samsung Kies, another Samsung PC suite, can synchronize pictures, videos, music, contacts, etc., and has a built-in independent marketplace. Users can directly download software through Kies and then synchronize it to their Samsung without using their phone to log in to the marketplace. The multi-media file management feature is relatively practical. Before performing this Samsung mobile PC suite, you need to connect it via Wi-Fi, but some functions will be limited therewith.
But before that, you are required to repair the firmware (coming with this tool). When downloading it, you will get a self-timer compressed package. After decompression, please run the "XX.exe" file to enter its interface with the figure below.
More importantly, you need to set the installation location of this Samsung PC suite first. First, disconnect the device from the PC, then close the app and restart the connection. Then enter the main window of the sampling Kies3 tool. Next, you'll enter the emergency firmware recovery interface, and you need to click emergency recovery, with a rescue code being generated. After that you should choose data recovery and wait for completion of the firmware emergency rescue.
Pros: synchronize contacts with Outlook, Google Account, etc. It supports online music playlist editing and you can sync them to your Samsung.
Cons: the latest version Kies3 is not compatible with some models of Samsung note. In addition, firmware needs to be upgraded or repaired frequently.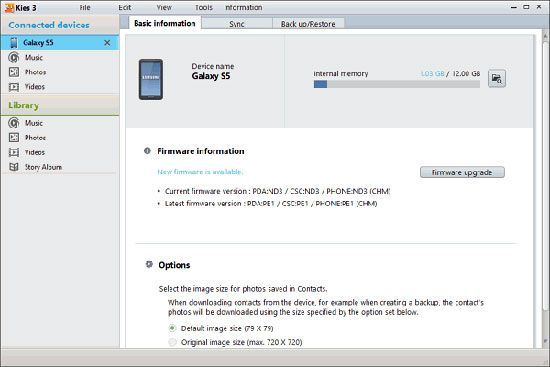 You might need: Why does a Samsung tablet get frozen suddenly? If you want to fix it, don't miss this tutorial.
Option 6. Samsung Mobile PC Suite - MoboRobo
As a Samsung Mobile PC suite for desktop with friendly interface and useful properties, MoboRobo is compatible with both Android and iOS, and it can meet the basic needs of Samsung management.
It can be used to manage music, videos, and images between your Samsung and PC by using the file manager tabs - "Adjust" and "Picture". It's easy to find more advanced features, such as editing music playlists, setting ringing tones, changing wallpaper, and editing images. On top of that, it also supports to send and receive messages from PC, and receive and edit SMS from PC in groups.
Besides, It also allows you to view some details about your Samsung phone, such as activation date, system version number, serial number, etc. Furthermore, It's light to view, and back up pictures, music, videos, contacts, SMS and call records on your Samsung as well, with built-in iPad stores.
By the way, If you are using iOS devices and there is no relevant driver installed on PC, it will help download iTunes automatically.
Pros: can operate two mobiles with different OSes at the same time and uninstall apps in bulk.
Cons: it takes a long time to install the driver, and the running interface update lags behind often.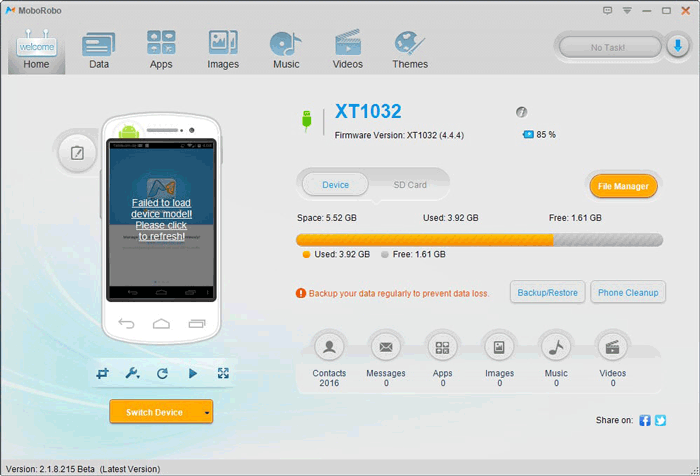 Words in the End
After analyzing 6 Samsung PC suites from the perspective of user experience, to be honest, Coolmuster Android Assistant is strongly recommended, because it boasts almost all the strengths that the other 5 program own, and also avoids the vast majority of their shortcomings. It is a technical Samsung Mobile PC suite, which specially designed for Samsung or other Android phones. Moreover, this program is still in the process of continuous version upgrading and function optimization. Hence, I believe its latest version will bring you more surprises.
Assuming you find there is still something unclear on Samsung data management. You can also let us know by leaving a comment below. Whether you are looking for Samsung PC suite or iDevice manager, we are all willing to settle your doubts.
Related Articles:
How to Transfer Contacts from Samsung to Samsung in 6 Ways?
Samsung to iPhone Transfer: Transfer Data from Samsung to iPhone
How to Transfer Photos from Samsung to Mac for Backup?
How to Delete Photos from Samsung Galaxy Permanently
Top 6 iTunes Alternatives for Android in 2023