Comcast is the go-to email for personal and business use due to its powerful capabilities, including quick sending and receiving emails and multiple platform support. Since Comcast email is often used to keep in touch with your family, friends, colleagues and more, we always need it. But what if Comcast email on iPhone is not working?
In such a case, you will want to resolve the problem immediately. Luckily, we have the solutions to the problem. This article will explore simple solutions to Comcast email not working on iPhone and help get you out of this bind.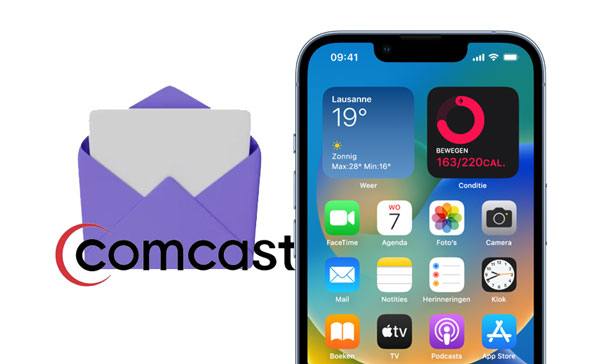 Part 1: Why Is My Comcast Email Not Working on My iPhone?
Comcast email on iPhone not working problem can be caused by various reasons like:
1. The iPhone may not have an internet connection, or the connection could be unstable.
2. Insufficient storage space in the device may hinder Comcast emails from working correctly.
3. Comcast email server settings are not properly configured.
4. You used an incorrect username and password when signing in to your Comcast account.
5. The iPhone may be operating on an outdated version.
6. Third-party applications on iPhone could be hindering the normal working of Comcast.
7. Problem with the iOS system.
No matter the reason causing this problem, there are solutions to help fix your Comcast email not functioning on your iPhone. Read on to understand better.
Part 2: How to Fix Comcast Email Not Working on iPhone in 2023?
Here are new solutions to resolve Comcast email not working on iPhone problem:
Fix 1. Check Your Internet Connection
If you've been having issues using Comcast Email, it could be due to a poor internet connection. In the case of wireless networks, try disconnecting and reconnecting them on your devices. If you are using a cellular network, ensure all necessary settings are in order. Doing this could fix the issue.
Step 1: Head to Settings on your device and locate the "Cellular" option.
Step 2: Find the Mail application and enable it to get the Comcast Email in the cellular network.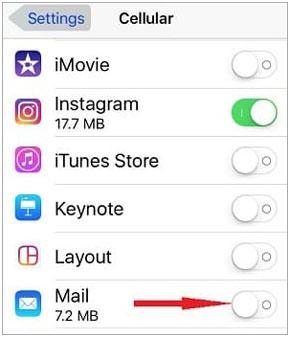 Fix 2. Make Sure Comcast Email Settings Are Correct
Comcast email not working on iPhone could also be due to incorrect Comcast's built-in settings hindering you from getting the emails. So, to ensure there is nothing wrong with the Comcast Email setting:
Step 1: Check to see if the emails are in the trash or spam folder.
Step 2: Also, check the sending limit in the settings of your Comcast email.
Step 3: Check to ensure you have not blocked the sender's account.
Fix 3. Clear Cache on iPhone to Create Space
Clearing the cache on your iPhone could be a potential fix to Comcast email not working on your iOS device. Cache is a memory that stores frequently used data and instructions from the processor to reduce the time to access the sites visited. However, with time, the cache can take up a lot of storage space which could bring problems to your iPhone. For a Comcast Email to work, there should be enough space for sending or receiving emails. Do this to clear the cache:
Step 1: To start, go to Settings on your iPhone and then access the "General" tab.
Step 2: From there, head to "iPhone Storage" and scroll through to view a list of applications available on your phone.
Step 3: Next, tap on the "Mail" app and the "Offload App" option to clear the cache.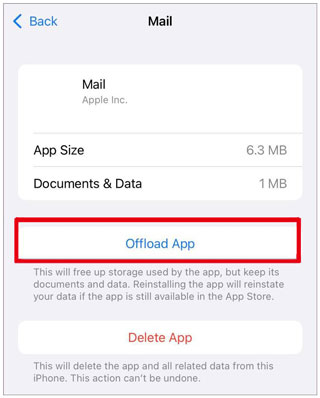 Guess you need: Planning to share your contacts from an iPhone? But how do you start it? Open this link to get the approaches.
Fix 4. Try Resetting your Password
Maybe you've entered the incorrect password for your Comcast email account. Ensure you enter the correct password while taking the extra precaution of the upper and lowercase letters as passwords are case-sensitive. However, if that also doesn't work, try resetting your password by following these steps:
Step 1: Go to the Comcast official website by using idm.xfinity.com.
Step 2: Click on the sign-in button and hit the "Forgot" link.
Step 3: After clicking on the link, you will be presented with various options for resetting your email account password. Once you change the password, try accessing your account with the new password.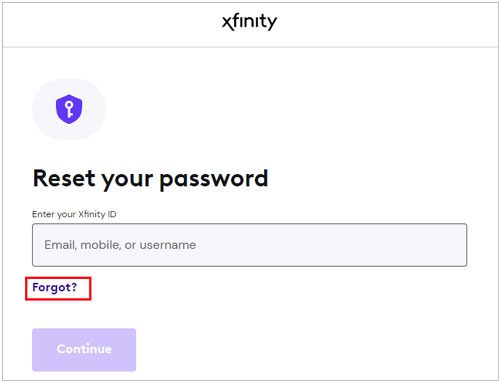 Fix 5. Check Comcast Server
Before you take any further steps, it's essential to know whether the Comcast Email Service server is down or not. To find out if there are any issues with this server, visit the "Outage report" in your Safari browser. If it reveals that the Comcast Email Server has gone offline, check "Isitdownforeveryoneorjustme" for details on who else may be affected.
If the Comcast problem affects everyone in your area, wait for them to restore service. On the other hand, if it's just affecting you personally, contact your local administrator and have them help fix it!
Alternatively, to determine if the Comcast Mail server is down, you can sign in to your account on Xfinity.com and click on the "Mail Icon". If you can access emails without a problem, the mail server should function properly. However, if an error page with code 500 appears, it could mean that, unfortunately, there's been an outage.
Fix 6. Check iOS Mail Fetch & Notification Settings
Is Comcast email still not working on iPhone? Try checking Comcast mail fetch or the notification settings. Here are the steps to adjust those settings:
Step 1: Head to Settings on your iPhone and click "Passwords and Accounts".
Step 2: Select the option for "Fetch New Data". From there, adjust your email settings for all emails or Comcast Emails. Now change the settings to the "Push" option.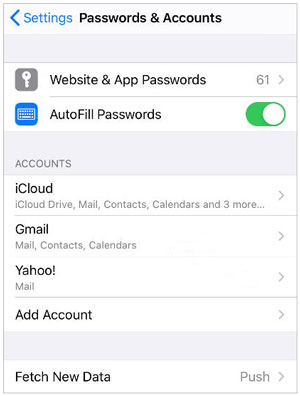 Fix 7. Remove Your Comcast Email Account and Set It Up Again
If you are encountering difficulties with your Comcast email account, removing and then reinstalling the account can be a reliable solution. Here's how to do it:
Step 1: Start by logging in to your Comcast email account on a computer and checking to ensure all your emails are there.
Step 2: Navigate to "Settings", proceed to "Passwords & Accounts", and click on the Comcast email account.
Step 3: To remove it, simply hit the "Delete" button and wait a while before adding it.
Fix 8. Remove Third-party Applications that May Block Comcast
If you can't receive your Comcast emails, disabling or even uninstalling certain third-party apps such as anti-virus and VPNs could be a sure way around this issue. It's often difficult to identify which app may block these emails from reaching their destination, but removing them together can help ensure that nothing is interfering with this process.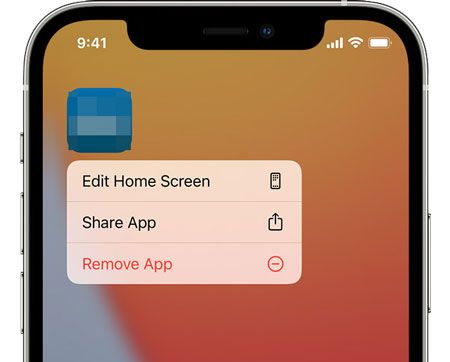 Learn more: Why the internal storage of your iPhone is empty on your computer? How can you fix it?
Fix 9. Force Restart Your iPhone
To solve the Comcast email iPhone not working issue, you can try a force restart, even though it may not work every time. A force restart forces it to shut down and then turn it back on. Here's how to do that:
On iPhone 8 or later:
Press the "Volume Up" button and quickly release, then press the "Volume Down" button and quickly release afterward. Finally, hold down the "Power" button until you see the Apple logo on your device.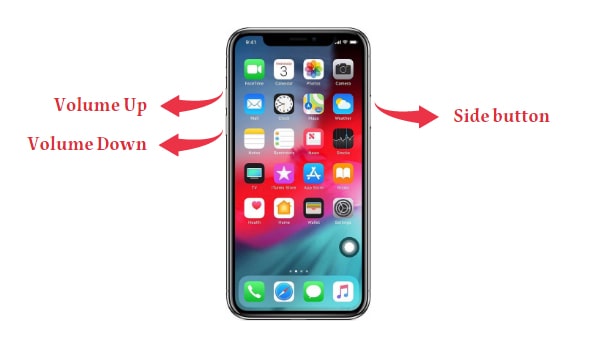 To restart your iPhone 7 or 7 Plus:
Press and hold the "Side" button and "Volume Down" buttons until you see the Apple logo on the screen.
To restart your iPhone 6 and earlier models:
Press the "Home" and "Power" buttons until you see the Apple logo on the screen.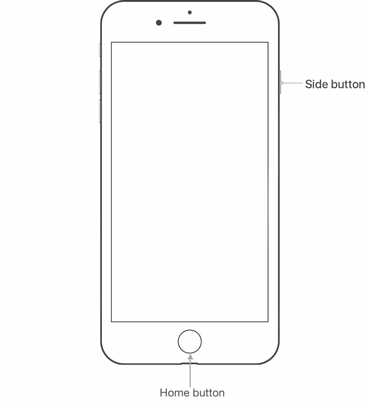 You might like: If your iPhone fails to restore, you can make use of these 6 ways to solve this problem.
Fix 10. Update iOS to Latest Version
It is important to keep your iOS device up-to-date and running on the latest version of the operating system. Performing a software update can help fix any issues with connectivity or performance. Consequently, it's likely to solve the Comcast email not working on iPhone problems. To update iOS, do this:
Step 1: Head to the Settings page on your iPhone.
Step 2: Click on "General", proceed to "Software Update", and then click "Download and Install" to receive an upgrade that may just save you from hours of frustration.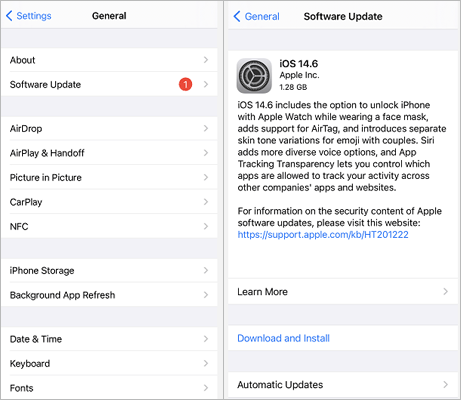 Fix 11. Reset All Settings
The Reset All Settings can help restore your device to its original settings. However, it erases everything on your device. So, it should be a last resort since your data is at risk.
On the other hand, performing this process can work to solve any issues on your device and can fix the Comcast email on iPhone not working problem in the long run. Remember to back up your data first before proceeding with this procedure.
To reset settings, navigate to "Settings" > "General" > "Reset" > "Reset All Settings". Reboot the phone and check to see if the issue was solved.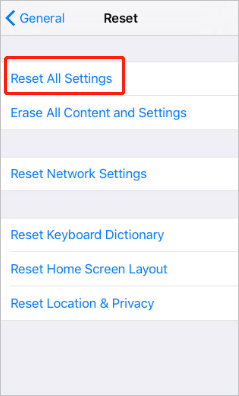 See also: iPhone Stuck on Restore Screen? 6 Easy Methods Here
Part 3: Resolve Comcast Email Not Working on iPhone via iOS System Recovery (Proven)
If you're still unable to get your Comcast email to work on your iPhone, then it's time to use a professional tool like iOS System Recovery. This tool can help you fix issues with your iPhone, including Comcast email not working on iPhone. The tool restores the iOS devices to their normal working condition with just a click of a button.
Its standard recovery mode will not delete your data, so you can fix the issue without losing files. Besides, this software can fix the black screen on iPhones and iPads. It can also repair crashing iOS devices without effort.
Main features of this iOS system recovery tool:
* Repair iPhone back to normal with simple clicks.
* Work out various iOS system issues, like green-line screen on iPhone, charging issue, etc.
* Provide you with two modes: Standard and Advanced.
* Support iOS 16 and other generations of iOS.
* User-friendly interface for anyone to use with ease.
* Operate on both Mac and Windows computers.
Download this iOS system recovery software.
Let's see how you can use this tool to fix Comcast email not working:
01To start, install the program on your computer, launch it and plug in the iPhone to the computer with a working USB cable. Choose the option for "iOS System Recovery".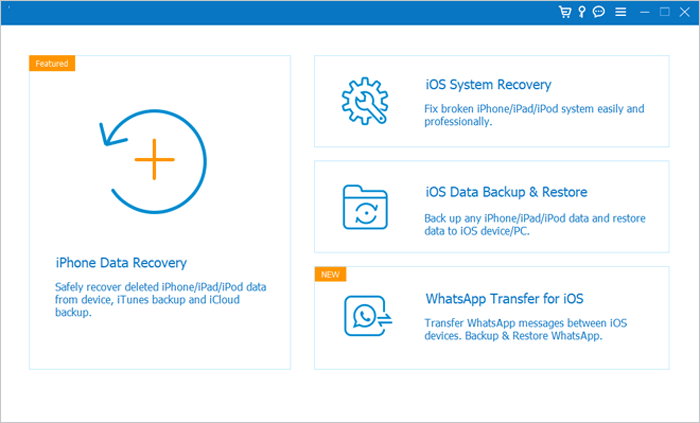 02Then press the "Start" button to start the fixing process. Choose a mode to recover your device, and tap the "Confirm" icon.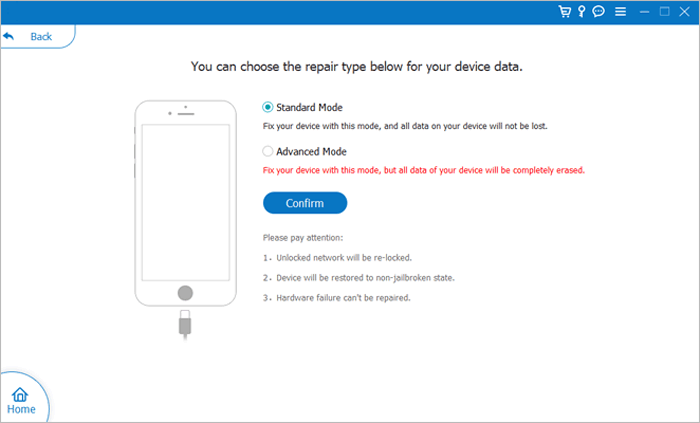 03Now, check and modify the device info on the interface. Click on "Repair" to download the firmware and repair your iOS device. Once done, check the Comcast app on your iPhone.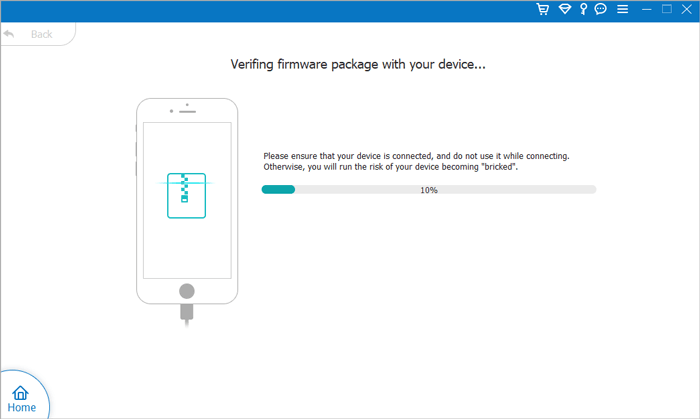 Conclusion
A Comcast email account not working on iPhone can be disturbing but worry not, as the solutions mentioned above can solve it. Whether it's about resetting your password or clearing some space on your device, all these are capable of eliminating this problem. However, if that doesn't work, then consider using a powerful tool like iOS System Recovery. It is the best tool that can fix Comcast email not working on iPhone without data loss.
Related Articles:
How to Fix iPhone Clicking on Its Own in 11 Practical Ways?
Why Is Screen Mirroring Not Working? Repair It with Easy Methods
10 Ways to Fix the iPhone Migration Not Working Error without Trouble
Troubleshooting for AT&T Mobile Transfer Not Working
What If OnePlus Switch Not Working Occurs? (Troubleshooting & Alternative)
Latest Solutions to Android File Transfer Not Working on Mac (Proven Tips)