Capturing cherished and fun memories, photos and videos is undoubtedly the most treasured form of data stored on any device. When you lose those precious memories, panic can quickly set in, especially if there isn't an existing backup. Even with a backup in place, it is still uncertain if they can be accessible from the backed-up files. So, do deleted photos stay in iCloud? Well, you'll know that from this post.
For many individuals, the photos kept on their iPhones are irreplaceable, and losing them would be devastating. We understand that mistakes can happen, so we strive to go beyond to help you recover those deleted photos. More importantly, you'll know if the photos remain in iCloud after being deleted and for how long. So, let's start.
Part 1. Do Photos Stay on iCloud if Deleted from iPhone
Yes. When photos are deleted from iPhone, they will be saved in iCloud's Recently Deleted folder for up to 30 days. This gives you ample time to go back to iCloud and restore them before they're permanently removed. However, if you don't take action within that period, they will disappear forever.
Deleting a picture from an iPhone does not mean it will disappear forever at that time; rather, it will still be in iCloud if you have already done a backup. Photos uploaded to the cloud and synced across your connected devices remain there even after being deleted from any particular device. However, if you delete a photo from iCloud, it will also be deleted from all other connected devices.
You may like:
Restore from iCloud Paused? Fix It with 9 Solutions Here!
How to Fix It When iPhone Is Disabled Connect to iTunes?
Part 2. Do Deleted Photos Stay on iCloud? Top Ways to Recover
It is time to explore some of the most reliable and efficient approaches to restoring deleted pictures. Let's check them out.
Way 1. Use iPhone Data Recovery to Recover Photos from iCloud Backup
Who would want to lose their precious memories? Of course, no one. However, without a proper data recovery strategy, you risk losing your data as it can be overwritten or deleted. If you cannot bear the thought of losing your data permanently, ensure you have a reliable iPhone data recovery solution.
Software that is known to be powerful and made for such tasks is Coolmuster iPhone Data Recovery. This simple-to-use tool has a higher success rate when restoring any deleted pictures from iPhone devices. Not only photos but also videos, contacts, Notes, etc., can be restored. Backed by powerful technology, iPhone Data Recovery provides an effective way to safely restore any of your files.
The tool allows you to quickly and easily view all your photos stored in iCloud and select the ones that need to be restored to your computer. It offers a swift process of recovering lost pictures from iCloud backup with a few clicks. This advanced tool can also extract contacts, call logs, messages, calendars, and other data from iCloud backup to your PC in no time. So if you've accidentally deleted some photos from your iPhone or iPad, know that Coolmuster iCloud Backup Recovery has your back.
You only have to follow the three simple steps, and you will get your data back in no time. Promising right? You won't waste your time here; everything is very simple, and with its clean interface, you will not need any guidance to get back your precious memories.
Top hallmarks of Coolmuster iPhone Data Recovery:
Recovers photos from iCloud to the computer selectively.
Preview photos first and restore those you want.
Recover lost data from iCloud backup, iTunes backup and iPhone directly.
High recovery speed and greater success rate.
Supports various files, including pictures, notes, contacts, SMS, and more.
Don't overwrite existing files on your iPhone.
Supports overall iPhone models (iPhone 14/13/12/11/X...) and the latest iOS 16.
How to restore photos selectively from iCloud backup using iPhone Data Recovery.
01Install the program on the computer and launch it.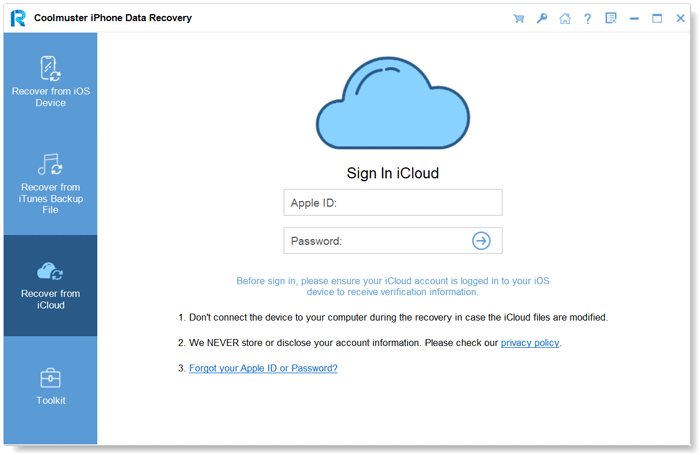 02Sign into your iCloud account with your ID and passcode you always use on the iPhone. Enter the code sent on the iPhone to pass the two-factor authentication security feature. After that, hit "Verify."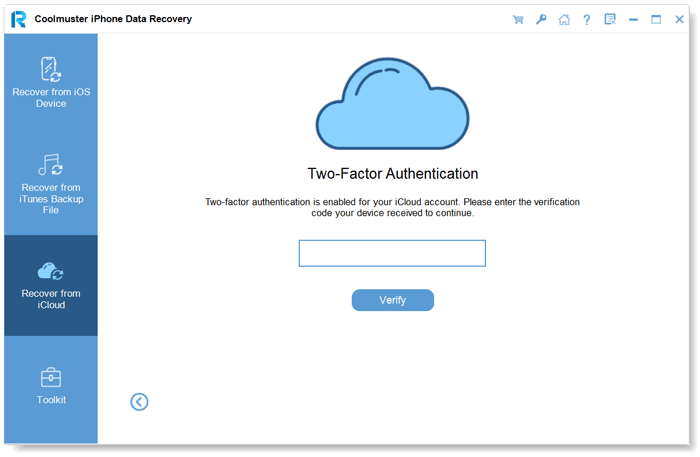 03Choose the "Photos" option you want to recover, press the "Next" button, and scan your data.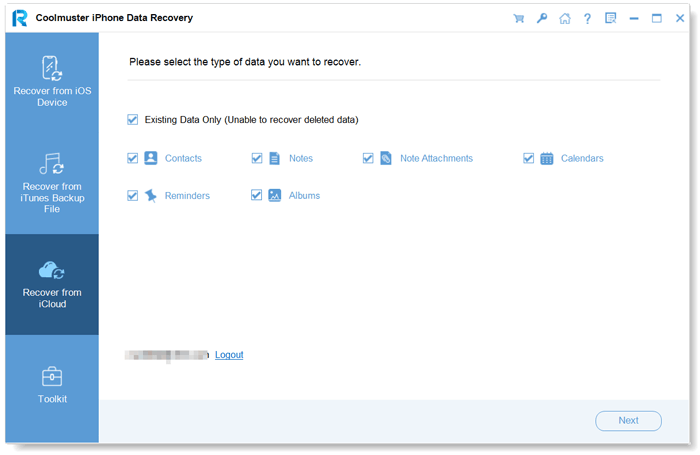 04Now, on the left side panel, select "Photos." Scroll through all your picture records and tick which pictures you would like to restore. Finally, hit the "Recover to Computer" button in the bottom right corner to regain the photos from iCloud onto your computer.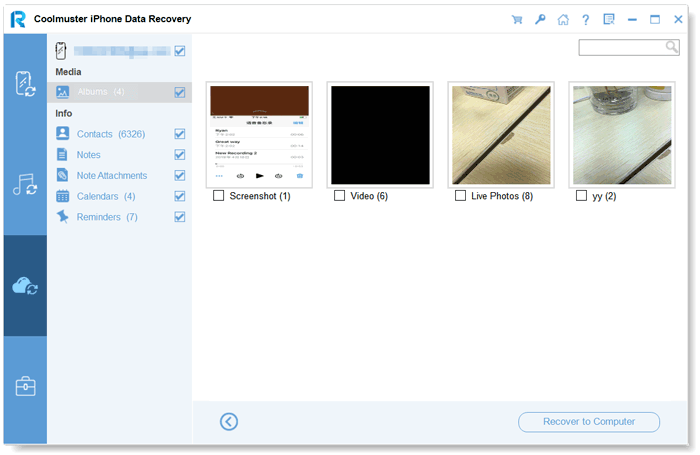 See more:
13 Practical Ways to Fix iPhone Keeps Turning On and Off Randomly
Fix "Cannot Restore Backup to This iPhone Because the Software Is Too Old"
Way 2. Retrieve deleted pictures from iCloud Recently Deleted Folder
Do photos stay in iCloud forever? As we know, when photos are deleted from your iPhone, they aren't permanently gone. You may still find them in the Recently Deleted folder. However, they'll only be there for a short period. After 30 days, any photos in the Recently Deleted folder will be permanently deleted. So, if you know 30 days are still not yet over after the deletion, head to Recently Deleted folder then recover them using these steps:
Step 1. Start by heading to the Photos app found on your iPhone.
Step 2. At the bottom of your screen, you'll find "Albums" in the bar.
Step 3: Navigate to the 'Other Albums' tab, then select the 'Recently Deleted' option (how to recover deleted photos after deleting from Recently Deleted?).
Step 4. Retrieve the pictures you desire to be recovered by simply selecting them.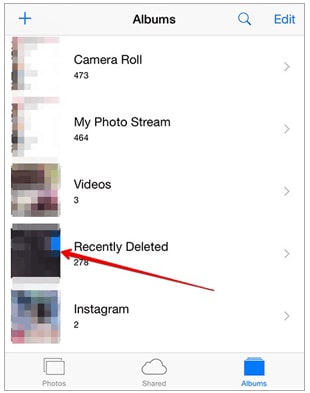 Way 3. Restore iCloud Pictures from iCloud.com
If, for some reason, you don't see the picture in your "Recently Deleted" section of Photos, there's still a chance that it may be restored with iCloud. Here is a simple step-by-step process on how to do this.
Step 1. Head to an iCloud website where you will get access to all cloud services offered by Apple.
Step 2. Log into your account with your Apple ID and password. To access your account, kindly provide your login name and password.
Step 3. Once you have logged in successfully, head to the "Photos" tab on the website.
Step 4. Head to the album titled "Recently Deleted." The list shows those pictures to be deleted from the system within 30 days.
Step 5. Tap on the "Recover" button to restore the chosen photo.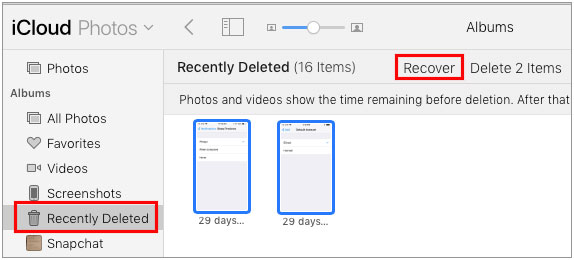 Part 3. FAQs about iPhone Photos Restoring
Q1. How long do photos stay in iCloud
Whenever you delete a picture from your Pictures on iCloud site, it will automatically be erased from all of the devices which have enabled iCloud Photos. However, if you still want to recover them at a later date, you've got 30 days to restore them before it gets permanently deleted. Once this duration elapses, it will be deleted permanently. That's why it's essential to back up your photos in case you need them again.
Q2. Can I restore permanently deleted pictures from iPhone
Yes. It's possible to recover your deleted iPhone photos without an iCloud backup. All you need to do is reset your device by erasing all content and settings.
To begin, navigate to "Settings" and select the "General" option. Afterward, press the "Reset" button and tap "Erase All Content and Settings." Then set up your iPhone again while selecting the "Restore from iCloud Backup" feature in "Apps and Data Screen."
Then sign into your Apple ID account and tap on the "Choose backup" option. Choose the recent backup to restore the phone.
Conclusion
The query "do deleted photos remain on iCloud" should no longer baffle you. You have a few options to get your photos back, including restoring from the Recently Deleted folder and iCloud backup. It is important to keep regular backups of photos stored in iCloud in case you need them again. In addition, if you've already deleted the photos, you can still recover them. Coolmuster iPhone Data Recovery is the best tool to recover deleted pictures from iCloud backup. It is a safe and reliable way to recover your photos. If you ever find yourself in such a situation, this is the tool to use.
Related Articles:
iPad Won't Restore or Update? 7 Solutions to Fix It
How to Fix iPhone Purple Screen of Death? 4 Easy Solutions
What If My iPhone 14/13/13 Pro/12 Screen Is Yellow? Here's The Fix!
How to Control iPhone with Broken Screen Effortlessly? (6 Proven Ways)
4 Best Methods to Factory Reset iPhone without Password/Passcode