Having taken too many photos on your iPhone, you could possibly sync photos to iCloud as a backup without any hesitation. But you should know that saving photos on iCloud is not 100% foolproof. So sometimes when you decide to give up your old iPhone, deleting all files saved on your device is far from being enough. You should also delete private files saved on your iCloud. Don't know how to do it? Read the below tutorial!
See Also: How to Access iCloud Photos
Speaking of iCloud backup, here are two important features you can't miss: iCloud Photo Sharing and My Photo Stream. iCloud Photo Sharing allows you to share your photos/videos to anyone by including their email address, by creating what is called a Shared Streams. And files sent to the Shared Streams will be saved on iCloud. As to My Photo Streams, it means that if you have My Photo Stream feature turned on, every time you take a photo, it will be automatically "sent" to all your other devices (iDevices, Macs and PCs).
User Guide: How to Delete Photos from iCloud
1. Delete iCloud Photos on Your iDevice
To delete iCloud photos on your iDevice, you need to delete all photos from My Photo Streams and Shared Photo Streams.
* Delete photos from Shared Stream
- Go to your Photos App and tap on the Shared icon at the bottom.
- You can do this by going in to each of the stream and delete from there, or by selecting Edit mode and tap on all the Red delete icon.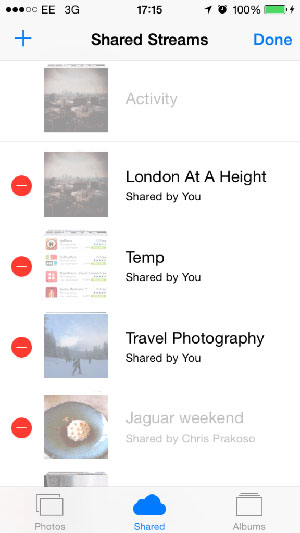 * Delete photos from Photo Streams
- Tap on Delete Photo Stream button to delete this particular Shared Stream.
- Go to your Photos App and tap on the Albums icon at the bottom.
- Find a folder called My Photo Stream. Go inside and delete ALL the photos there.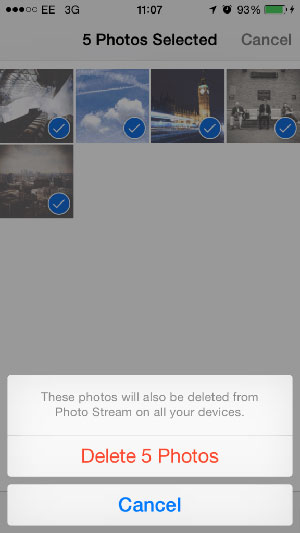 Note: After deleting photos from iCloud, you should disenable iCloud Photo Sharing and My Photo Streams on your device. Here, just go to Settings > iCloud > Photos. And on the main interface, turn off the two icons.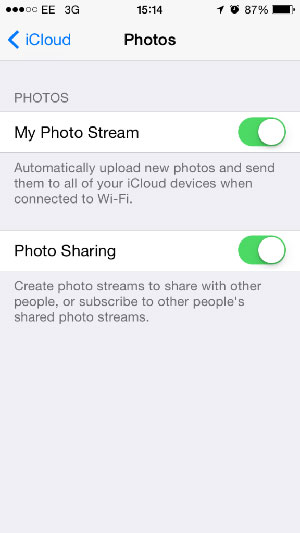 More Related Articles:
* Hide & Delete Apps in iCloud
2. Delete iCloud Photos on Your Computer
- Enter the iCloud.com site and log into the iCloud account with your iCloud ID and password. Now, select a trusted device to receive an authentication code in the Verify Your Identity box. Then click Next to enter the code you have received.
- Then, you can find Photo icon on the main page, and then select Albums from the top of the iCloud Photos.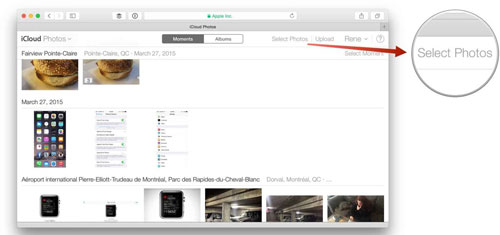 - Click All Photos album and tick the Select Photos option. Now, choose all pictures you wish to delete, and click the Delete option to remove all of the selected items.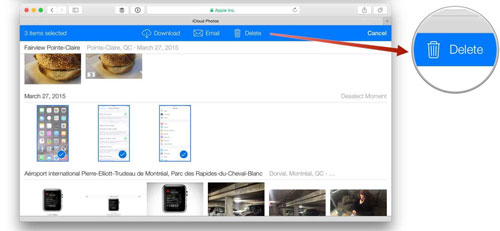 Conclusion
Properly managing your photos in iCloud is essential to ensure the security and organization of your digital memories. While iCloud provides convenient backup and synchronization features, it's important to understand how to delete photos from iCloud when necessary. This article has provided a comprehensive user guide to help you delete photos from iCloud on both your iDevice and computer.
Utilize the features and controls provided by iCloud to optimize your photo management experience and enjoy the benefits of a secure and accessible photo storage solution.
Related Articles:
How to Delete Movies/Videos on iPod
Tips to Remove Multiple Photos on iPhone
Fix iPhone Clicking on Its Own in 11 Useful Ways