Apple has created phones that can take amazing photos. Photos so beautiful you'll want to share them with the whole world. But sometimes, you may be unable to share photos from iPhone, which can be annoying. Honestly, most iPhone users face this issue, but the best part is that it can be fixed. This article will discuss simple methods to fix this issue completely and get back to taking and sharing your photos; enjoy!
Part 1. Why You're Unable to Share Photos From iPhone
Some malfunctions and unpredictable changes may cause an error while trying to share your photos. Below are some of the possible causes of why unable to share iPhone photos:
* The photos are saved in iCloud, and your iPhone is not connected to iCloud at the moment.
* You have activated Low Battery Mode.
* Lost or unstable network.
You may like:
How to Free Up WhatsApp Storage on iPhone 14/13/12/Xs/X/8/7?
iPhone Won't Update? Here's How to Fix!
Part 2. How to Fix iPhone Unable to Share Photos [9 Fixes]
Now that you have learned what makes you unable to share photos on your iPhone, you can look at ways to solve this problem. Below are techniques that you can use to troubleshoot this problem.
Fix 1. Reboot Your iPhone Device
This is one of the simplest solutions. You just need to reboot the iPhone, and your problem will be fixed. If a bug causes this issue in your iPhone's software, a simple reboot will likely fix it.
To reboot iPhone 8 and later:
Step 1: Quickly press and release your Volume Up key and do the same for the Volume Down key.
Step 2: Long press your Power key. A slider will appear on your screen. Slide to switch off.
To reboot iPhone 7 Plus or 7:
Step 1: Press your Power and Volume Down keys for a few seconds.
Step 2: A slider will appear on your screen. Drag it to switch off the device.
To reboot iPhone 6, SE, and earlier:
Step 1: Press your power key and Home key until a slider appears on your screen.
Step 2: Drag this slider to switch off your device.
Fix 2. Turn off the Low Power Mode
What comes to your mind when you hear Low Battery Mode? What's its main function? How does it work? When your iPhone's battery discharges up to twenty percent, your device asks you to activate Low Power Mode if you wish. This mode helps you save the battery when running out of charge. It does this by disabling some features like Hey Siri and others.
The Low Power Mode feature influences the sharing of photos; therefore, you can disable it to fix your problem.
Here is how to disable Low Power Mode:
Step 1: Open "Settings" and select "Battery."
Step 2: You will see a toggle button next to the Low Power Mode. Tap the toggle switch to turn off this feature.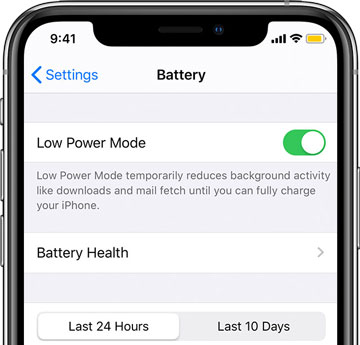 Step 3: Now you can proceed to check if the device can now share photos.
See more:
How to Manage and Free Up Storage Space on iOS 11?
Failed to Export or Delete iPhone Photos with iCloud Photo Library Enabled? [Solved]
Fix 3. Check the Internet Network
Poor internet connection will also cause your iPhone not to share photos. So, you need to check your iPhone's internet connection whenever your device fails to share photos. You can switch to a strong Wi-Fi network if you have been using your Cellular data. Similarly, you can try restarting the router.
Fix 4. Reset Your Network Settings
Sometimes you may accidentally restrict some of your apps from accessing the internet, even though your iPhone is connected to a strong Wi-Fi network. Consequently, the iPhone will warn you of some errors while trying to share your photos. To fix this issue, you need to reset your Network Settings by following the steps below:
Step 1: Open Settings and select General.
Step 2: Tap Reset and then select Reset Network Settings.
Step 3: Wait as the iPhone resets all your network settings to default. The device will then restart automatically.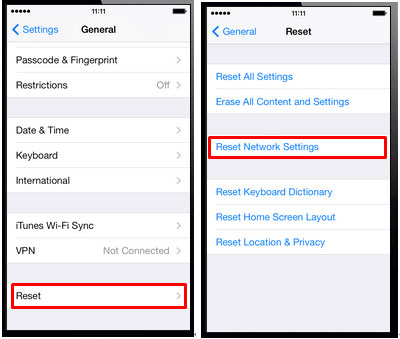 Fix 5. Sign Out and Into Your iCloud Account
This method works for those iPhones that cannot share photos with iCloud. You need to log out of your account, wait for a few seconds and then log in again. In most cases, this helps. Below is the procedure:
Step 1: Open the Settings app
Step 2: Find your ID and select it.
Step 3: Scroll through and select Sign Out.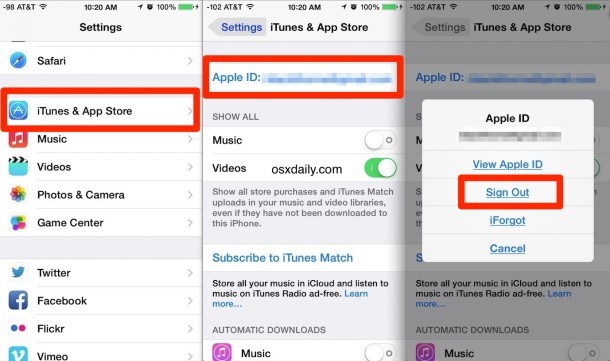 Fix 6. Toggle Off iCloud Photos Library and On Again
This method suits you if your problem is caused by your iPhone's inability to connect to iCloud. You need to turn off your iCloud Photo Library (How to use iCloud photo sharing?), wait for a while and then switch it back on.
Step 1: Open your Settings.
Step 2: Select your name, then tap iCloud.
Step 3: Select Photos to switch off your iCloud Photos.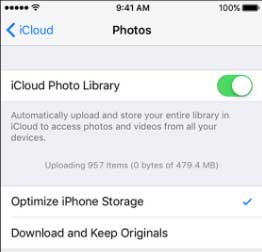 Fix 7. Free Up Space on iPhone
Are you running out of storage on your iPad or iPhone? If yes, you may be unable to download your photos from iCloud. You must empty some space on your device by deleting files you no longer need or clearing the unnecessary cache. For more, you can switch to the page: how to free up space on iPhone?
Fix 8. Update Your iPhone
Updating your iOS to the latest version fixes many bugs. Whenever your iPhone X/8/7/6 cannot share your photos in your iOS, you can always check for an available updated version.
To update your iOS:
Step 1: Open your Settings.
Step 2: Select General and tap "Software Update" to check for a new version.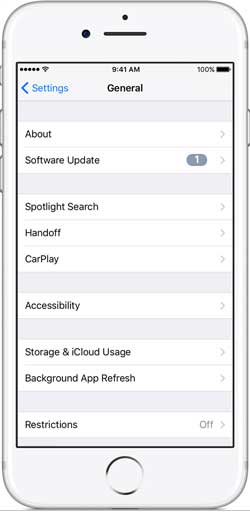 Step 3: Ensure your device has a good internet connection and your battery is charged well. Next, hit "Update" and wait as your iOS is upgraded to the newest version.
Fix 9. Try Another Transfer Way to Share iPhone Photos
If all the methods above don't work out for you, then you can try using Coolmuster iOS Assistant, a top iOS data managing and transferring software. It easily allows you to transfer photos from iPhone to PC or Mac computer, whether your iPhone cannot share photos or there occurred some error while trying to share.
iOS Assistant is convenient because, with just one click, it can export pictures from iPhone entirely or slectively. It is compatible with most Apple devices, including iPod, iPad, and iPhone. If you install this tool, your problem can be solved quickly.
Key Features of iOS Assistant:
* Share photos, videos, music, contacts, notes, messages, calendars, bookmarks, apps, etc. from iPhone.
* Edit and manage iPhone/iPad/iPod data on computer directly.
* Easy to use and 100% secure.
* Supports Mac and Windows computers.
* Compatible with all versions of iPhone, iPad and iPod touch, including the latest iPhone 14/13/12.
How to use iOS Assistant to share photos on iPhone;
01 Install the program on the computer and connect your iPhone to a lightning cable. Trust the computer if prompted.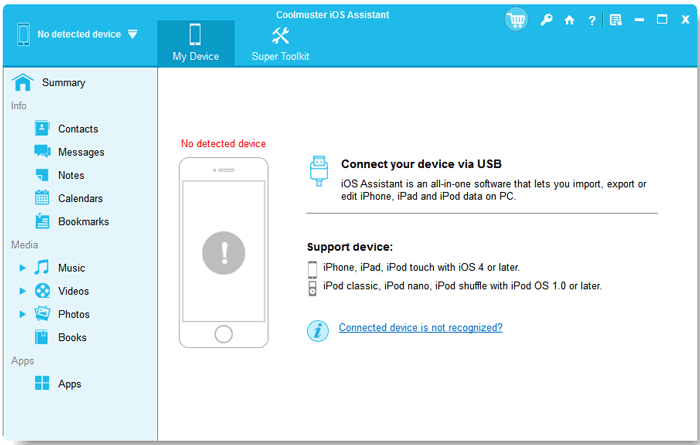 02 The app will detect your phone and scan the data. On the left panel, you'll find the files categorized. You can choose "Photos", preview and choose the picture files you wish to transfer as you tick them out.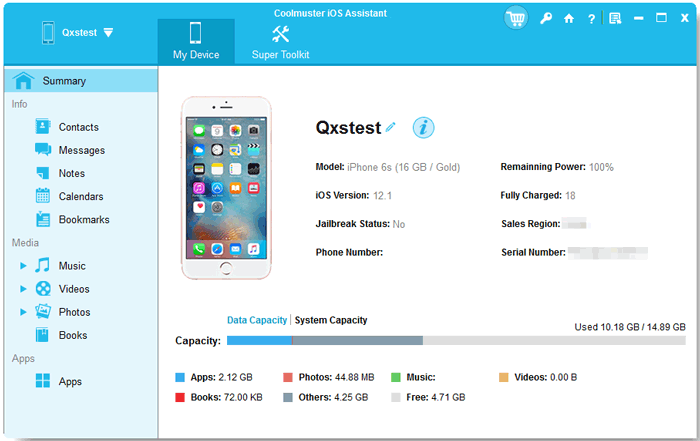 03 Once done, tap "Export" and specify the destination location to start the photos transfer from iPhone to computer.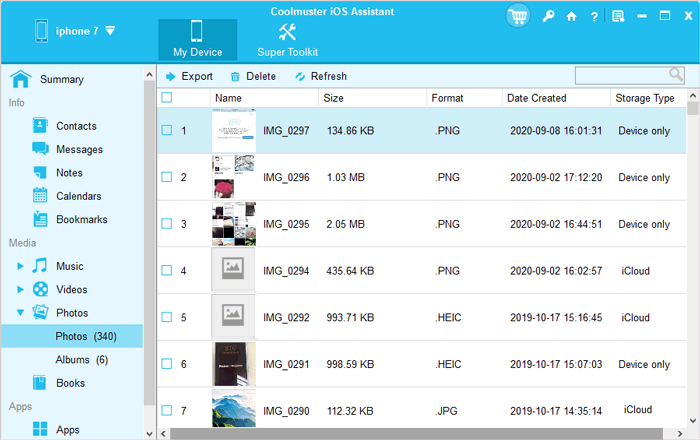 Summary
Anytime you are unable to share photos on iPhone, just follow the above simple methods to solve your problem. If all else fails, or you want to try a smarter way to share photos on your iPhone, you can choose Coolmuster iOS Assistant, a tool that lets you freely share all the data on your iOS device.
Related Articles:
iPhone "Save Image" Not Working, How to Fix?
How to Clear WhatsApp Documents and Data on iPhone?
iPhone Internal Storage DCIM Folder Is Empty on Windows 10? Fix It Here
3 Methods to Manage WeChat Storage on iPhone [Fixed]
Not Enough iCloud Storage? Fix This Issue with This Full Guide