As the popularity of video content continues to soar, managing large video file sizes has become a major concern. Video compressors are essential–whether you're a content creator, a social media enthusiast, or simply want to save storage space on your phones, PCs or on the cloud. A free video compressor is an ideal pick if you're on a budget for your compression needs. In this blog post, you will discover the top nine free video compressor tools available today, each with unique features and benefits.

Part 1: Why Do We Need a Video Compressor Free?
Reasons you need a video compressor include:
Storage space management. Large videos can take up plenty of storage space. Using a video compressor can help reduce its size to fit your storage needs.
Enhanced shareability. Platforms such as Discord place a limitation on file size uploads. If your video is larger than the specified limit, using a video compressor can help you bypass this restriction and upload videos for easier shareability.
Read more guides:
How to Convert Video to Audio File in 10 Comprehensive Ways
The Top Offline & Online MP4 to MPG Converters You Should Know
Part 2: The Best Free Video Compressors Available
If you're looking for a video compressor, getting a free version can help you test the product's functionalities and features before deciding to upgrade to a premium version. This section compiles some of the top video file compression free tools.
Compressor 1: Video Converter Ultimate
Free video compressor tools provide a unique advantage to users who want to compress videos. The main factor binding these tools is that they are all free to use. However, if you're looking for a little extra kick with your free video compressor, Video Converter Ultimate is an all-in-one solution best suitable for you. It allows video and audio compression in multiple formats.
Unlike some free video compressors, Video Converter Ultimate's free version has several key features allowing you to perform a wide range of functions.
Features of Video Converter Ultimate
Compress videos in multiple formats.
Edit your videos with the wide range of video-editing features available.
Compress your files in bulk.
Use AI to enhance video quality.
Pros of Video Converter Ultimate
Free trials available.
Retain your file quality.
Convert and compress multiple file types including images, videos, audio, etc. in multiple formats.
Cons of Video Converter Ultimate
Like most reliable free video compressors, Video Converter Ultimate limits a few of its high-end features in a premium package. Fortunately, the free version is just as helpful for compressing your videos.
How to Use Video Converter Ultimate
01Download and install this tool for your Windows or Mac device from the official website.
02Once the app is running, select Video Compressor from the Toolbox and add the video files you wish to compress in the tool.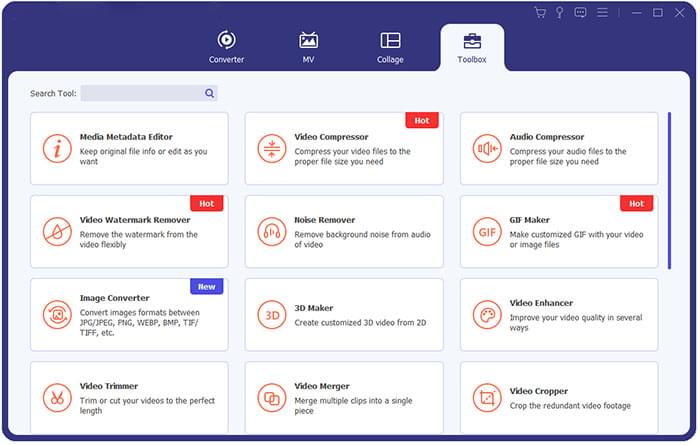 03Set your video output preferences, including its quality settings and the destination folder for the compressed file. Click the Compress button and let the compressor handle the video file compression in a few moments.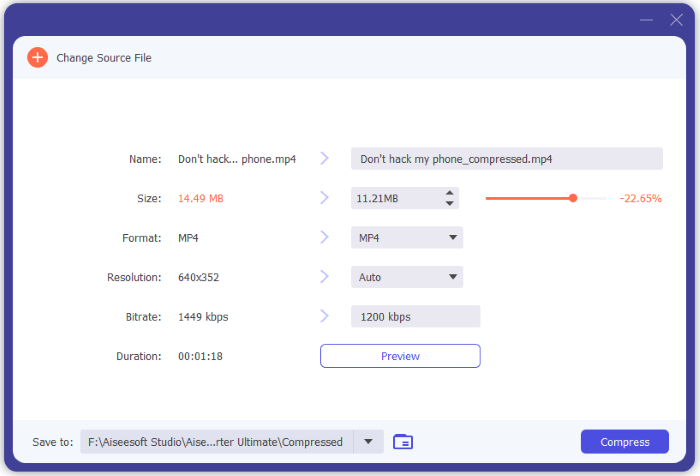 Compressor 2: VLC Media Player
VLC Media Player is an open-source media player featuring extra video editing and converting features. It is one of the best tools to compress large video files for free. Unlike most free video compressor tools, VLC doesn't include watermarks on output files. In addition, it has a simple interface.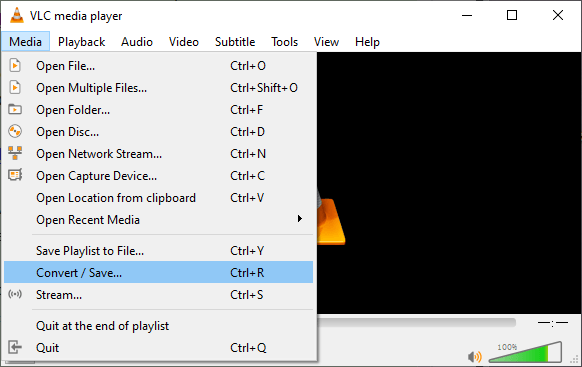 Features of VLC
Compress videos in multiple video format outputs.
Edit your videos with multiple editing features.
Pros of VLC
Convenient keyboard shortcuts.
A simple interface.
Support most popular format types
Available on all devices.
Best tool to compress files for free.
Cons of VLC
Media libraries can be difficult to navigate.
Limited support and updates.
Compressor 3: Movavi Video Converter
Movavi Video Converter can convert media files to over 180 formats. It has an inbuilt editor and can compress videos without quality loss. In addition, it is easy to use, even for beginners, and the trial version is free to use.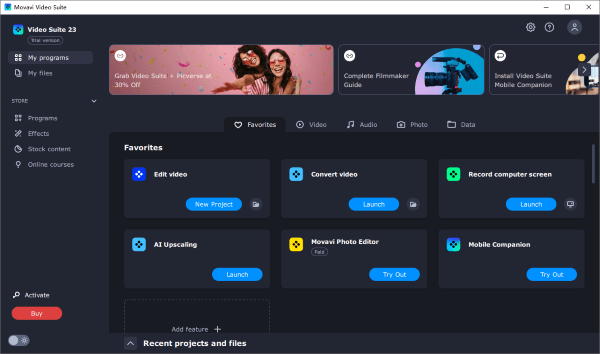 Features of Movavi Video Converter
Convert and compress videos at an impressively high speed.
Support compression and conversion in over 180 formats.
Edit videos with a wide range of video-editing tools.
Compress and convert video files in bulk and batches.
Additionally, Movavi Video Compressor has a broad range of pre-defined compression profiles. This makes it easier for you if you're unfamiliar with technical video settings. The presets are designed for specific devices and platforms, such as Android, iPhone, YouTube, Facebook, etc.
Pros of Movavi Video Converter
Easy to use interface.
Multiple extra features, such as subtitle search.
Fast file processing.
Free to use.
Maintain a good balance between file size reduction and video quality.
Cons of Movavi Video Converter
It lacks a DVD burner feature.
Compressor 4: FFmpeg
FFmpeg is a free, open-source video compressor and converter. The free compress-file tool supports multiple video formats, including MP4, MOV, AVI, etc.
In addition, it is available for Linux, Mac, and Windows operating systems. You can use FFmpeg to convert, record, stream, and compress videos for free.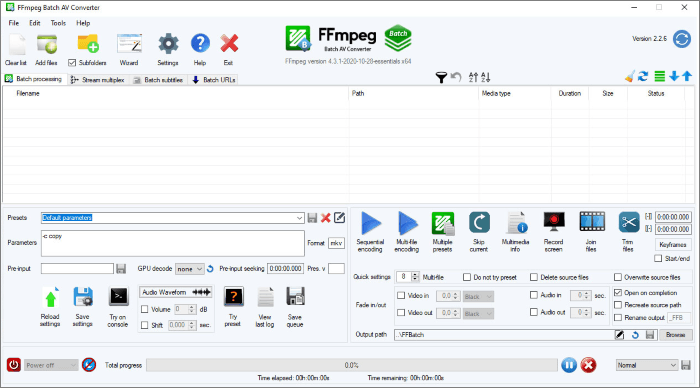 Features of FFmpeg
Edit videos using the in-built editor for cropping, merging, etc.
Capture your screens effortlessly.
Pros of FFmpeg
Free, open-source, and cross-platform.
A user-friendly easy-to-navigate interface.
Support a wide range of video formats.
Powerful with plenty of extra useful features.
Cons of FFmpeg
There may be a steep learning curve for starters.
FFmpeg is best for individuals with some technical knowledge and some experience with video conversion, especially with commands
Compressor 5: HandBrake
HandBrake is an open-source software that you can use to compress a video for free.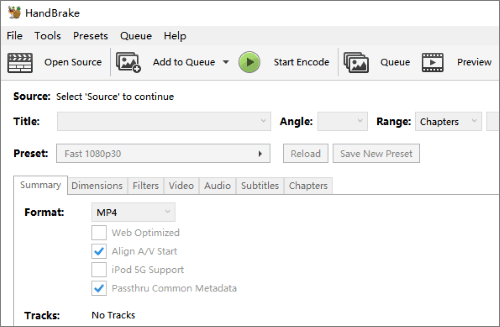 Features of HandBrake
Process videos in bulk.
Built-in device presets.
Support VFR and CFR.
Convert files to and from multiple formats.
Leverage the built-in device presets to process your files.
Pros of HandBrake
Support batch conversion or large files.
A user-friendly interface.
Work with a multitude of video formats.
Cons of HandBrake
Its advanced features may be overwhelming for beginners.
HandBrake is ideal for individuals looking for a free, video compressor for PC or Mac.
Compressor 6: Video Converter, Compressor by Inverse.AI [Android]
Video Converter, Compressor is another free video compressor key compression features and functionalities. It offers several free products, such as a video converter.
Note that the converter is solely available for Android devices. However, it supports multiple video formats, including MP4, FLV, VOB, MOV, MPG, WMV, MTS, MPEG, MKV, etc.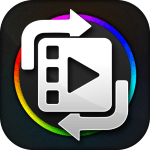 Features of Video Converter, Compressor
Compress videos in batches.
Compare compressed and uncompressed videos.
Choose your process speed.
Choose different codecs.
Despite being an active free video compressor, it can also run in the background while you continue with other tasks, thus encouraging minimal disruptions.
Pros of Video Converter, Compressor
Support batch video processing.
Support the most common video formats.
Cons of Video Converter, Compressor
Its main caveat is that it only works on Android devices.
Compressor 7: Wave.video [Online]
Wave.video is among the top free video compressor tools on the market supporting multiple file formats, such as MOV, M4V, M2TS, MTS, MP4, WEBM, WMV, AVI, MKV, TS, TSV, etc. If you don't want to spend time adjusting the compression levels, Wave.io is the best option for you. It has two compression options:
Optimized: Videos have crisp imagery. However their quality is a bit lower and small in size.
Maximum: The result is larger file size maintaining image and audio quality.

Features of Wave.video
Compress videos in multiple formats.
Compress videos in multiple resolutions including 360p, 480p, 720p and 1080p.
Resize your videos for utilization on Instagram, YouTube or TikTok.
Pros of Wave.video
Run online.
Advanced built-in video editor.
Free.
A thumbnail maker for your videos.
Cons of Wave.video
Since it's available online, it won't work if you don't have an internet connection.
Compressor 8: FreeConvert [Online]
Like most tools to compress videos for free, FreeConvert is a reliable online free video compressor. It is a simple free video compressor that allows you to choose between H.265 and H.264 codecs.
In addition, you can choose to target file size, bitrate, video quality, or file resolution, for your compression needs. Note that since FreeConvert is solely an online software, you may need to have plenty of bandwidth for uploads and downloads.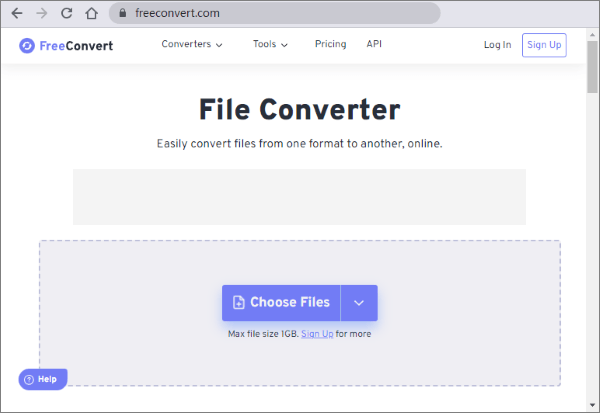 Features of FreeConvert
Convert and compress video files up to 1.5 GB for free.
Convert your video files effortlessly.
Support batch processing.
Pros of FreeConvert
Compress videos for free.
A simple user interface.
Support batch video compression.
Cons of FreeConvert
The free version limits file sizes and the number of files you can convert monthly. However, FreeConvert has multiple premium options to fit varying needs and budgets.
Compressor 9: Clideo [Online]
Clideo is an alternative free video compressor that works online. Since it's an online platform, Clideo works with most web browsers.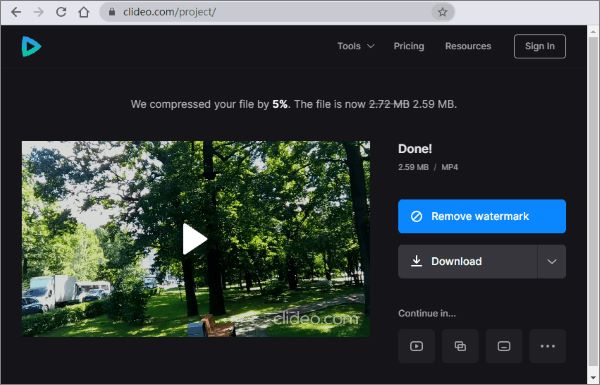 Features of Clideo
Preview your files before compression.
Support batch processing.
Pros of Clideo
Easy to use.
Free video compressor that is also web-based, meaning you don't have to download any software.
Cross-platform and can work on all devices.
Quick compression speed.
Keen on user privacy and data security and delete uploaded files from the cloud in a matter of hours after compression.
Allow you to preview your video before compressing it.
Cons of Clideo
Clideo lacks many additional features.
Generally, Clideo is a good free video compressor tool for just about anyone who wants a reliable video compression tool. While it lacks some key features available in other free video compressors, Clideo offers the extra advantage of fast compressions and high-level security encryptions.
More useful guides:
11 Ways to Convert DAT File to MP4 Without Losing File Quality
The Best MP4 to MP3 Converter: 13 Hot Software You Can't Miss
The Bottom Line
Do you want to compress your videos without spending much? With a free video compressor such as Video Converter Ultimate, you can compress large videos in bulk without having to upgrade your account. Download Video Converter Ultimate to enjoy limitless free video compression and conversion.
Related Articles:
[Vlog Software] 11 Best Vlog Editing Software for Vlog Lovers
10 Best MOV Editor Options - Edit MOV Files Easily [Updated Guide]
12 Best Video Converter Software for Windows 11/10/8/7 (Free & Paid)
10 Amazing MP4 Screen Recorder Options: Record MP4 Videos Easily
Top 14 Best AVI Video Editors | Easily Eidt Your AVI Files
Select the Best GoPro Editing Software - 10 Excellent Options