It is never easy to switch to a new phone, especially when you have a lot of contacts. If you have recently switched to a new iPhone device, then you know how challenging it is to transfer contacts.
Fortunately, there are many apps that can transfer your contacts to your newly purchased iPhone in a few clicks. These iPhone contact transfer apps are safe since the data is automatically sent over a secure connection.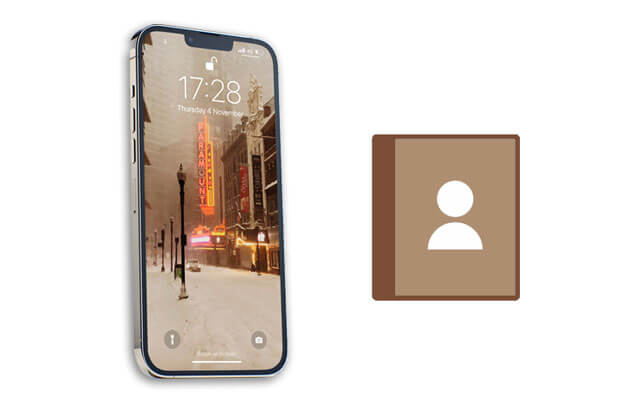 1. Coolmuster Mobile Transfer
2. Dr.Fone Phone Transfer
3. iSkysoft iTransfer
4. Syncios Data Transfer
5. Xilisoft iPhone Transfer
6. Move to iOS
7. SHAREit
8. NQ Contacts Sync
1. Coolmuster Mobile Transfer
If you want to transfer your contacts without any data loss easily, opt for the Coolmuster Mobile Transfer software. This iPhone contact transfer app directly copies all your contacts from one iPhone device to another, and the transferred contacts will not overwrite the existing contacts on your target iPhone. Thus, it can make transferring easy, quick, and effortless.
The interface is clean and simple. You can select the contact option and transfer your contacts in 1 click. Moreover, it is highly compatible with most iOS devices and also supports Mac and Windows Oses. What's more, it can also move contacts from iPhone to Android and vice versa.
Key features:
* Support the latest iOS 16.
* Support one-click contacts transfer.
* Compatible with most iPhones, iPads, iPods (iPod touch series), and Android devices.
* No data loss in the transfer.
* Run smoothly on Mac and Windows OSes.
Pros:
* Easy to transfer contacts with no limit on numbers.
* Also supports notes, bookmarks, books, and calendars between iOS devices.
* Copy photos, music, videos, and more from an iPhone to an Android phone.
* Support more data types during Android to Android transfer, such as SMS, apps, media files, etc.
Cons:
* It is a paid desktop app.
* At present, it cannot transfer notes between the iPhones running iOS 11 or later.
How to use this contact transfer app on a computer:
Step 1: Download the Right Version of the Program
Please download the Windows or Mac version of Coolmuster Mobile Transfer on your computer. Then install and launch it.
Step 2: Connect Your iOS Devices
Connect both iPhone devices to the computer using USB cables. The program will start to detect the devices automatically, and a pop-up window will show on the computer. Click the Trust option on your mobile devices.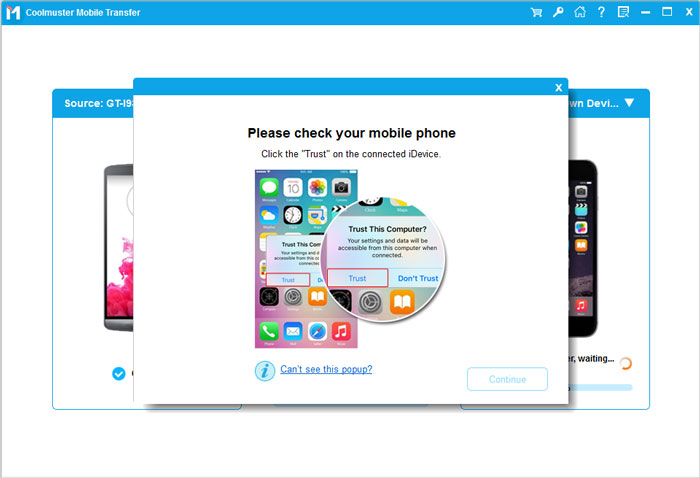 After the software recognizes your devices, you'll see the main interface displayed, showing all file categories.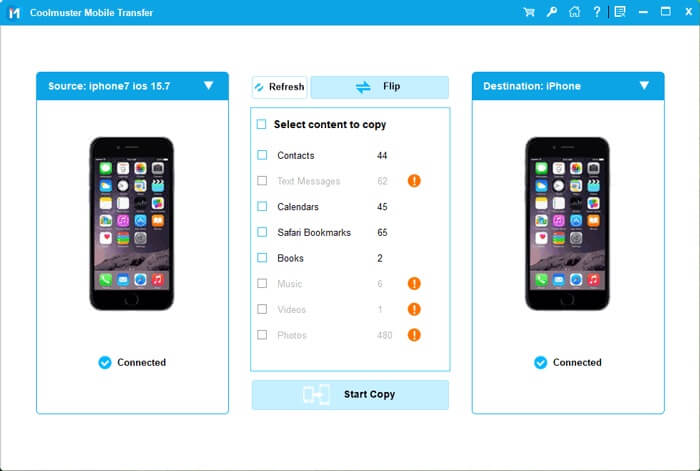 Step 3: Transfer Your iPhone Contacts
Choose the Contacts option, and click the Start Copy option for the transfer process to start.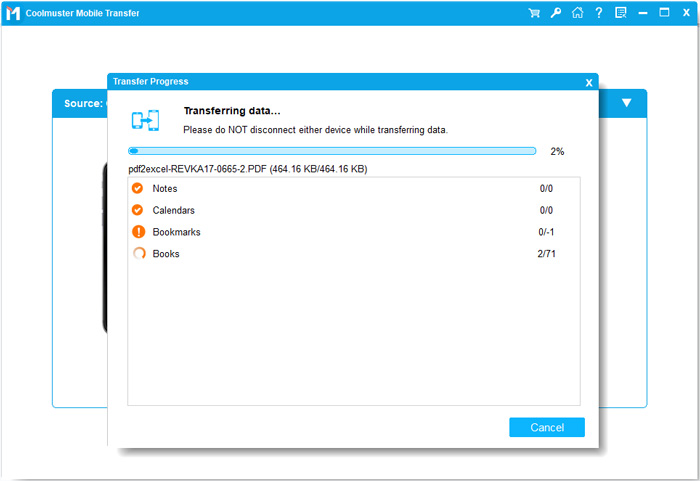 Further reading:
Top 9 Ways to Fix "Messages Didn't Transfer to the New iPhone"
[Transfer to iPhone 13] How to Transfer Data from Android to iPhone 13?
2. Dr.Fone Phone Transfer
If you're like most iPhone users who have many contacts on their phone, some of them being less valuable but wish to transfer them to a new phone, then you ought to have a tool that can help with the transfer process. And this is where Dr.Fone Phone Transfer comes in.
This tool works by moving your contacts and other files to a different iPhone. This ensures that you won't lose essential contact data if you switch out your current iPhone.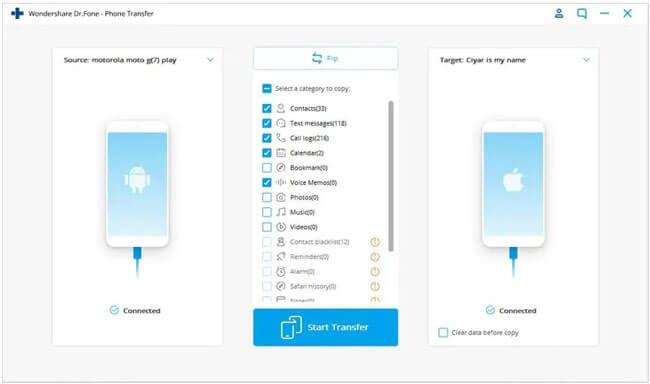 Pros:
* Very easy to use.
* Automatically detect your iPhones after you connect them.
* Select data types by category on the interface.
Cons:
* You cannot select contacts one by one.
Read more:
Want to transfer your SMS from an iPhone to a Samsung phone? You can follow this guide.
Are there several green lines on your iPhone screen? If yes, you can learn these tips to remove them.
3. iSkysoft iTransfer
iSkysoft iTransfer can be used to transfer contacts between iPhone and PC. You can also import or export the contacts individually or the whole of it. This is an easy-to-use software program that won't give you any issues. It supports all Windows computers running Windows Vista or later versions, supports all iOS versions from the iPhone 3GS to current ones, and supports iTunes 10 onwards.
With this tool on your side, you no longer need to worry about transferring contacts between two devices. It is one of the best iPhone transfers simply because it can transfer contacts from an iPhone to any other device. All you need to do is connect the device with your PC or Mac, select the content you wish to copy and click on the Start button.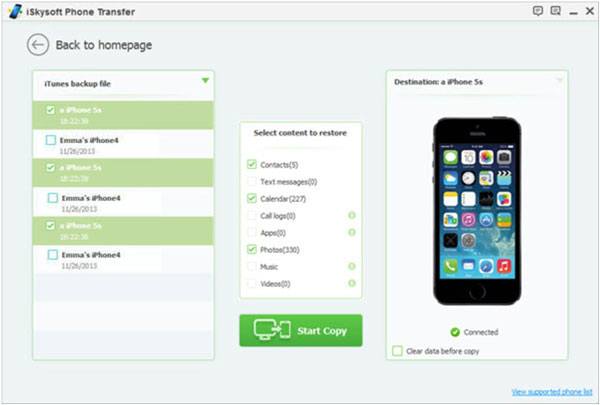 Pros:
* Transfer contacts from iPhone to other devices.
* Support a wide range of iOS devices for transferring contacts.
* Sensitive contact details protection.
Cons:
* Sometimes slowly connect iPhones to a computer.
Check it if you need: Fix iPhone Grey Screen of Death By Yourself? (8 Solutions Provided)
4. Syncios Data Transfer
This is a new, free iPhone application from Syncios that lets you transfer contacts from your old iPhone to your new one. With this app, you can backup your contacts, import them to your new device and even merge duplicates for a more consistent experience.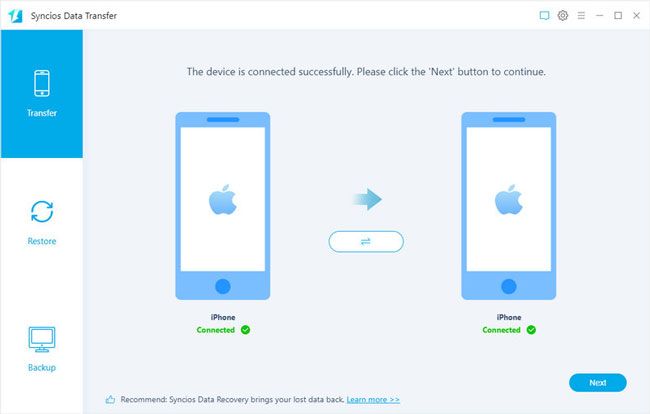 Pros:
* You can transfer your contacts between iOS devices without iTunes.
* Allow you to back up and restore iOS data between an iPhone and a computer.
Cons:
* It's not always clear where certain settings can be found or what they do.
Guess you like: Why did videos disappear from an iPhone? You can probably find them with this guide.
5. Xilisoft iPhone Transfer
This app allows iOS users to transfer iPhone contacts to Windows PC or Mac without iTunes. The Xilisoft iPhone Transfer is an all-inclusive software package that can transfer content from your iPhone directly to a computer with just one click! Xilisoft is extremely easy to use - simply connect your iPhone with a USB cable, choose the data you want, and then select the location on the hard disk drive where you want them saved. The transfer process couldn't be easier!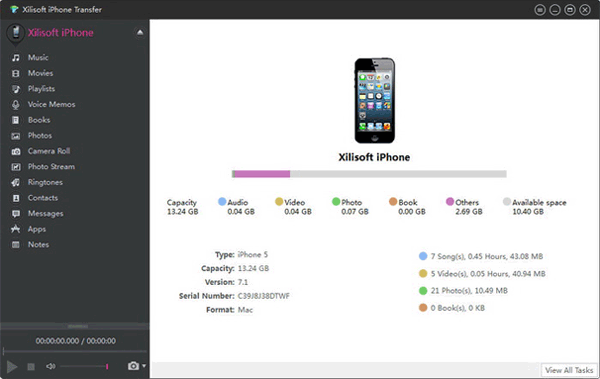 Pros:
* It has a friendly interface and a fast speed.
* It can also control the number of contacts you wish to send.
* No data loss.
Cons:
* It does not work on some old iOS devices.
* It works best with less than 100 contacts.
* It does not provide many features.
6. Move to iOS
Move to iOS allows you to transfer contacts from your old iPhone to your new iOS device with just a few taps. It comes with sharing features that allow you to easily move multiple contacts between devices as well as export them in one file for backup purposes or send them off somewhere else.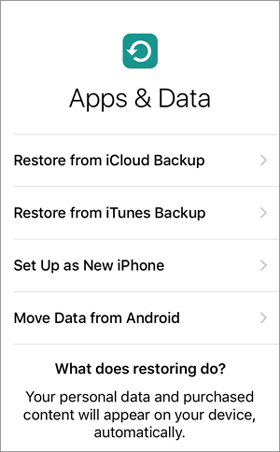 Pros:
* Free and secure.
* It is built-in on iPhones and other iOS mobile devices.
* Allow you to move Android data to iOS devices.
Cons:
* Only transfer contacts from an iPhone or an Android phone to a new iPhone during the setup.
7. SHAREit
One of the best iPhone apps for transferring various files is SHAREit. It allows you to transfer contacts and other media files with ease. With the SHAREit app, you can directly transfer contacts to your new iPhone or old iPhone.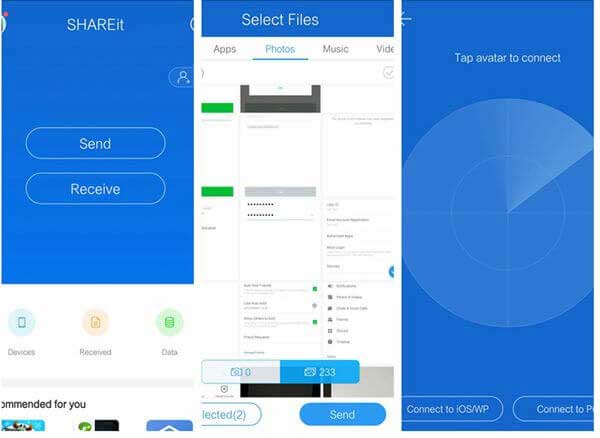 Pros:
* A cross-platform app for Android and iOS devices.
* Wirelessly transfer contacts from one iPhone to another.
* Transfer data without Wi-Fi or mobile data.
Cons:
* Contain annoying ads.
8. NQ Contacts Sync
NQ Contacts Sync is a free iPhone contact transfer app designed specifically for the iPhone that syncs your contacts effectively. The best thing is that it automatically backup old data on a PC or Mac.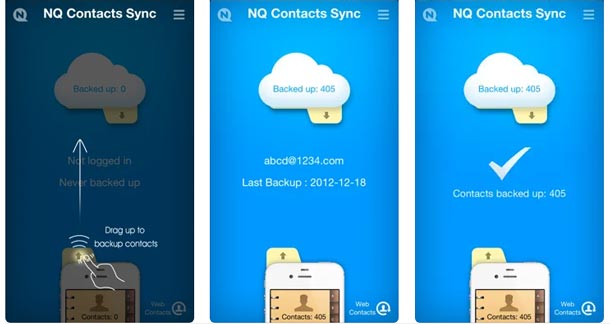 Pros:
* Free and no ad.
* Offer contact backup.
* Help you manage your backup contacts without a hitch.
Cons:
* Long time no update.
* Ol-fashioned interface.
Conclusion
If you wish to change to a new iPhone, you must also be thinking of transferring your contacts. For this, you want a good iPhone contact transfer app that won't lose any of your data. The above are the best apps you can use to transfer your contacts seamlessly and with just a few clicks. Furthermore, Coolmuster Mobile Transfer can help you move other files to your new iPhone without losing quality, and it works for most generations of iPhone, iPad, and iPod touch devices.
Related Articles:
Top Apps to Transfer Data from Android to iPhone Smoothly - 10 Options
Best 12 SHAREit Alternatives for Android, iOS & Windows PC
How to Transfer Data from iPhone to OPPO Seamlessly? (4 Tested Methods)
How to Move Data from Android to iPhone after Setup in 8 Proven Methods?
How to Recover Notes from iCloud without Effort? (iOS 16/15/14/13 Supported)
4 Effective Ways to Recover Deleted Text Messages on iPhone without Backup (iOS 16 Supported)