"Hello everyone, I'm having a problem with an iPhone X. When I'm trying to restore it via iTunes, it shows me 'the iPhone could not be restored. Error 4013.' I've tried it with a new cable, but also with the same problem. Can someone help me?"
- A user from the GSM forum
Accidentally encounter the unknown error 4013 when upgrading or restoring your iPhone or iPad via iTunes? Don't worry. Apple error 4013 is a common issue that you may face now and then on Apple devices, and you can fix the error code 4013 with numerous simple methods. Here, we will list thirteen quick tricks to help you overcome iPhone error 4013 in a few minutes.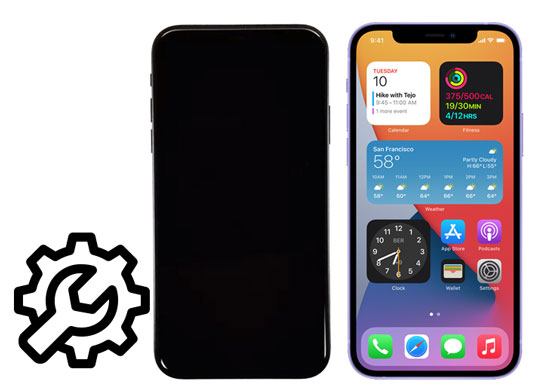 Part 1. What Is Error 4013 on iPhone and What Causes It?
Part 2. How to Repair iPhone Error 4013
Part 1. What Is Error 4013 on iPhone and What Causes It?
When you see an alert displayed on your computer and reads, "The iPhone could not be restored. An unknown error occurred (4013).", it indicates that something interrupts the communication between your computer and your iPhone or iPad, especially during an update or restoration process.
Many reasons may cause the iPhone restoration error 4013 or iTunes update error 4013, including:
Your iOS device may get disconnected or pulled when updating or restoring your device.
Malfunctioning USB cable or USB port.
iTunes is too outdated to support the latest versions of the iPhone OS.
Software glitches or bugs.
The third-party security software or firewall on your computer has prevented iTunes from accessing Apple servers.
Corrupted network settings or block from Apple servers.
You have hacked or jailbroken other iPhone models with the network configuration data on the computer, and it now has been corrupted.
Part 2. How to Repair iPhone Error 4013
Trick 1. Force restart your iPhone
When the iPhone error 4013 appears, the easiest way is to restart your iPhone. However, the operation will vary with different iPhone models.
On iPhone 8 and later versions:
Quickly press and release the Volume Up button.
Quickly press and release the Volume Down button.
Press and hold the Side button until you see the Apple logo on the screen.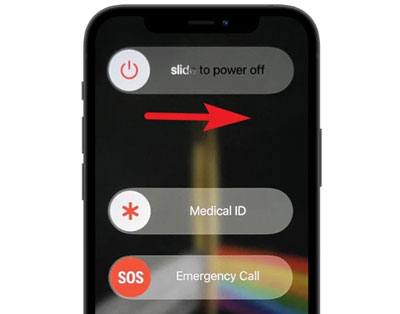 On iPhone 7/7 Plus and iPod touch (7th generation):
Press and hold the Side + Volume Down buttons simultaneously until the Apple logo appears.
Release both buttons.
On iPad models without a Home button:
Quickly press and release the Volume button closest to the Top button.
Quickly press and release the Volume button farthest from the Top button.
Press and hold the Top/Side button until the device restarts.
On iPad models with a Home button, iPhone 6s and earlier, and iPod touch (6th generation) or earlier:
Press and hold the Side + Home buttons together until the Apple logo displays.
Release both buttons.
Trick 2. Update your iPhone
Connect your iPhone to the computer that runs iTunes. If you are using a Mac running macOS Catalina 10.15 or later, open Finder and tap the iPhone icon in the sidebar; if you are using a Mac running macOS Mojave 10.14 or earlier or Windows PC, open iTunes directly. Then, tap General or Settings > Check for Update > Download and Update to update your iPhone.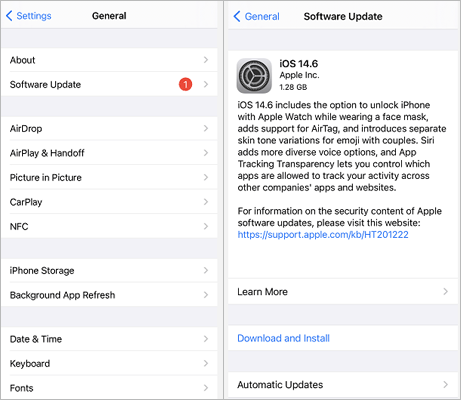 Trick 3. Update your computer
If updating the iPhone cannot help, you can also update your computer's operating system to fix the iPhone error 4013.
How to update a Mac?
Click the Apple menu at the top-left corner.
Select System Preferences > Software Update.
Tap the Update Now or Upgrade Now if there is a new version available.

How to update a Windows PC?
Click the Start button > Settings > Update & Security.
Select Windows Update > Check for update. You can also enable Windows to update automatically.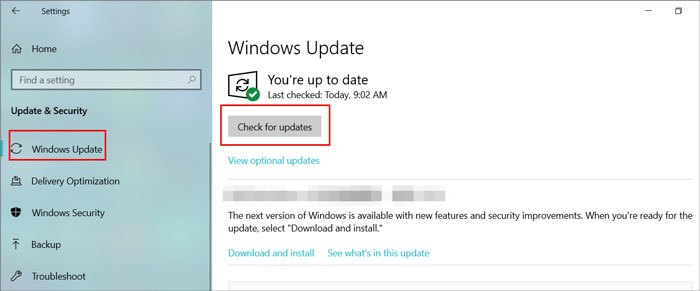 Trick 4. Try a different USB cable or computer
As the USB cable you are using may get broken or defective, you can change another USB cable when trying to restore or update your iPhone on the computer again. Also, if the USB cable works well, disconnect your iPhone and connect it to another working computer to see if the error code 4013 exists.
Check it out: Top 6 Methods to Backup iPhone Photos Effectively
Trick 5. Disable the computer firewall
As we mentioned above, the computer firewall will prevent iTunes from accessing the Apple servers and cause the unknown error 4013. However, it's hard to figure out which firewall settings give rise to the problem. Therefore, you have to disable the firewall on your computer until iTunes successfully connects to the Apple servers and install the iOS update firmware.
To turn off the firewall on a Mac:
Tap the Apple menu in the upper left corner.
Select System Preferences > Security > Firewall and tap Stop.
When a message pops up displaying Firewall Off, that's it!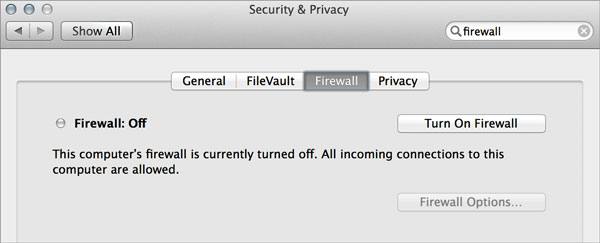 To turn off the firewall on a Windows PC:
Open Control Panel and pick System and Security.
Select Windows Firewall > choose the Turn Windows Firewall on or off option > click Turn Off Windows Firewall.
Tap OK to confirm the operation.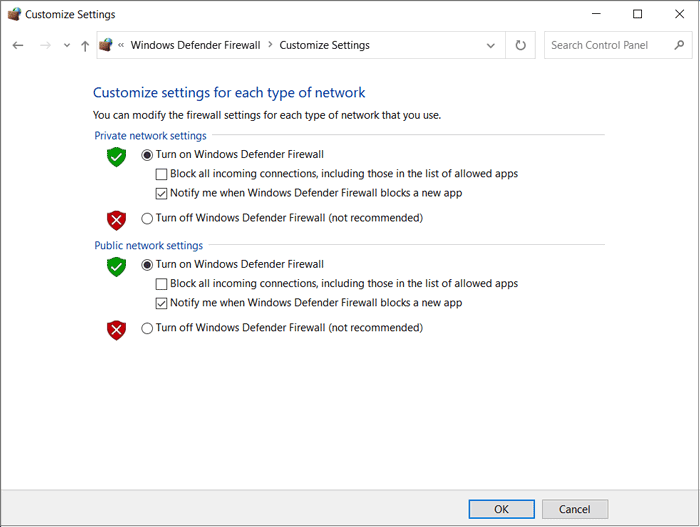 Trick 6. Clean the USB port
When the USB port gets dirt, it may get debris stuck inside, further generating iPhone restore or update error 4013. Thus, you will also need to clean the USB port regularly to make it tidy.
Hold a compressed air can upright and shoot the controlled bursts into the entry.
Gently scrape the inner walls with a piece of toothpick.
Shoot the bursts into the USB port again.
You might need:
3 Ways to Transfer Text Messages from iPhone to Computer? [Can't Miss]
Music Disappeared from iPhone Unwittingly? Try 9 Fixes Here
Trick 7. Ensure your iPhone has enough storage
Usually, an update or restoration on your iPhone or iPad requires 4 to 6GB of storage. If you still encounter iPhone error 4013 after trying the above methods, ensure that whether your iPhone has enough storage available or not.
You can remove the unwanted media, files, or apps to make room for updates or restoration. Or, try resetting all settings on your iPhone or iPad from the Settings app.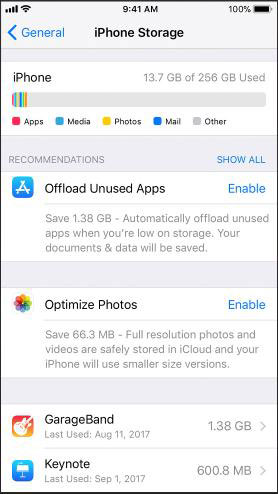 Trick 8. Factory reset your iPhone
Factory reset may repair some glitches or small bugs on your iPhone. But before proceeding further, you'd better back up your iPhone first since it will erase all the iPhone data. You can back up your iPhone to a computer or an external hard drive to avoid data loss.
Then, you can factory reset your iPhone with these steps:
Open the iPhone's Settings > find General > select Reset > tap Erase All Content and Settings.
Hit the Delete button to confirm the operation.
If asked, enter the iPhone passcode to confirm the reset and tap the Erase iPhone button.
Your iPhone will restart after erasure, and the Apple error 4013 may get fixed after that.
Trick 9. Reset all settings on your iPhone
Restart your iPhone and open Settings. Next, scroll down to General > Reset and pick Reset All Settings.
Note: This method may put you at the risk of losing data. So, we also recommend you back up your iPhone data if needed.
Trick 10. Enter DFU mode on iPhone
Another way to repair the iPhone error 4013 is to get the device into DFU mode. Although it surely works, make it your last resort since it will wipe everything on your iPhone or iPad, including files, apps, settings, and default data.
How to put iPhone or iPad into DFU mode?
Plug your iPhone or iPad into the computer and run iTunes.
Press and hold the Sleep/Wake + Home buttons simultaneously for 10 seconds.
Release the Sleep/Wake button but continue holding the Home button until iTunes alerts, "iTunes has detected an iPhone in recovery mode".
Let go of the Home button. When your iPhone turns completely black, you have booted your iPhone into DFU mode. If not, repeat the above steps until your iPhone gets into DFU mode.
Restore your iPhone with iTunes.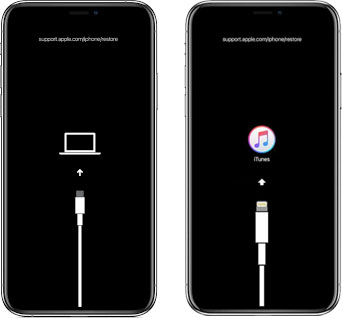 Trick 11. Check Wi-Fi network
Resetting the Wi-Fi network will get your device to reconnect with the Wi-Fi and resolve the iPhone error 4013. You've got two ways of resetting the Wi-Fi network: Reset the network settings or restart the Wi-Fi router.
To reset the network settings on your iPhone or iPad:
Unlock your iPhone and tap Settings > General > Reset.
Select the Reset Network Settings option and enter the passcode to confirm the operation.
Click the Reset Network Setting again.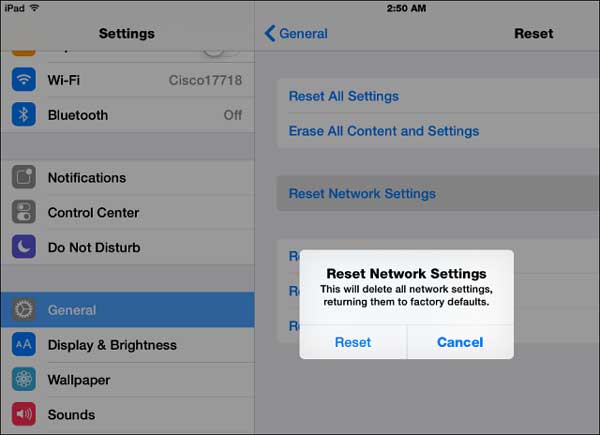 To restart the Wi-Fi router:
Unplug the router adapter into the power source for a few seconds.
Plug the router adapter into the power source again.
Update or restore your iOS device once again.
Trick 12. Use an iPhone repair tool (No data loss)
The best iPhone error 4013 solution is by fixing the error with iOS System Repair. This powerful software works with all iPhone/iPad/iPod running iOS 15 and earlier versions. And it fixes various iOS system issues to normal, including iPhone charge issue, iPhone loop restart, stuck in Apple logo, iTunes error 4005/4013, etc.
The highlights of iOS System Repair:
* Fix various iOS system problems in one click: iPhone/iTunes error 4005/4013, iTunes cannot connect to this iPhone, iPhone activation issue, battery drain, blue/white/red/black screen of death, get stuck in DFU/Recovery mode, etc.
* Cause no data loss or change after repairing the issue.
* Offer Standard and Advanced modes to meet your diverse demands.
* Downgrade and upgrade iPhone operating system to a supported version.
* Support all iPhone and iPad models (iOS 16 compatible), like iPhone 14/13 Pro Max/13 Pro/13/13 mini/12 Pro Max/12 Pro/12/12 mini, the new iPad mini/iPad 2021, iPad 8/7/6/5/4/3/2/1, iPad Pro 5/4/3/2/1, etc.
How do I fix error 4013 on iPhone in one click?
1. Install and run the program on your computer. Then connect your iPhone to the computer using a USB cable and choose More tools > iOS System Recovery.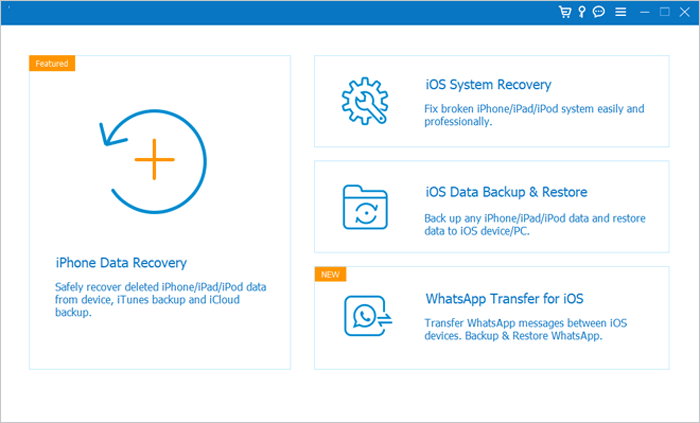 2. The program will start to detect the iPhone error automatically and display it on the interface. After that, tap the Start button to continue.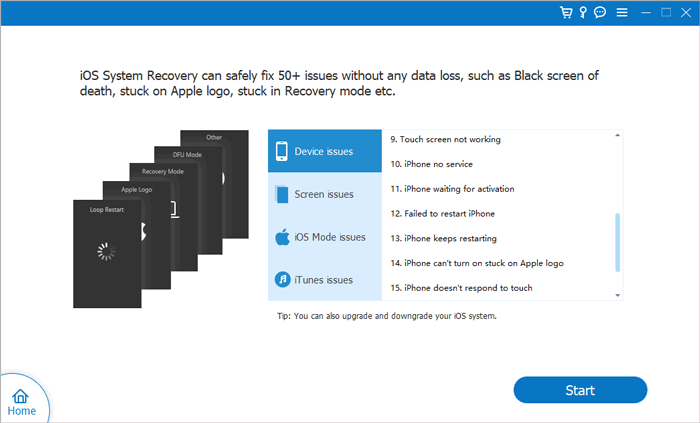 3. Confirm the iPhone information on the interface. If incorrect, select the right information from the drop-down lists. Finally, tap the Repair button to fix the iPhone 4013 error automatically.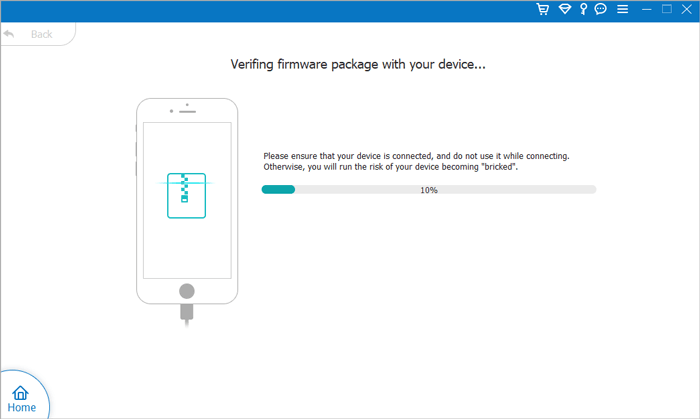 You may like:
How to Fix the Problem iTunes Could Not Connect to This iPhone? (6 Effective Solutions)
How to Fix the iPhone Backup Problem - Not Enough Space on Computer? (Proven Tips)
Trick 13. Contact Apple Support
If nothing works, you can call Apple Support or visit the local Apple Store for help. If the warranty is still valid, don't forget to bring it with you.
Final Thoughts
In the above text, we offer you thirteen practical ways to fix iPhone error 4013, and you can freely choose your favorite way to help you out. Generally, if you are looking for a higher success rate and simpler method to repair iPhone error 4013, try iOS System Repair first before taking it to the nearest Apple Store. It will resolve the problem in minutes without data loss.
Related Articles:
How to Fix iPhone Won't Restore Problem with 6 Ways?
iPhone Stuck on Restore Screen? 6 Easy Methods Here
9 Best iPhone Repair Software to Fix All iPhone System Problems with Ease (2023 Review)
iPhone Stuck in Boot Loop? How to Fix Boot Loop on iPhone in Ten Methods?
14 Amazing Tricks to Fix iPhone Contacts Missing Names (Comprehensive Guide)