It can be very frustrating to find iPhone messages disappeared but still taking up space. The Message application on the iPhone is a great way of chatting with friends and family. Sometimes, your iPhone messages may disappear from your inbox after restarting or an update. Recovering your messages can be very easy if you have made a backup. However, if you are an iPhone user experiencing the problem of disappearing text messages, you need to calm down. The good news is that there are some ways of recovering lost text messages.
Part 1: How to Fix "iPhone Messages Disappeared But Still Taking up Space" Issue
Here are some ways of troubleshooting messages disappeared from iPhone but still in storage problems.
Fix 1. Turn on Airplay mode
Turn on the Airplay mode, wait for some minutes, and turn it off. After that, check to confirm if your messages are available. You can continue to the next possible solution if the messages are still missing.
Fix 2. Tweak Your iPhone Messages Settings
There is always a time limit for how long your messages can stay on your device. If you are undergoing this kind of a problem, you need to check if this is the case and change your iPhone's settings to allow you to keep the messages indefinitely. Follow the below steps to change the settings of your Message application:
Step 1: Open your settings application.
Step 2: Go to the Message.
Step 3: Tap on the "Keep Messages" button.
Step 4: You will have the option for 30 days, one year, or forever.
Step 5: Choose the last option to prevent your messages from ever going missing again.
Fix 3. Update your iPhone
If the problem persists, you can try updating your iPhone device. Software glitches and bugs can cause missing message problems. As such, a phone restart cannot be able to resolve the problem. If the problem is caused by bugs and software glitches, then updating the iOS is the best solution to the problem of disappearing messages. Apple keeps releasing updates, and you may face many problems if you get stuck on old iOS versions for a long time. Follow the steps shown below to update your iPhone:
Step 1: Open the settings application.
Step 2: Tap on the general settings.
Step 3: Navigate to the software update option.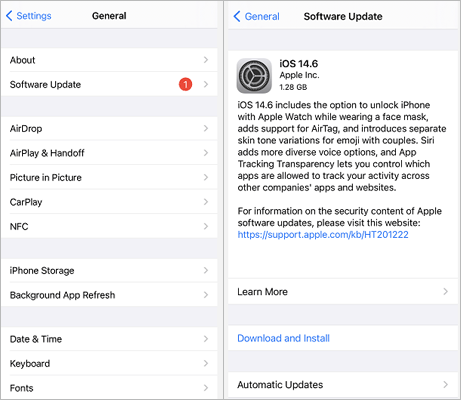 At this point, you can see all the available updates. Make sure that your iPhone has enough power before you start updating. After completing the updating process, check your inbox to see if the missing messages are available.
You may like:
How to Free Up WhatsApp Storage on iPhone 14/13/12/Xs/X/8/7?
iPhone Won't Update? Here's How to Fix!
Part 2: How to Restore Disappeared iPhone Text Messages [3 Ways]
After knowing how to solve the problem of iPhone messages taking up space but deleted, let's talk about how to recover those iPhone text messages that disappeared out of thin air.
Using iCloud Backup File
Factory resetting is resetting your iPhone to how it was when you bought it. Factory resetting help in removing any glitch that may be causing the text messages to disappear. If you use iCloud to sync your messages, every message you receive is securely uploaded to the iCloud server and can be accessed anytime. Follow the below steps to reset your iPhone back to factory settings:
Step 1: Open the settings application of your phone.
Step 2: Click on the General option.
Step 3: Scroll down to the reset option and click "Erase All Content and Settings."
Doing that will delete all your iPhone data and settings. Your device will be like a new one. To restore lost messages from iCloud, follow the below step:
Step 1: From the Apps & Data screen that will appear, click on the "Restore from iCloud" option.
Step 2: Sign into your iCloud to find the backups you created.
Step 3: After logging in, tap on the "Choose Backup" button to select a backup.
Step 4: Click on the Backup and restore it to access your iPhone messages.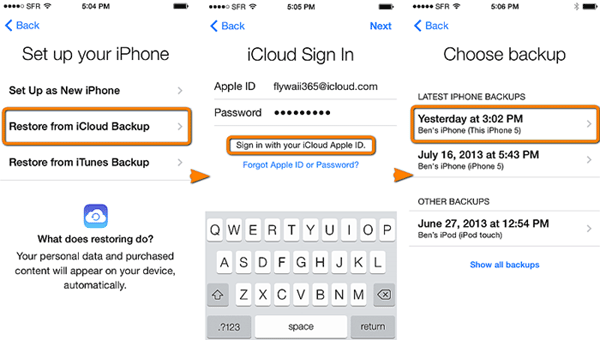 After following the steps above, all your messages backed up on your iCloud account will be restored, including the missing ones.
Using iTunes Backup File
You can restore your lost iPhone messages while using iTunes backup files. The only issue is that your data will be overwritten. Start the process by backing up your data if you have data that you haven't backed up. Follow the below step-by-step guide to be able to recover back all your messages using iTunes backup.
Step 1: Open the iTunes application on your computer
Step 2: Plug your iPhone into your computer and wait for a moment for iTunes to detect your device.
Step 3: Click on the phone icon on the left corner of your iTunes interface.
Step 4: On the bottom right corner, a "Restore Backup" option will appear
Step 5: Click the "Restore Backup" option and select the backup files containing the missing iPhone text messages.
Step 6: Click the Restore button to start the restoring process. The restoring time will depend on the size of the file.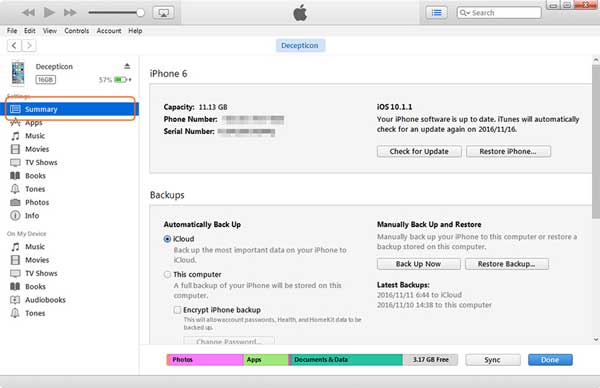 Finally, unplug your iPhone from the computer once the restoring process is over. All your messages, including the missing ones, should be available in your inbox.
See more:
How to Manage and Free Up Storage Space on iOS 11?
Failed to Export or Delete iPhone Photos with iCloud Photo Library Enabled? [Solved]
Using Coolmuster iPhone Data Recovery
If your iPhone texts are disappeared and you are looking for a way to recover it, Coolmuster iPhone Data Recovery will significantly help you. It offers a wide variety of features that will ensure you get all of your data back. It is compatible with many iOS models, including iOS 16. Besides text messages, you can recover deleted iPhone contacts without backup. What's more, it can restore your iTunes backup data to your iPhone or iPad. As long as you have backed up your files to iTunes, you can restore them selectively and conveniently.
Key Features of Coolmuster iPhone Data Recovery
* Easily recovers deleted and lost text messages from iPhone.
* Recover various data types, including photos, contacts, videos, call logs, etc.
* Restore your data from iTunes backup directly.
* Excellent user interface that makes it easy to use.
* It is compatible with almost all iPhone versions.
Below are the steps for restoring iPhone text messages using Coolmuster iPhone data recovery software:
01 Connect your iPhone to your computer
After you download and install the application, launch it on the computer and click the module named "iOS Recovery." After that, connect the iPhone to your computer using a USB cable.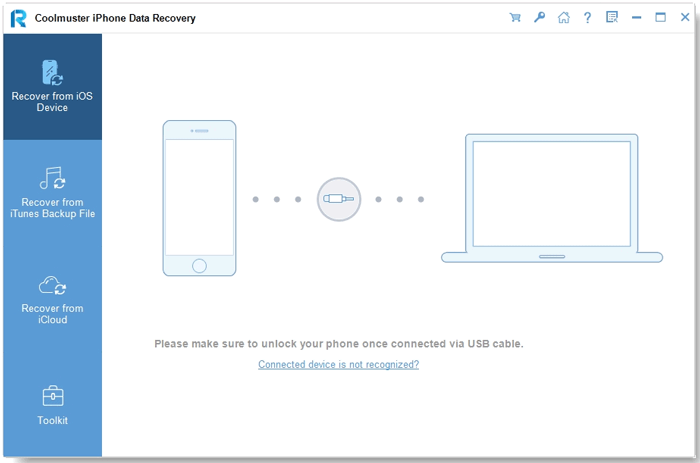 02 Preview and then select your iPhone Messages
Choose "Messages" and allow the program to scan your device to get the message. After the scanning is completed, preview the detailed files that include your existing and deleted SMS.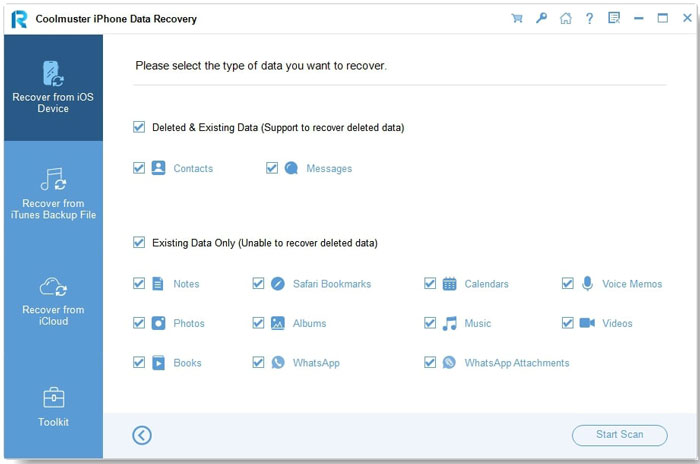 03 Start the iPhone Message Recovery
After selecting the messages that you want to recover, click on the "Recover to Computer" button to start the recovery process.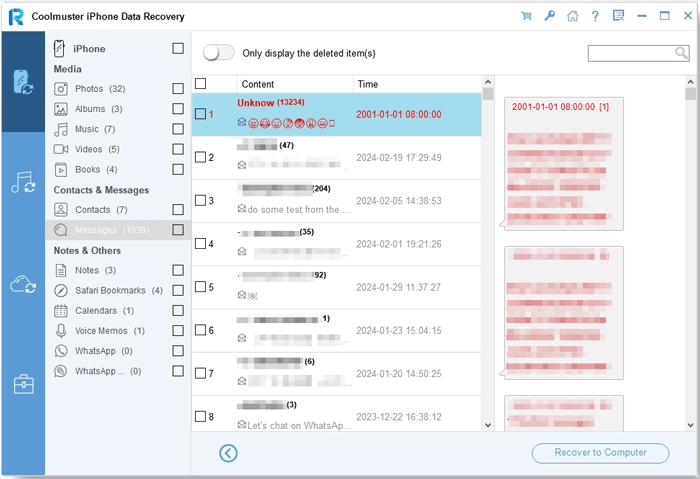 Conclusion
In a nutshell, getting back iPhone messages that disappear is possible. With Coolmuster iPhone Data Recovery, you can easily restore all lost messages without any backup. The program also has a feature that allows you to preview your files before you start recovering them. With all the features available in this recovery tool, there is no reason why you should lose your precious data anymore.
Related Articles:
iPhone "Save Image" Not Working, How to Fix?
How to Clear WhatsApp Documents and Data on iPhone?
iPhone Internal Storage DCIM Folder Is Empty on Windows 10? Fix It Here
3 Methods to Manage WeChat Storage on iPhone [Fixed]
Not Enough iCloud Storage? Fix This Issue with This Full Guide