Samsung is known to offer amazing devices, and its tablets are a great example. They offer various models that boast sleek designs, powerful processors, and the latest features. But just like any other device, Samsung tablets can start to malfunction or stop working. Even a simple restart may fail to make it work, leaving you with factory resetting as the only option. Keep reading to learn how to reset the Samsung tablet.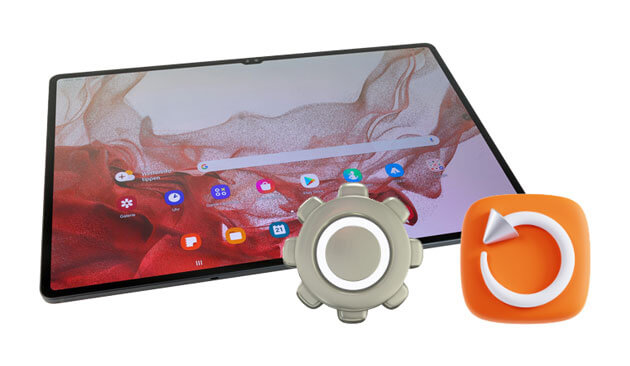 Part 1: When to Reset Your Samsung Tablet
Samsung tablet is an all-in-one device that can do everything from watching movies, playing games, and sending text messages to surfing the web. Like all modern digital devices, Samsung devices are susceptible to errors and failure. So, when do you need to reset your tablet? Below are circumstances when you should go for a hard reset:
When the device is acting weird during any activity: If you have started experiencing some problems with the device, like the device slowing down or freezing while using it, then you can go for a reset by performing a reset.
When selling it to someone else: If you want to sell your Samsung device, you must delete all data by performing a hard reset before letting go of the phone.
When you can't remember your password: If you've forgotten the password or lock on your Samsung phone, you should reset it to delete the lock, pattern, or password.
Part 2: What to Know Before You Reset Your Samsung Tablet
Performing a factory reset will erase all your data and settings from it. This includes all the apps you have downloaded from Google Play Store, all the data you have stored inside internal storage, and even the contacts, music, and photos saved in your Samsung device.
Once you perform a hard reset on your Samsung tablet, there is no way of recovering the data in your phone. Thus, back up your data first, and please pay attention to the following:
You must know your Google account and Samsung account login credentials.
The process will not void the device's warranty.
Your Samsung tablet won't be downgraded after resetting it.
Hardware problems won't be solved by hard resetting your Samsung tablet.
The device should have at least 50% of power before starting the reset process.
Learn more:
Best 4 Methods to Back Up Samsung Phone to PC
Transfer Photos from Samsung to Mac for Backup 4 Efficient Ways
Part 3: How to Reset Samsung Tablet in Simple Methods
There are several reliable ways to reset your Samsung tablet. Here we will look at the ways to reset your Samsung tablet.
3.1 Reset Samsung Tablet via Recovery Mode
There are many ways to reset your Samsung device, and one of the best ways to do that is to reset it in recovery mode. Let's say you've forgotten your password, your Samsung device isn't functioning properly, and you've tried rebooting it, but nothing happens; you have to reset it in recovery mode.
Here is how to hard reset a Samsung tablet via Recovery Mode:
Step 1: Turn off your phone by pressing the Power button. After shutting it down, Long-press the Volume Up and Power buttons for a few seconds till you see the Samsung logo interface and enter the recovery mode.
Step 2: Go to the Wipe data/factory reset option using the Volume buttons. A warning message will pop on the screen to save Google account details before the reset; if you've already done that, press the Power button to choose the factory reset option.
Step 3: Click Yes to delete all data from your Samsung tab. After the process completes, click Reboot system now and press the Power button to restart it. You can now set the tablet.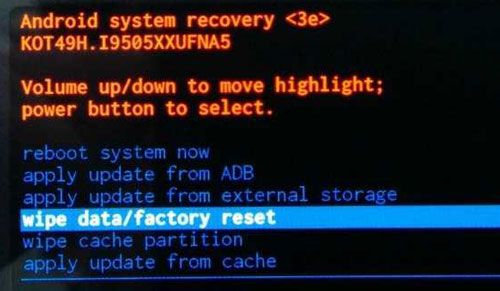 See also: Planning to transfer your text messages from a Motorola phone to a Samsung phone? Then you can follow this guide.
3.2 Reset Samsung Galaxy Tablet Using Find My Mobile
Find My Mobile feature is another way to reset your Samsung tablet. This app allows you to reset the password on your Samsung tablet remotely. If you have forgotten your password or your phone has been stolen, this feature will be very handy as it lets you erase all data in the device and set a new password.
Here is how to factory reset a Samsung tablet using Find My Mobile:
Step 1: Head to the Find My Mobile page and sign in with your Samsung account and password.
Step 2: Select your tablet device, and opt for Erase data > Erase from the menu.
Step 3: You may be asked to input your account and password again. Then click OK to confirm the obliteration.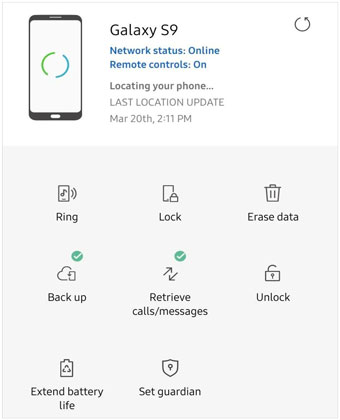 You might need: If you are eager to delete your photos permanently from your Samsung phone, you can use these 3 solutions.
3.3 Factory Reset Samsung Tablet via Settings
Resetting your Samsung tablet via Settings is perhaps the easiest way. Well, this method isn't limited to just resetting, but you can use it to perform a factory reset, wipe cache partition and even update your system.
Here is how to do a hard reset on your Samsung tablet through Settings:
Step 1: Open the Settings app on your Samsung tablet and scroll down to the General management option; look for Reset, and you'll see Factory data reset under the list of options. Tap on it to see various applications and accounts installed on the device that will be erased during the process.
Step 2: Scroll to the bottom and click Reset, When prompted, input the screen code or pattern and click Delete all.
Step 3: The phone will turn off after clicking the delete all option. Wait for some time for the process to finish, after which the Samsung tab will restart automatically. You can now set the device.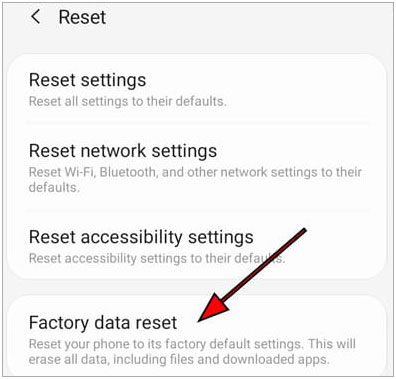 Further reading: It is easy to back up your contacts on your Samsung mobile phone. Open this link to get 7 backup ways.
3.4 Thoroughly Reset Samsung Tablet via Coolmuster Android Eraser
The most complete way to reset your Samsung tablet is to use Coolmuster Android Eraser. This tool lets you permanently erase all data on your Samsung tablet in just a click. If you want to wipe a Samsung device before selling or donating it, this software is a good choice.
The program runs a deep scan, then erases everything on your Samsung tablet such that it can't be retrieved again, so do a backup. It can erase all types of data, including contacts, music. videos, apps, books, account info, browsing data, etc. Also, Coolmuster Android Eraser supports many Android devices like Samsung, Xiaomi, Motorola, HTC, Sony, Huawei, and more.
Key features of this program:
* Reset your Samsung tablet and phone with thorough a clearing feature.
* Delete all types of data permanently.
* 3 levels of erasing data: Low, Medium level, and High.
* High level will erase the device three times to wipe existing and deleted data simultaneously.
Download this eraser program.

Free Download for PC
Here is how to reset a Samsung Galaxy tablet via Coolmuster Android Eraser:
01Install the Android Eraser Tool
Download the software on your computer, and launch it. Then connect the Samsung device to the PC with a USB cord and ensure USB debugging is enabled. Grant the necessary permissions, then click OK to continue.
02Select an Erasing Level
Tap the Erase option on the primary interface and choose the security level by tapping the Medium icon. Once done, hit OK. Type delete in the blank space and tap Erase.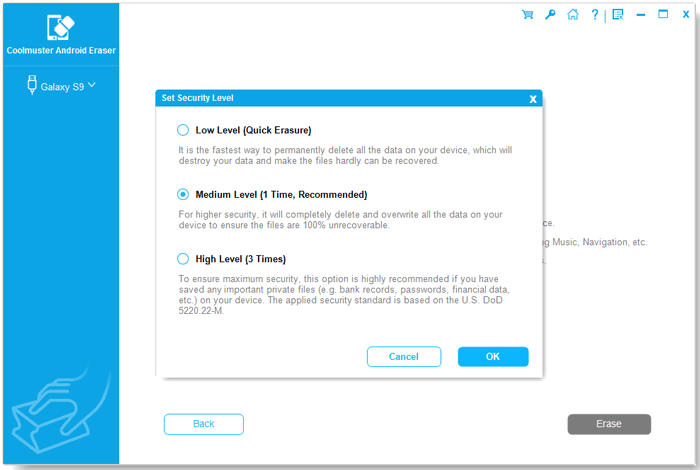 03Start Erasing Your Tablet
Click the OK button to confirm the process. If prompted, please tap Yes on your tablet. After that, the erasing process will commence immediately on your Samsung tablet. The software will continue overwriting data on your Samsung device.
Once the overwriting is done, please factory reset the device to remove your settings and data.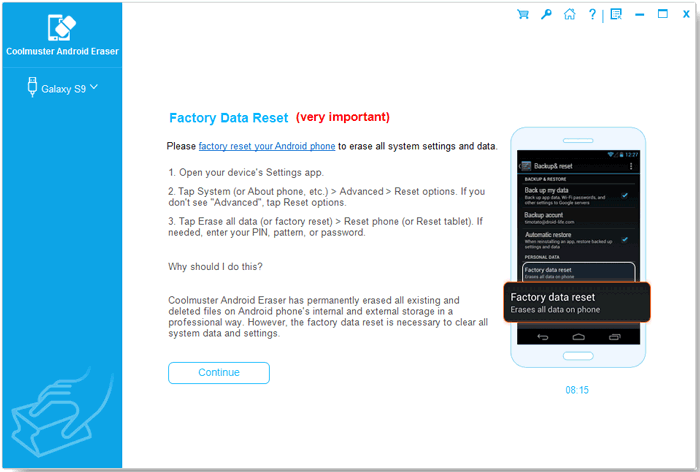 Conclusion
That's all! Hopefully, you can now reset your Samsung tablet without any difficulty. Coolmuster Android Eraser is good at erasing your device in all respects. It not only removes your existing data but also overwrites deleted data from your device. So, try it if you want the thorough resetting. By the way, remember, it is very important to back up any critical files on the computer or other devices before factory resetting your Samsung tablet.
Related Articles:
Top 11 Solutions to Samsung Tablet Frozen / Samsung Tablet Screen Frozen Problem
How to Unlock Samsung Phone Pattern in 10 Simple Ways?
Fix the iPad Touch Screen Not Working Problem in 12 Pro Ways(All iPad Series Supported)
How to Reset Android Phone when Locked? Top 6 Reliable Ways
How to Bypass LG Lock Screen without Reset? [Solved]
How to Reset iPhone without Apple ID Password in iOS 16 and Earlier Versions?