Feeling frustrated because you cannot access your iPhone due to a forgotten iPhone's screen lock? You may have heard of using the camera to unlock the iPhone, and you also want to know how to unlock iPhone without passcode using camera. However, the reliability of this method is debatable. In this article, we will explore the feasibility of this method and more ways to unlock the iPhone. So, please continue reading.
Part 1. Can I Use the Camera App to Unlock an iPhone Without a Passcode?
Many social media content creators have been explaining how to get into a locked iPhone through camera. Is the method viable? Actually, there is no known method to unlock an iPhone using just the camera, bypassing the passcode, or any other security measures. The iPhone's security is designed to be robust and protect user data, and Apple continuously updates its operating system to address vulnerabilities and security loopholes.
iPhone devices allow users to swipe their screen and open the camera application even when locked. Although this feature was created to enable iPhone users to make quick snapshots, it is also a loophole. However, Apple developers noticed the loophole and fixed it. So, unlocking iPhone without passcode using camera is impossible.
However, you should not fret because there are other reliable alternative methods for unlocking iPhones without passcodes. Let's have a look.
You May Like:
How to Unlock iPhone without SIM Card? [Updated Tutorial]
[Without Password] How to Recover Photos from Locked iPhone 14/13/12/11
Part 2. Alternative Ways of Unlocking an iPhone Without Passcode
We proposed that unlocking an iPhone without a passcode using the camera is not feasible in part 1. Fortunately, other reliable techniques for unlocking an iPhone without a passcode exist. Below are some techniques you can try.
Method 1. How to Unlock iPhone Without Passcode Using a Professional Tool - The Most Reliable Way
Want to access your locked iPhone quickly so that you can reply to your client or boss? The best solution is to use professional iOS unlocking tools. What is the best tool for unlocking an iPhone? The iOS Unlock application is one of the best screen lock remover applications that have set a precedent on the field for a long time. This peerless application enables iPhone users to remove all iOS locks, such as 6-digit/4-digit passcode, alphanumeric passcode, Screen Time passcode, custom numeric code, Face ID, Touch ID, and more.
The application employs cutting-edge technology to guarantee a high screen lock removal success rate. You can use the iOS Unlock application to remove MDM locks without losing your iPhone's data, de-encrypt iTunes backups, unlock an Apple ID and bypass iCloud activation locks. It is the best option for bypassing any iOS device's lock. The iOS Unlock application has a beautiful and intuitive user interface, making it an ideal choice for expert and novice computer users.
Key Features:
Bypass all iOS device's locks such as 6-digit/4-digit passcode, alphanumeric passcode, etc.
Bypass Apple ID and iCloud locks without passwords.
Remove MDM locks without losing your iPhone's data.
Work natively with almost all iOS devices.
Best for expert and novice users.
Beneath is how to get into a locked iPhone using the iOS Unlock app:
01Begin the procedure by navigating to the application's official website and downloading the correct application for your Windows or Mac computer.
02Install and launch the application on your iPhone, hit the Screen Unlock option from the application's Toolbox, and click on the iOS option because you are unlocking an iOS device. Link the locked iPhone to the computer, and select the Unlock iOS Screen option.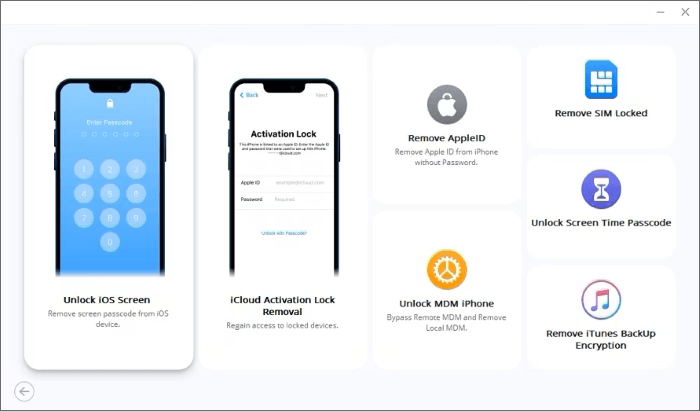 03Follow the steps on the iOS Unlock application's interface to put the iPhone into recovery mode. Try using the DFU Mode if the recovery mode fails. When your iPhone gets into recovery mode, the iOS Unlock application will automatically detect all its information, such as the system version, device model, and more. Confirm that the information displayed on the application is correct and hit the Start button to continue.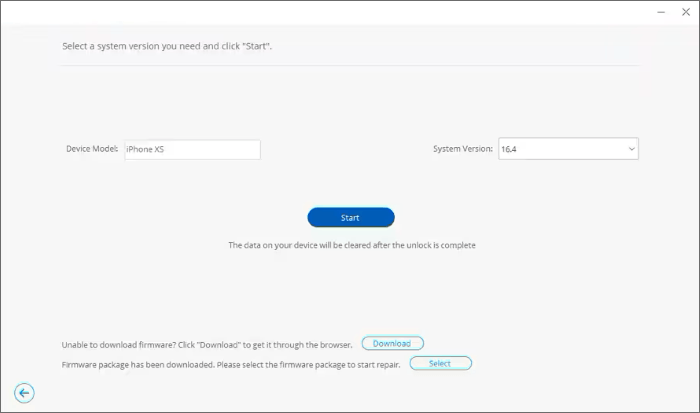 04The application will begin to download an iOS repair firmware. You can halt the process by clicking on the Stop button. Otherwise, wait patiently for the downloading process to complete.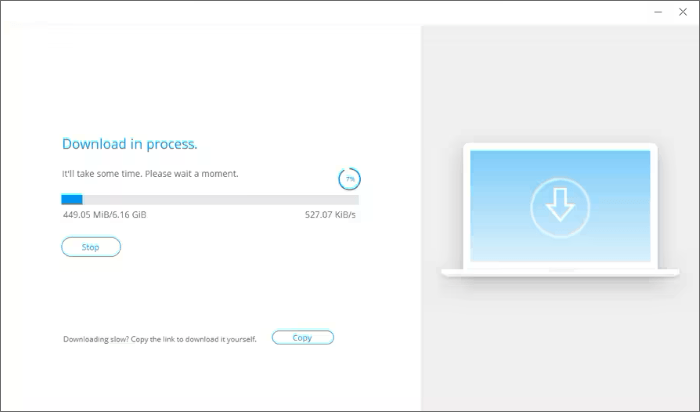 05When the iOS firmware finishes downloading, it will be verified and displayed on the application's screen. Select the Unlock Now button. Confirm the action by keying in 000000 on the application's interface and clicking the Unlock button. Ensure you don't disconnect the devices, watch the progress of the unlocking process on the progress bar, and hit Done when the process completes.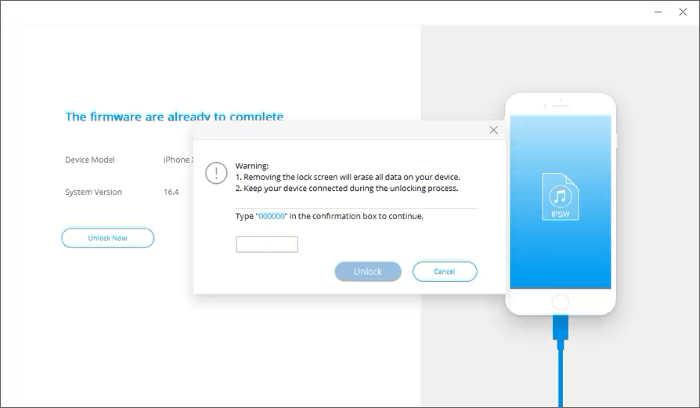 Further Reading:
How to Unlock iPhone Without Swiping Up? [Comprehensive Guide]
How to Unlock iPhone Passcode without Computer (Fixed)
Method 2. How to Get into a Locked iPhone Using Siri
Siri is a personal assistant for iPhone users. We use its capability to open photos on our iPhone's camera roll. It is important to note that this method will work on iPhones with Siri already enabled. Additionally, this technique can only be applied on iPhones running iOS version 8 - 10.1. Nevertheless, employing this method will not erase your data. Follow the steps discussed below to learn how to unlock an iPhone without a password via the Siri application:
Step 1. Activate the Siri feature by tapping your iPhone's Home button. Ask Siri, "What is the Time" and wait for the time to be displayed.
Step 2. Tap on the Clock widget and hit the + icon at the upper right corner of your screen once the list of time zones appears.
Step 3. Key in any characters on the Search Box and select all the characters you have typed. Tap on Share and select the Message icon from the options that will appear.
Step 4. Locate the To field on the New Message window that appears and type anything in the space provided. After that, navigate to the + icon, tap on it, and select Create New Contact.
Step 5. Hit the Add Photo button, and tap the Choose Photo button.
This action triggers the photos on the camera roll to open. By doing this, you will have bypassed your iPhone's lock screen.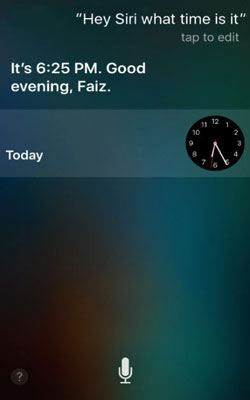 Method 3. How to Unlock iPhone Without Passcode via iTunes
iTunes is a powerful iOS device feature that enables iOS users to unlock their iPhones without a password. However, a minor drawback of this method is that it will wipe your data along with the passcode. Below is how to unlock your iOS device via iTunes:
Step 1. Link your iPhone to the computer using a working USB cable.
Step 2. Power off the iPhone and put your iPhone into recovery mode:
For iPhone 8 and later models:
Tap the Volume Up button and release it.
Tap the Volume Down button and release it.
Press and hold the Side button until the recovery mode screen emerges.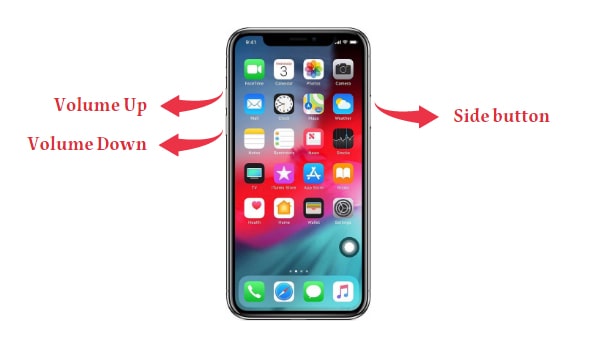 For iPhone 7/7 Plus:
Simultaneously press and hold both the Volume Down and Side buttons until the recovery mode screen becomes visible.
For iPhone 6 and earlier models:
Press and hold both the Home and Side buttons at the same time until the recovery mode screen appears.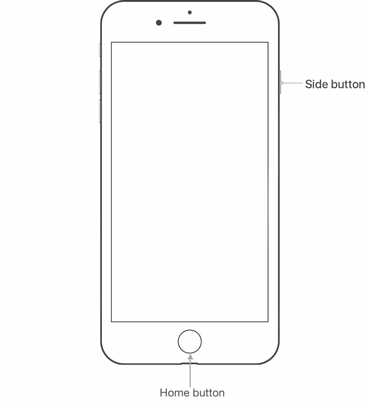 Step 4. Hit on the iPhone icon on the iTunes application's interface. Select Restore from the prompt that will appear.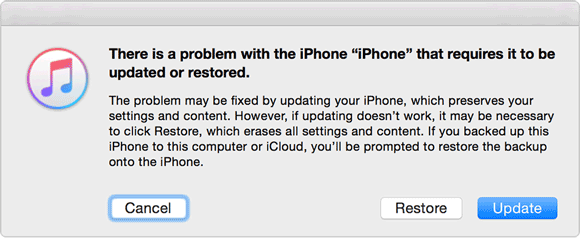 Step 5. Wait for the application to finish restoring and set up the device again.
Method 4. How to Get into a Locked iPhone via iCloud
iCloud is a powerful iOS application that enables us to easily unlock our iOS devices. Interestingly, you do not require a computer to unlock your iPhone via iCloud. Follow the steps below to learn how to unlock an iPhone without passcode via iCloud:
Step 1. Navigate to icloud.com and log in with your Apple ID.
Step 2. Select the Find iPhone option and hit the All Devices button.
Step 3. Select the Erase iPhone option and tap the Erase button.
Step 4. Set up your iPhone again and create a unique and easy-to-remember password.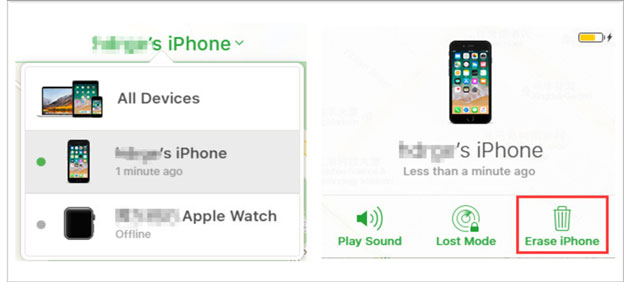 Learn More:
How to Unlock iPhone XR without Passcode? (iOS 16 Supported)
How to Erase iPhone without Passcode in 7 Simple Ways? (Step-by-step)
Method 5. How to Unlock iPhone Without Passcode via Security Lockout Feature
Apple has introduced the Security Lockout feature in iOS 15.2, offering a novel capability. This functionality facilitates iPhone unlocking without the need for iTunes or a computer. When an incorrect password is entered more than seven times, the device will present a Security Lockout screen, providing the option to erase iPhone. Here is how to get into a locked iPhone using the Security Lockout feature:
Step 1. Upon entering an incorrect password continuously for 7 times, you will encounter a display showing "Security Lockout try again in 15 minutes".
Step 2. Locate and press the Erase iPhone button situated at the lower right corner of the iPhone's screen.
Step 3. Once more, select the Erase iPhone option, and then proceed to log out of your account by entering the password.
Step 4. The resetting process will initiate, marked by the appearance of the Apple logo on the screen. Subsequently, the device will undergo an automatic restart.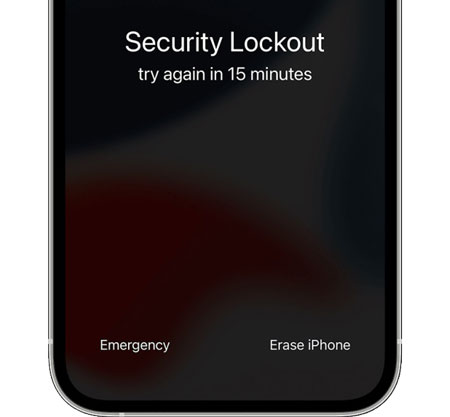 Part 3. Frequently Asked Questions
Q1. How do I unlock my iPhone if I forget the passcode?
If you've forgotten your passcode, you can try using the methods mentioned above: using iCloud's Find My iPhone feature, using iTunes if you've synced your device before, or putting your device in recovery mode and restoring it through iTunes.
Q2. Can I unlock my iPhone without losing data?
Unlocking your iPhone without the passcode often involves erasing the device to remove the passcode. This may result in data loss. It's important to regularly back up your device to iCloud or iTunes to prevent data loss in such situations.
Q3. How long does it take to unlock an iPhone?
The time it takes to unlock an iPhone varies. Carrier unlocks can take a few days to a few weeks, depending on the carrier's policies and your account status. iCloud Activation Lock issues might be resolved quickly if you have access to your Apple ID recovery methods. For forgotten passcodes, you might need to perform a factory reset, which can be done in a matter of minutes.
Also Read:
How to Remove Forgot iPhone Passcode without Restore? (3 Simple Ways)
4 Best Methods to Factory Reset iPhone without Password/Passcode
Conclusion
While the idea of unlocking iPhone without passcode using camera might seem appealing, the reality is that Apple has implemented stringent security measures to protect user data. There's no credible way to unlock an iPhone using only the camera.
Being unable to access your iPhone can be stressful. Fortunately, you can unlock your iPhone using the alternative methods discussed above. What's more, you can make the iPhone unlocking process easier and simple by using the iOS Unlock application. iOS Unlock is a peerless iOS screen lock remover application that is fast and easily usable.
Related Articles:
How to Unlock iPhone with Unresponsive Screen? [Full Guide]
How to Unlock iPhone X/11/12/13/14 without Passcode? [Top 4 Ways]
How to Get into a Locked iPhone without the Password or Face ID? [Solved]
How to Unlock iPhone without Siri Successfully in 2023? (3 Workable Ways)
How to Bypass iPhone Passcode Step by Step? (5 Amazing Ways)
How to Reset iPhone without Apple ID Password in iOS 16 and Earlier Versions?