In today's world, you can never have enough space for your beloved music and photos. With more parties to attend and unlimited options to download music, the need for space has been ever increasing. Moreover, what would you do if your phone just shut down one day and with that you lost all your music, photos and other media? Let's assume that you could always download music again, not a big deal, but, what about your precious photos? One in which your six-year-old daughter was celebrating her birthday? Or the video in which you'd captured your child's first words? That would be a major heartbreak now, wouldn't it?
Related: How to Fix Not Enough Space for Downloads
The good news is that you could always sync photos from iPhone to iTunes to go back to those memories even if your phone wasn't with you. Easy to download and having a user-friendly interface, iTunes is loved all over the world for the innumerable facilities that it offers to its users. One of the most important ones being, syncing your photos with iTunes and thereby, going to back to those good old days whenever you want.
Tutorial - How to Sync Photos from iPhone to iTunes
You can easily sync your precious photos from iPhone to iTunes. Just follow the simple steps listed below:
1. Download the latest version of iTunes on your computer.
2. Open iTunes on the computer.
3. Using the USB cable, connect your iPhone to your computer.
4. Choose the device icon on iTunes.

5. On the next page, choose Photos on the menu displayed on the left hand side of the screen.
6. Now select Sync Photos.
7. Now choose the app or the folder that you want to sync your photos from.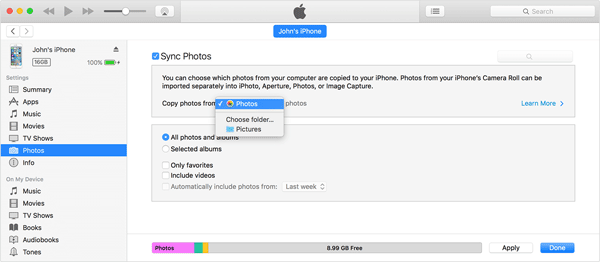 8. You can choose to sync all photos or specific albums and you may also include videos if you wish to sync them and finally choose Apply.
More Useful Articles:
* How to Make Use of iTunes Wifi Sync
* Put Music on iPod without iTunes
Disadvantages of using iTunes to sync photos:
However, not everything is as smooth with iTunes as you probably imagine. There is one big problem with iTunes and that is the fact that it runs extremely slowly on computers, specially on Windows, since it uses an excess amount of RAM. This has had a terrible impact on Apple's enviable reputation. Also, several reports of loss of data while syncing have come up in the past and continue to do so. So while you're going through the painfully slow process of syncing your photos, you could land up losing them instead of having them stored safely on your computer. Now, you possibly need an iTunes alternative!
Extra Bonus: How to Sync iPhone Photos without iTunes
There have been numerous reports of lost memories with iPhone/iPad/iPod users meaning that your photos could be lost forever if this problem occurs on your phone. We have also just seen how using iTunes can be a pain in the neck sometimes. So it is natural for you to wonder if there is any solution to this problem?
Coolmuster iOS Assistant (Windows/Mac) software is the third party software that is the answer to all this. Easy to download and user-friendly, this helps you sync your photos in one effortless step and that too in a very short span of time. If you believe it's too good to be true, go ahead and read the steps below.
- Connect your iPhone through the USB cable to your computer and open Coolmuster. It will identify your device and display it on the main page.
- The files on your iPhone will be displayed in different folders such as Photos, Movies, Music and so on. In this case you can select photos as you have to sync these. The files can also be previewed in thumbnails.
- Once you have selected the files that you wish to copy, choose Export. A pop-up window will inform you about the process being completed and ready for you to view your photos.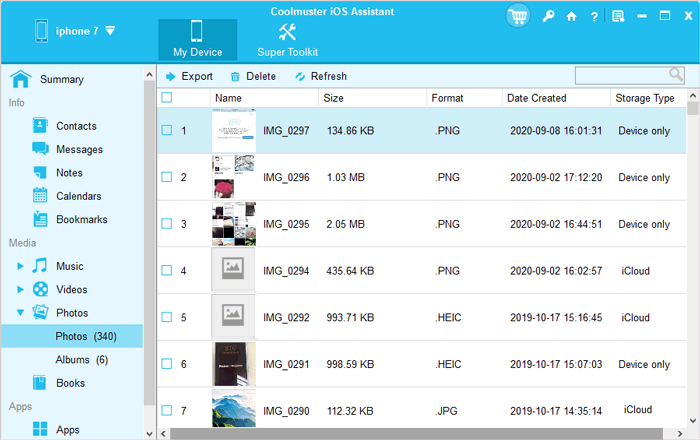 So what are you waiting for? Download the right version of this software right now and give it a try. It won't let you down!