Many iPhone users have upgraded to the recently released iOS 16 update. Like most software version updates, iOS 16 comes with its fair share of upsides and downsides, including enhanced security features and overheating problems, respectively. Do you have an iOS 16 overheating problem? High temperatures can damage the device's internal components and shorten the device's battery life permanently.
Tired of your iPhone overheating after update? This article recommends the most effective tips to solve an iOS 16 overheating issue. So, have a look.
Part 1. Why Is My iPhone Getting Hot After Update?
There are popular reasons why iPhone devices get hot after the iOS 16 update. These may include:
1. Heavy CPU/GPU Usage
Causes of iOS 16 overheating with respect to heavy CPU or GPU usage may include:
Running many apps in the background.
Recording high-quality videos.
Running high picture quality 120hz games.
Running heavy software.
2. iOS 16 App Incompatibility
Certain apps may be incompatible with the latest iOS 16 update. Such cases can cause your phone to overheat quickly.
3. Immediate Environment
Using or leaving your phone under direct sunlight for prolonged hours can cause iPhone overheating of iOS 16 updates.
4. Drained Battery Health
A battery with drained health can release irregular power and result in overheating.
5. Faulty Phone Components
Faulty phone components may also cause your phone to overheat. For instance, a faulty processor or charging port can cause your iPhone to overheat.
6. Software Bugs
Your iOS 16 update may have bugs that cause your phone to overheat. Besides, apps not optimized to work with this new update may cause your device to overheat.
7. Device Covers
The phone's outer casing is designed to keep the device cool naturally by dissipating away the processor heat. By adding a heat-trapping cover, such as a rubber case, you increase the chances of your iPhone overheating.
8. Excess Storage
If your phone is filling up on storage space, this may lead to overheating issues.
Part 2. How to Fix iOS 16 Overheating Problem
Below are the top recommended solutions for your iOS 16 making phone hot.
Solution 1. Use a Professional software - iOS System Recovery
iOS System Recovery is designed to repair various iOS system-related problems without causing any data loss, including issues like the iOS mode issues, screen issues, and iTunes issues. You can use iOS System Recovery to fix overheating problems in iOS compatible devices.
Download iOS System Recovery to your Windows or Mac to repair your iOS devices such as iPad, iPhone, and iPod (iOS 16 compatible). You can use this professional tool to resolve your iPhone overheating iOS 16 issue.
Key Features:
Fix system issues, such as iOS 16 overheating, iPhone blue screen of death, and so on.
Support almost all iOS devices.
Easy to use and secure.
Here is how to use iOS System Recovery to fix iOS 16 overheating issues:
01Download, install, and run iOS System Recovery to your Mac or Windows PC. Once you have successfully installed the software, open it and navigate to the menu labeled More Tools. From there, select the iOS System Recovery option.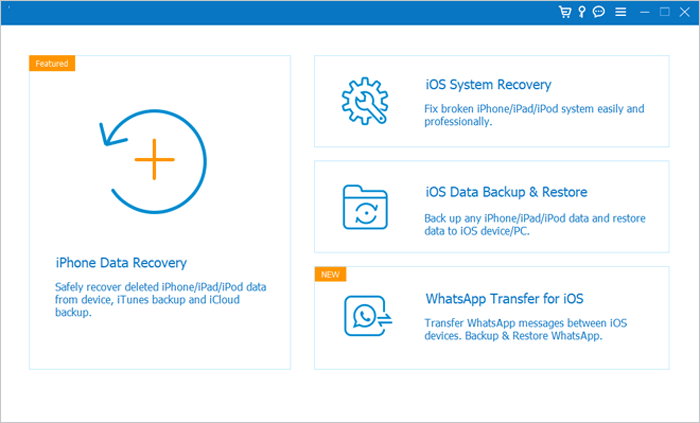 02 Click the Start button to initiate the process and proceed to put your device into DFU mode.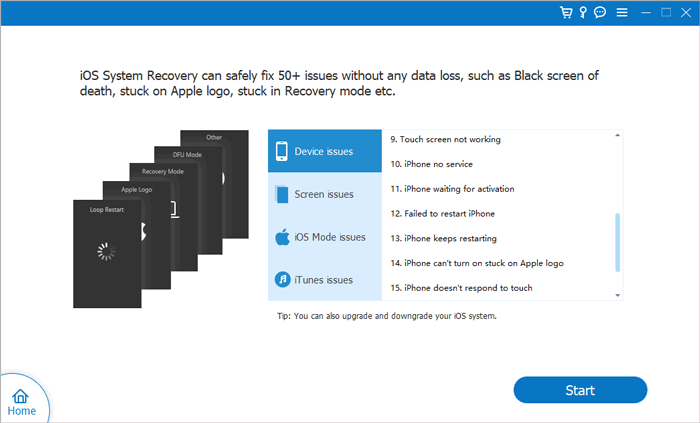 03Tap the Repair option to download iPhone firmware.
04After successfully installing the appropriate firmware, the software will proceed to repair your iPhone and restore it to its normal functioning state.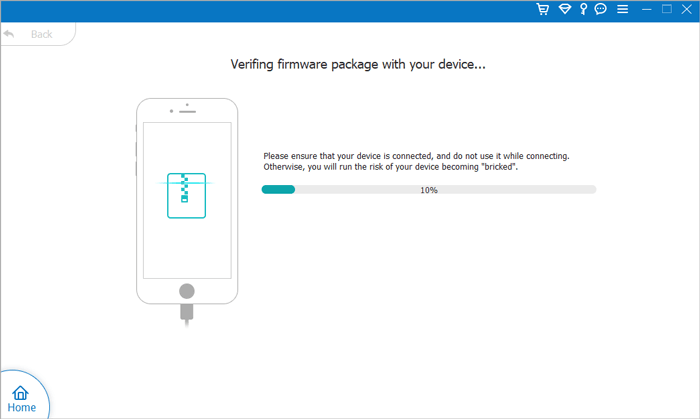 Further Reading:
When Things Get Too Hot: Understanding and Resolving Samsung Phone Overheating
iPhone Overheating When Charging? Reasons and How to Fix
Solution 2. Close All Running Operations
Multiple applications running simultaneously can strain the device's performance, leading to overheating. Close all running applications to reduce CPU usage and allow the device to cool down.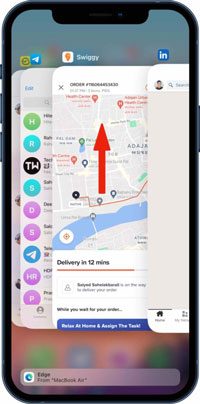 Solution 3. Check and Optimize the Device Battery Usage
Extreme battery usage can cause iOS overheating challenges. Double-check your battery consumption history to discover what contributes heavily to power usage. Here's how to do it:
Step 1. Open your phone's Settings, then go to Battery.
Step 2. Take the necessary actions to control your battery usage.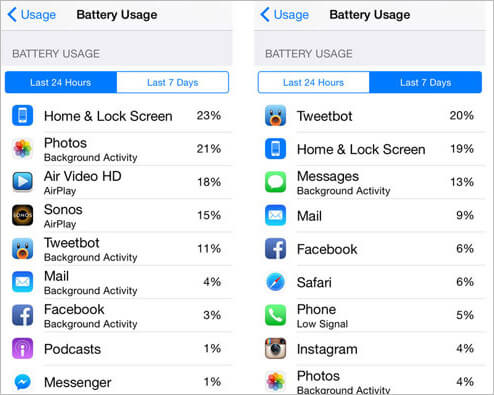 There are plenty of things you can undertake to optimize battery usage. Start by turning on and off WiFi at the right, for example, you can switch off WiFi at night.
In case your device requires a battery replacement, consider purchasing one same as the original type that came with your phone.
Solution 4. Place Your Phone in a Cool Place
If your iPhone is overheating, consider moving it to a cooler location. However, avoid placing your device in excessively cold places, such as a freezer or fridge.
This sudden change of temperature may cause further damage. The ideal temperature to control your iPhone overheating should be lower than the temperature causing overheating.
Learn More:
Wondering How to Fix iPhone Dead? Try the Ways to Bring It Back to Life
Fix Unable to Load Video on iPhone [8 Basic Tips + 1 Advanced Solution]
Solution 5. Reduce Phone Usage While Charging
Using your phone while charging puts excess pressure on its performance. If you notice your phone radiating extreme heat, consider giving it a break, especially when charging it. This is because charging generates extra heat which combines with the heat from a strained CPU to cause extreme overheating.
Avoid overnight charging.
Remove the phone case while charging. Phone cases, especially rubber cases, prevent your devices from properly dissipating the extra heat the phone generates while charging.
If your device is heating, allow it to cool down for a short while before charging.
Solution 6. Reduce the Processor Overload
You can combat your iPhone overheating annoyance by reducing its processor load. Ways to reduce the processor overload include:
6.1 Refresh All Background Apps
Here is how to do it:
Step 1. Go to your phone's Settings, then General.
Step 2. Click Background App Refresh.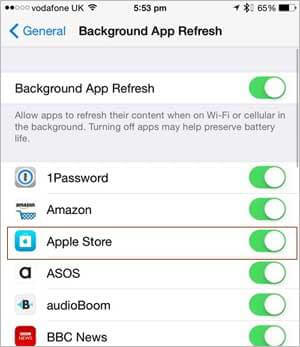 6.2 Try the Low Power Mode
Here is how to do it:
Step 1. Open the Settings app on your iPhone.
Step 2. Tap on Battery.
Step 3. Enable the Low Power Mode option. This mode helps conserve battery life and can reduce the chances of your device overheating.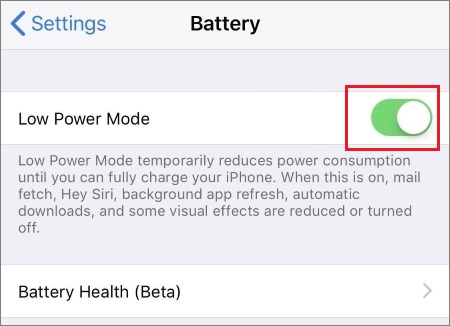 6.3 Turn On Auto-Brightness to Limit the Heating Effect
Here is how to do it:
Step 1. Open the Settings app on your iPhone.
Step 2. Scroll down and select Accessibility.
Step 3. Tap on Display & Text Size.
Step 4. Look for the Auto-Brightness option and toggle it on. This feature adjusts the screen brightness based on ambient lighting conditions, helping to prevent excessive heat generation.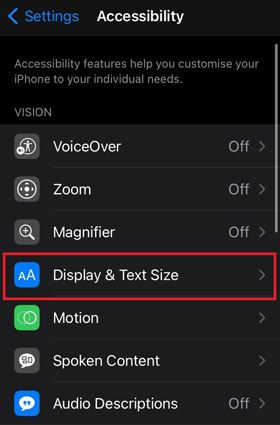 6.4 Turn Off the Location Service
Here is how to do it:
Step 1. Navigate to your device's Settings.
Step 2. Select Privacy. Then choose Location Services.

You May Like:
iPhone Keeps Freezing? Use 9 Basic Tips & 1 Ultimate Fix to Repair It
Overcoming the iPhone Update Stuck Dilemma: Effective Strategies
Solution 7. Factory Reset the Device
If the iOS 16 overheating is a result of software bugs or glitches, a factory reset can help remove these glitches. Before you factory reset your device, back up your data to avoid data loss. Here is how to factory reset your device:
Step 1. Go to Settings, then General, click Transfer or Reset.
Step 2. Then choose Erase All Content and Settings.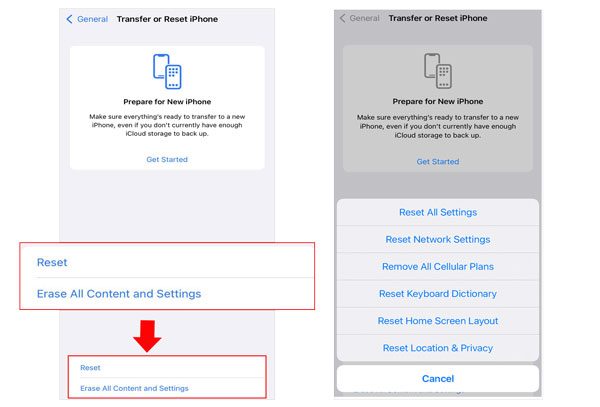 Solution 8. Clear Storage on iPhone
Excess device content can cause overheating. Consider deleting some apps or large unused data that strain your storage and battery usage.
Here's how to clear your iPhone storage:
Step 1. Go to Settings, then General, then iPhone Storage.
Step 2. Select the apps you want to clear the cache.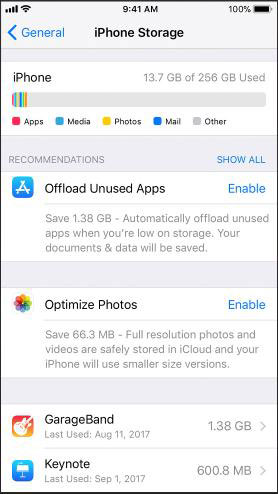 Solution 9. Force Restart iPhone
If you encounter the iOS 16 overheating issue, it could be a result of system glitches. To resolve this, you can perform a force restart on your iPhone, which will help refresh the device's memory and eliminate any errors that may be causing the problem. Here's how to do it:
Step 1. Press and swiftly release the Volume Up button.
Step 2. Press and swiftly release the Volume Down button.
Step 3. Press and hold the Side button until the Apple logo appears on the screen.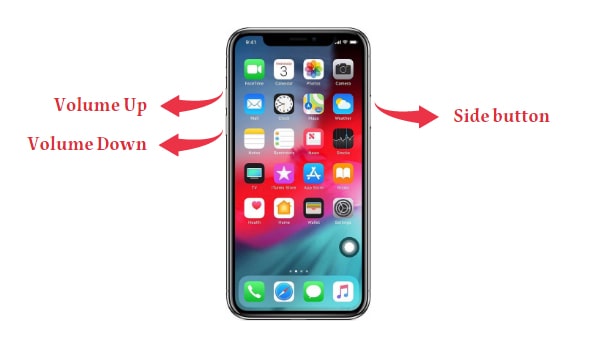 Solution 10. Downgrade the iOS Version
If your iOS 16 is the main cause of the iPhone overheating, you can try reverting to iOS 15 or lower to see if the problem is software update related. Just click here to learn about how to downgrade from iOS 16 to iOS 15 easily and safely.
Also Read:
Fix the iPhone Won't Turn On Apple Logo Issue [100% Success Rate]
iPad/iPhone Stuck in Guided Access? Top 6 Ways You Can't Miss
Solution 11. Update iPhone and Apps
Updating your apps and iPhone firmware can effectively resolve the issue of iPhone hot after update. Here's a simple guide on how to accomplish it:
Step 1. Open the Settings app on your iPhone.
Step 2. Tap on General and then select Software Update.
Step 3. Check if there are any available updates. If updates are found, tap on Download and Install to proceed with the installation.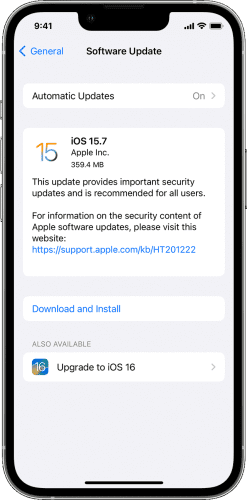 Solution 12. Contact Apple Support
If you've tried the above methods and your iPhone is still overheating, consider contacting Apple customer care for further diagnosis and repair. Schedule an appointment with Apple support for further support.
The Bottom Line
If your iPhone gets hot after an update, you may need a complete system diagnosis to determine the cause and repair it effectively. Fortunately, you can try one of the methods recommended above to fix your iOS 16 overheating.
However, if you want a more effective trick to solve an iOS 16 overheating problem, consider iOS System Recovery, a professional software solution designed to repair all iOS issues. Download iOS System Recovery to your Windows device or Mac to fix your iOS issues, including overheating.
Related Articles:
iPhone Screen Black and White? Fix It in 5 Methods Easily
iOS 16 Photo Cutout Not Working? How to Fix It Effectively?
iOS 16 iMessage Not Working [11 Basic Tips & 1 Ultimate Repair]
How to Fix iPhone Black Screen But Still On Issue? [Tips and Tricks]
Newest Apple iOS 16 Update | Everything You Need for iOS Devices
How to Back Up iPhone iPad before Upgrading to iOS 16? (4 Proven Ways)