Why need a call manager app for Android?
Nowadays, almost all smartphone users love to install various apps on their phones in order to make full use of the mobile device. There are many essential apps to make human life easier, call manager app is one of them. As its name implies, call manager app is used to make your daily call management easy. For example, it can block unwanted calls during your enjoyment in a laughter-filled family dinner, and provide some extra features to uncommon calls so that you can pick out which calls you should answer and which you can refuse. Android call manager apps can increase your productivity, and save your much time and money. Next, we list top 5 call management apps for Android to help managing calls on Android phone.
Part 1: Top 5 Call Manager Apps for Android Phones
1. Advanced Call Manager
- Features with a rule-based filter to take relevant actions smartly.
- Customize to let the calls through with a muted ringer so that you can concentrate on your work.
- Set rules for individual numbers and group numbers.
- A small and light app that can run in the background quietly.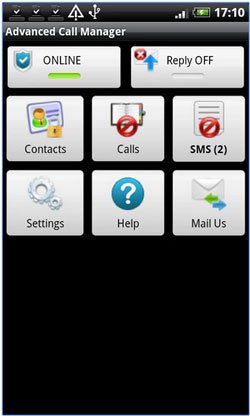 2. Call Master Key
- You can create flexible rules in call and text routing, blocking spam SMS is possible.
- Professional users can set powerful filters by using regular expressions.
- Offer password protection for your private information related to apps.
- Provide beautiful themes and skins for your choice.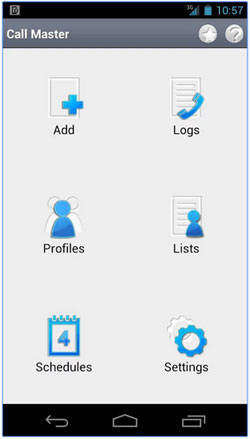 3. Call Control - Call Blocker
- Block unwanted calls and spammy SMS from anonymous caller all over the world.
- You can create your own blacklist and white-list.
- Enables you to mute the ringer.
- Act as a backup tool allowing you to backup your personal contact list online or on your local data card.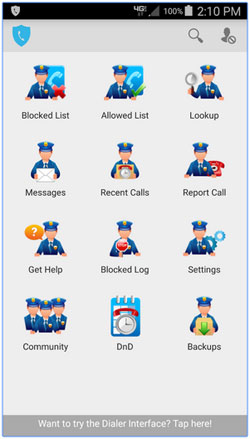 4. Call Log Manager Pro
- Be able to log the incoming call details by using the calendar.
- You can find your logged data from the search and export option provided by the app.
- Check the details of all the incoming, received and missed calls.
- Thanks to its user-friendly interface, you can perform call activity correctly.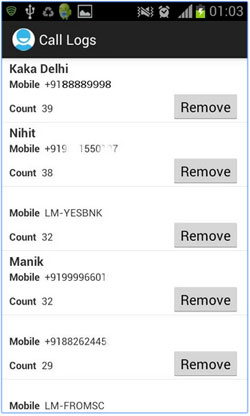 5. Call Guard
- Provide different modes and flexible call blocking rules for users.
- You can make a blacklist with unwanted contacts and a whitelist with important contacts.
- Empower you with the ability to password protect the entire application settings.
- Call Guard can also block numbers with a specific caller ID.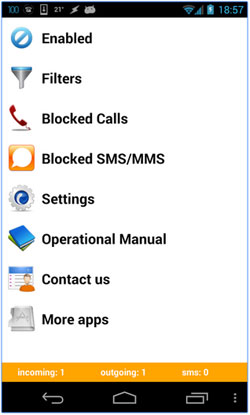 Part 2: How to Manage the Android Call Management Apps?
After learning the 5 best call management apps for Android, you must can't wait to give them a try. To manage these apps after your download them on your computer, you can depend on a desktop third-party tool - Coolmuster Android Assistant. This is an application that is designed to allow users to manage their Android devices right from their computer. It can not only install, uninstall and export apps data, you can also back up all your data like photos, videos, music, contacts, SMS, etc. from your device to your computer thanks to the 1-Click feature in the application. This allows you to have another copy and in case your device corrupts, you can restore your data whenever you want.
The application is compatible with different smart device manufacturers such as Sony, Motorola, Huawei and Samsung among others. Following is a step by step guide of how to manage your Android call manager apps.
Step 1: Download, install, launch the Android Assistant and connect your Android device to the computer.
Step 2: Navigate to "Apps" on the left panel of the application. Once selected, you will view all apps installed in your device. You can install, uninstall, export apps and refresh the panel by clicking the corresponding options on top menu.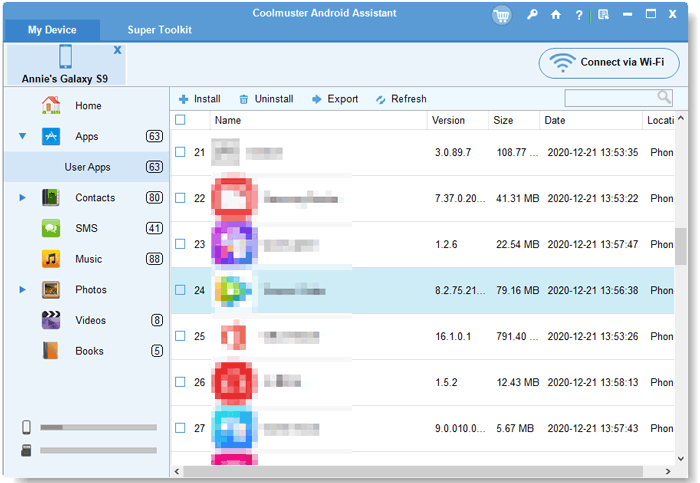 Related Articles:
Top 3 Android Notification Manager