Are you worried because your iPhone 13 screen is not responding? A non-responsive touch screen will make your phone useless. iPhone 13 screen not responding issue seems to be common among iOS users. While this issue comes and goes, the reality is that it can be a bummer during emergency times. However, there are some approaches to take to resolve it. This article will explain the common reasons for iPhone 13 touch screen issues and first-hand solutions. So, let's get started.
Part 1. Why Is My iPhone 13 Screen Not Working?
iPhone touch screens can fail to respond due to various reasons. They can range from simpler cleaning issues to complex software bugs and glitches. Here is a rundown of the reasons for the iPhone 13 won't respond to touch:
* The operating system is outdated.
* There is moisture on your hands.
* The screen has dust/debris.
* Obstruction from the screen protector or case.
* Temperature changes.
* Hardware problems.
Part 2. How to Solve iPhone 13 Not Responding to Touch
If your iPhone 13 screen not responding, these are the solutions that can help fix it. Let's explore how to fix iPhone 13 Pro/iPad touch screen not working issues together.
Fix 1. Clean the Screen
There will be iPhone 13 screen not responding issues if there is any dust, water, or oil on the screen. So, clean off any dust or debris from the screen.
Start by switching it off, take a soft cloth, microfiber to be exact, and wipe the screen. The wiping cloth should be slightly damp or dry if you want. Also, your hands make sure your hands are clean and dry.
Fix 2. Keep the Temperature to Normal
When a phone is extremely hot or very cold, it will not work well. You will see a warning notification when the temperature has risen beyond a certain level, and you won't use it till it cools down. So, keep the temperature on your iPhone 13 Pro to normal to prevent unresponsive screen problems.
Fix 3. Remove the Screen Protector
At times, a screen protector may bring screen problems after charging. The screen protector may be of bad quality and may not fit properly. This may affect the display screen or, worse, damage it. Besides, some of the screen cases aren't compatible with your device.
So, remove the protector from the screen and clean the screen with a soft cloth and check if the issue is fixed.
Further Reading:
iPhone Touch Screen Not Working or Responding? Here's The Fix
Troubleshooting the Bottom of iPhone Screen Not Working - 2023 Update
Fix 4. Free Up Storage on Your iPhone 13
Another cause of the iPhone 13 unresponsive to touch problem is insufficient storage. Your iPhone may have many files, which makes it sluggish and much slower. It will not even respond quickly, which may be annoying. Try removing some unnecessary files to free up space on iPhone easily. This will help it operate faster and, in turn, make the screen respond.
Here is how to clear storage on iPhone 13:
Step 1. Head to Settings and General and click on iPhone Storage.
Step 2. Click on an application you wish to delete and press the Delete App option.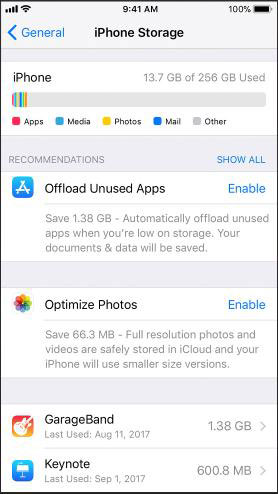 Fix 5. Check for iOS Update
Updating your iPhone 13 could be what you need to put the iPhone 13 pro touch screen not working problem at bay. So, check if there are updates for your iPhone and install them. New updates may solve software glitches and keep the phone up to date. Follow these steps to install updates on your iPhone 13 Pro:
Step 1. In the Settings menu, click on General.
Step 2. Tap on Software Update and download any update if available.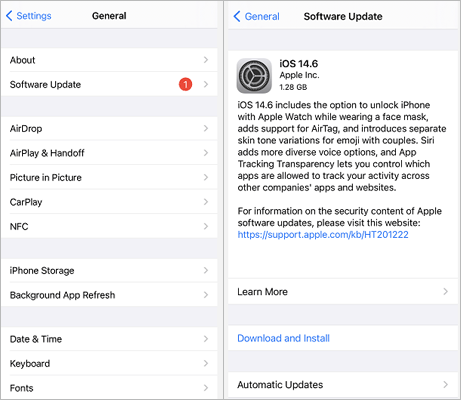 Fix 6. Adjust 3D Touch Sensitivity
Still experiencing the iPhone 13 screen not responding issue even after updating the iOS? It is best to adjust the 3D Touch settings to see if the issue will be resolved. Here's how to adjust 3D touch settings on iPhone 13:
Step 1. Head to the Settings menu on your iPhone 13, General, and choose Accessibility. Choose the Touch option.
Step 2. Click on 3D Touch. Toggle it On, then adjust the sensitivity accordingly.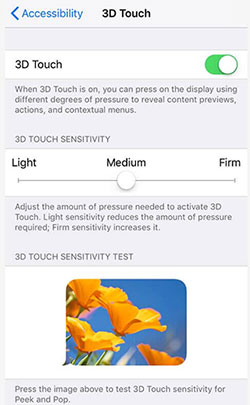 Learn More:
5 Ways to Fix the iPhone Frozen on Lock Screen Issue with Ease
How to Fix iPhone Grey Screen of Death By Yourself? (8 Solutions)
Fix 7. Force Restart Your Device
A force restart is among the quickest and easiest fixes to resolve iPhone 13 touch screen issues. It might be just what your device needs for its screen to start working normally. A force reboot brings the device to a fresh state as it closes down all the operations running in the background. Here is how to force restart your iPhone 13:
Step 1. Press and quickly release the Volume Up button. Now do that with the Volume Down button as well.
Step 2. Hold the Side button until you see the Apple logo on the screen. Now release it.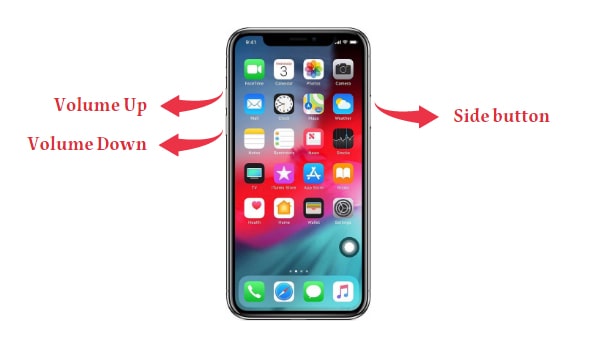 Fix 8. Remove the Unresponsive App
Sometimes, you may find a certain application not responding to your touch. The easier way is to remove it from the phone and reinstall it again.
To do that, press and hold on to the app showing problems and click on the (x) sign that appears over the app. It will get uninstalled from your device. (Can't delete apps on iPhone? Check there to find the way to fix this issue.)
Now reinstall it from the App Store. Head to the App Store, type the app's name in the search bar, and reinstall it. That particular app should now respond to your touch.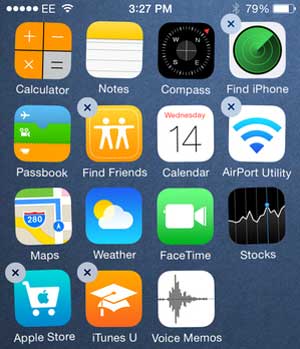 See More:
Wondering how to fix app disappeared from home screen on iPhone issue? Click here to find the answer.
Has your App Store disappeared from your iPhone? Don't worry, read this article, it will help you solve this problem.
Fix 9. Factory Reset iPhone 13
Simpler fixes like restarting or updating your iPhone 13 device should resolve software-related problems that might be causing its screen not to work properly. But, to your surprise, it may not work. A factory reset can be another viable option, but it's only advisable to proceed with it if you have backed up your iPhone. If not, back up your iPhone now.
Here are the steps to factory reset your iPhone 13:
Step 1. First, open Settings and click on General. When you reach another window, choose the Transfer or Reset iPhone option.
Step 2. Now hit Reset and click on the Erase All Content and Settings option.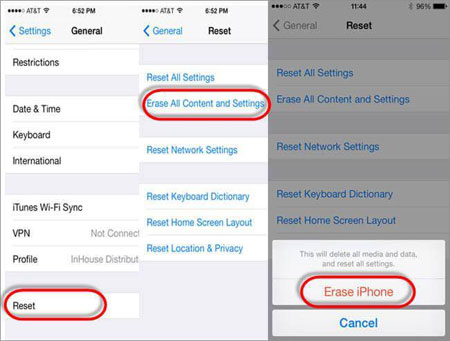 Fix 10. Contact Apple Support
Factory resetting an iPhone is a heavy-headed approach. This unresponsive screen problem shouldn't be making you sweat. It's a simple problem that should not involve data loss. So, a better option is to reach out to Apple Support instead. It's likely a safer final resort than a factory reset. Apple can resolve this problem which is most likely related to hardware, without deleting the iPhone's memory.
Also Read:
How to Fix the iPhone Transferring Data Stuck Issue Effortlessly? 14 Quick Tricks Here
9 Tricks to Fix iPhone White Screen of Death without Effort (Updated)
Part 3. The Best Way to Fix iPhone 13 Screen Not Responding Problem
Tried all the above solutions, but nothing gives you the desired results? Why not use third-party software like iOS System Recovery? It can solve all software issues on any iPhone device efficiently. This professional iPhone recovery software repairs iPhone/iPad/iPod devices on a computer to normal in one click. It fixes touchscreen and other system-related problems in no time. No data loss, so your iPhone 13 files are safe.
Key Features:
Solve touchscreen issues on iPhone devices quickly.
Clean interface that's easy to use.
Very safe; no data loss when repairing the iPhone screen problem.
Support almost all iOS devices and the latest iOS 16.
Here is how to fix iPhone 13 screen not responding with professional software:
01Start by installing the correct version of the software on your computer and choose More Tools on the left and click on iOS System Recovery from the interface.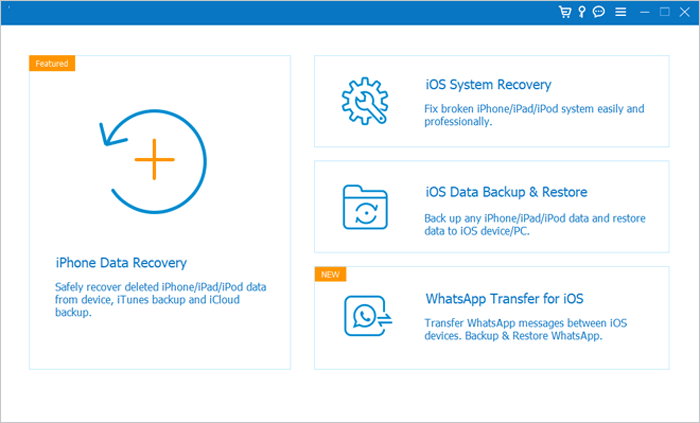 02Find the Start icon at the bottom right and click on it to start the repair procedure. Now let the iPhone enter the DFU/Recovery mode.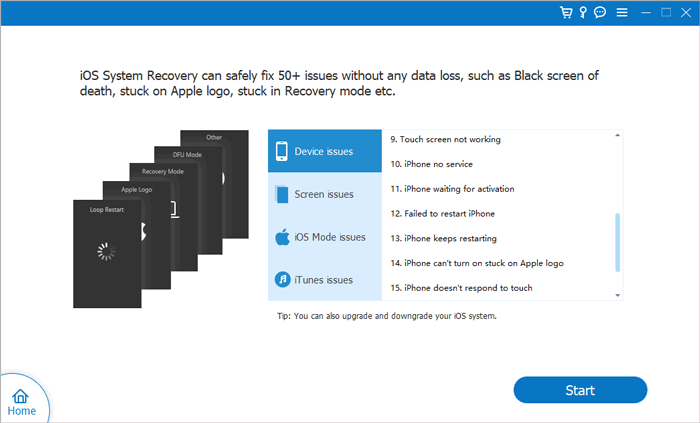 03With a device in DFU mode, tap Repair to install the iOS firmware on the iPhone. When the firmware downloading finishes, the software will begin fixing the touchscreen problem on your iPhone 13.
Final Words
That is what you should do when you encounter iPhone 13 screen not working problems. These troubleshooting tricks can be a lifesaver when your iPhone doesn't respond to your touches or gestures. However, if your screen is not working because of a problem in the system, look no further than iOS System Recovery. It is your one-stop solution to all system-related problems on all iOS devices. It is quick and will save you time and unnecessary stress.
Related Articles:
How to Fix iPhone Stuck on Zoom Mode Quickly? (Solved)
Touch Screen Not Working on Samsung: 15 Reliable Solutions To Repair Screen
How to Fix iPhone Clicking on Its Own in 11 Practical Ways?
iPhone Keeps Freezing? Use 9 Basic Tips & 1 Ultimate Fix to Repair It
Apple iPhone Black Screen of Death? Here Are the Best Solutions