Life360 is renowned for its state-of-the-art safety features, created to enable family tracking. Not only can you share your locations, but you also monitor travel speed and battery percentage on smartphones and determine if devices are in use without arousing suspicion from your children. However, privacy is of utmost importance to us, so it's likely that you're wondering how to turn off location on Life360 without anyone knowing. Read this post, and stop Life360 from tracking your location immediately.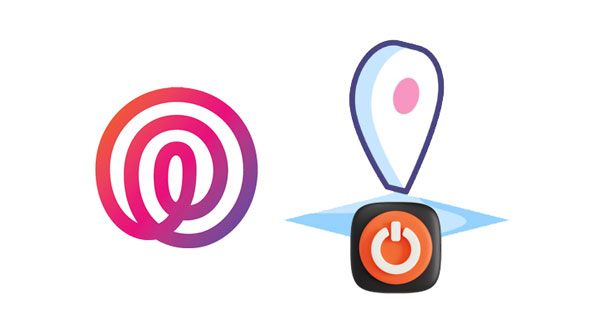 Part 1: What's Life360?
Life360 is a mobile app designed to help families in a circle stay connected and informed. The app provides real-time location sharing, family chat, automated check-ins, and emergency response. Life360 was created to help families to keep in touch. Its simple interface and customizable settings make it easier to keep an eye on your kid.
To use Life360 on your device, you must turn on the location services to allow the app to update your location and send this information to all Circle members. This means if you install Life360 onto your phone, it will track everywhere you go.
It is uncomfortable to be tracked, even if it is your parent doing so for safety reasons. So, to socialize with friends without your parents monitoring you, it is essential to learn how to turn off the location on Life360 on your device. This way, you can enjoy quality time spent with your friends and have peace of mind knowing that no one will track you wherever you are. We will show you practical methods on how to stop someone from tracking you on Life360.
Part 2: How Do You Turn Off Your Location on Life360?
Life360 is a fantastic tool for keeping tabs on people in your circle, but it can also be inconvenient and uncomfortable for those being tracked. If you're looking for a way to disable location tracking without alerting others in the circle, you can employ some tricks outlined here:
2.1 Switch Off Circle Location Sharing to Stop Life360
Don't want to be tracked by your family and friends? The quickest way out is disabling the location sharing from within the app. Actually, it is one of the easiest ways of switching off your location. Here are steps on how to stop location tracking on Life360:
Step 1: Open the Life360 application and tap on the "Settings" icon in the bottom right corner.
Step 2: To instantly stop sharing with a selected group of people, click the "Circle switcher" on the screen's top corner and choose the circles you no longer want to interact with.
Step 3: Select the "Location sharing" button on the options menu. To pause the location with Circles selected, move the Slider to the off position.
Step 4: By doing this, you are assured that Life360 won't share your whereabouts in the Circles. Check on the map; it will display "Location sharing paused". Now check on the map.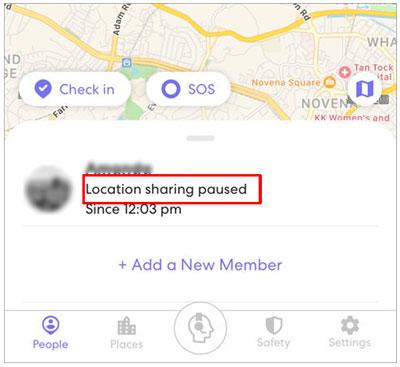 Read more: When your location on Snapchat is wrong, how can you correct it? Relax. Let's open this guide.
2.2 Turn Off the GPS of the Phone to Stop Life360
How do you turn off your location on Life360? Try turning off the GPS of your phone. This will halt location-tracking services from Life360 and other applications that use GPS tracking.
Disable GPS on iOS:
Step 1: Go to Settings on the iOS phone and find the "Personal" category.
Step 2: Now open the "Location Services" and disable the GPS location services.

Disable GPS on Android:
Step 1: Head to the Settings app on your Android phone and click to open it.
Step 2: Scroll down to choose "Location" and switch it off.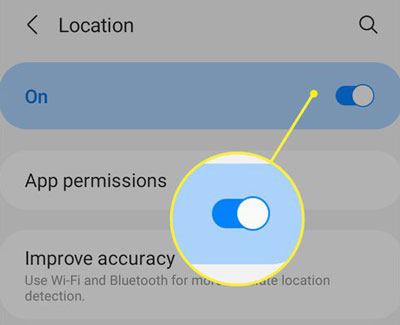 Disabling GPS from the phone will stop Location Services from using the GPS, thus disabling all apps that track location with it.
Check it if needed:
How to Change TikTok Region Safely and Quickly? [New Guide]
How to Perform a Facebook Location Change [Automatically & Manually]
2.3 Stop Life360 By Enabling Airplane Mode
If you're looking for an easy way to block Life360 and create your own space, consider turning on Airplane Mode. This mode curtails your GPS and any internet or data connection. Once enabled, it will display a white flag along with your last known location. As soon as you enter another grid, it will show the next indicator flag when in the grid. Therefore, if escaping Life360's tracking is what you want, turning Airplane Mode on is definitely an excellent decision.
Activating Airplane mode is a breeze. All you have to do is pull down the control center on your phone and tap the Airplane icon to enable it. By instigating this feature, Life360 will no longer keep track of your location as the GPS signal from your device will disappear. Here is how to do that:
Way 1. Open the "Control Center" on the device and click on the "Airplane" icon to enable it.
Way 2. Still, you can head to "Settings" and choose Airplane Mode to switch it on.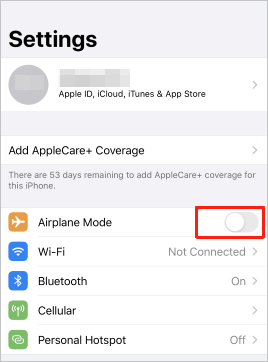 Guess you need: Wonder which is the best faking GPS app? Go through this review, and you will know it.
2.4 Delete Life360 Account
Although uninstalling the Life360 app seems an easy solution for preventing location tracking, it is not enough. Your whereabouts will remain traceable in that Circle even after deleting the application. To protect our privacy and permanently erase our location history from this platform, we must delete the Life360 account via home settings. Before doing so, however, one must cancel their subscription, then you can rest assured knowing your exact coordinates are no longer present.
Part 3: How to Turn Off Location on Life360 without Anyone Knowing?
If you're looking for a way to outsmart the location tracking feature on Life360 without removing the app, GPS Changer is your best bet. It makes faking one's GPS location on iOS incredibly easy with a few simple clicks. Plus, it even mimics natural movements at a speed that looks quite real such that no one can tell you are faking the location.
The members of your Circle won't be able to track where you are, meaning they will receive no information about any location changes. It's an amazing tool that makes your location remain anonymous. Isn't that incredible?
Besides, this software works on both iOS and Android devices, making it a great tool for any person who wants to fake their phone's location. With its superior performance and ease of use, you won't have a challenging time using it, and you can change your location to play Pokemon Go and other games.
Top features of this location spoofer:
* Stop the location tracking on Life360 by changing your GPS in 1 click.
* 100% works with location-based applications, such as faking GPS on Facebook.
* Instantly fake your location on different devices, including iOS and Android smartphones.
* Support joystick for GPS simulation.
* Help you design routes and speed of movement.
Download this location changer below.
Here is how to fake location and stop Life360 from tracking you without them knowing:
01Download and install the program on a Mac or Windows computer. Once done, launch it and hit "Get Started". Connect your device to the computer with a USB cable.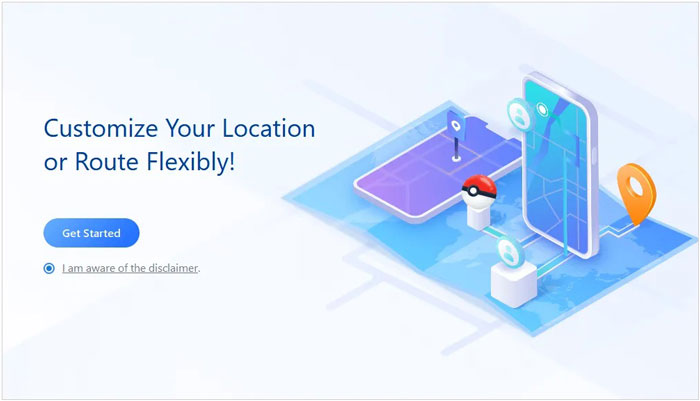 02Choose your device, and tap "OK". Then you will see the map on the interface.
03Choose the "Teleport Mode" located in the upper right corner of your screen, the third icon.
You can either scroll down and pinpoint a location or type an address or GPS coordinate into the search bar at the top left corner. Then click on the "Move" icon to change your location. Once done, please open Life360 to see if your location is changed.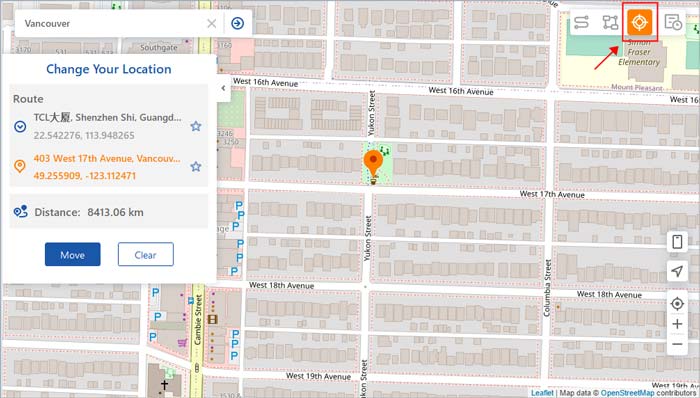 More tips:
How to Change GPS Location on Android in Different Tools (SAFE & FAST)
How to Play Pokemon Go Without Moving [Detailed Steps for Android and iOS]
Part 4: FAQs on Turning Off Location on Life360
Q1. Does Life360 tell you when someone turns off location?
Yes. If you decide to turn off your location, Life360 will alert all members in the Circle with a "Location Sharing Paused" notification. Additionally, when you log out of the app, everyone in your group will be notified that you are no longer active.
Q2. Does airplane mode turn off the location on Life360?
Even if your phone is in Airplane Mode, the GPS feature will continue to send signals since it does not need cellular service. Nevertheless, any applications you download, such as Life360, will only function properly if there is an internet connection.
Q3. Can you tell when someone is using their device on Life360?
Yes, Life360 will detect if a member is using their phone while driving by capturing any movement of the device, such as taking it out from the pocket. However, no activity on the phone is tracked or shared within the Circle. Additionally, Life360 won't notify you when someone checks your location.
Conclusion
If you want to stop Life360 from tracking your location, the above methods will surely help. But if you want privacy without anyone suspecting a thing, take advantage of an invaluable tool - GPS Changer. This handy trick lets you fake your GPS on Life360, so that family and friends think you're somewhere else.
Related Articles:
4 Ways to Stop Your Employer from Tracking Your iPhone & Android Phone
FGL Pro for Pokemon Go: Powerful Spoofer for Android [Review]
[Huawei Mock Location] How Do I Change My Mock Location on Huawei?
Top 11 Solutions to Samsung Tablet Frozen / Samsung Tablet Screen Frozen Problem
How to Fix the iTunes/App Store Keeps Asking for Password Issue on iPhone/iPad?
13 Practical Ways to Fix iPhone Keeps Turning On and Off Randomly (Updated Tips)
Explore the World from Home: How to Fake Location on Snapchat Map